Deviled egg potato salad with mayonnaise, a perfect way of using those leftover hard-boiled eggs. This potato salad makes a great side dish for any grilled meats.
Deviled Egg Potato Salad with Mayonnaise
The deviled egg potato salad with homemade mayonnaise and pickled cucumbers is easy to make, creamy and so comforting. It is one of our favorite potato salads, perfect for a potluck, picnic, grill party or a quick lunch.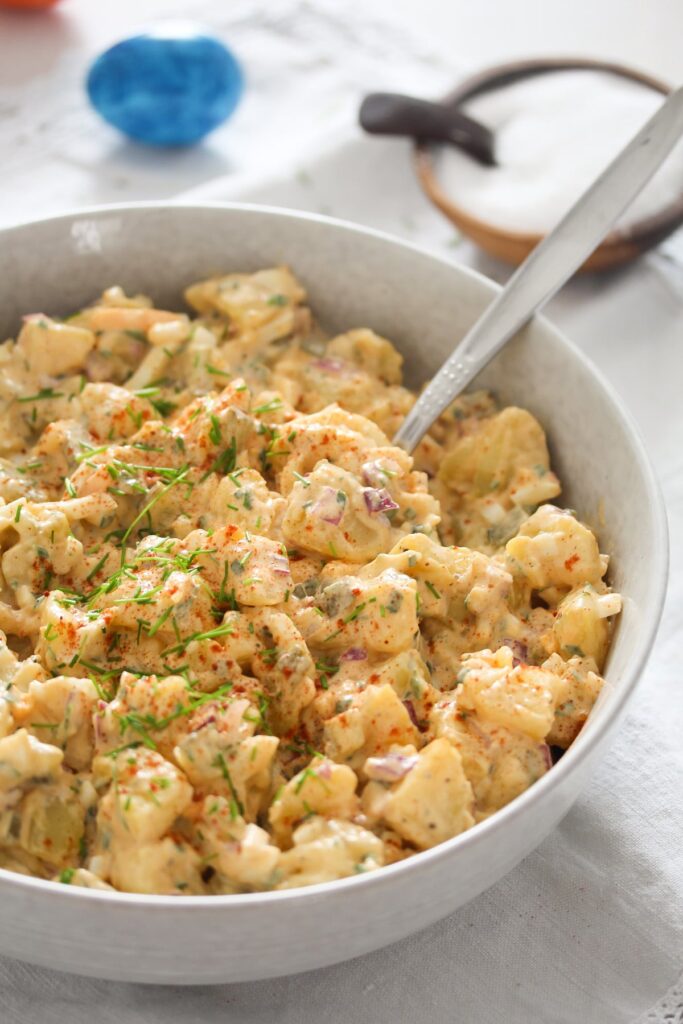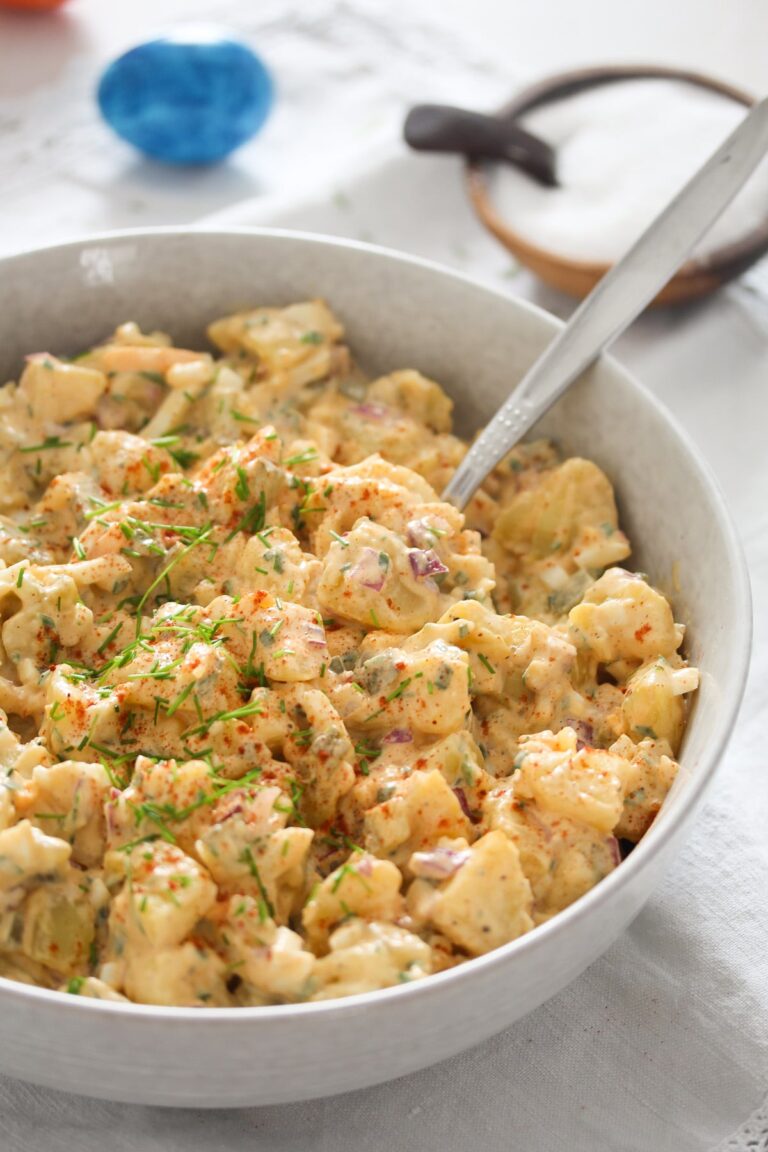 What to do with all those leftover hard-boiled eggs from Easter?
Well, plenty of possibilities, some of our favorite being deviled eggs. You could try these Easter deviled eggs or these Mexican deviled eggs. So good! But you can only eat so many deviled eggs, and this potato salad with eggs is really one of the best alternatives.
Or try this deviled egg pasta salad.
The egg potato salad is more filling and suitable for a meal than just deviled eggs, which are a great snack or appetizer. It is perfect to make for a larger gathering, great to make in advance and to take to a party, it is economical, full of flavor and loved by everyone.
No matter, if the eggs are leftover from Easter or if you have to cook some hard-boiled eggs especially to make this recipe. Do make it! It is so good!
What do you need?
Eggs:
I often make this deviled egg potato salad recipe with leftover hard-boiled eggs.
But as we only have Easter once a year, I do cook the eggs, especially for this recipe often enough.
To cook hard-boiled eggs, place them in a saucepan and cover them with water.
Bring the water to a boil, turn off the heat and leave the eggs in the water, covered, for 12-15 minutes, depending on their size.
Drain and rinse with very cold water.
Potatoes:
The best potatoes to use for potato salads are waxy potatoes, they keep their shape and will not turn to mashed potatoes when you stir the ingredients.
Red potatoes, new potatoes or fingerling potatoes are good choices.
As they are also small, they will also cook faster.
You can cook the potatoes a day or a few hours in advance, let them cool and then peel and cube.
Sweet pickles:
Sweet cucumber pickles or gherkins are the best choice for me, but if you happen to have other crunchy sweet pickles you like, give them a try. You can't do anything wrong there.
I used about 150 g/ ¾ cup pickled cucumbers for this deviled egg potato salad recipe.
You don't have to measure that amount exactly, use more or less according to your taste (I always like more, but I just love pickles).
Mayonnaise:
While I have nothing against a good bought mayonnaise when it comes to making a sandwich, I actually always make homemade mayonnaise for mayo-based salads, it is just better.
If you've never made your own mayonnaise, let me assure you that it is the easiest thing to make, all you need is an immersion blender.
Have a look at this whole egg mayonnaise recipe made with an immersion blender.
It really only takes three minutes to make the mayo, the ingredients cost almost nothing, it tastes better than any mayo you could possibly buy and it has no preservatives, no acids, nothing bad in it.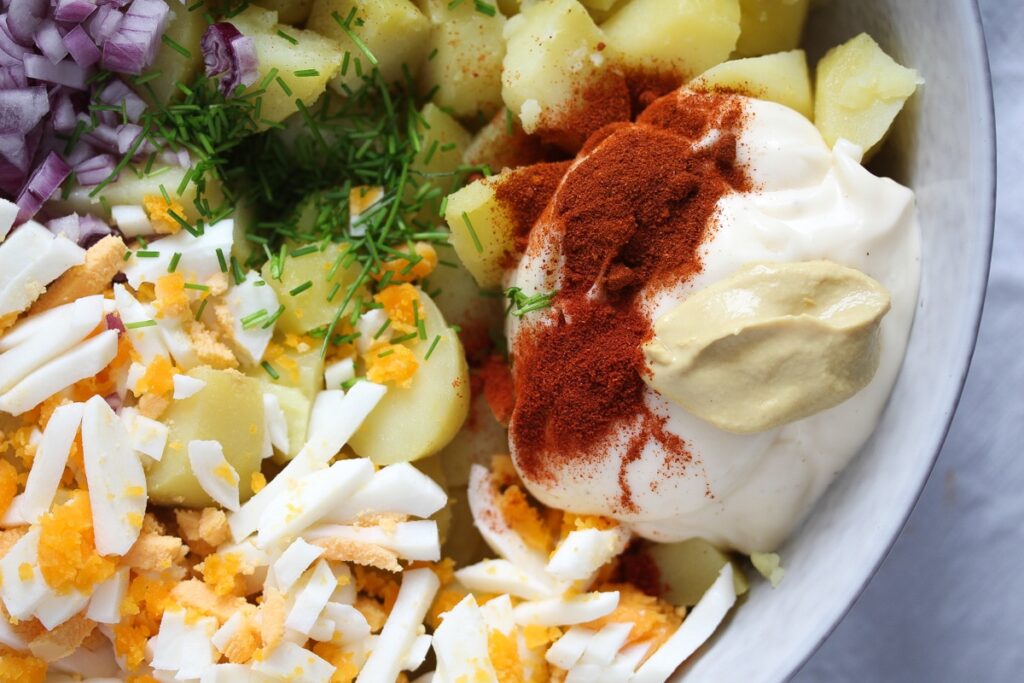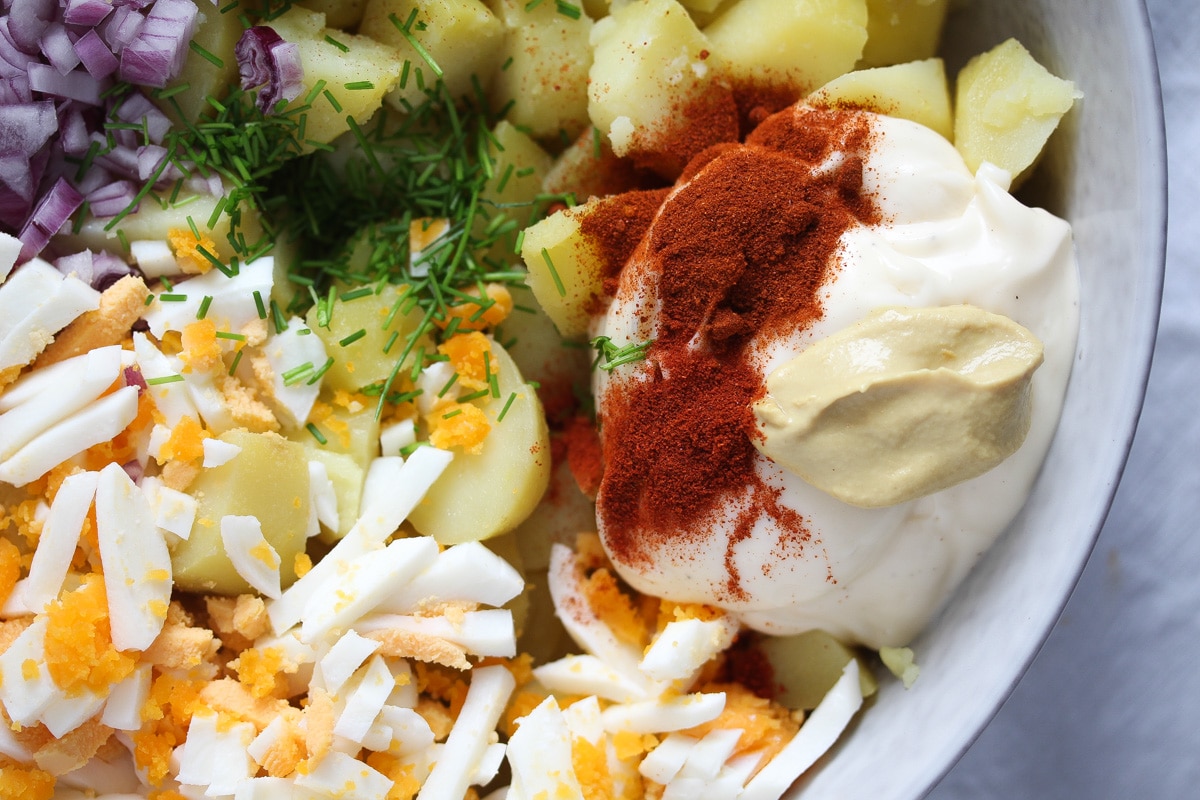 Other ingredients:
One small red onion (about ½ cup chopped)
Medium mustard
Some lemon juice
Fresh herbs, like chives. Dill, parsley or a mix of Italian herbs would be great as well.
Spices: sweet paprika powder and smoked paprika powder (sweet or hot to taste).
Customize the potato salad with some of the following ingredients:
Cooked and crumbled bacon
Pickled jalapenos, very finely chopped
Pickled pimiento peppers
Thinly sliced green onion
Chopped rocket
Sliced black or green olives
Finely sliced celery sticks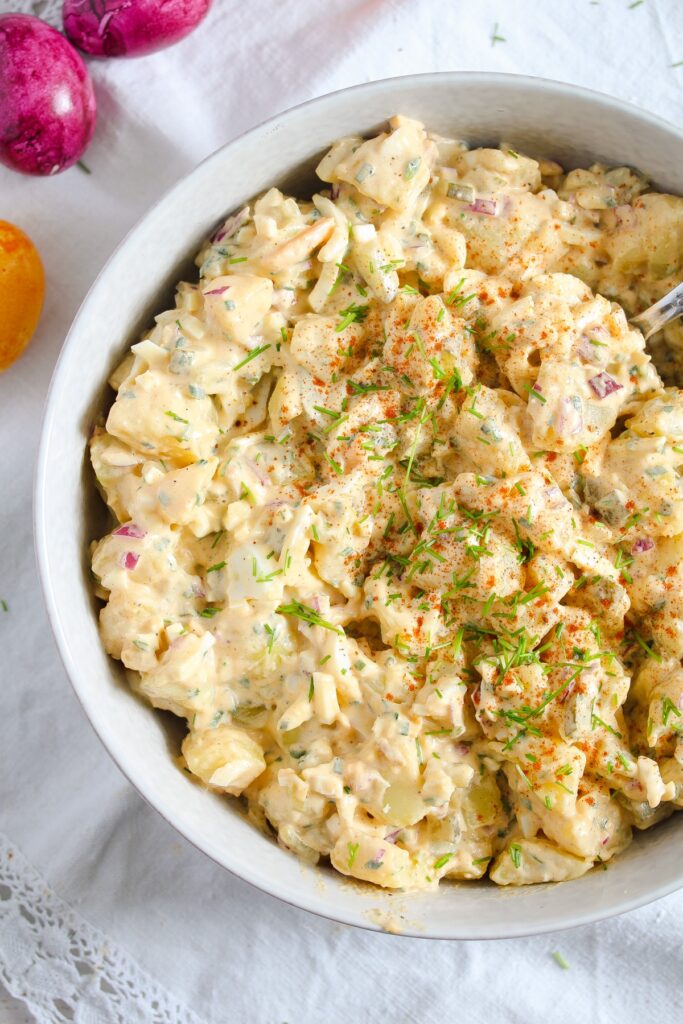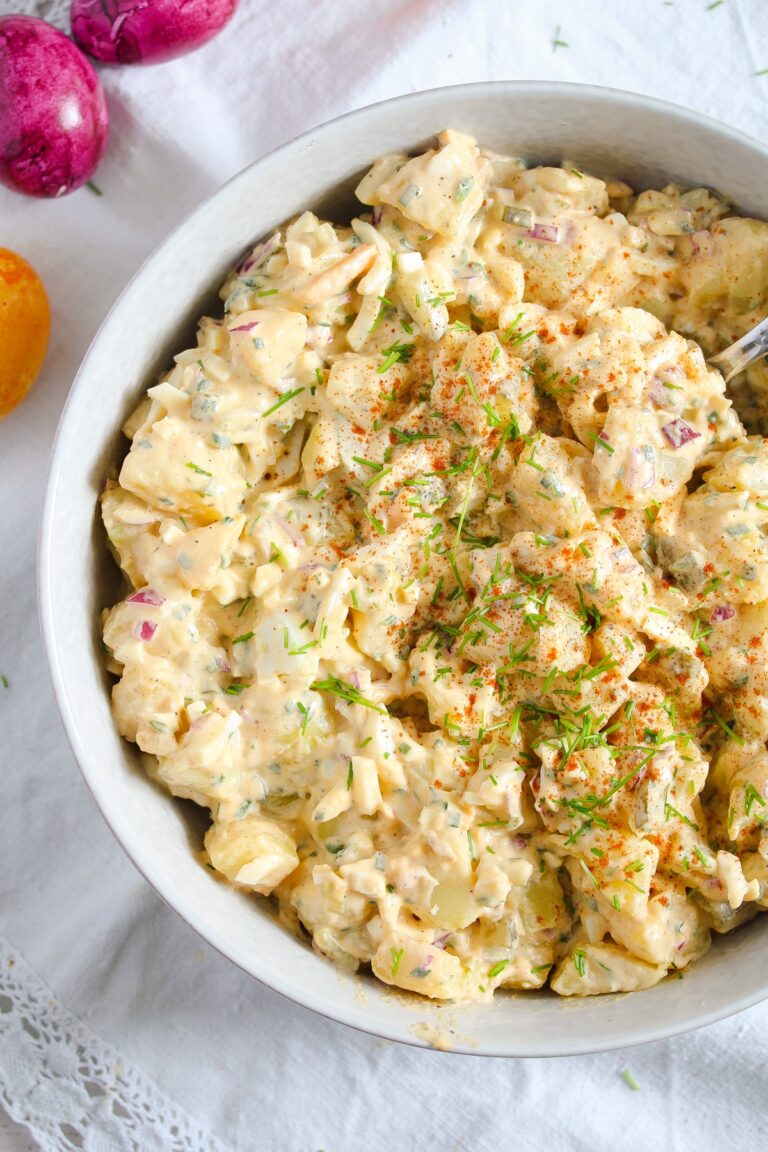 Tips for making deviled egg potato salad
You can cook the potatoes in their peel or peel, cube them and then cook them.
I always cook potatoes for salads in their peel, I think they keep their shape better and also the peel protects the nutrients from escaping.
You can cook the potatoes and the eggs, hours or a day in advance and leave them. In this case, it is really preferable to cook the potatoes in their skin, cubed potatoes might become to dry.
Use some sweet pickle juice for the salad dressing, it adds a really nice flavor and makes the potato egg salad moister.
The salad can be made several hours or one day in advance.
Keep refrigerated until ready to serve, but allow 15-20 minutes out of the fridge, so that the salad is not that cold anymore when served.
However, never keep the salad long on the table and never keep it in the sun, it has mayo in it.
If you make the deviled egg potato salad in advance, make sure you stir it well and adjust the taste with salt and pepper (and maybe some pickle juice) just before serving again.
Leftovers:
Keep in an airtight container in the refrigerator.
It keeps for 1-2 days more.
More potato salads?
Sour Cream Potato Salad with Bacon – My favorite sour cream potato salad with bacon and dill and without mayo.
Potato Salad with Eggs – Traditional Romanian oriental salad.
German Potato Salad – Traditional German or Swabian potato salad with oil and vinegar dressing.
Romanian Boeuf Salad – Another traditional potato egg salad served for Easter or Christmas.
Salad Russe or Salad Olivier – Russian potato salad with beets, a very popular Eastern European salad.
Pin it for later!
Deviled Egg Potato Salad
Total Time:
1 hour
10 minutes
Deviled egg potato salad with mayonnaise, a perfect way of using those leftover hard-boiled eggs. This potato salad makes a great side dish for any grilled meats.
Ingredients
1 kg/ 2.2 lbs potatoes (waxy potatoes, like red, new or fingerling potatoes)
6 eggs
150 g/ 5.3 oz/ ¾ cup diced sweet cucumber pickles
1 small red onion (about ½ cup diced)
250 g/ 8.8 oz/ 1 cup mayonnaise (See note)
2 teaspoons medium mustard (or Dijon)
½ teaspoon sweet paprika powder
¼ teaspoon smoked paprika powder (sweet or hot to taste)
2-3 tablespoons juice from the jar of pickles, more to taste
2-3 teaspoons lemon juice, to taste
small bunch fresh chives
fine sea salt and black pepper
Instructions
Wash the potatoes, place them in a saucepan, cover with water, bring to a boil, add salt, cover and cook for about 20-25 minutes or until the potatoes are tender and easily pierced with a fork. Alternatively, peel and cube the potatoes and cook them for about 10-15 minutes or until tender. Drain well and leave until cool.
Prepare the hard-boiled eggs. Place the eggs in the saucepan, cover with water. Bring to a boil, turn the heat off and let the eggs in the hot water, covered, for 12-15 minutes, depending on size. Drain and rinse with cold water. Leave to cool completely.
Once the potatoes are cool, peel and cut them into cubes. Place in a bowl.
Finely chop the eggs and place them in the bowl as well.
Add the finely chopped onion and pickles. Stir.
In another bowl, mix together the mayonnaise, mustard, both paprika powders, finely chopped herbs, about 2 tablespoons pickle juice, 1-2 teaspoons lemon juice, salt, and pepper. Stir well.
Add to the potato egg salad and stir carefully. Adjust the taste with more pickle and lemon juice, salt and pepper.
Keep the salad covered and refrigerated for about two hours until serving. Stir again and adjust the taste again, if necessary, before serving.
Nutrition Information:
Yield:

6
Serving Size:

1/6 of the dish
Amount Per Serving:
Calories:

525
Total Fat:

36g
Saturated Fat:

7g
Trans Fat:

0g
Unsaturated Fat:

29g
Cholesterol:

204mg
Sodium:

823mg
Carbohydrates:

39g
Fiber:

4g
Sugar:

4g
Protein:

11g
Nutrition information isn't always accurate.