Juicy meatloaf stuffed with hard boiled eggs.
While I do make lots of meatballs, using all kind of meats, pulses, grains or vegetables, I have rarely made meatloaf. I don't know why actually, when I do make one and we eat it I always like it and wonder why am I not doing something so easy and delicious more often. But then I think of the mile-long cooking list I already have and realize that there is only so much time left for making meatloaf…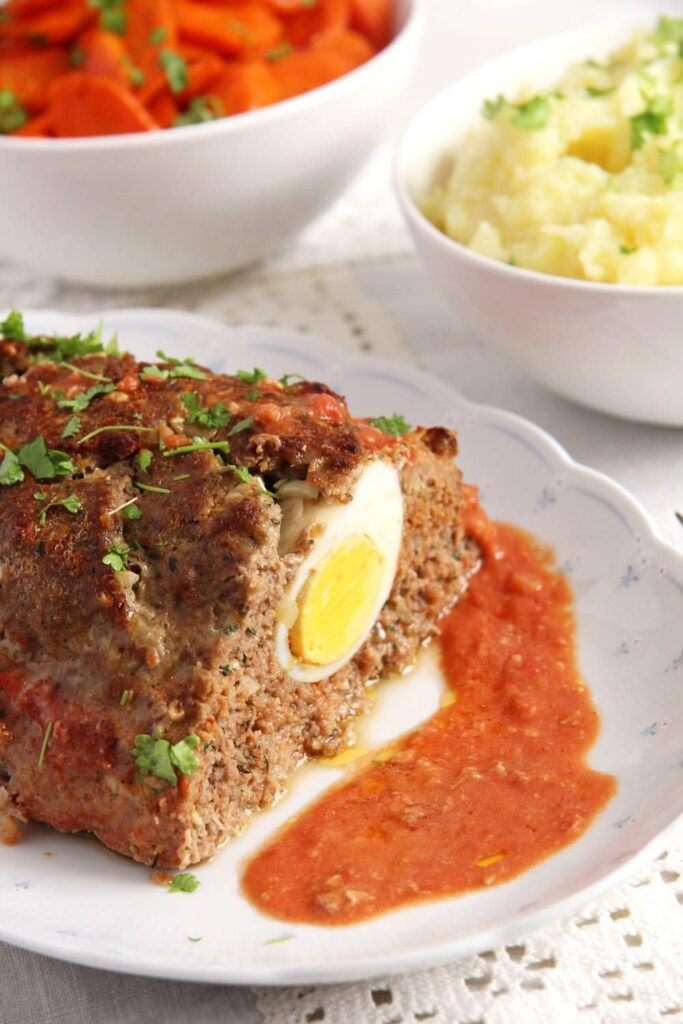 But I am glad I did get to make this Easy Beef Meatloaf with Hard Boiled Eggs. It was a happy coincidence of me finding this recipe in one of my notebooks and having an abundance of eggs in the house. I wrote this recipe there in 2004 from a Romanian cookbook I borrowed from a friend (unfortunately I have no idea who wrote that book, I just scribbled down some recipes without bothering about the author). I remember the year so well, because it was the first time I went back home after actually moving to Germany, I could not cook much yet and spent a lot of time writing down some of my grandmother's recipes and those found in Irina's cookbook.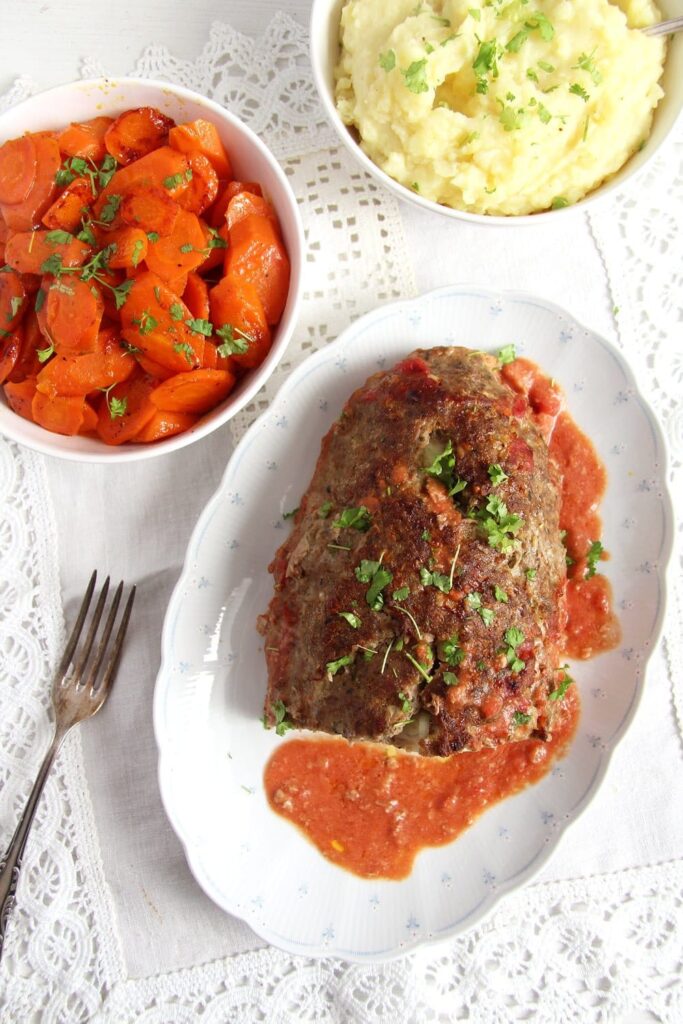 Although this is a recipe found in an old Romanian cookbook, I realize that meatloaf is one of those international recipes that seem to exist in lots of other countries. We have the Falscher Hase in Germany for instance and I have seen many American, British, Italian or Greek recipes for meatloaf as well.
Otherwise I hope you are enjoying your weekend, I am cutting it a bit short today, we are still on holiday and we have quite a few things planned for today. 🙂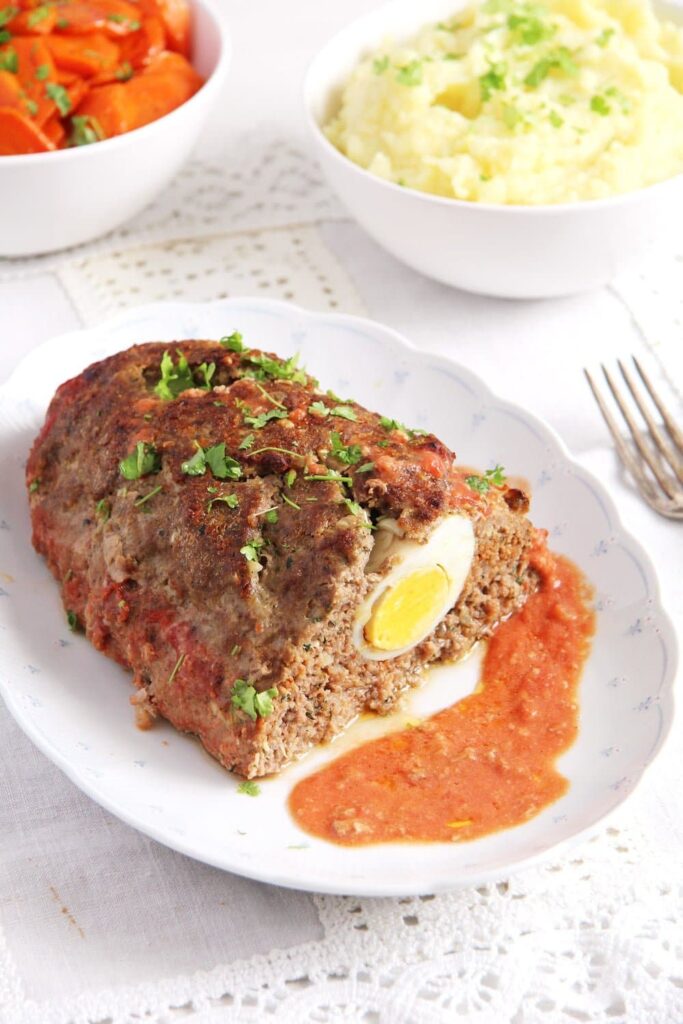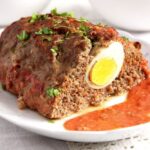 Ingredients
4 hard boiled eggs

60 g/ 2.1 oz white bread or rolls

150 ml/ ¾ cup milk

1 kg/ 2.2 lbs ground beef or half beef and half pork

2 medium onions

2 garlic cloves

2 eggs

2 teaspoons dry savory or thyme or other dry herbs of choice

2 tablespoons fresh parsley, chopped

1 teaspoon sweet paprika powder

2 teaspoons salt

pepper

1 tablespoons olive oil

1 can chopped tomatoes, 400 g/ 14 oz
Instructions
To boil the eggs place them in a small pot, cover with water, add some salt and bring to a boil. Turn off the heat and let the eggs stand, covered, for 12 minutes. Drain and rinse well with cold water. Let get cold and peel.
Preheat the oven to 200 degrees Celsius/ 400 degrees Fahrenheit.
Break the rolls or white bread into small pieces and soak in the milk.
Place the ground meat in a large bowl. Add the very finely chopped onions, soaked bread, grated garlic, the two raw eggs, dry herbs, chopped parsley, paprika powder, salt and pepper. Mix well with your hand.
Place about half of the meat in a roasting tin, form a long shape of about 23 cm/ 9 inch, arrange the hard-boiled eggs on top and cover with the rest of the meatloaf mixture. Give the meatloaf a nice form, oiling your hands lightly for this purpose.
Pour the canned tomatoes and the oil around the meatloaf, add some salt, pepper and more dried herbs and bake for 40 to 60 minutes or until the juices run clear. Let rest for about 15 minutes and serve with potatoes and vegetables or salad of choice.
Others you might like: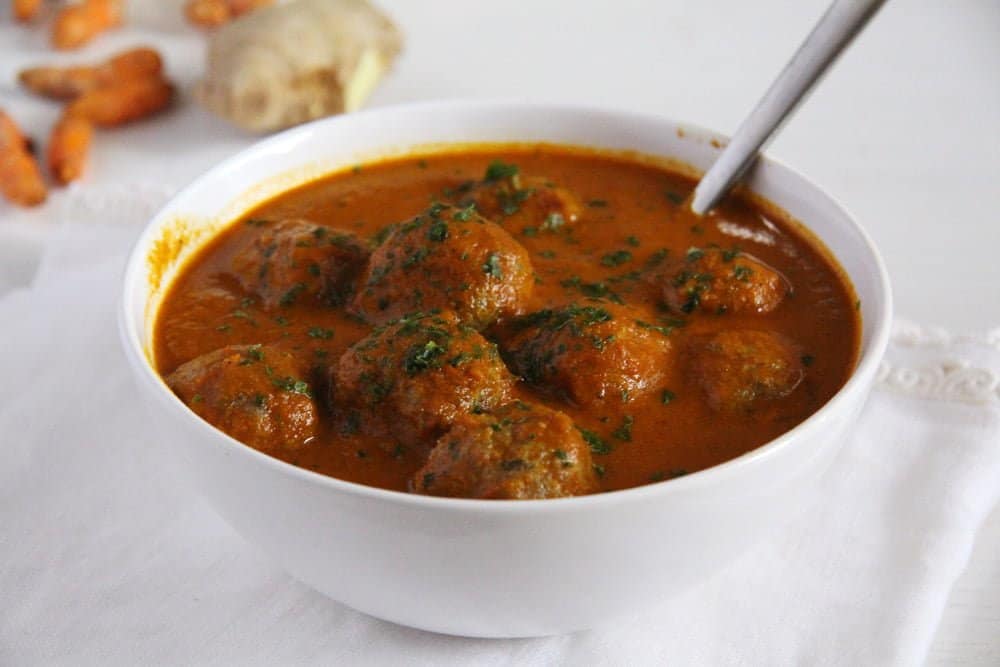 Turkey Meatballs in Turmeric Sauce