Sarmale – one of Romania's national dishes: amazingly comforting, soft cabbage rolls stuffed with ground pork and rice and slowly cooked for hours.
This is my favorite dish ever! I like food and I have lots and lots of favorite dishes with at least one new one coming every month or so, but these Sarmale – Traditional Romanian Cabbage Rolls with Pork and Rice are IT! The undisputed top of the list, way above anything else, everything that ever comes after, only starts competing for the second place. 🙂
I grew up with sarmale, we had them often, not only for Christmas or Easter, and I am perfectly convinced that my grandmother used to make the best cabbage rolls ever. 🙂 This is her recipe, yet I still don't think I have ever managed to get my own sarmale to taste exactly like hers.
I don't know what her secret was, if she had any. Probably not, I have always assumed it had something to do with the products we use, the Romanian pork (which was often the pork somebody in our family would slaughter shortly before Christmas), the amount of fat the meat contains (I was told by the German butcher that the German pigs are much leaner nowadays and the pork belly needed for the sarmale is not half as fatty as it used to be). And the cabbage or the sauerkraut, I always say that the Romanian white cabbage was different, more suitable for sarmale, softer, with thinner leaves and the sauerkraut my grandmother made herself was different than the one I buy in the store… I don't know… maybe I am just idealizing my grandmother's sarmale, because I know I will never get to eat them again.
But anyway, despite all this, these Traditional Romanian Cabbage Rolls with Pork and Rice still taste so good, you will not be able to stop eating them.
I know now that at least half of the Romanian people, who will get to read this post will probably think: "Hey! These sarmale are not genuine, they are not the way my mother/grandmother/wife/etc makes them!" This is something you will hear a lot when it comes to traditional/national recipes. These are old recipes passed down from one generation to another, they are made all over a whole country, by thousands and thousands of different people. Each got the recipe (mostly in an unwritten form) from a mother or a grandmother, put its own stamp on it and passed it on to the new generation, the recipe developed a bit differently in each region of Romania, in each town, in each village and in each family.
So there is not one genuine recipe for sarmale or stuffed cabbage rolls, there are thousands of them, all following the same basic lines, but still different.
These are my family's sarmale, so to say! My aunt, for instance, makes them in a quite similar manner and her sarmale are utterly delicious as well, similar to mine and those of my grandmother, but still they are never quite the same as ours. Like I've said: each person cooking them gives the cabbage rolls her/his own personal touch.
How to make Sarmale – Traditional Romanian Cabbage Rolls with Pork and Rice:
Making sarmale is really not difficult at all, but it is time consuming. Rolling each cabbage roll takes patience and a little bit of practice, you might be annoyed when rolling the first 3 or 4 rolls, but you will get the hang of it pretty quickly.
And because making sarmale takes so much time, not only preparing the leaves and rolling the sarmale, but also cooking them, it is always well worth it to make lots of sarmale at once. I always double the recipe and have enough sarmale to feed a crowd for several days, 2 large pots.
You should always make sarmale the day before you want to eat them, they should be allowed one day to develop the flavors and they actually taste better each time you reheat them.
The Romanian cabbage rolls I make are soft, very soft, if cooked properly they will almost melt in your mouth. I had tougher cabbage rolls before, cooked by other people, and although sarmale are always good, I have to say that for me they have to be soft. In order to achieve that consistency, my grandmother always added water to the filling, about half a cup or a bit more cold water, until the meat rice mixture is soft and slurpy.
That also means that the cabbage leaves used have to pretty soft as well. That is not a problem when using sauerkraut, but when using fresh cabbage make sure you soften the leaves properly, that they are really pliable when ready to fill and that you carefully remove all the thick parts of the stem.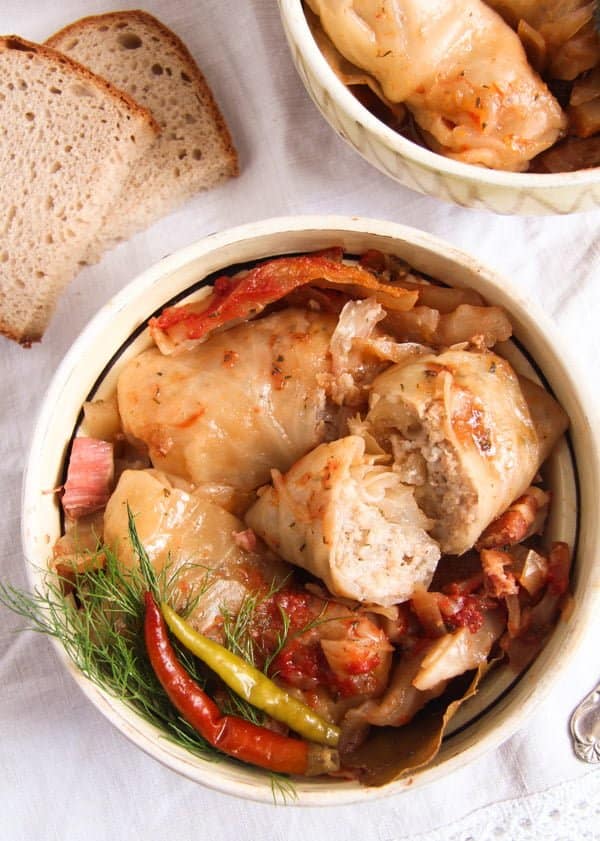 Notes on the products:
Fresh Cabbage or Sauerkraut:
Sarmale can be made with fresh white cabbage or sauerkraut. Traditionally, I would say that sauerkraut should be the first option, but personally I have always liked fresh cabbage rolls or "sweet" sarmale better. Don't get me wrong, I love the sauerkraut version as well, they are amazing, but I like the fresh cabbage just a tick better.
If you want to make them with sauerkraut, you will have to buy whole heads of fermented white cabbage. I usually buy them at the Russian/Polish/Turkish supermarket. If you find it, soak the leaves for a while otherwise they might be too sour or too salty. I do that for about 2 to 4 hours. Also working with sauerkraut makes the whole process easier, the sauerkraut leaves are already soft and pliable, while the fresh cabbage leaves need to be prepared for stuffing.
If you don't find the sauerkraut, absolutely no problem, you can make the sarmale with fresh white cabbage. To prepare the fresh cabbage is not difficult but requires a bit of patience and a good knife. See instructions below in the recipe.
The Meat:
My grandmother and my aunt always said that the fatter the meat you use, the better the sarmale. I didn't want to follow that at first because I try not to cook with so much fat, but I am afraid that they are right. I make sarmale only about 2 or 3 times a year, so I suppose it's OK with the fat content. I buy pork belly at the butcher's, ask for the fattier pieces of belly and they grind it for me. My grandma used to throw in a large piece of ground pork fat or lard for good measure, but I leave that out.
Also, when I buy the pork belly, I buy some smoked spare ribs, not much about 300-400 g/ 10.5-14 oz. I normally have to order them in advance here, I don't know how it is where you live, you might want to ask in advance just to be sure that they have it.
The Spices:
Lots of savory – cimbru is important when making sarmale. My aunt always sends me cimbru from Romania. I found it translated as thyme but cimbru has not much in common with the thyme I buy here, in Germany. Another translation is savory, but as I have never bought that in an English or American shop, I cannot say 100 % that it is the same thing.
Dill seeds are also very important for the taste, in my opinion. I sprinkle them generously between the layers of sarmale.
Also make sure you have enough bay leaves in the house, you will need quite a few of them.
How to serve the Romanian Cabbage Rolls:
Sarmale taste best when reheated, so I always make the cabbage rolls one day before meaning to serve them. As I always make two huge pots, we always eat sarmale 3 or 4 days in a row and we always think they taste even better after each reheating. Just make sure that the sarmale are kept in the fridge between the meals.
You can serve sarmale with Polenta or white bread. Most of the times, we eat them with polenta on the first day and then with white bread on the following days.
Smetana or crème fraiche (or even Greek yogurt) are a must. Give a generous dollop of it on each plate.
Also, buy some pickled hot peppers, preferably in an Eastern European or Turkish shop and serve them on the side.
And for more rolls:
Ingredients
1 large head cabbage (either sauerkraut or fresh)

½ cup white wine vinegar when using fresh cabbage

1 kg/ 2.2 lbs ground fatty pork belly

2 medium onions

scant ½ cup long grain rice

½ – ¾ cup cold water

300-400 g/ 10.5-14 oz smoked spare ribs

200 g/ 7 oz bacon, preferably smoked

lots of dry savory (cimbru)

lots of bay leaves

peppercorns

dill seeds

salt

about 250 g/ 8.8 oz pureed tomatoes

polenta or white bread to serve

smetana or crème fraiche to serve

pickled hot peppers to serve
Instructions
Preparing the leaves:
If you use sauerkraut separate the leaves and soak them in cold water for 2-3 hours.
If you use fresh cabbage, start by bringing a very large pot of water to a boil, a pot large enough to hold the cabbage head and still leave you some place to handle the cabbage.
Remove the hard core of your cabbage. First cut away the protruding part of the core. Then make incisions with a small sharp knife around the core, about 4-6 incisions around the core. Try to loosen the core by cutting through it from one incision to the other, like making lots of X signs. When the core is loose enough start removing it piece by piece cutting here and there to make it looser.
[gallery size="medium" ids="7811,7812"]
When the water boils add about 1 tablespoon of salt and the white wine vinegar. Carefully place the cabbage in the water, first with the hole facing down. Cook it for about 10-15 minutes, then turn it in and start removing the leaves. You will do that with the help of two forks, scratching and pulling at the edges of the hole. If they don't come off easily continue cooking the cabbage until they start to come off. Be careful not to scald your hands with the boiling water.
You will only be able to remove one or two layers of leaves at a time, so patience is required. Keep turning the cabbage in the pot from time to time. After removing some leaves, leave them to drain and cool down in a large colander and continue cooking the rest of the cabbage until you are able to remove all the leaves. The leaves should be really pliable.
Making the filling:
In the meantime wash and drain the rice. Soak it in enough cold water to just cover it until ready to use.
You can also prepare the filling in the meantime. Grate the onions or chop them very very finely. In a large bowl mix together the ground meat, the rice and its water and the onions. Add salt, generously if using fresh cabbage and carefully if using sauerkraut, which is already quite salty. You can always sprinkle more salt on your cooked cabbage rolls when eating, but if they are too salty, there is not much you can do about it anymore.
Add lots of savory, rubbing the savory between your fingers before giving it to the mixture.
I am afraid I have never measured how much salt and savory I use, but I do put plenty of them in the mixture (less salt when using sauerkraut!!) I taste until I get the right amount. I don't know if you are comfortable with tasting the raw meat, but in this case I don't mind it, it is just a tiny amount, more like licking my fingers or something like that.
Also you have to add some water to the filling to make it really soft. This is not a filling like you would have for stuffed peppers for instance, it has to be really soft. Add water little by little until you get the soft consistency. I add about ½ to ¾ cup cold water. Mix well with your hands, the mixture should be soft and slurpy.
When the mixture tastes well and the cabbage has cooled down a bit, you can start making the rolls.
Making the rolls:
First prepare the leaves. You can halve the large leaves in the middle, dividing them at the stem, which you can discard. Leave the medium and smaller leaves whole, but cut away the lower part where the stem is very thick and try to cut the stem thinner with a sharp knife, which you will lead over the thicker upper side of the stem. If some of the leaves break, don't throw them away, you will either be able to build some rolls with the help of two broken leaves or chop them finely and use as a base and topping for the sarmale pot.
Roll the cabbage rolls. Place some filling at the base of the cabbage leave, fold the lower side over the filling, then the right side of the leaf over the meat and roll. Stuff the left side of the leaf with your finger inside the roll.
Assembling the pot:
Cut all the leftover cabbage into fine slices, the inner very small leaves and any other rests. Place half of them on the bottom of a large pot (cast iron would be great, but I have used other regular large pots as well). The pot should be large enough to hold two layers of cabbage rolls and still have some space at the top, so that the water in the pot will not overcook and make a mess on your stove top.
Place 2-3 bay leaves on the chopped cabbage layer, 5-6 peppercorns, a good sprinkle of dill seeds and an even better one of cimbru/ savory.
Separate the smoked ribs and place about a third of them on top of the chopped cabbage. Chop the bacon and give about a third of it on the cabbage. Arrange one layer of sarmale on top and top them with bay leaves, peppercorns, dill seeds, savory, bacon cubes and ribs again. If using fresh cabbage sprinkle the rolls with some salt as well. If using sauerkraut, you will probably not need more salt.
Arrange the second layer of cabbage leaves and top with bay leaves, peppercorns, dill seeds, savory, bacon and ribs again. My pot only takes two layers of cabbage, but if your pot fits more continue in the same fashion. You should not have less than two layers though. The pot should not be full to the brim, the sarmale will expand a bit while cooking and the water will cook over if the pot is too full.
When all the rolls are in the pot, top everything with the remaining chopped cabbage.
Bring a kettle of water to a boil and carefully pour over the sarmale. There should be enough water to hold the rolls but not cover them completely.
Cover the pot and bring everything to a boil, then lower the heat to a minimum. Simmer, covered, leaving a thin crack open for about 2 ½ hours or until soft.
After this time preheat the oven to 180 degrees Celsius/ 360 degrees Fahrenheit.
Mix the pureed tomatoes with some boiling water, enough to make the puree runnier. Pour the mixture on top of the sarmale and let it sip through them a bit. Alternatively you can thinly slice a few ripe tomatoes and place the slices on top. In this case add a bit more of boiling water as well, but not too much.
Continue cooking the sarmale for about one hour more in the oven, but this time uncovered. If you think that most of the liquid is gone you can add a bit more boiling water but don't overdo it, most of the water should be gone by the end of the cooking time anyway and the top of my pot is always a shade darker and slightly caramelized, I like that.
Serve with polenta or white bread and smetana. And some hot pickled peppers, if you like them.
This post contains affiliate links. The price you pay as a consumer does not change, but if you make a purchase we will receive a commission which helps support the blog.