Traditional Romanian fried doughnuts – papanasi (papanash) - made with cottage cheese and topped with smetana and jam.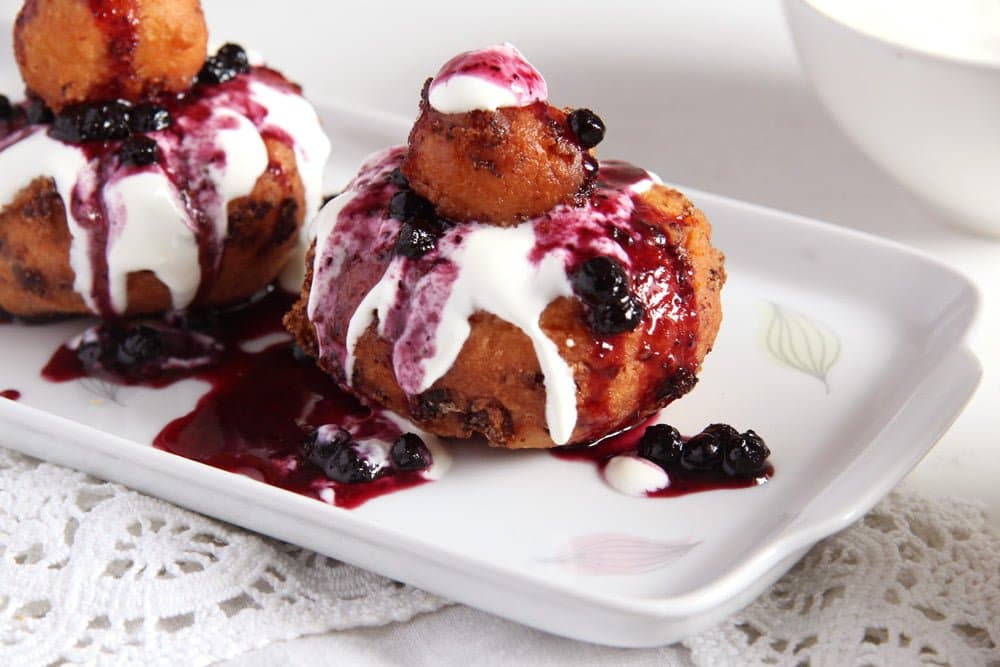 These papanasi or Romanian fried donuts/doughnuts are the best donuts ever!!! Soft yet crunchy, oozing with sour cream and blueberry jam, ever bite is a complete delight. No wonder that they are the most popular Romanian dessert!
I am not a doughnut person generally, I buy them rarely and make them myself once every five years or so, I would say. It is not that I don't like them at all, but at least not as much as to ever crave them unless I see a scrumptious photograph on one of my favorite blogs.
But what I do crave from time to time are these papanasi (pronounced papanash).
These cheese doughnuts topped with jam are one of the best known Romanian desserts, something you will probably find on the menu of every Romanian restaurant out there.
They are quick and easy to make and utterly delicious, something that both children and grown-ups will love.
I am telling you, if you tried them once, you will remember them for the rest of your life, and you will probably look for a recipe and try to make them yourself at home. They are that good!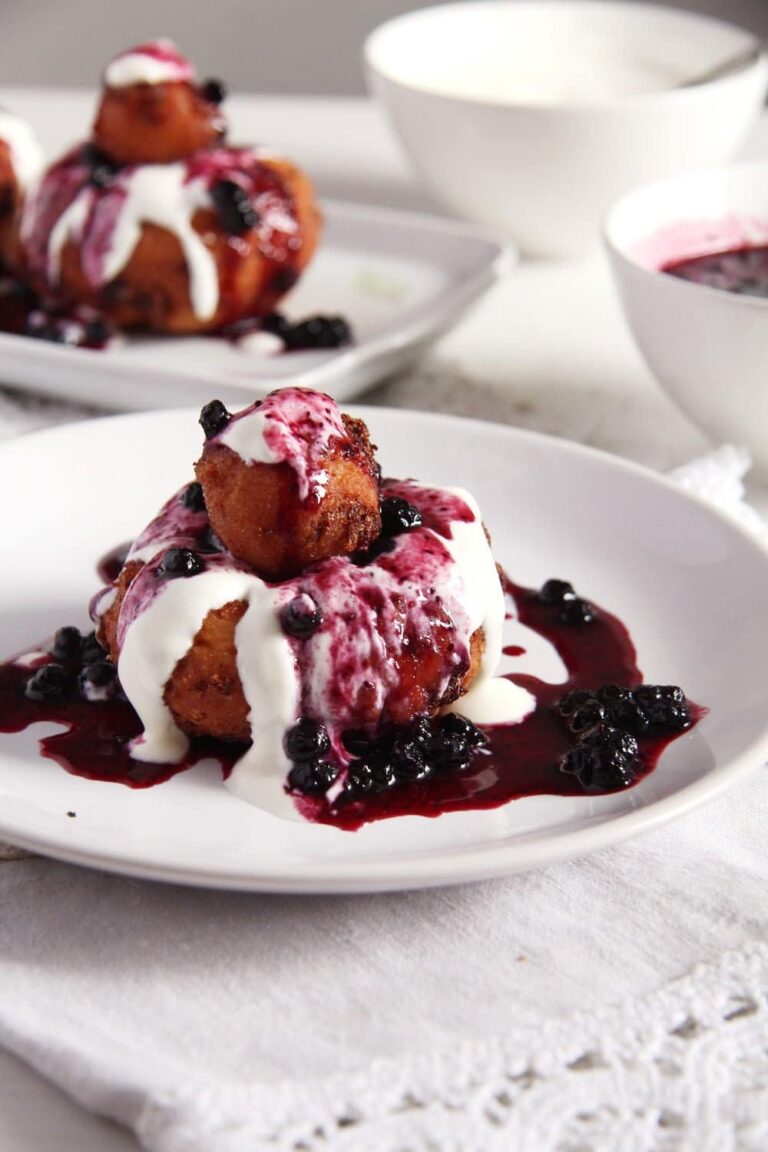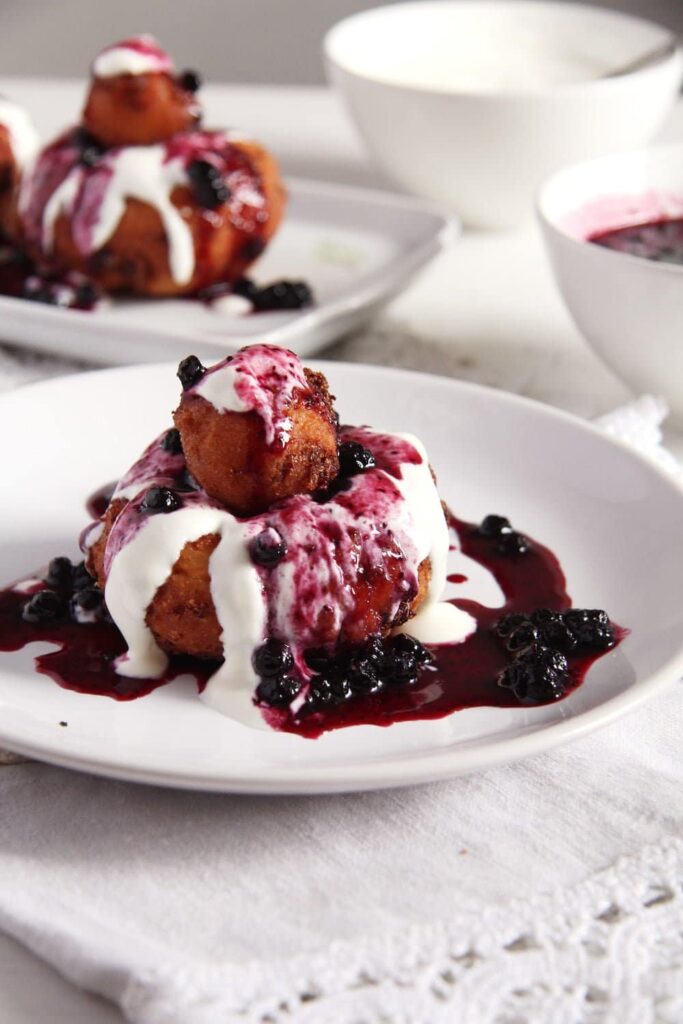 What are papanasi?
They are a typical Romanian dessert, basically cheese doughnuts. There are two kinds of Romanian fried doughnuts: fried or boiled papanasi.
Both kinds are made with the Romanian branza de vaci, which means cow's cheese. Branza de vaci is a fresh kind of cheese, low in fat, and high in protein. It has a soft consistency and a mild and fresh taste. It is similar to cottage cheese, but a little milder I would say.
However, branza de vaci is a typical Romanian product, something that I cannot buy in Germany.
It was my dear cousin, Georgiana, who gave me this recipe for papanasi and suggested to use cottage cheese instead of branza de vaci. So I did try to make papanasi with cottage cheese and it worked wonderfully.
The only adjustment I had to make was the amount of flour I used. My cousin told me that the dough will be soft and sticky, but I should definitely not add any extra flour except the flour needed to roll the papanasi on the working surface.
I really did try to follow her advice, but it would not work at all, the papanasi were sticky beyond description and did not hold together long enough for me to throw them in the oil.
The reason was the amount of water contained by the typical German cottage cheese, which is much higher than the amount of water contained by branza de vaci. I realized that after searching for pictures of the Romanian cheese and seeing its much drier consistency.
So I added a little bit more flour, not much, just enough to make the dough "workable" and the Romanian fried doughnuts or papanasi came out wonderfully.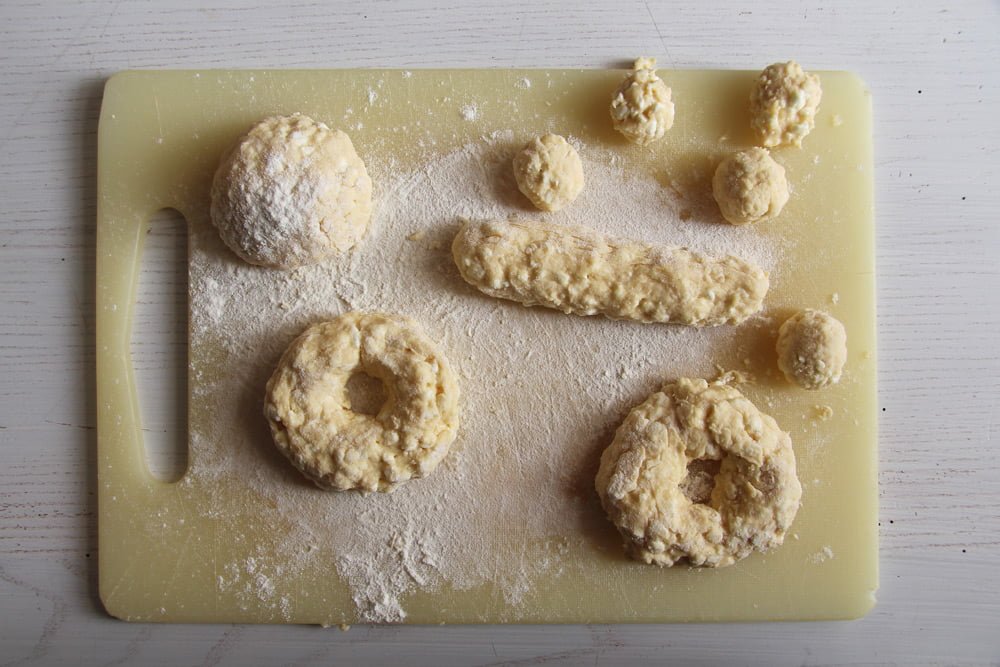 How to serve?
I served them just as they are supposed to be served, as a Romanian dessert after a light Romanian soup for 6 adults and 2 kids and everybody just loved them. Not only loved them but could not stop talking about them a long time after the meal was finished.
The papanasi are best served immediately, still warm and they would not be papanasi if they would not be topped with smetana and a runny, sweet blueberry jam.
Smetana is a typical Romanian and Eastern European dairy product, similar to crème fraiche. It is made by souring heavy cream and has a somewhat lower fat content than crème fraiche, between 10% and 30%.
I usually buy the German version with 20 % fat (Schmand) or the smetana found in the Russian store, which comes even closer to the Romanian version. However, if you cannot find real smetana, crème fraiche would be a good substitute in this case.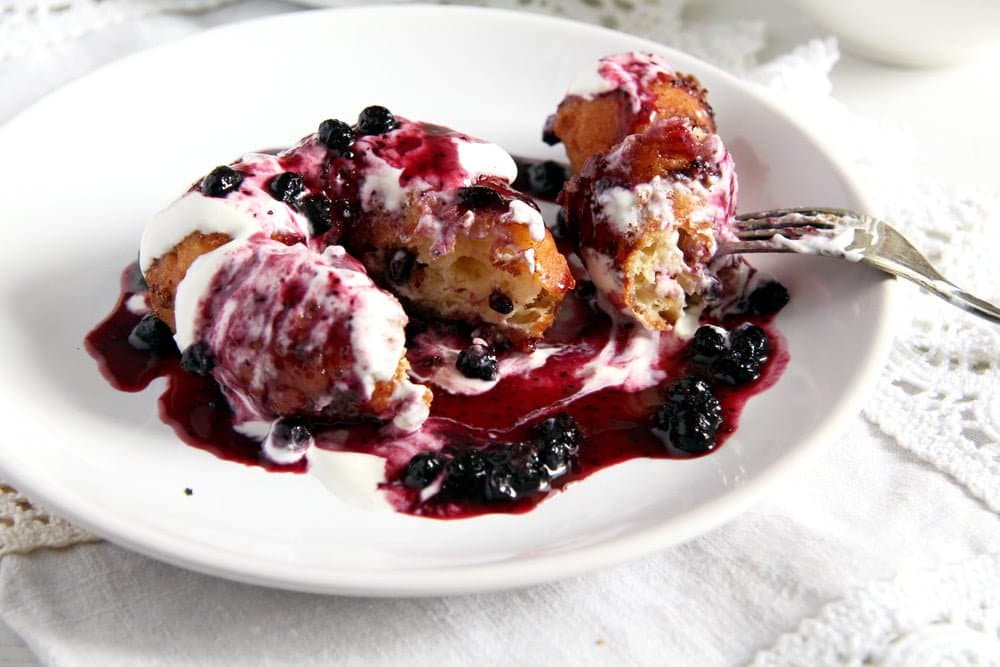 When it comes to the jam, the papanasi are usually served with blueberry jam, but of course, you can have them with any jam you like, I think sour cherry, blackberry, black currants would be all great alternatives.
What I pay attention to is the consistency of the jam, for papanasi I prefer a rather runny jam with whole fruits. Finely cut, sturdy kind of jams or jellies won't do in this case, the jam has to be runny, slide down the sides of the papanasi and make little pools of jam on the plate... 🙂 Yummm!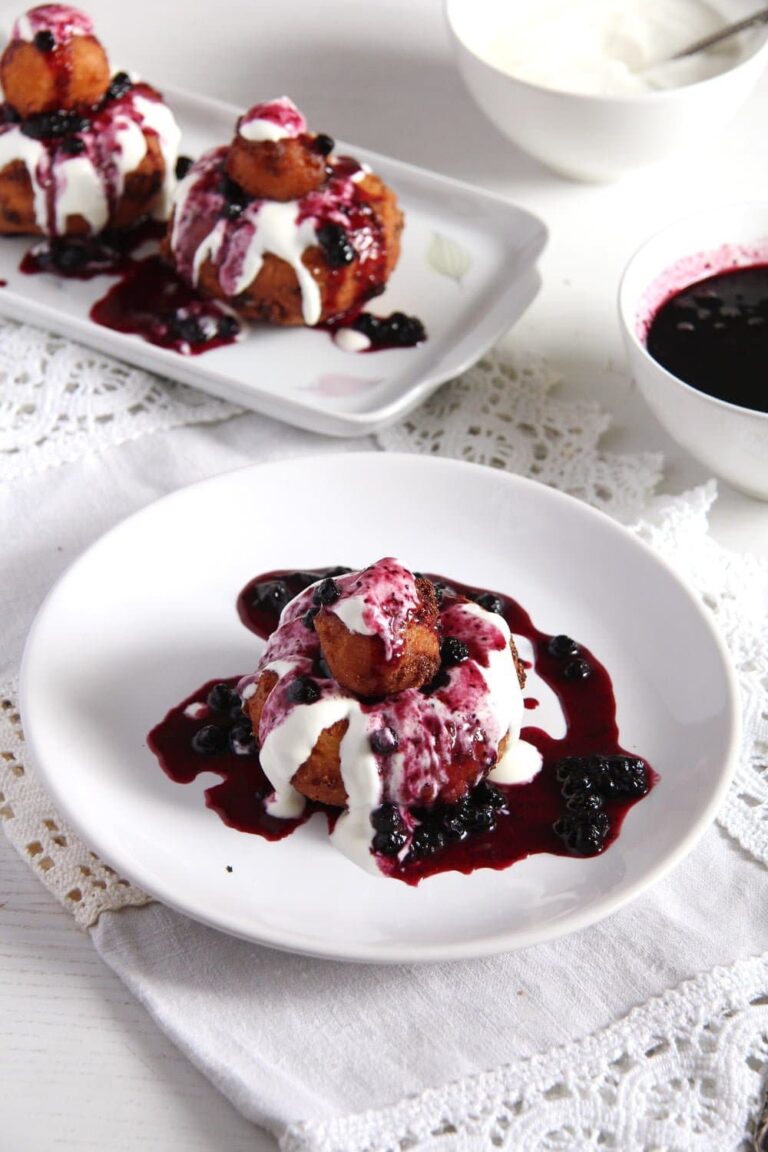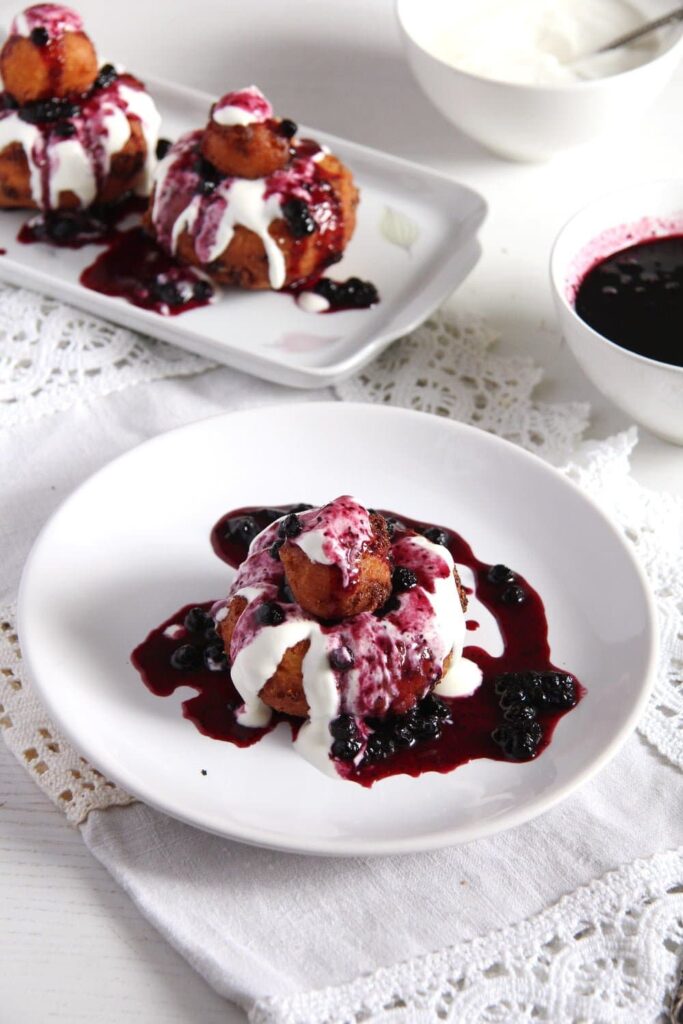 Other very popular Romanian desserts:
Salam de biscuiti - Biscuit Chocolate Salami
Spuma de capsuni - Romanian Strawberry Foam
Cremeschnitte - Vanilla Creme Pie
Crema de zahar ars - Creme Brulee
Ciocolata de casa - Romanian Homemade Chocolate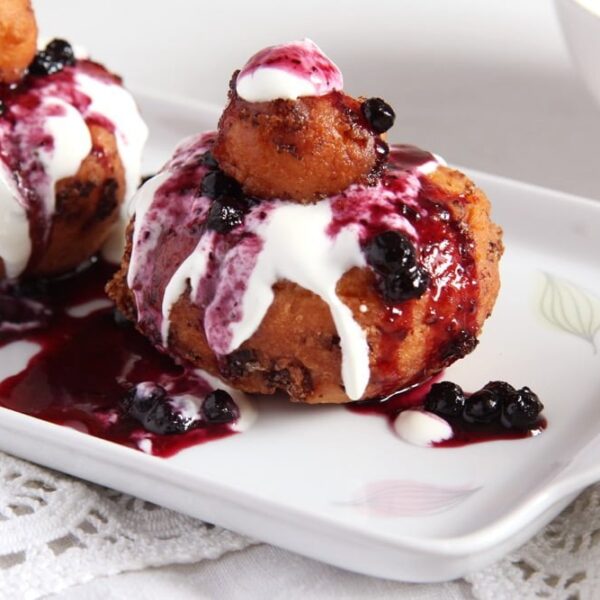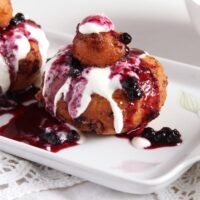 Romanian Cheese Doughnuts – Papanasi
Traditional Romanian fried doughnuts – papanasi (papanash) - made with cottage cheese and topped with smetana and jam.
Print
Pin
Share
Grow
Saved!
Rate
Ingredients
500

g

cottage cheese

1.1 lbs/ 2 ¼ cups

2

eggs

a few drops rum aroma

75

g

granulated sugar

2.6 oz/ ⅓ + 1 tablespoon

1

sachet vanilla sugar

230-250

g

all-purpose flour

8.1 – 8.8 oz / about 2 cups

1

teaspoon

baking soda

cooking oil for frying the doughnuts

250

g

smetana

or crème fraiche to serve, 8.8 oz/ about 1 cup

whole fruit runny blueberry jam to serve

or sour cherry, blackberry, black currants jam etc
Instructions
Drain the excess water from the cottage cheese.

Blend: Place the cottage cheese into a bowl. Add the eggs and the rum aroma, the granulated, and vanilla sugar. With an immersion blender, blend the ingredients until you obtain a rough paste. The cottage cheese should not be turned into a smooth paste, just blended a little bit to make the cheese balls a little more delicate.

Dough: Mix about 230 g/ 8.1 oz of the flour and the baking soda and add them to the cheese mixture. Mix with a spoon. Flour the working surface and your hands generously. Turn the dough onto the floured surface and knead it lightly to form a ball. The dough should still be somewhat sticky yet manageable. Add the remaining flour only if absolutely necessary, only if the dough sticks so much that you will not be able to work it at all.

Form donuts: Divide the dough into 9 balls. Roll 8 of the balls into thick sausages and unite the sausage ends to get a circle with a hole in the middle. Use the last ball to make 8 little balls, which will be used to top the papanasi.

Heat oil: In the meantime, heat the oil in a pot. Use enough oil to have about 10 cm/ 4 inches of it in the pot. To check if the oil has reached the right temperature, insert a toothpick in the oil; if there are blisters forming around the toothpick, you can start frying the papanasi.

Fry: Only fry two or three papanasi at a time, depending on the size of your pan, do not overcrowd the pan; the papanasi should be able to move around freely.

Turn the heat down to medium-low. Turn the doughnuts with a slotted spoon a few times in between and fry until the papanasi are golden brown.

It took me about 5 to 7 minutes for one batch, but keep a close look and take them out as soon as they have a nice golden color. Or leave them longer if necessary. The little balls will need less time, about 3-4 minutes or so.

Remove excess oil: Place them on plates lined with kitchen paper and dry them to absorb some excess fat.

Serve warm topped with smetana and blueberry jam. Place the little balls on top and top them with a bit of smetana and jam as well.
Nutrition
Serving:
1
papanas
|
Calories:
304
kcal
|
Carbohydrates:
43
g
|
Protein:
13
g
|
Fat:
8
g
|
Saturated Fat:
2
g
|
Polyunsaturated Fat:
4
g
|
Cholesterol:
59
mg
|
Sodium:
425
mg
|
Fiber:
2
g
|
Sugar:
12
g