Traditional Romanian fried doughnuts – papanasi (papanash) – made with cottage cheese and topped with smetana and jam.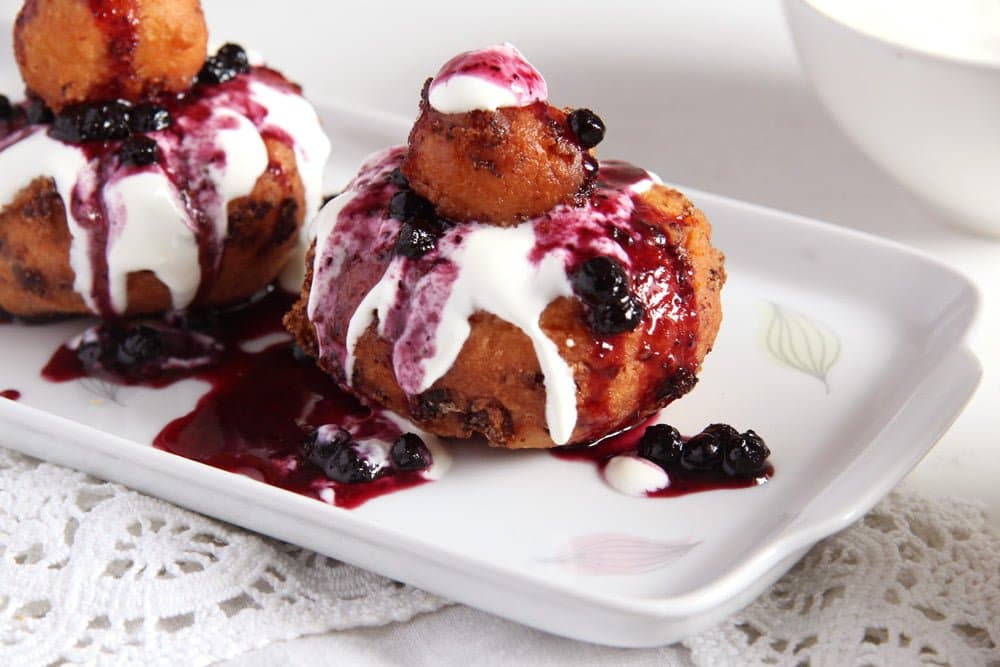 I am not a doughnut person generally, I buy them rarely and make them myself once every five years or so, I would say. It is not that I don't like them at all, but at least not as much as to ever crave them, unless I see a scrumptious photograph on one of my favorite blogs. But what I do crave from time to time are these Romanian kind of doughnuts called papanasi.
These Romanian Fried Cheese Doughnuts with Jam – Papanasi are one of the best known desserts in Romanian, something you will probably find on the menu of every Romanian restaurant out there. No wonder, they are quick and easy to make and utterly delicious, something that both children and grown-ups will love. I am telling you, if you tried papanasi once, you will remember them for the rest of your life, and you will probably look for a recipe and try to make them yourself at home. They are that good!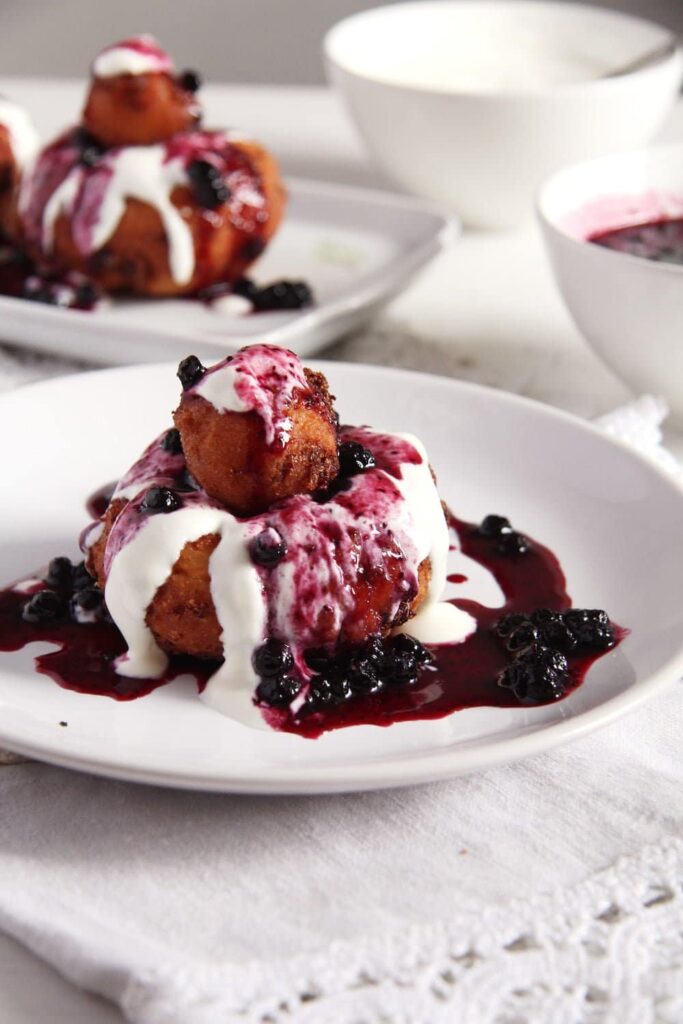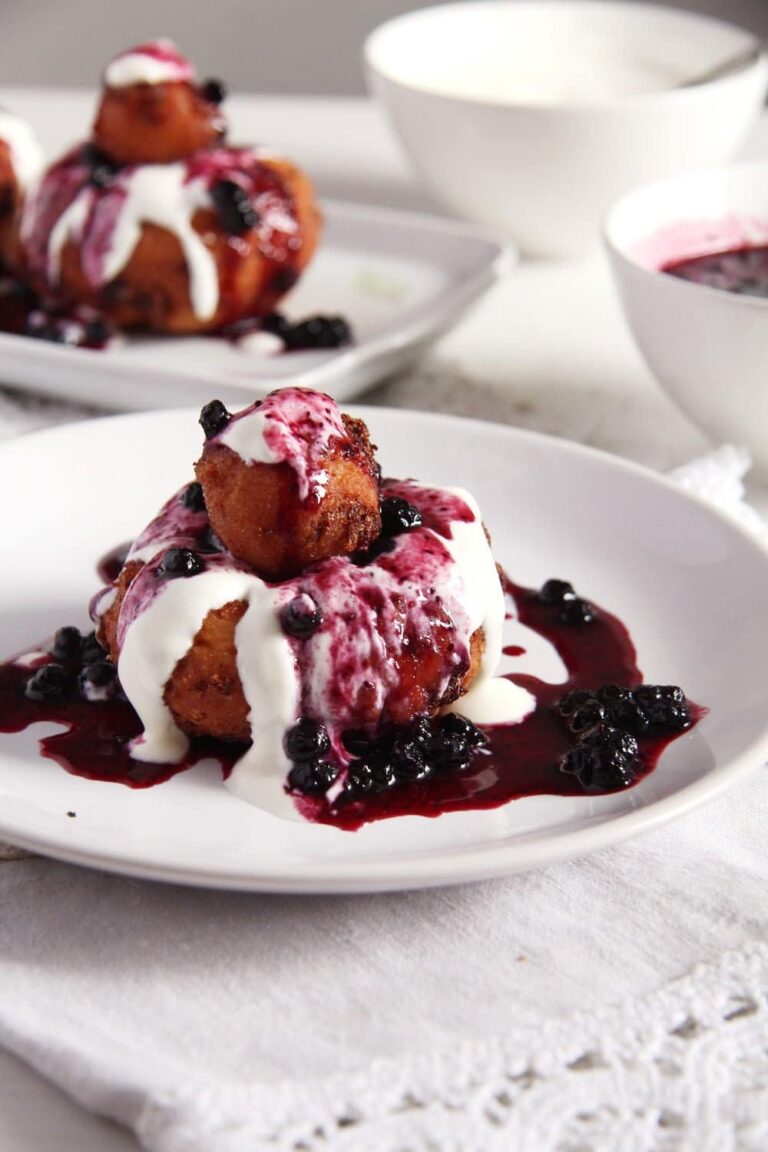 There are two kinds of papanasi actually, the fried ones and the boiled ones. Today I am giving you the recipe for the fried ones, which I would say are the best known ones. Next week, if all goes well, I will present you with the recipe for the Romanian Cheese Dumplings – Papanasi fierti.
Both kind of papanasi are made with the Romanian branza de vaci. However, branza de vaci is a typical Romanian product, something that I cannot buy in Germany. My dear cousin, Georgiana, who gave me this recipe for papanasi suggested cottage cheese, which is definitely something I can buy here. So I did try to make papanasi with cottage cheese and it worked wonderfully. The only adjustment I had to make was the amount of flour I used. My cousin told me that the dough will be soft and sticky, but I should definitely not add any extra flour except the flour needed to roll the papanasi on the working surface. I really did try to follow her advice, but it would not work at all, the papanasi were sticky beyond description and did not hold together long enough for me to throw them in the oil. The reason was the amount of water contained by the typical German cottage cheese, which is much higher than the amount of water contained by branza de vaci. I realized that after searching for pictures of the Romanian cheese and seeing its much drier consistency. So I added a little bit more flour, not much, just enough to make the dough "workable" and the papanasi came out wonderfully.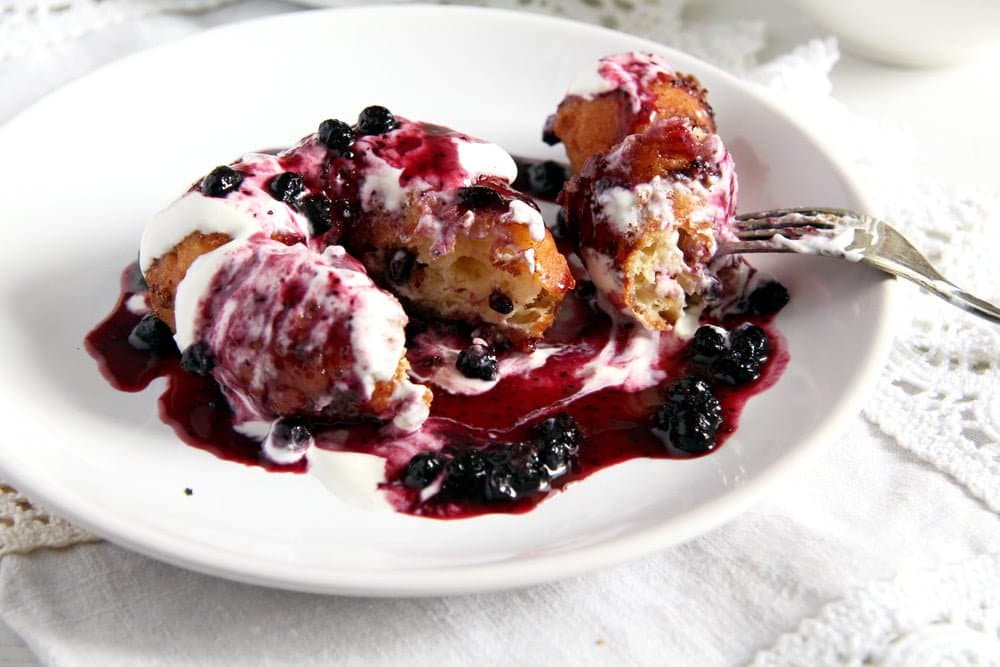 I served them as dessert after a light soup for 6 adults and 2 kids and (except my daughter, who sometimes is weird that way 🙂 ), everybody just loved them. Not only loved them, but could not stop talking about them long time after the meal was finished.
The papanasi are best served totally fresh, so still warm and they would not be papanasi if they would not be topped with smetana and a runny, sweet blueberry jam. Smetana is a typical Romanian and Eastern European dairy product, similar to crème fraiche. It is made by souring heavy cream and has a somewhat lower fat content than crème fraiche, between 10% and 30%. I usually buy the German version with 20 % fat (Schmand) or the smetana found in the Russian store, which comes even closer to the Romanian version. However, if you cannot find real smetana, crème fraiche would be a good substitute in this case.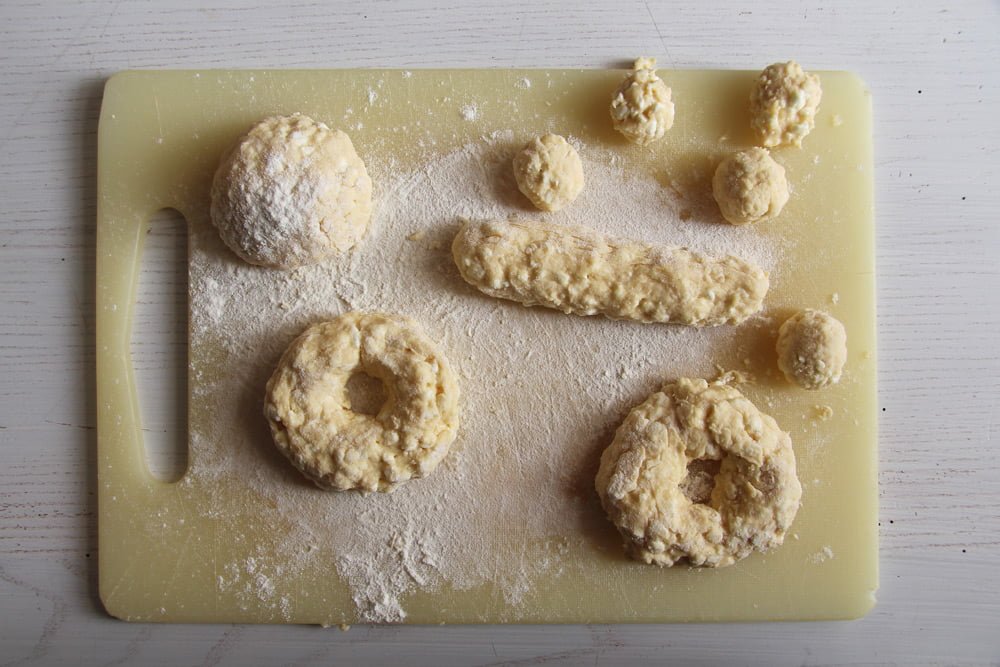 When it comes to the jam, the papanasi are usually served with blueberry jam, but of course you can have them with any jam you like, I think sour cherry, blackberry, black currants would be all great alternatives. What I pay attention to is the consistency of the jam, for papanasi I prefer a rather runny jam with whole fruits. Finely cut, sturdy kind of jams or jellies won't do in this case, the jam has to be runny, slide down the sides of the papanasi and make little pools of jam on the plate… 🙂 Yummm!
I am posting this today, on the weekend before Valentine's Day, because I think these Romanian Fried Cheese Doughnuts with Jam – Papanasi would make a delicious dessert or even main meal for a romantic dinner. They are quickly made, look stunning and you can be sure to win everyone's heart with them. And if you eat two of them, you will not need anything anymore. Just dessert as main meal, isn't that a great idea?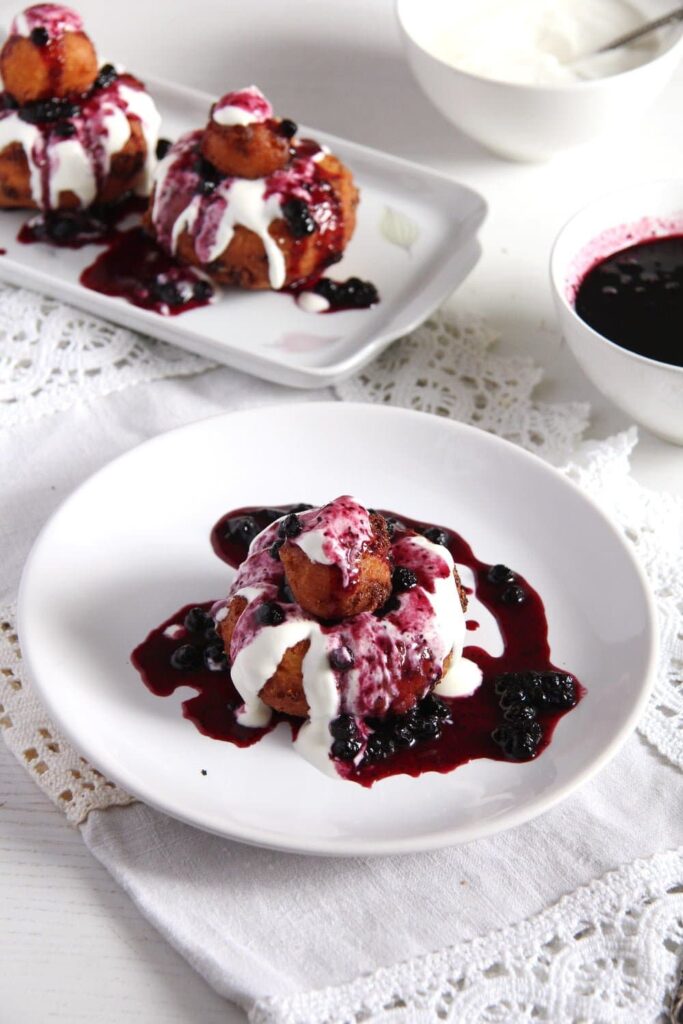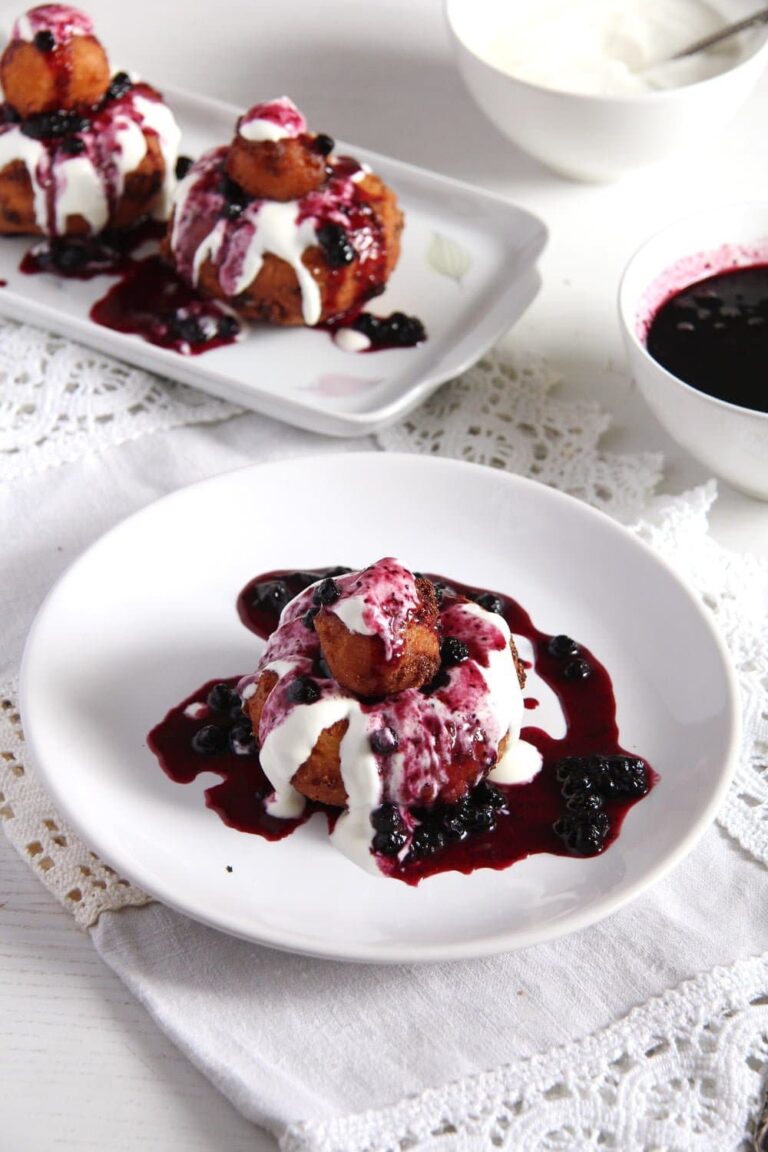 Others you might like: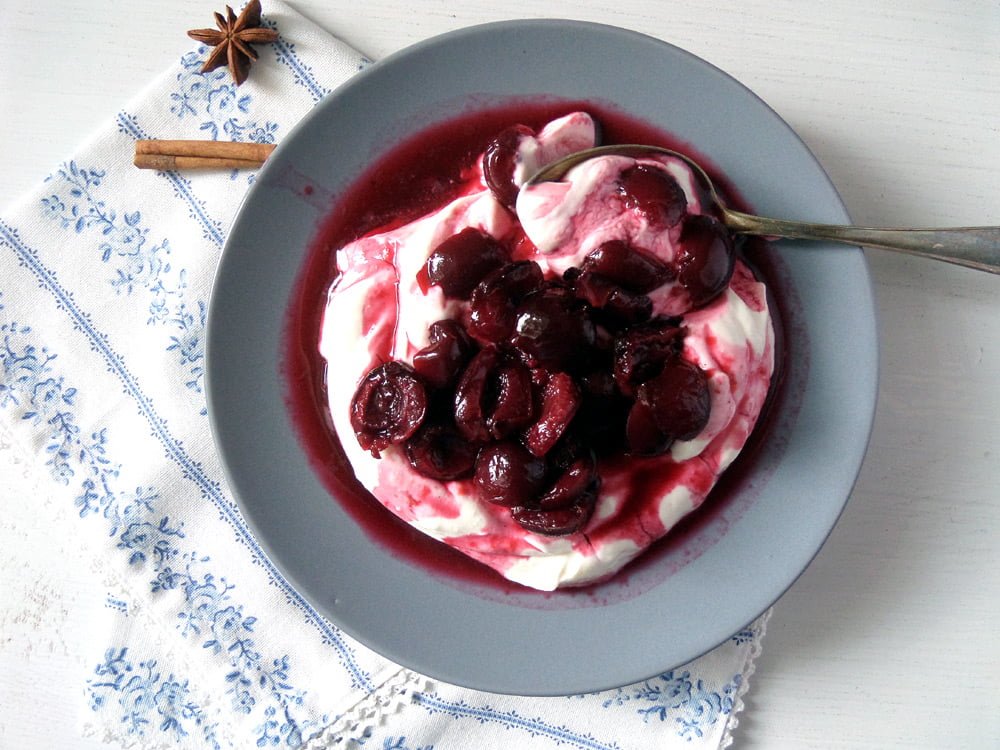 Roasted Cherries with Strained Yogurt