Romanian strawberry foam or spuma de capsuni made with only three ingredients: strawberries, egg whites and sugar in about five minutes.
Easy Strawberry Mousse with Egg Whites
This strawberry foam was THE summer dessert for me and my sister while growing up.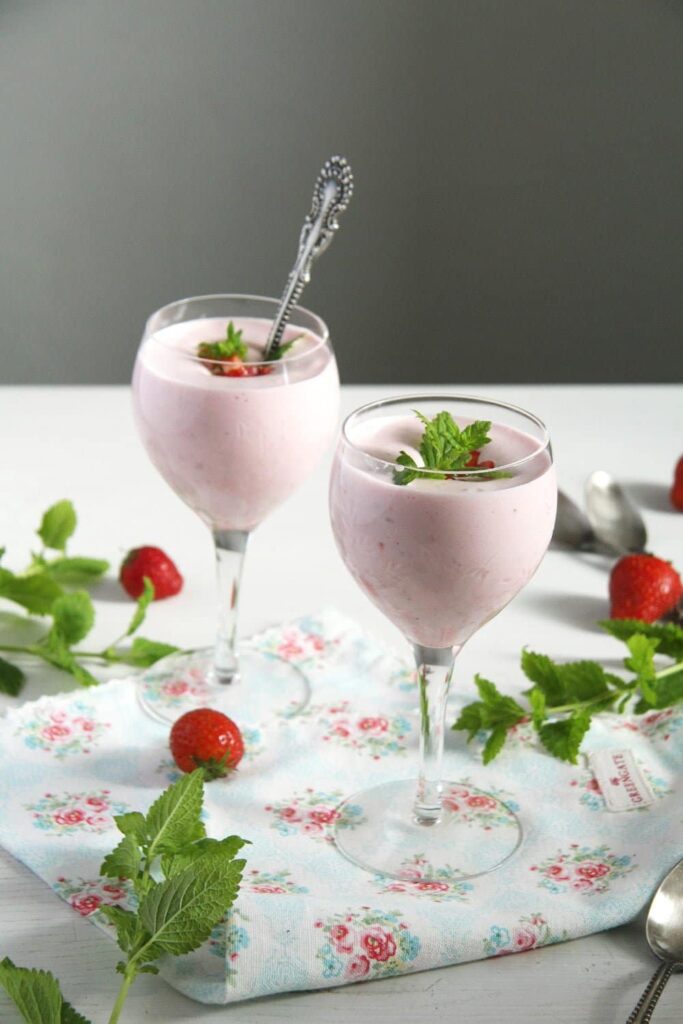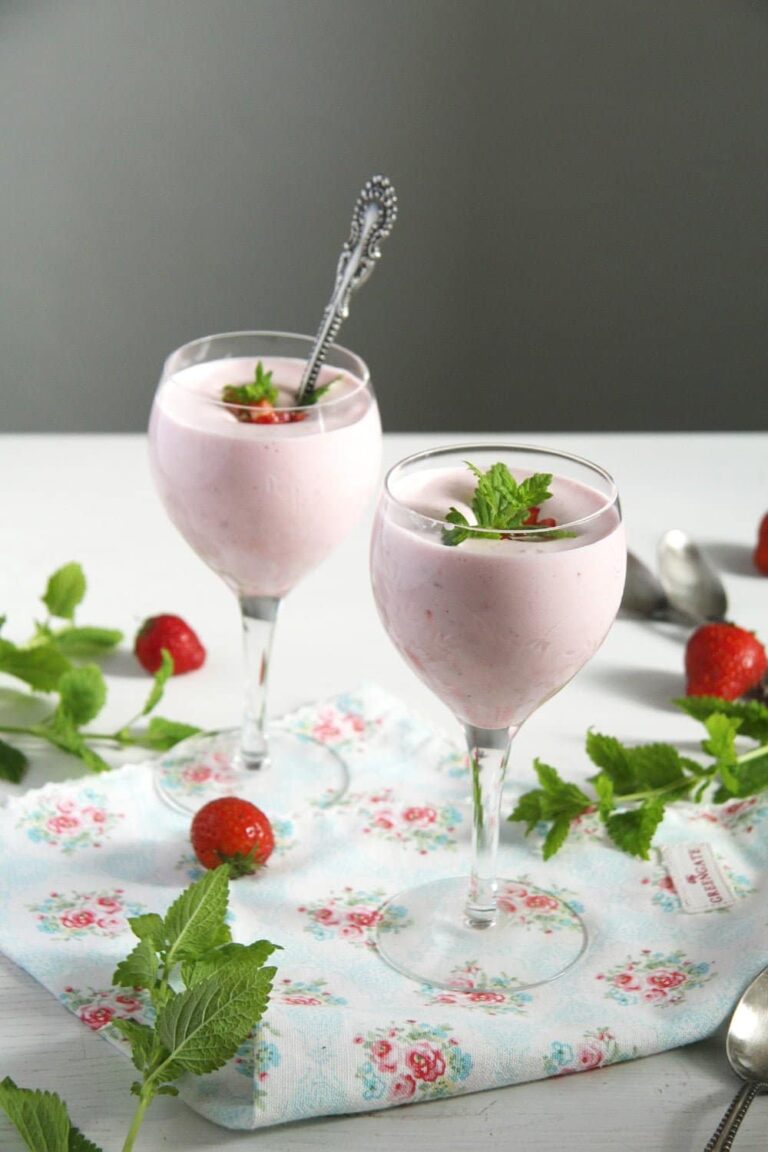 My grandmother was not much into making sweets of any kind, she didn't really have much time to start with anyway, she always worked full-time, so in spring/summer when we would crave for something sweet, she used to whip up this fresh strawberry mousse. It was fast, very cheap and totally delicious!
And she was not the only one making this dessert, the strawberry foam is a typical Romanian dessert, I think everybody who grew up in Romania has had it plenty of times.
This strawberry mousse with egg whites kind of catches the essence of Romanian cooking: economical, yet using the best ingredients and tasting delicious.
Economical, because Romania was never a rich country, most people live on a tight budget, so food is often simple, relying on just a few good ingredients.
And when the ingredients are scarce, then you really have to make sure you get the best possible product, which will allow you to cook delicious food without the need for lots and lots of other things.
And when it comes to vegetables and fruit, great-tasting produce, Romania is the place to be, the soil is fertile and the weather makes the plants thrive.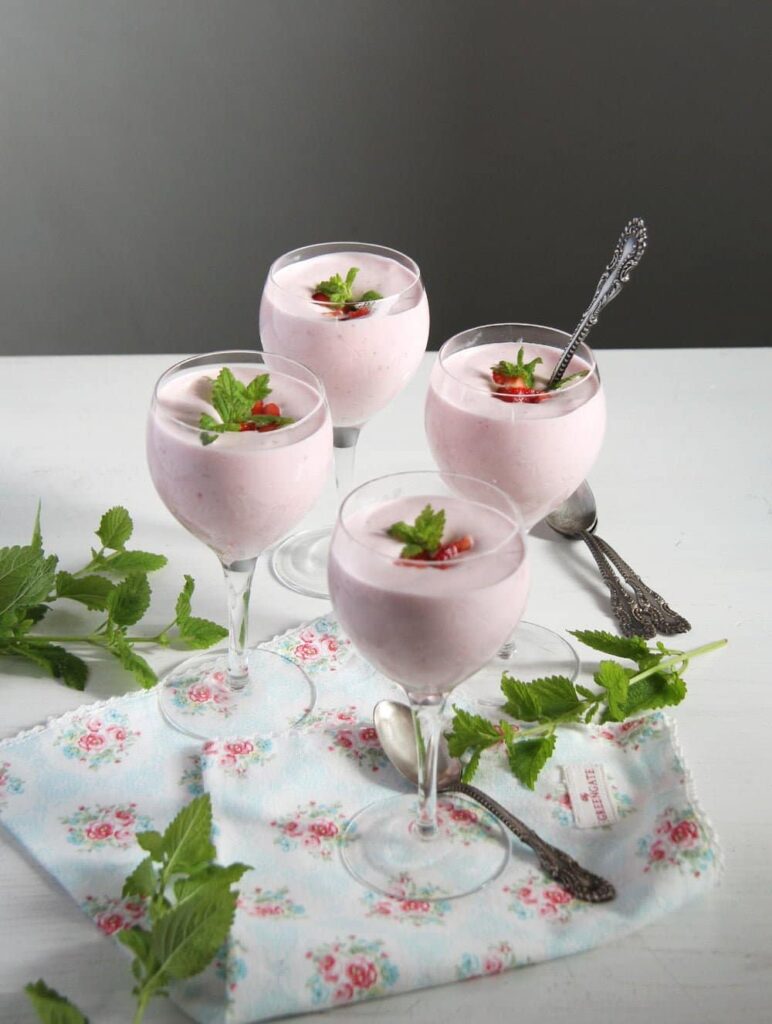 Ingredients
You will only need three ingredients:
Strawberries
Egg whites
Granulated sugar
So the most important thing when making this recipe: use the tastiest, sweetest strawberries you can get your hands on and the freshest possible eggs.
The egg whites will remain raw, so buy pasteurized eggs, if you are worried about Salmonella.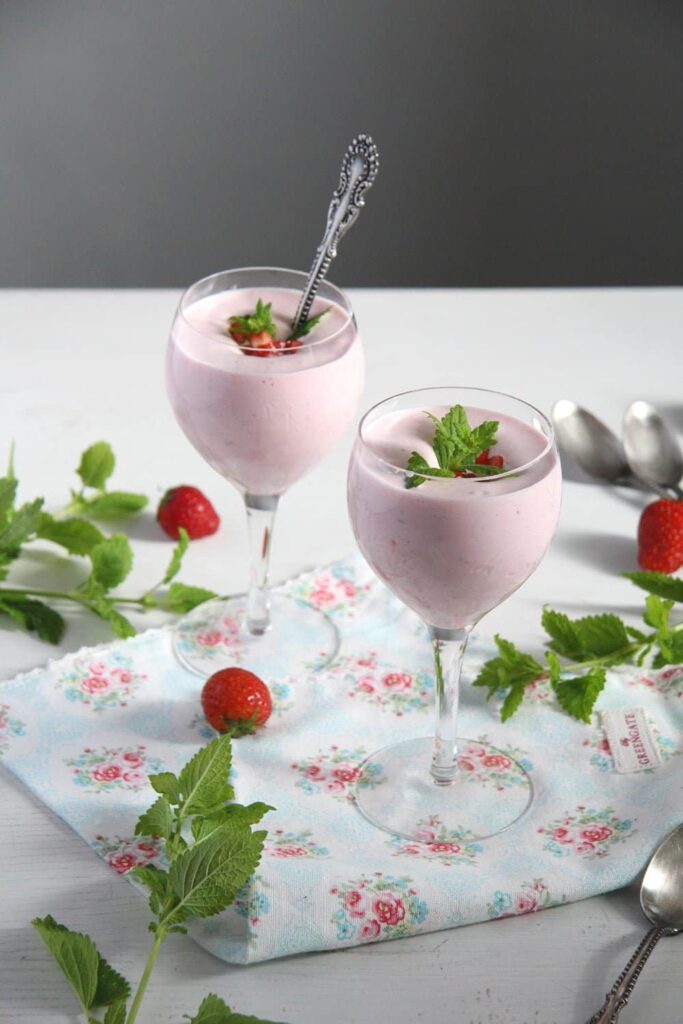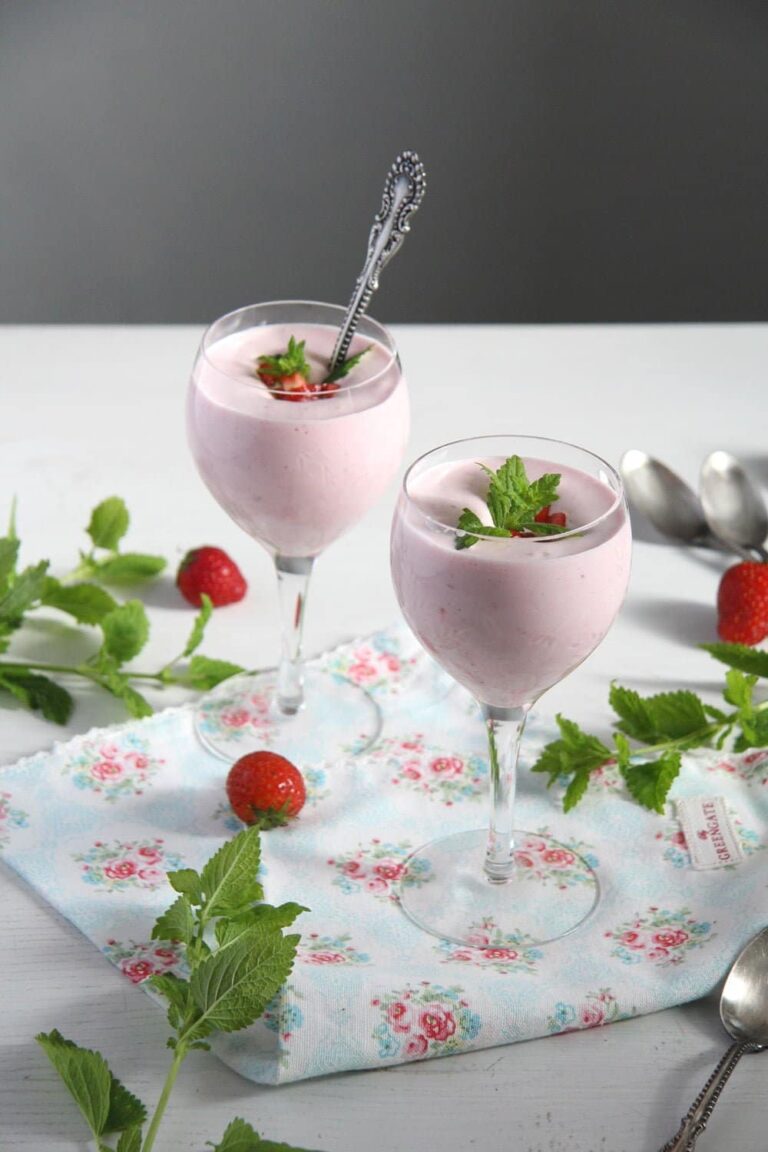 How to make strawberry foam?
Wash the strawberries and only remove the green top after washing them, if you cut it off before the strawberries will become watery.
Chop them finely and set a small amount aside for decorating the spuma dessert.
Whisk the egg whites until stiff. Make sure that the bowl and the beaters you are using are super clean, any trace of fat on them and the egg whites will not stiffen properly.
Slowly, start adding the sugar while beating the egg whites and continue until they are shiny and stiff again.
Add the chopped strawberries and continue beating until the berries are crushed and the foam has a nice color.
Place the strawberry mousse into serving cups (or wine glasses) and serve immediately.
How to serve?
The strawberry foam should be served immediately or as soon as possible.
You could make it before you start eating dinner, for instance, and keep it in the fridge until you are serving dessert, but only if absolutely necessary and definitely not longer than that.
More Romanian desserts?
Papanasi – Romanian Fried Donuts – the most famous Romanian dessert.
Cremeschnitte – Romanian Vanilla Cream Pie – Cremsnit – two layers of puff pastry filled with heavenly creamy vanilla cream.
Moist Apple and Cinnamon Cake – Prajitura turnata – the best apple cake there is.
Egyptian Hazelnut Cake – Prajitura egipteana, not really Egyptian but Romanian, no idea why it is called Egyptian.
Smooth Creme Caramel – Crema de zahar ars. Super sweet, super smooth and super delicious!
Romanian Chocolate – Ciocolata de casa – an absolut classic.
Pin it for later!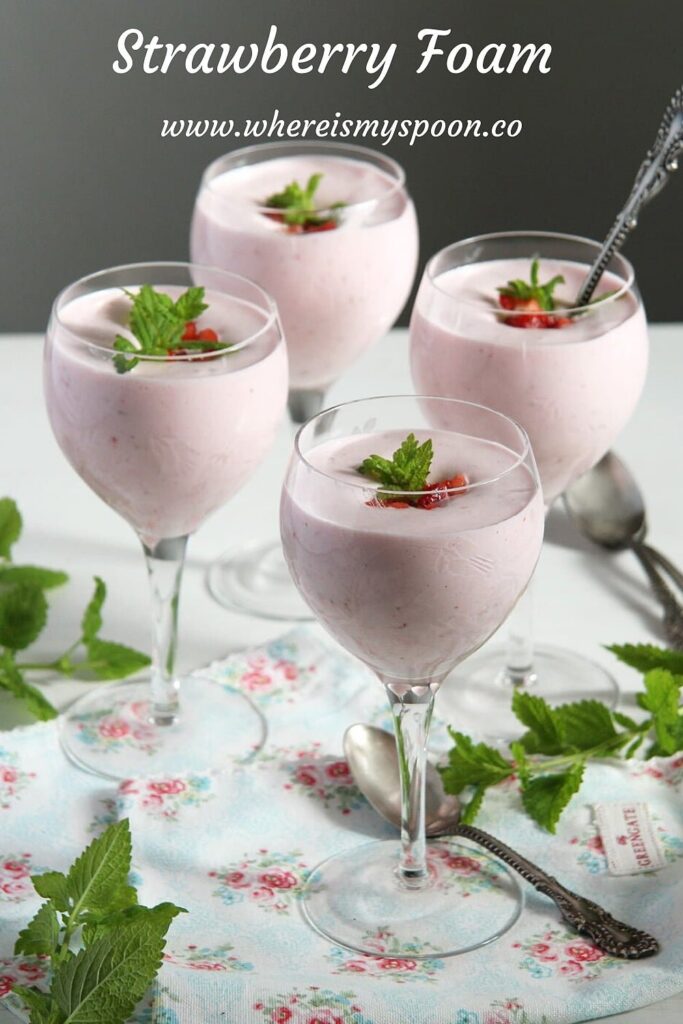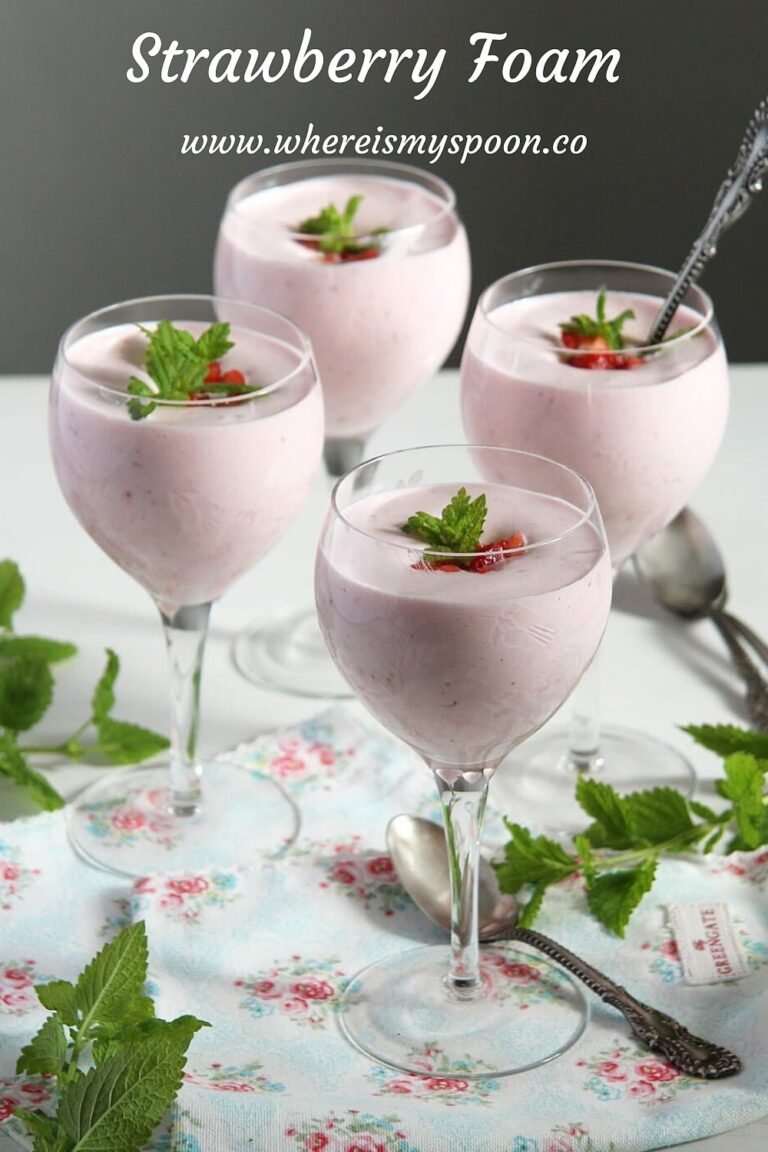 First published: June 26th, 2016.
Last updated: April 24th, 2020.
Romanian Strawberry Foam
Romanian strawberry foam or spuma de capsuni made with only three ingredients: strawberries, egg whites and sugar, in about five minutes.
Ingredients
450 g/ 1 lb strawberries
3 egg whites (See note)
150 g/ 5.3/ 3/4 cup granulated sugar
fresh mint or balm leaves to decorate, optional
Instructions
Clean and chop the strawberries finely.
Whisk the egg white until stiff, start adding the sugar slowly and continue beating until the egg whites are shiny and stiff again.
Add almost all the chopped strawberries, reserving a small handful for decorating, and continue whisking until the strawberries are incorporated and almost completely crushed.
Distribute the strawberry foam into dessert bowls or cups and top with the reserved strawberries. Decorate with mint or balm leaves, if desired.
Serve immediately.
Notes
The egg whites will remain raw, so buy pasteurized eggs, if you are worried about Salmonella.
Nutrition Information:
Yield:

6
Serving Size:

1 small serving cup
Amount Per Serving:
Calories:

129
Total Fat:

0g
Saturated Fat:

0g
Trans Fat:

0g
Unsaturated Fat:

0g
Cholesterol:

0mg
Sodium:

28mg
Carbohydrates:

31g
Fiber:

2g
Sugar:

29g
Protein:

2g
Nutrition information isn't always accurate.