The softest apple cake there is, easily made and loved by everyone.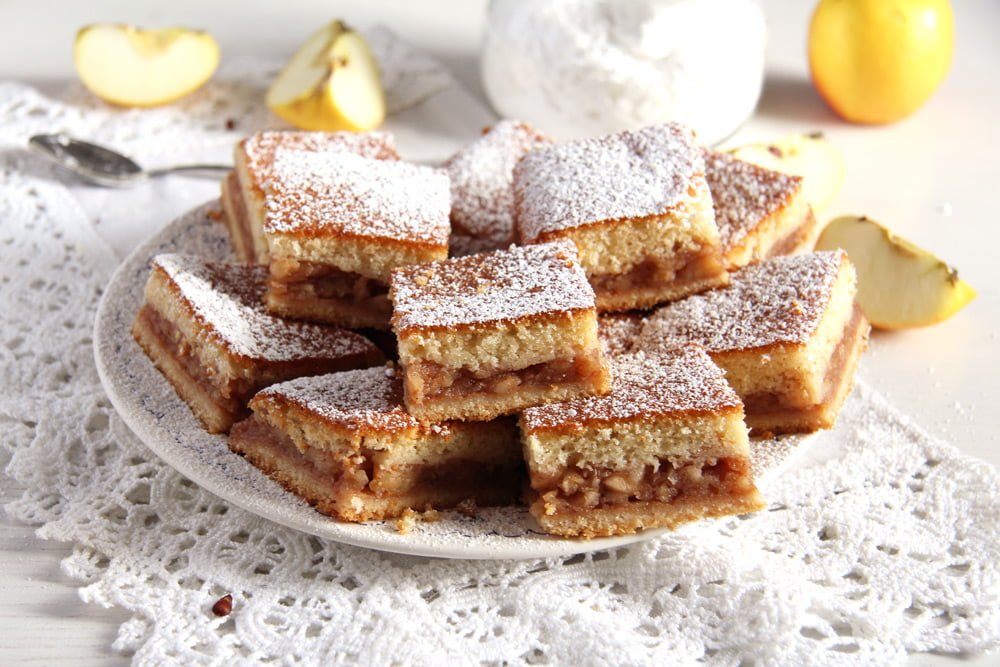 When it comes to apple cake recipes, I think you really have a choice on Where Is My Spoon. Several Romanian apple cakes like this Apple Caramel Cake or Geta's Apple Cake, some German ones like the Apple Almond Cream Cake and the Apple Streusel Cheesecake, some really quick and easy ones like the Apple Sugar Cinnamon Cake, the Apple Hazelnut Pie or the Apple Doughnut Muffins or some fancier ones like the Toffee Apple Cake. And some other more…
Oh my God, I knew they were quite a few, but this is even more than I expected. I didn't even realize we eat so much apple cake, I must have photographed and posted every single apple cake I've made during the last 2 years…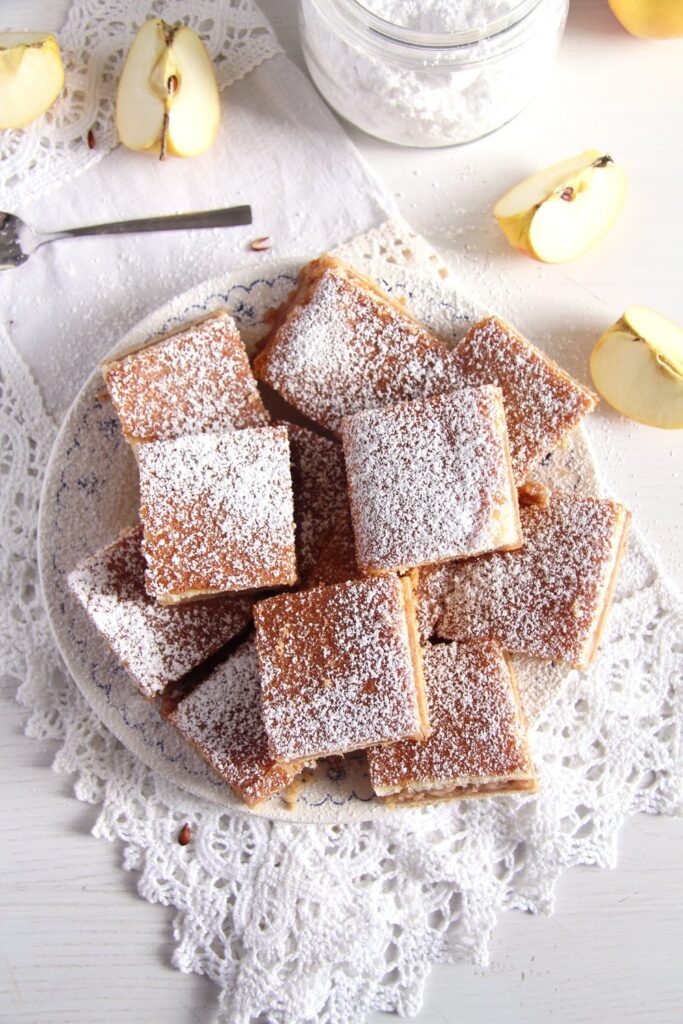 Best apple cake recipe
And we really love each of these cakes! I probably make so much apple cake, because my kids love them so much, in any form and are always happy when I am baking with apples. They would refuse the best chocolate cake (my son), but they would never say no to a nice piece of apple cake.
And as you see, although all full of apples, they are all so different, I could not say that two of the cakes mentioned above taste the same, they all have their particular taste and consistency, something that sets them apart from the rest.
And what sets this apple cake apart from the rest. Well, exactly that: its tenderness. It is unbelievably soft and tender, sweet and so full of apples, really comforting and satisfying. I swear, my son ate 3 pieces in one go and wanted to reach for the next piece before I stopped him. He spent the rest of the day asking when could he have another piece of apple cake and repeated the procedure the next day with the remaining cake…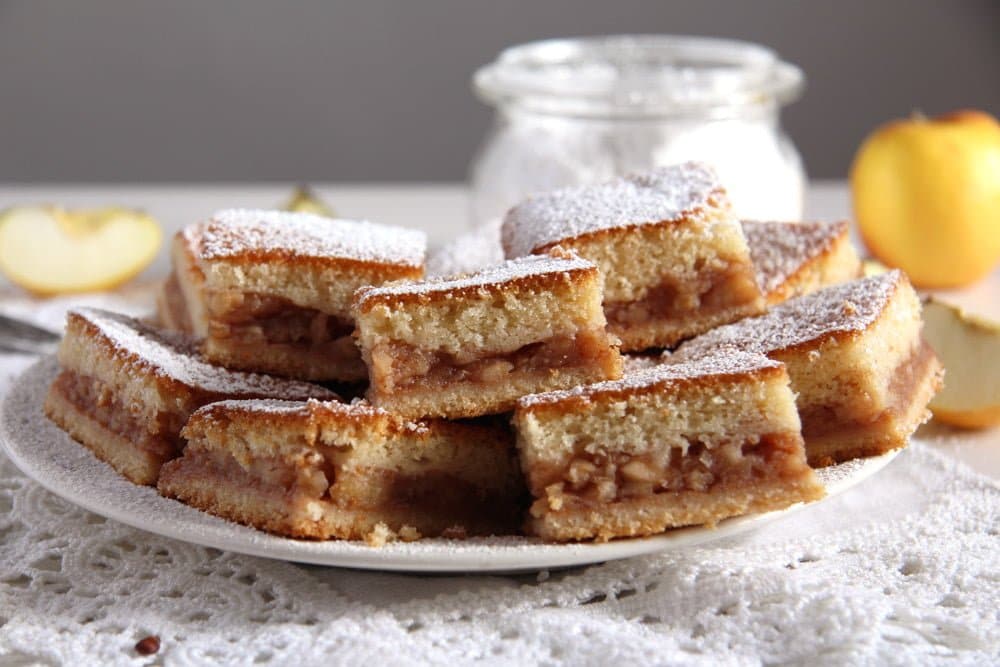 Ingredients for the easy apple cake
This is a Romanian apple cake very similar to those my great-grandmother used to make. My grandmother was never keen on baking, except for her famous Romanian Sweet Bread with Walnuts – Cozonac, which she made twice a year, so most of the cakes I knew came either from my great-grandmother when I was quite little or later from my step-grandmother, who was the best baker I knew during my childhood.
So, if you feel like having one of the most comforting cakes on Earth this weekend, don't hesitate to try The Softest Apple Cake. The recipe makes a large baking tray, but it is easily halved.
I used winter apples, the sort that are stored in the cellar for a while before being ready for eating and baking. They are a bit floury and sour and don't release a lot of liquid when stewed. If you use fresher, juicier apples increase the stewing time until most of the released cooking liquid has evaporated.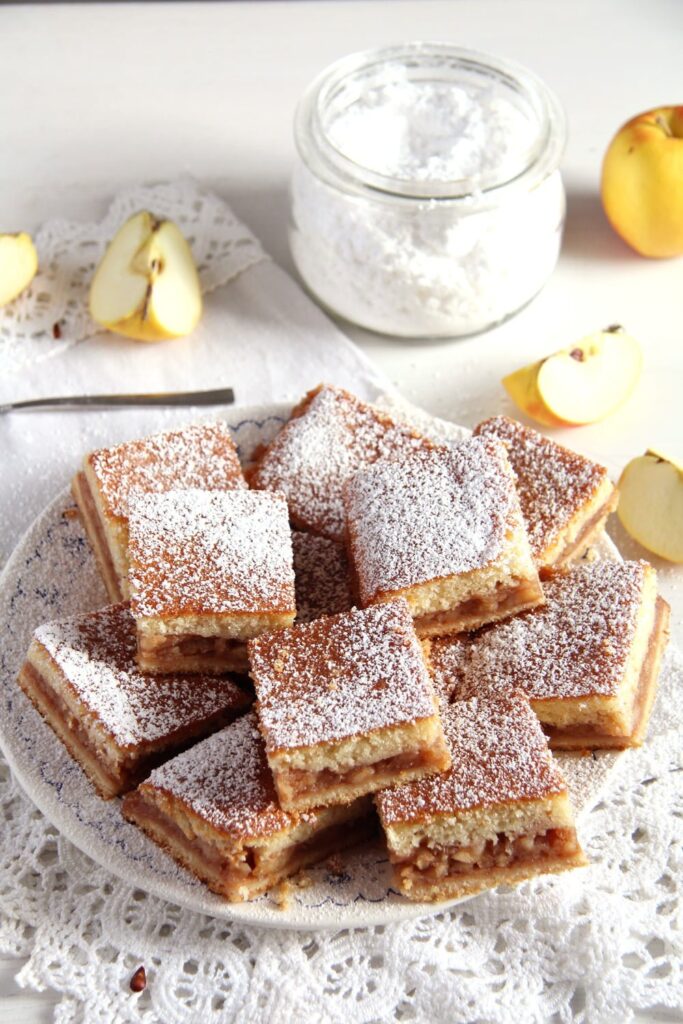 These are the products I used to make this cake.

Others you might like: