A basic, easy recipe for cooking juicy, tender and healthy chicken breasts: one skillet, one lemon and the chicken.
This Basic Skillet Chicken Breasts recipe is an easy and quick one, low-fat, healthy and utterly delicious. We love chicken around here and I cook it often, actually I can say that we eat chicken at least once a week, and that is a lot considering that we only eat meat 2, sometimes 3 times a week. So, over the years, I came up with lots of different ways of cooking chicken.
If you would ask my kids, they would probably say they prefer to eat the chicken legs and that would be my first choice as well, however chicken breasts are altogether the healthier and quicker choice, so I try to alternate the two.
The main problem I have encountered when cooking chicken breasts was the fact that they tend to get rather dry if you don't pay attention, for fear of eating raw chicken (which you should never ever do) people tend to overcook the meat. And that leads to dry, chewy, unsatisfying pieces of meat that you wonder why you bothered cooking in the first place anyway.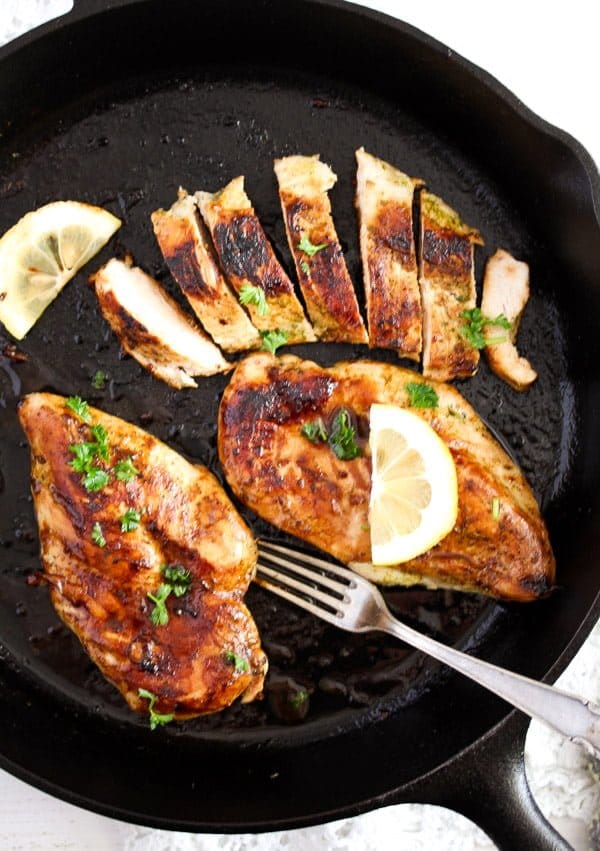 Basic Skillet Chicken Breasts
So how to keep the chicken breasts juicy and moist while ensuring that they are properly cooked through? Well, I think I might have found a few answers for that.
I do have several different methods for cooking the chicken breasts, this recipe for Basic Skillet Chicken Breasts is only one of them. I chose this recipe because I thought it also to be suitable for a nice, romantic dinner for two, something that will not keep you in the kitchen for a long time, thus allowing you to spent the evening in a more pleasurable way with your loved one. Other suitable quick and easy chicken breast dishes would be this Italian Lemon Chicken or this Chicken with Orange Sauce.
The Basic Skillet Chicken Breasts can be prepared well in advance or at the last minute, giving you the freedom you might need on the day. You could marinate the chicken in the evening or in morning before you leave for work, in the afternoon when you come back or at the latest half an hour before cooking the chicken.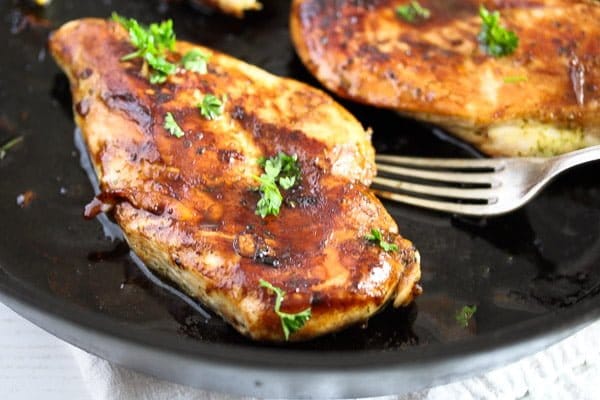 Ingredients for the Basic Skillet Chicken Breasts
The list of ingredients is short and versatile. I go for lemon and a few herbs in this recipe, but you could add more spices or completely other spices if you wish. The way you prepare the marinade is really up to you, I change it according to what I have, according to my mood or to fit the side dishes I intend to prepare . Some of my favorite side dishes for chicken breast are Spinach in Bechamel Sauce, Baked Cornmeal Potatoes or Herb Garlic Baguette.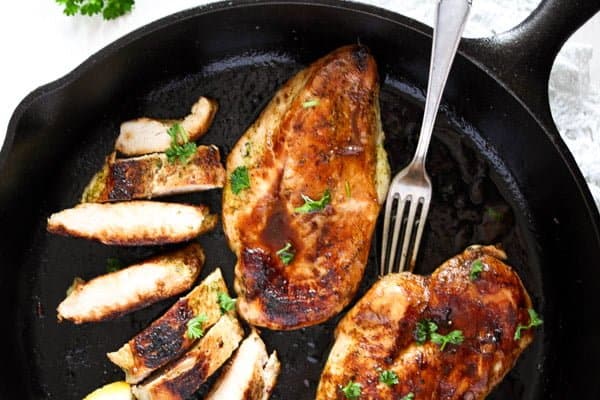 How to cook juicy chicken breast in the skillet/cast iron pan?
Marinade for the chicken breast:
As mentioned above the marinade in the case of this Basic Skillet Chicken Breasts is simple, this particular recipe is more about the cooking method than the marinade. However, this simple and cheap marinade is delicious, I marinate the chicken this way most of the times, it requires no special ingredients or spices and I always have lemons and parsley in the house.
You could cook the chicken breast without marinating it first, however, experience has thought me, that in this case, a little marinating goes a long way. Chicken breast that has been marinated is always more tender and has more flavor than chicken breast that has not been marinated at all. Even if you only have half an hour time for marinating the chicken, I still think it's worth it.
If you prepare the dish in advance make sure to take the chicken breasts out of the fridge at least half an hour before cooking it in order to allow it to get at room temperature, if you only marinate it for half an hour leave the dish with the chicken covered with plastic foil on the counter. If the chicken is too cold, the inside will need a longer cooking time, which will cause the chicken to be drier on the outside and the thinner parts.
For this chicken breast recipe I use skinned, boneless, halved chicken breasts, one piece weighing about 200 g/ 7 oz and having the normal, rather thicker in the middle chicken breast form. This size of the chicken requires about 20 to 25 minutes cooking time, on medium heat, while turning the meat a few times in between.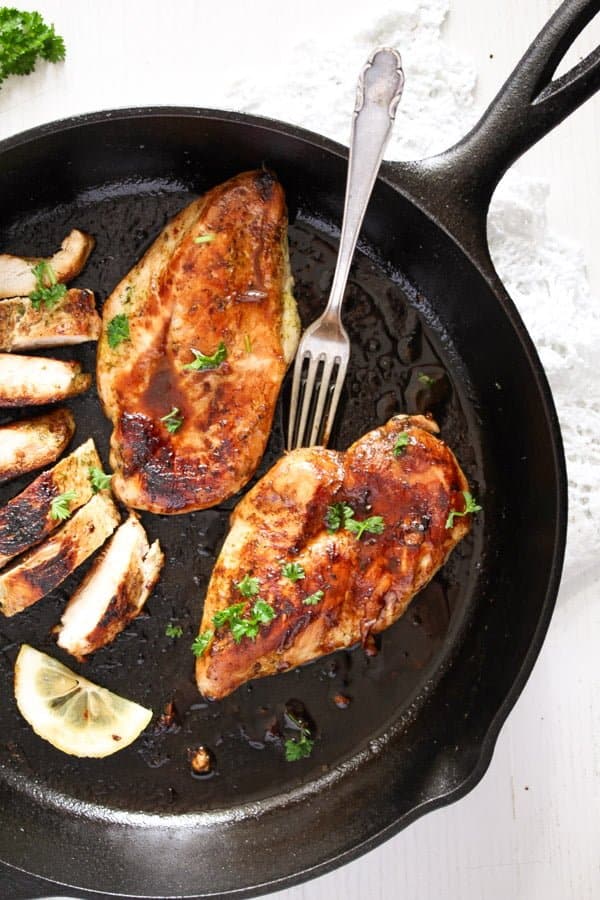 After about 20 minutes start checking if the chicken is cooked through. Pierce the chicken breast at its thickest spot with a skewer, the juices should run clear. I prefer to use a kitchen thermomether, it is more accurate and ensures that I do not overcook the meat.
The internal temperature of the chicken should be 82 degrees Celsius/180 degrees Fahrenheit. Smaller chicken breast pieces weighing about 120-150 g/ 4.2 – 5.3 oz should be ready in about 18 to 20 minutes.
This chicken recipe serves two, but it can be very easily scaled for more servings.
And if are looking for more inspiration when cooking chicken breasts, have a look at this very extensive list of some of the most delicious chicken breast recipes found on the web: Amazing Variations of Baked Chicken Breast Recipes at Chew the World or this Oven Baked Chicken Breasts from Healthy Kitchen 101.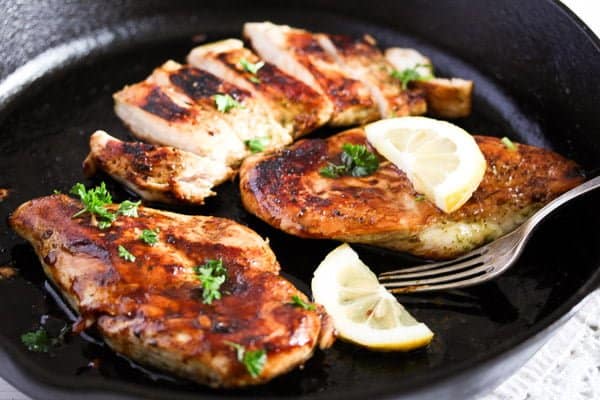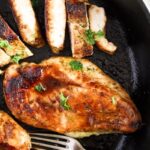 Ingredients
2 chicken breast halves, about 200 g/ 7 oz each (see note)

1 organic lemon

small handful of parsley

1 teaspoon honey

1 tablespoon olive oil + 1 tablespoon for the skillet

salt and pepper
Instructions
Wash and zest the lemon. Juice it, but start only with half the juice when making the marinade.
Mix together the lemon zest, lemon juice, parsley leaves, honey and 1 tablespoon olive oil in a small blender. Process until you have a smooth paste. Add salt and pepper to taste and more lemon juice or honey according to your liking.
Place the chicken in a shallow dish and pour the marinade over. Turn the chicken a few times in the dish to coat all over. Cover with plastic foil and leave to marinate in the fridge for a few hours or overnight. If you marinate it for a shorter time, like 30 minutes, leave it on the counter, if not take out of the fridge at least 30 minutes prior to cooking to make sure that the meat reaches room temperature.
Heat a cast iron skillet or a non stick pan. Heat the remaining oil, add the chicken, turn the heat to medium-low and cook for a total time of 20 to 25 minutes, turning several times in between, but not disturbing the chicken for the first 6-7 minutes or so.  If you notice that the chicken breast gets too dark too soon, lower the heat and move the chicken around in the skillet.
Check if the chicken breasts are cooked through either with a special thermometer, the inner temperature should have reached 82 degrees Celsius/180 degrees Fahrenheit or by inserting a skewer in the thickest part of the chicken breast. In this case the juices should run clear. You could start checking shortly before the first 20 minutes have come to an end, to make sure that you don't overcook the chicken, especially if the chicken pieces weigh a bit less than 200 g/ 7 oz.
Serve immediately with side dishes of your choice (most anything fits) or let get cold and serve on a salad.
[nutrition-label id=9371]
This post contains affiliate links. The price you pay as a consumer does not change, but if you make a purchase we will receive a commission which helps support the blog.
Others you might like: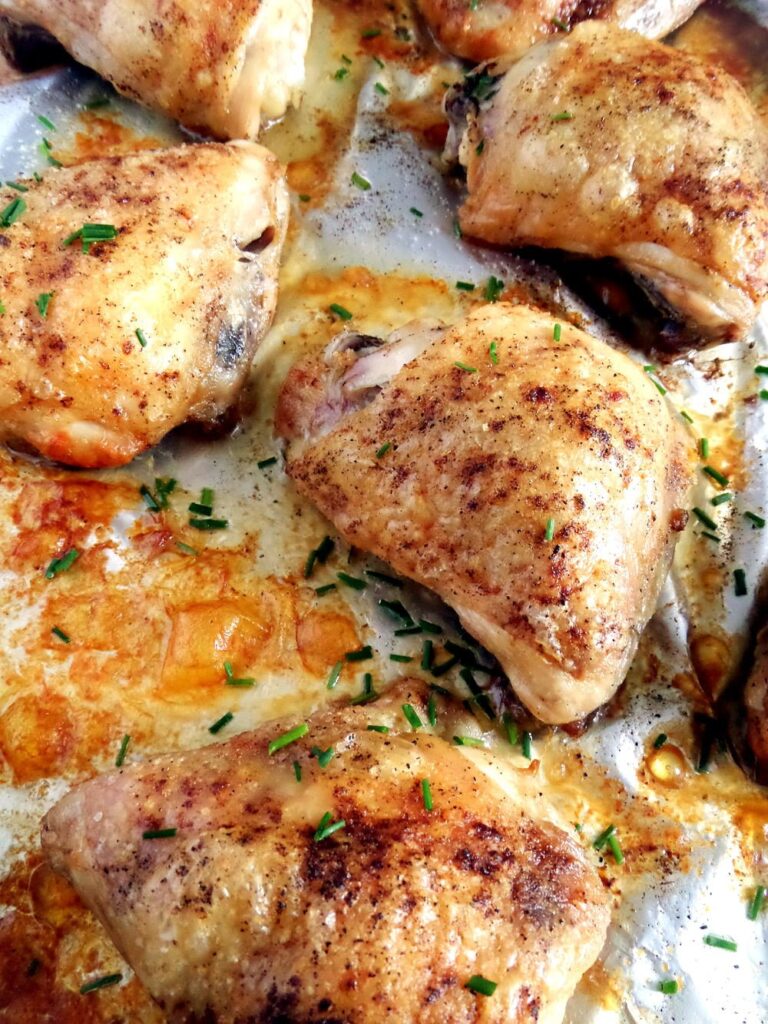 Baked Chicken Thighs, Basic Recipe