Deliciously crispy and golden fried potatoes and onions, a classic comfort food recipe. Whether served as a side or enjoyed as a hearty main course, this simple dish is sure to please, a true family favorite.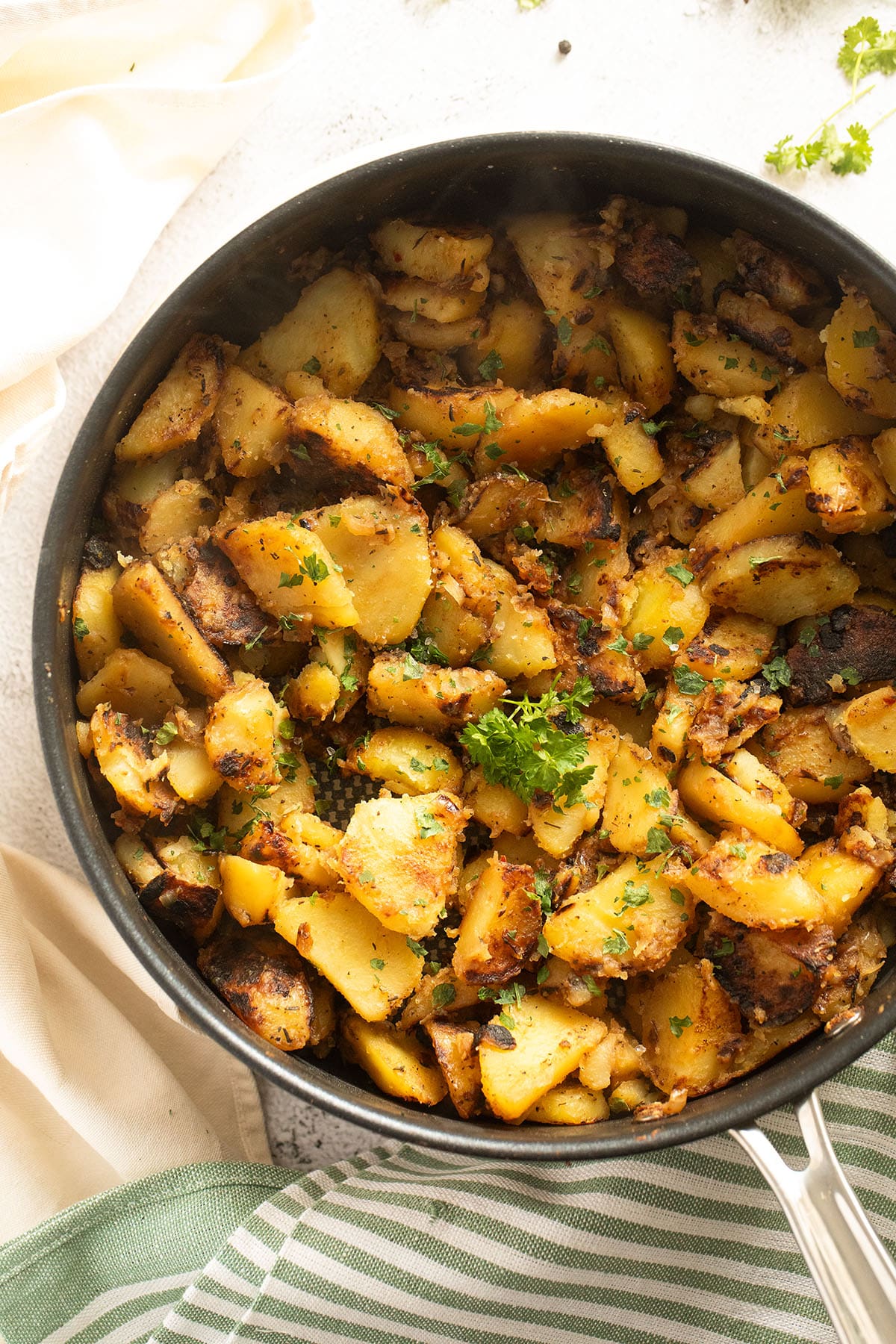 These super tasty fried potatoes and onions are deliciously crispy on the outside and melt-in-your-mouth tender on the inside! Potatoes, onions, spices, and oil are the only ingredients this easy dish needs. Just a few ingredients that yield a huge taste!
Skip the extra step of boiling potatoes first, and cook them with this simple method for pan-fried potatoes and onions!
They make a perfect accompaniment to any breakfast or dinner. From eggs and bacon to roasted chicken, these versatile potatoes are a delightful addition to many meals. But you could also serve the crispy pan-fried potatoes as a simple main dish with a salad or another vegetable side dish.
How about serving the sauteed potatoes and onions as an easy side dish with scrambled eggs, juicy roasted chicken halves, spicy pork loin roast, or air fryer pork bone-in chops? Or serve them with a nice steak like this Beef Tagliata. 
Jump to recipe
What are fried potatoes with onions?
This easy Southern fried potatoes with onions recipe is a traditional dish commonly found in Southern cuisine. It typically involves sliced or diced potatoes and onions that are seasoned and fried until golden brown and crispy.
The dish is often prepared with oil or bacon fat in a skillet or cast-iron pan. The result is a hearty and flavorful combination of tender potatoes and caramelized onions, creating a comforting side dish or even a standalone meal.
It is a popular choice for breakfast or brunch but can also be enjoyed alongside other meals throughout the day.
Recipe ingredients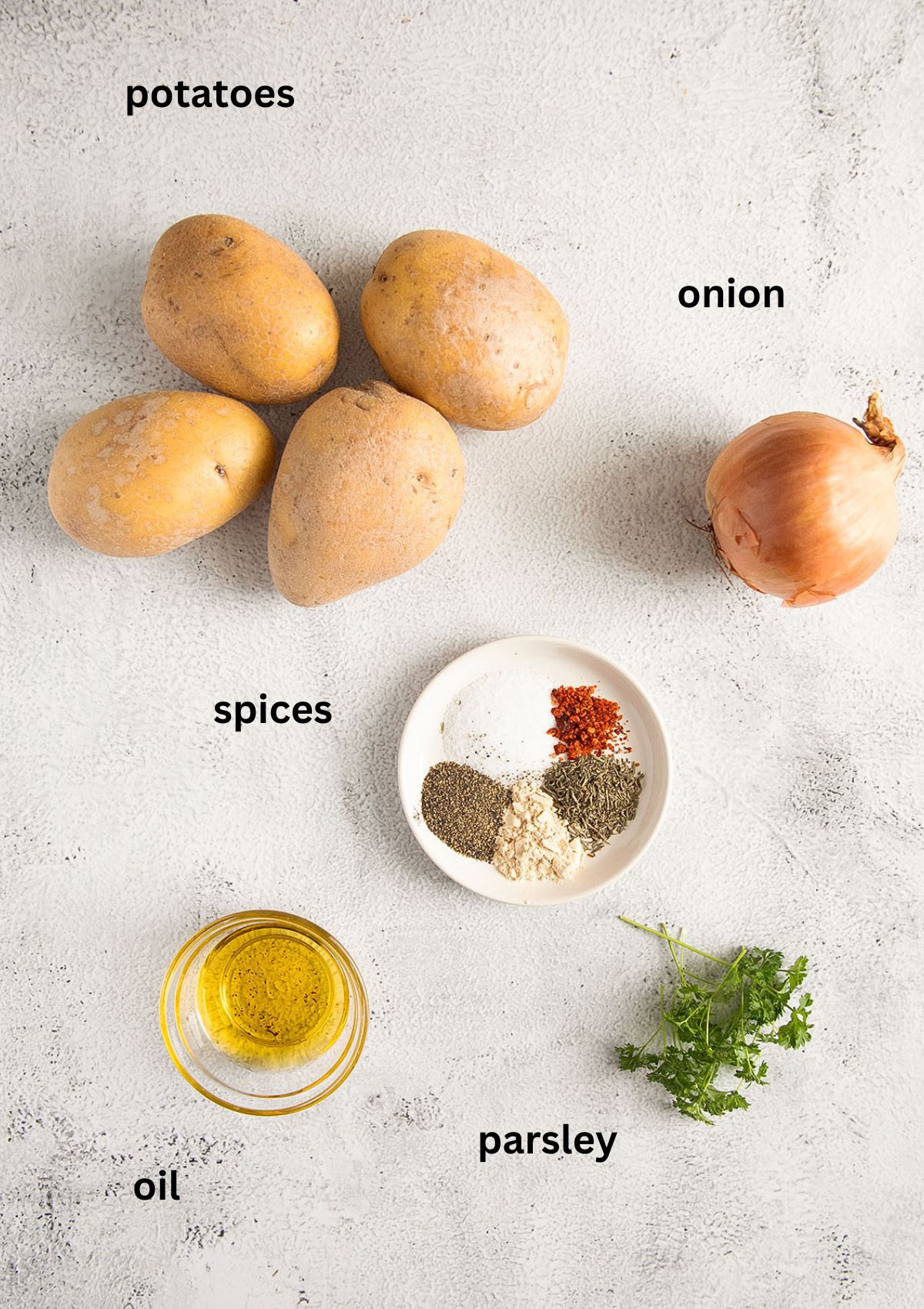 What type of potato should I use?
Feel free to use whichever potato variety you have. I use no-name all-purpose potatoes most of the time. 
You can choose russet potatoes (the high starch content helps create a crispy exterior and a fluffy interior), Yukon gold (they hold their shape better and are slightly sweet), or red potatoes (they are slightly waxy and thus keep their shape better while cooking), for instance.
All these sorts are suitable for frying.
Onions: I use a medium-sized white or yellow onion, whatever I happen to have on hand.
Oil with a high smoke point: Vegetable oil, canola oil, peanut, or sunflower oil are all great. If you choose olive oil, don't use extra virgin, but a sort with a higher smoke point.
Spices: Garlic powder, thyme, red pepper flakes, fine sea salt or kosher salt, and ground black pepper. 

Parsley (optional) to sprinkle over the finished dish.
Additions
Other herbs and spices like rosemary, oregano, or a pinch of cayenne pepper instead of red pepper flakes.
Fresh garlic or fresh herbs like parsley, chives, or cilantro. Add garlic to the pan together with the onions and fresh chopped herbs just before serving.
Bell peppers of any color. Dice or cut the pepper into small thin strips and add them to the pan when you add the onions.
Bacon or sausage: Cooked and crumbled bacon or sliced sausages for additional flavor and a meaty element.
Grated cheese, such as cheddar, Parmesan, or Monterey Jack, can be sprinkled over the fried potatoes and onions while they are still hot so that it can melt nicely. 
Hot sauce: Add a dash of your favorite hot sauce for a spicy kick.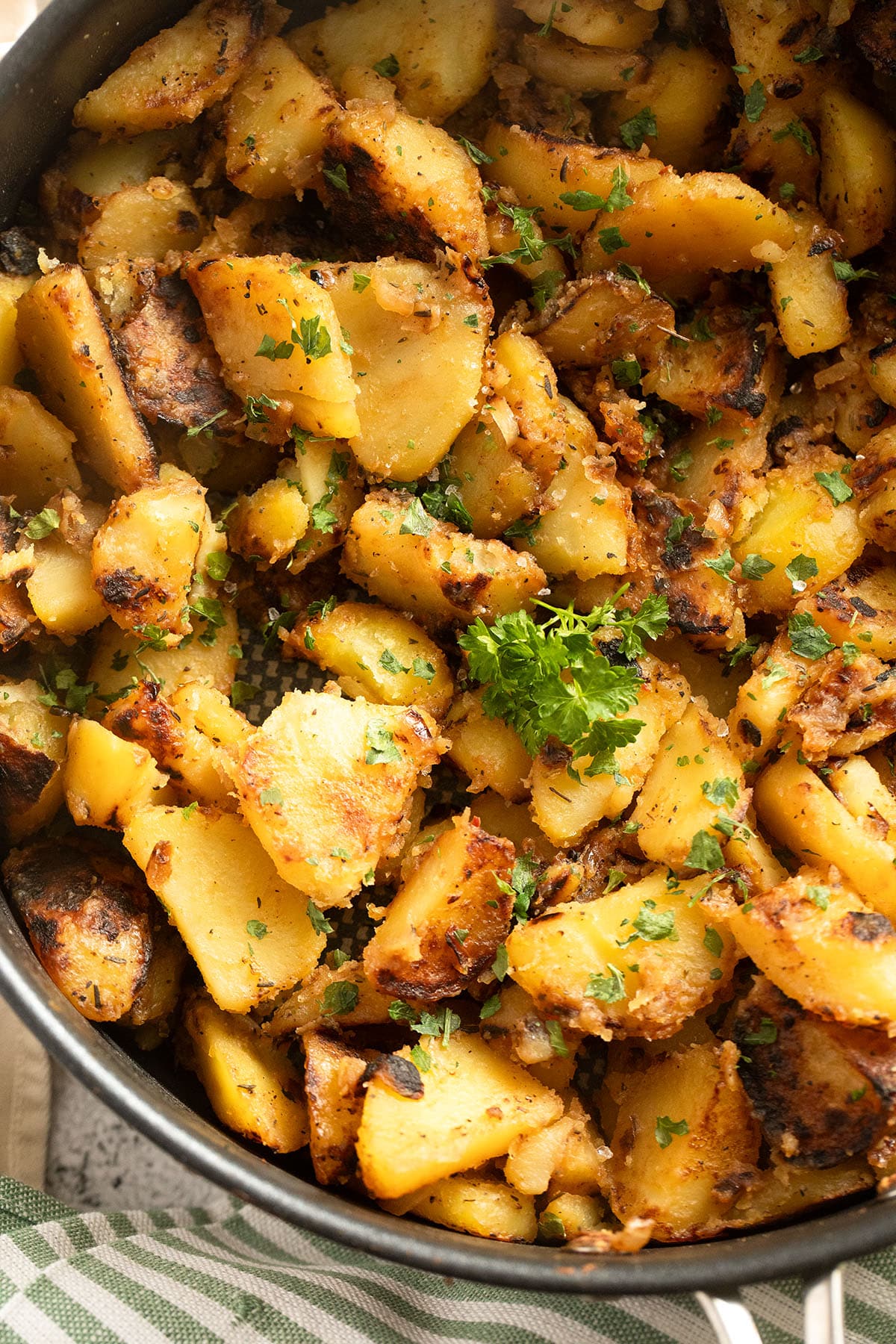 How to make the best fried potatoes and onions?
Peel the potatoes. Halve or quarter them (depending on size) and cut these pieces into slices (1). 
Chop the onions and set them aside (2).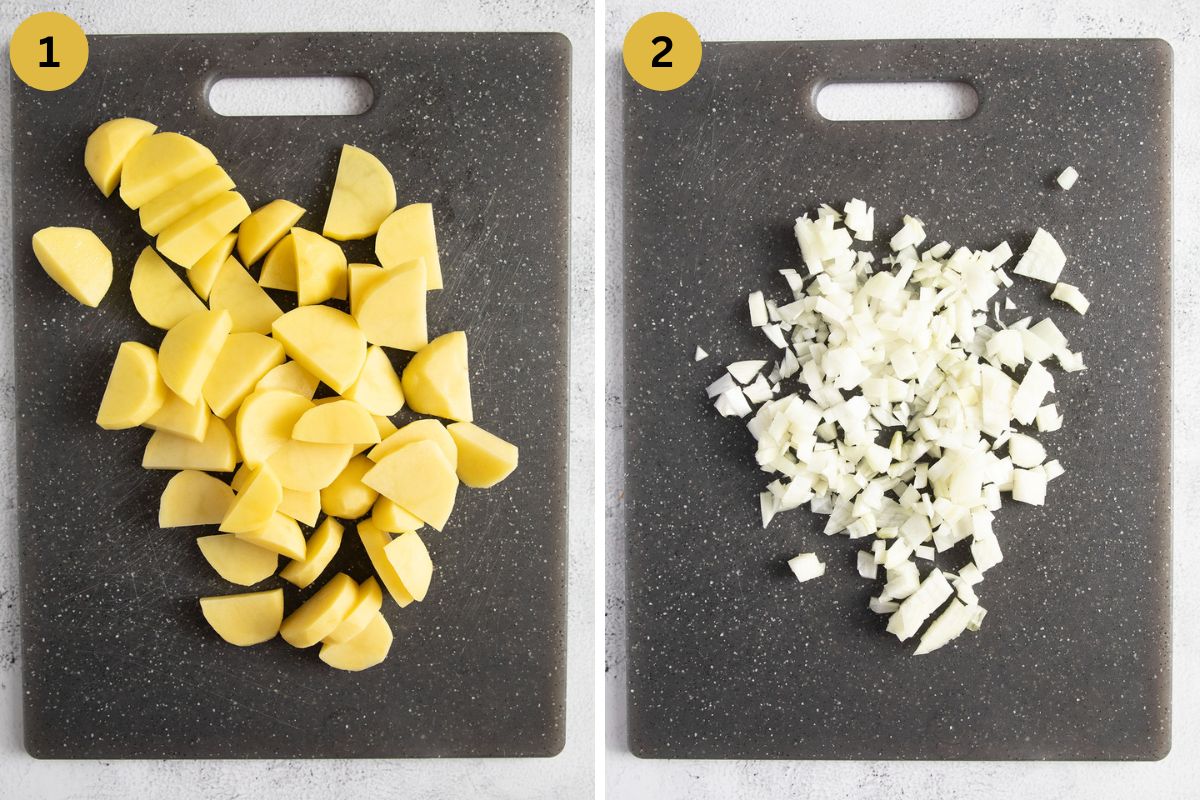 Heat the oil in a large skillet, frying pan, or sauté pan with a lid. Add the raw potatoes to the hot oil, place the lid on the pan, and pan fry potatoes for about 10 minutes, stirring once or twice.
Add the onion (3,4) to the potatoes, add the spices, and stir again to combine (5). 
Cook the potatoes and onions, uncovered, for another 10-15 minutes, stirring regularly but very gently, or until they are cooked through. The potato slices should be brown, have slightly crunchy edges, and be soft on the inside (6).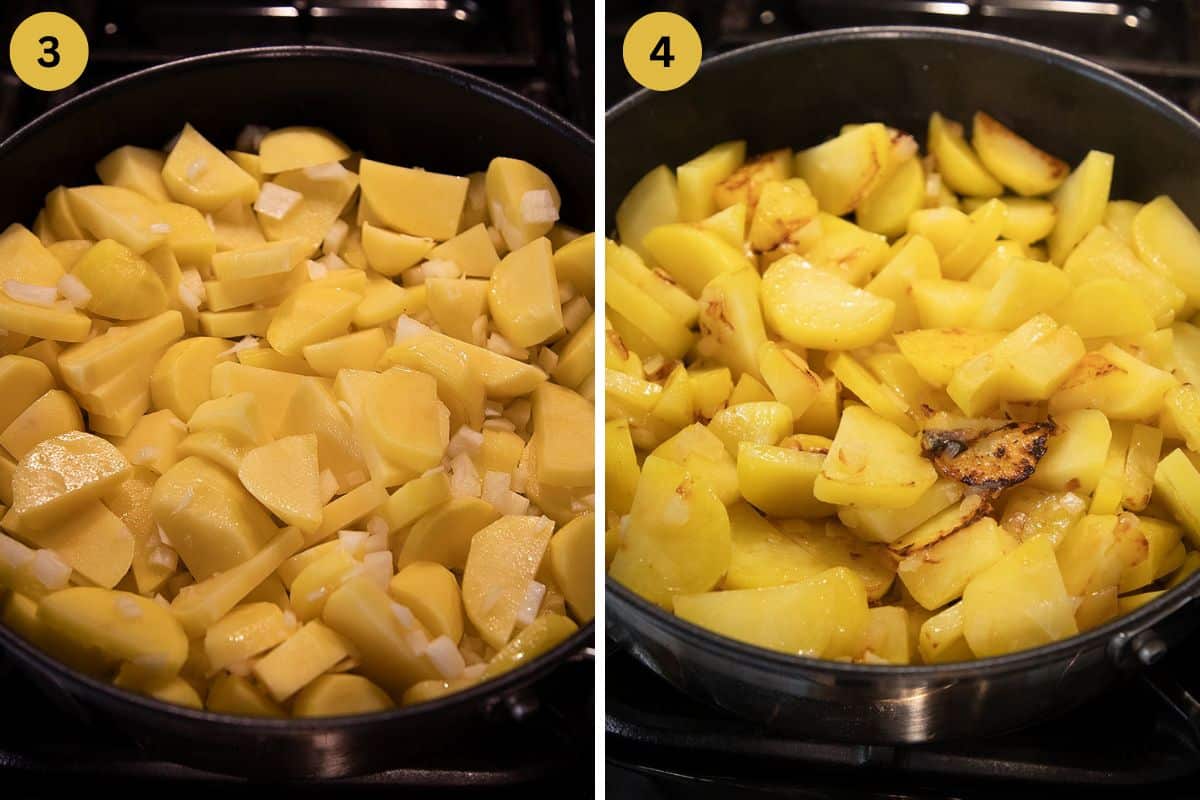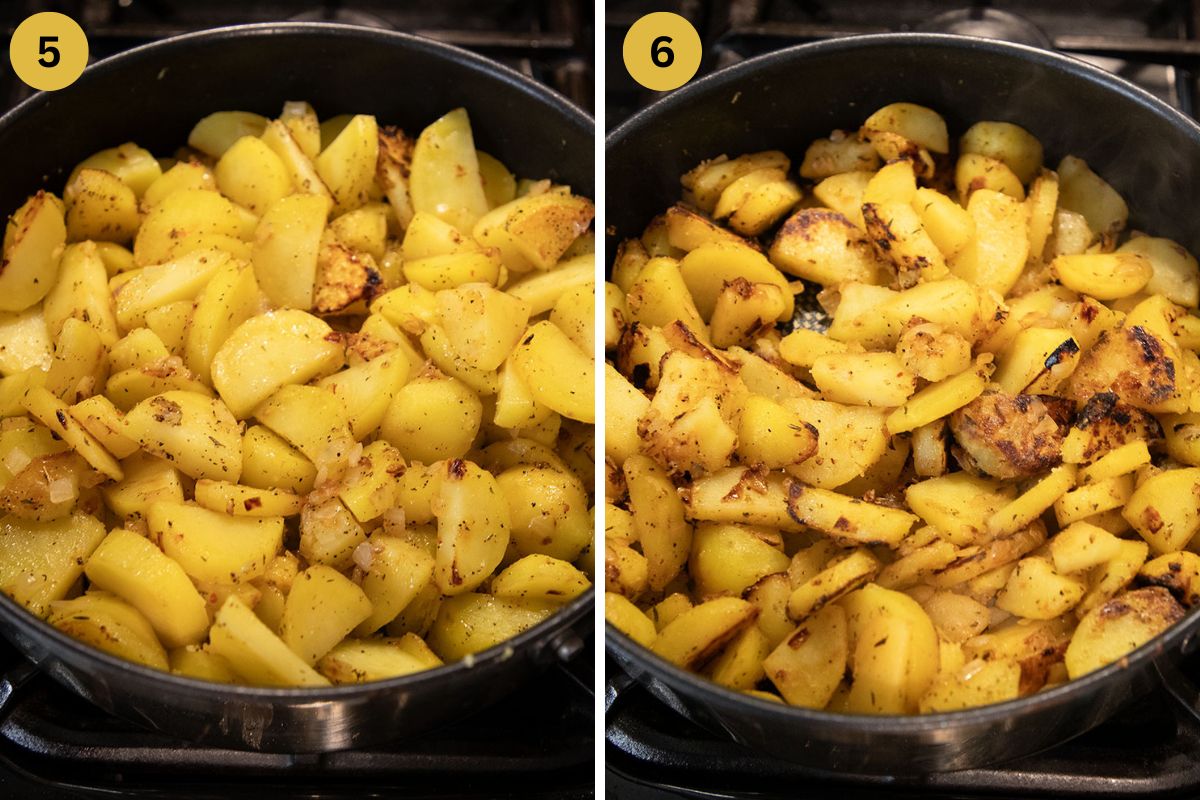 Expert Tips
Cut the potatoes evenly so that they can cook evenly. 
Preheat the pan and the oil over medium-high heat. The oil that's evenly heated ensures a crispy exterior on the tubers.
Use enough oil. Insufficient oil can result in uneven browning and a less crispy texture. You can drain the excess oil once the potatoes are cooked. 
Add the spices after the potatoes have developed some crispy texture. This allows the flavors to adhere better and prevents the spices from burning during the initial frying process.
Avoid over-stirring: Allow the potatoes to develop a golden crust on one side before flipping or stirring. Resist the urge to stir constantly, as this can prevent proper browning and crispiness.
Recipe FAQ
How do I prevent the potatoes from sticking to the skillet? 
Make sure the skillet or pan is coated with oil and that the oil is hot before adding the potatoes. Avoid stirring the potatoes too frequently, allowing them to develop a crust before flipping or moving them.
Can I make them in advance?
They are best enjoyed immediately after cooking for optimal texture. But you can prepare them in advance and reheat them when needed. To reheat, place them in a preheated oven at 350°F/175°C for a few minutes or heat them in a skillet over medium heat until warmed through.
Can I substitute the oil with another fat? 
You can substitute the oil with alternatives like butter, ghee, or even bacon grease for added flavor. Remember that different fats have different smoke points, so adjust the cooking temperature accordingly.
How to store and reheat?
Let the leftover fried potatoes come to room temperature and refrigerate them in an airtight container for up to 3-4 days.
Reheat them in a skillet over medium heat or the oven until heated through.
The dish is not suitable for freezing.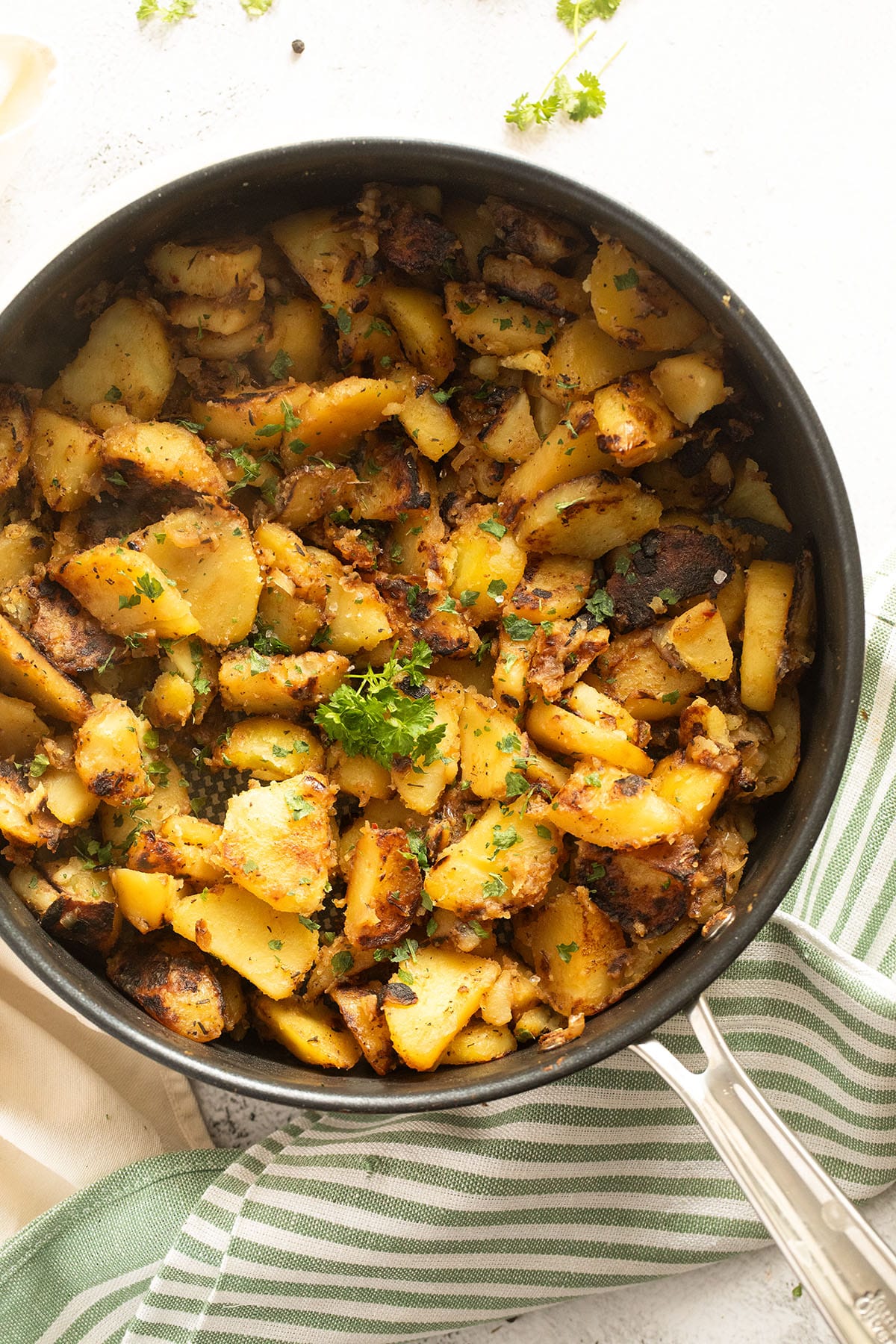 What to serve with them?
More potato side dishes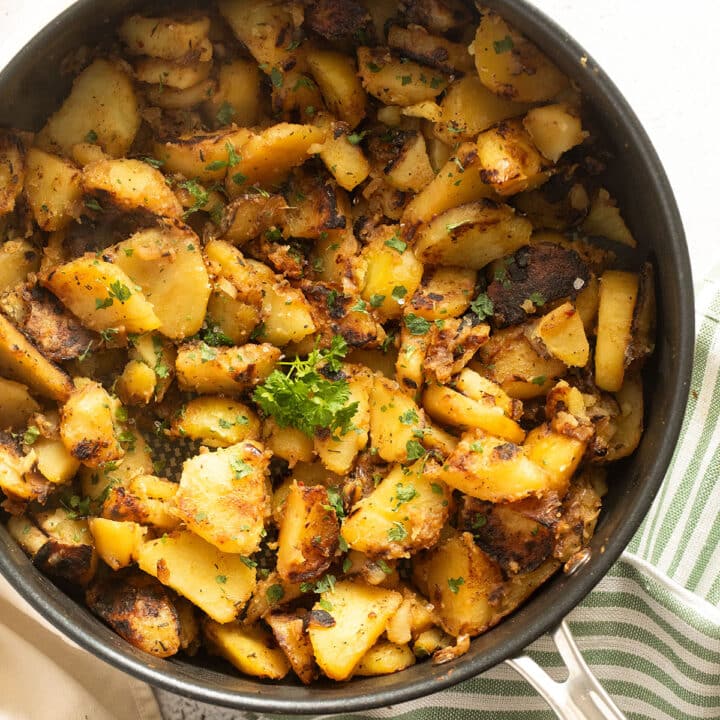 Fried Potatoes and Onions
Crispy and golden fried potatoes and onions—a classic comfort food that can be served as a side or main course.
Print
Pin
Share
Grow
Saved!
Rate
Equipment
Large skillet or pan with a lid
Ingredients
2

lbs

potatoes

1 kg, Note 1

3-4

tablespoons

oil

Notes 2, 3

1

medium

onion

½

teaspoon

garlic powder

Note 4

½

teaspoon

thyme

¼

teaspoon

red pepper flakes

½

teaspoon

fine sea salt

or kosher salt

½

teaspoon

ground black pepper

chopped

parsley
Instructions
Preparations: Peel, halve, or quarter the potatoes (depending on size) and cut the pieces into slices. Chop the onion and set them aside separately.2 lbs/ 1 kg potatoes; 1 onion

Cook potatoes: Heat the oil in the pan. Add the potatoes, cover the pan, and cook for about 10 minutes, stirring after about 5 minutes and then maybe once more. Avoid over-stirring. 3-4 tablespoon oil

Add onion and spices to the pan, and stir gently to combine. ½ teaspoon garlic powder + ½ teaspoon thyme + ¼ teaspoon red pepper flakes + ½ teaspoon salt + ½ teaspoon pepper

Cook, uncovered, for 10-15 minutes, stirring occasionally but very gently, or until the potatoes are cooked through. They should be brown and slightly crispy around the edges and soft inside.

Adjust the taste with more salt if required. Sprinkle with chopped parsley before serving.
Notes
Potatoes: I use all-purpose potatoes most of the time. Other suitable sorts are russet, Yukon gold, or red potatoes. As each sort is slightly different, they might impart a different character to the dish. However, the results are always delicious.
Oil: Use enough to coat the bottom of the pan. Olive oil (not extra virgin), vegetable oil, canola, peanut, or sunflower oil are all great.
Spices: Except for salt and pepper, the spices are all optional. Use those suggested, or add other spices or herbs you like.
Nutrition
Serving:
1
portion from 4
|
Calories:
282
kcal
|
Carbohydrates:
43
g
|
Protein:
5
g
|
Fat:
11
g
|
Saturated Fat:
1
g
|
Polyunsaturated Fat:
3
g
|
Monounsaturated Fat:
7
g
|
Trans Fat:
0.04
g
|
Sodium:
312
mg
|
Potassium:
1007
mg
|
Fiber:
6
g
|
Sugar:
3
g
|
Vitamin A:
56
IU
|
Vitamin C:
47
mg
|
Calcium:
37
mg
|
Iron:
2
mg