Traditional Frankfurter sauce with seven herbs, sour cream and yogurt. A light and refreshing spring dish.
Frankfurter sauce is a famous German sauce, eaten in spring, mostly around Easter. Many people have it on Green Thursday before Easter, but we tend to have it later on in spring when the herbs in my garden are finally there again.
A traditional Frankfurter Sauce contains seven different herbs: borage (I know, funny name, never heard it in English before), chervil, cress, parsley, pimpinella, sorrel and chives. For the recipe today, I bought a mixed bunch containing all these herbs at the supermarket, so although I have made the Frankfurter sauce many times, this was the first time I have actually used all the traditional herbs. Not that I have anything against any of them, but since I have so many herbs in my garden anyway, I don't feel the need to buy a pretty expensive bunch just for the luxury of having a couple of extra herbs in the sauce.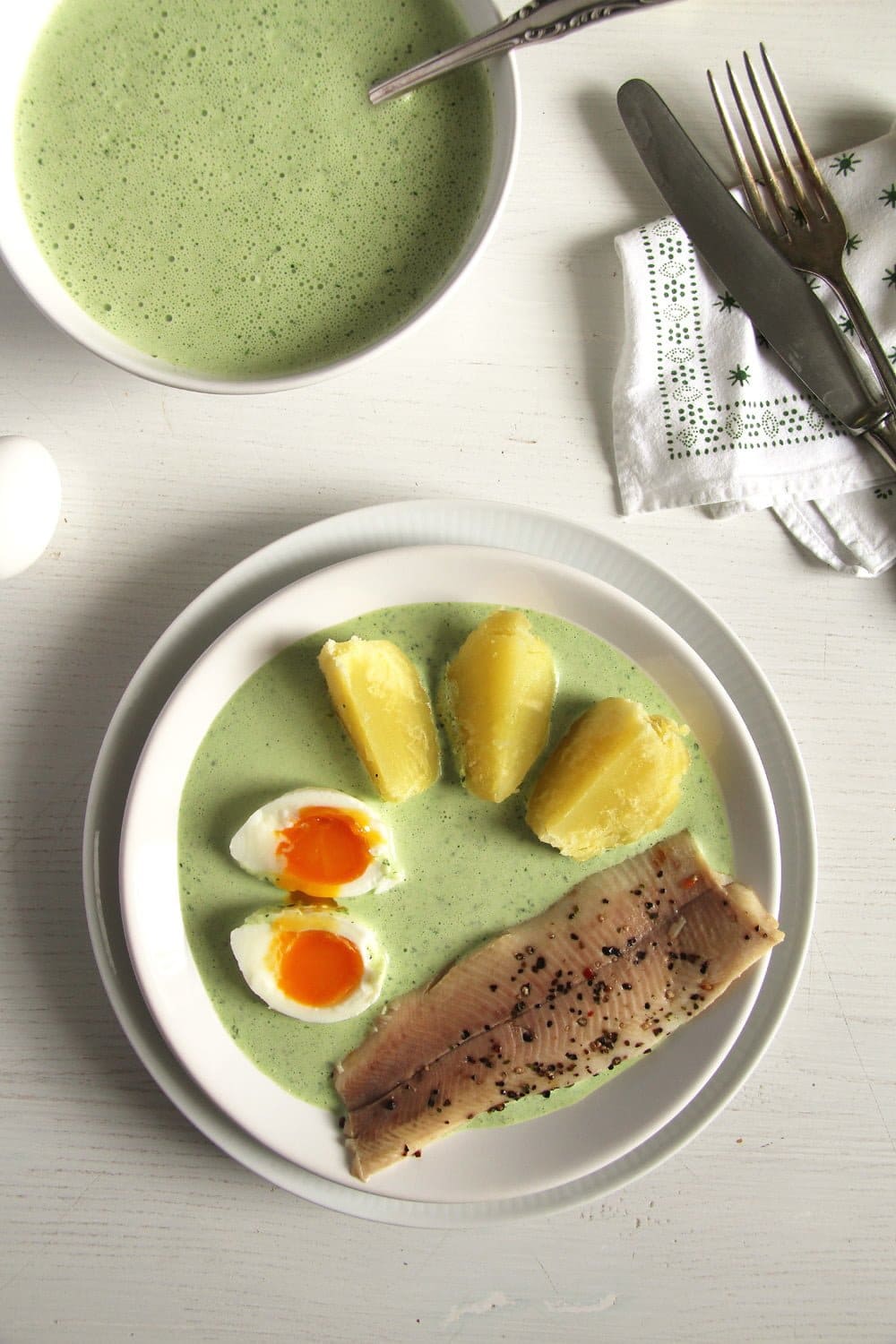 So the idea is you can use all these herbs to make it really original, but don't stress too much if you don't find them all. Just take more from the herbs you already have or replace some other with herbs you like and have access to. My typical, no need to buy herbs would be lots of parsley and chives, borage, sorrel, a little bit of lovage and sometimes cress.
I make the sauce with yogurt and some German sour cream with 10% fat. This makes it a very light, refreshing meal, perfect for the season. You will love the creaminess of the sauce and the aroma given by all these herbs. Boiled potatoes, some cooked eggs and a small piece of smoked trout (optional) make things complete. I am not sure about the similarity between the German and the American sour cream. The German one is a bit like crème fraiche but with a lower fat percentage. It is creamy and slightly tangy but not as tangy as yogurt, for instance. You can substitute the sour cream with crème fraiche, of course. And talking about yogurt I use the typical, creamy full-fat yogurt, but you could use a lower fat version (but not the no-fat thing), if you like.
Others you might like:
Asparagus Egg Toast