A German-style egg salad with Greek yogurt, hard-boiled eggs, yogurt, and lots of chives. Served with boiled potatoes.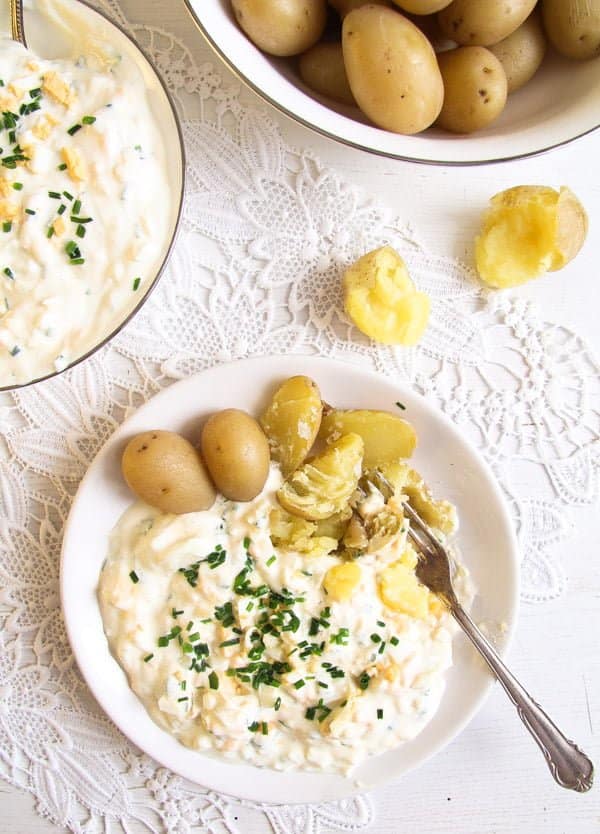 This Greek yogurt egg salad is another recipe using hard-boiled eggs, we do have many of them every Easter and we really manage to eat them all. But not as they are, on bread or something, but integrated into different, delicious recipes.
Have a look at some of my favorite hard boiled eggs recipes if you are looking for some new ideas:
Beef Meatloaf with Hard-Boiled Eggs
Hard Boiled Eggs in Mustard Sauce
This particular recipe is one of my husband's favorite dishes. If I ask him what he would like me to cook, chances are about 50% - 50% that he will say "Schnittlauchsoße", meaning Chive Sauce, meaning this salad.
I've cooked this dish countless times over the years. It is one of my mother-in-law's recipes, something she would cook for her family in the past, a typical German way of eating hard-boiled eggs. I always serve it with hot boiled potatoes, but if we have leftovers, we eat them on bread, like an egg salad sandwich, absolutely delicious as well.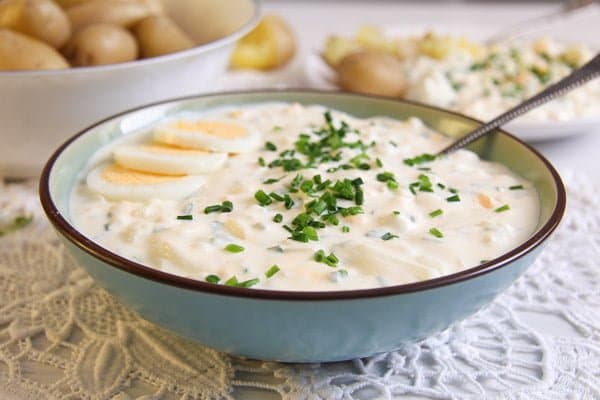 About the ingredients
Dairy:
My mother-in-law always makes it purely with the German Schmand or smetana, which is a thick sour cream with high-fat content.
Absolutely delicious, but way too calorie-laden for me. I use Schmand or smetana as well in my cooking, I have many recipes on my blog to prove it, but in this case, I prefer not to use it. It would be just too much of it, and the egg salad will not only be mighty in terms of calories but also in terms of taste.
I prefer to use either a combination of German sour cream (saure Sahne) which has less fat than Schmand and low-fat yogurt or Greek yogurt, which has lower fat content than Schmand, but it is also extremely creamy.
But if you don't find any Greek yogurt in your region, don't stress about it, you could use pretty much any milk products to make this wonderful salad. I have made it myself with smetana, yogurt, low-fat quark, skyr, sour cream, or a combination of some of those.
Most of the time, I choose to make this when I notice that I have lots of open pots of milk products in my fridge. A great way of using leftover milk products as well.
I mix everything together in a pot without worrying too much about the quantities, I just use everything I have and cook some hard-boiled eggs accordingly, sometimes 8, sometimes only 4 or 6, depending on how much sauce I have.
Herbs:
Chives are the preferred herbs for this dish, either fresh or frozen.
But a mixture of frozen herbs would work as well.
We have these frozen mixtures for Frankfurter Sauce containing many many herbs, they would be a good choice as well, if you happen to live in Germany.
Spices:
I add some mustard and vinegar to the sauce as well. The mustard I use is generally medium German mustard or Dijon mustard.
Vinegar is to be added to taste, between 1 and 3 teaspoons, depending on how you like it and also depending on the fat content of the dairy you use.
I tend to add a bit more vinegar when using dairy like smetana, which has a high-fat content and less when using low-fat quark or low-fat yogurt, which have their own tanginess and require less added acidity.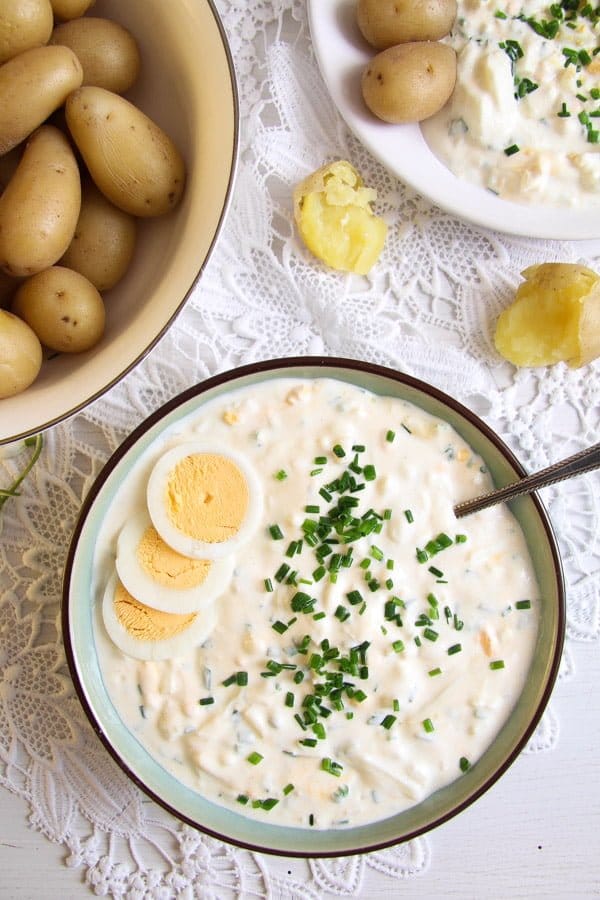 Tips
To chop the eggs in a flash I use this wonderful egg slicer (Amazon affiliate link). I have a really old one, that my mother-in-law left here when she moved into her new house.
It is really worth it, especially when you have to chop about 8 eggs like in this recipe.
How to serve?
With boiled potatoes.
Or on bread.
Make in advance
The egg salad with Greek yogurt can be made in advance. Well covered, it keeps for 3-4 days in the refrigerator. However, it is not suitable for freezing.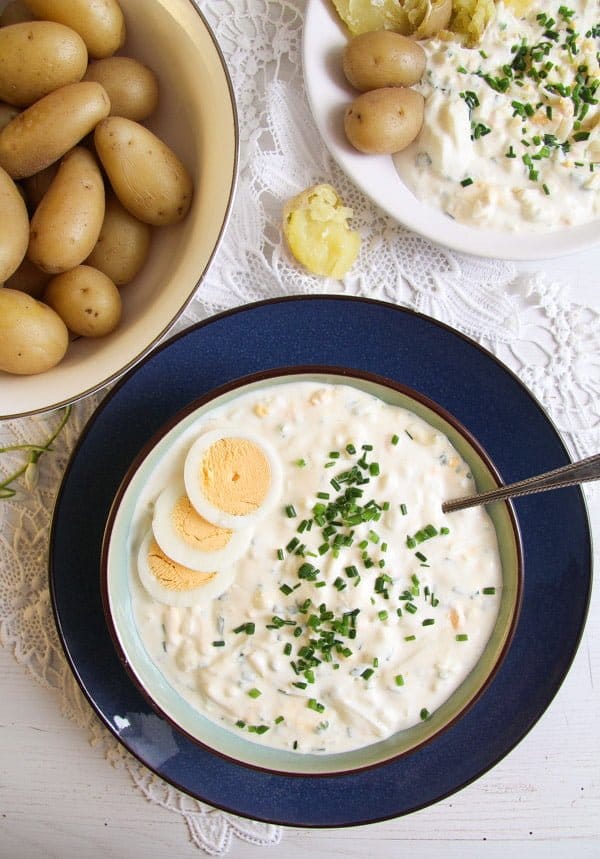 Other (mother-in-law) German recipes: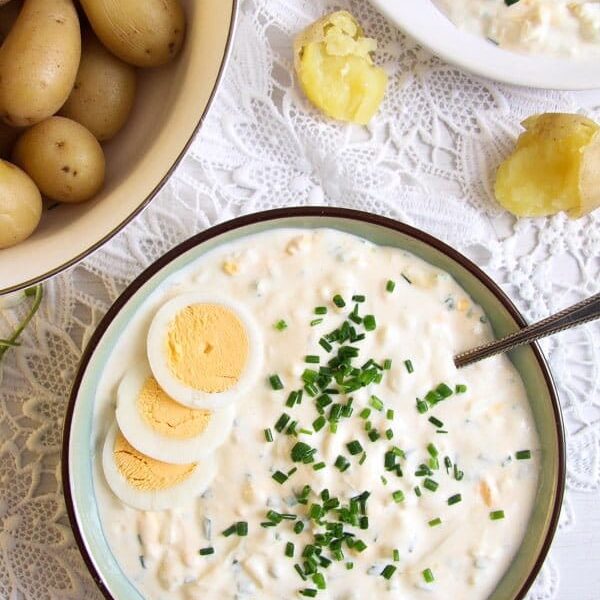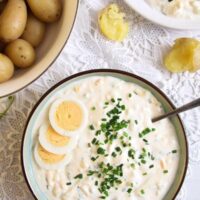 Egg Salad with Greek Yogurt
A German-style egg salad with Greek yogurt, hard-boiled eggs, yogurt, and lots of chives. Served with boiled potatoes.
Print
Pin
Share
Grow
Saved!
Rate
Ingredients
8

large eggs

1

small onion

500

g/ 1.1 lbs/ 2 cups lower-fat Greek-style yogurt

at least 3% fat

250

g/ 8.8 oz/ 1 cup creme fraiche or sour cream

2

teaspoons

medium mustard or Dijon mustard

1 to 3

teaspoons

apple vinegar

to taste

1

teaspoon

sugar

some milk as required

1

bunch chives

fine sea salt and pepper

boiled potatoes to serve
Instructions
Place the eggs in a saucepan, cover with water and bring to a boil. Remove from the heat and let stand, covered, for 13 minutes. Drain and place into an ice water bowl. Let stand for about 5 minutes. Peel the eggs. Let them cool down while you prepare the rest.

Start cooking the potatoes as well.

Chop the onion very finely. Place the into a very large bowl. Add the Greek yogurt and the crème fraiche or sour cream. Add mustard, 1 teaspoon vinegar, and sugar. Mix well. Adjust the taste with salt and pepper.

Finely chop the eggs or use an egg slicer to dice the eggs. Chop the chives as well. Add both to the bowl and mix gently.

If the sauce is too thick, thin it slightly with a little milk. Adjust the taste with more vinegar, if necessary, and with salt and pepper.

Serve the sauce over hot boiled potatoes. The egg sauce will keep for 3-4 days, airtight, in the refrigerator.
Nutrition
Serving:
1
/6 of the dish
|
Calories:
248
kcal
|
Carbohydrates:
11
g
|
Protein:
15
g
|
Fat:
16
g
|
Saturated Fat:
7
g
|
Polyunsaturated Fat:
7
g
|
Cholesterol:
279
mg
|
Sodium:
391
mg
|
Sugar:
9
g