Last Updated on
A German style egg salad or egg sauce with hard boiled eggs, yogurt and lots of chives. Served with boiled potatoes.
Another recipe using hard boiled eggs, we do have many of them every Easter and we really manage to eat them all. But not as they are, on bread or something, but integrated in different, delicious recipes.
Have a look at some of my favorite hard boiled eggs recipes if you are looking for some new ideas: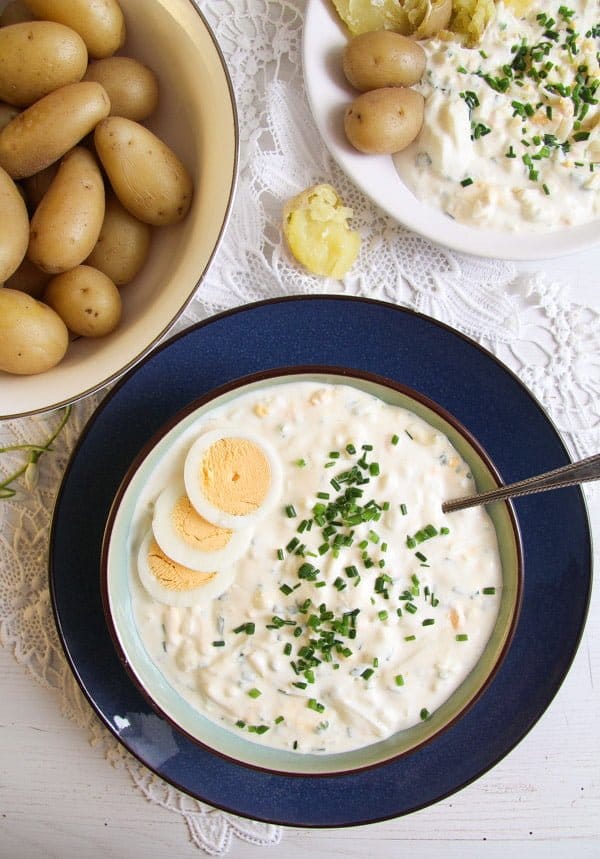 We all love hard boiled eggs in the house, but my husband is their biggest fan, he recently said, when I asked him if he liked a boiled egg curry I had cooked, that as long as the dish has hard boiled eggs in it, I cannot go wrong.
This particular recipe for Egg Salad or Egg Sauce with Greek Yogurt and Chives is his absolute favorite hard boiled egg recipe and one of his favorite recipes generally. If I ask him what he would like me to cook, chances are about 50% – 50% that he will say "Schnittlauchsoße", meaning Chive Sauce, meaning this Egg Salad or Egg Sauce with Greek Yogurt and Chives.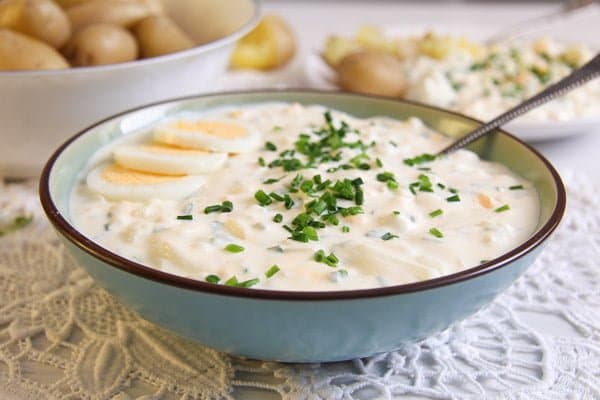 Egg Salad or Egg Sauce with Greek Yogurt and Chives
I've cooked this dish countless times over the years. It is one of my mother-in-law's recipes, something she would cook for her family in the past, a typical German way of eating hard boiled eggs. I always serve it with hot boiled potatoes, but if we have leftovers, we eat them on bread, like an egg salad sandwich, absolutely delicious as well.
My mother-in-law always made it purely with the German Schmand or smetana, a thick sour cream with a high fat content. Absolutely delicious, but way too calorie-laden for me. I use Schmand or smetana as well in my cooking, I have many recipes on my blog to prove it, but in this case I prefer not to use it. It would be just too much of it, and the egg salad will not only be mighty in terms of calories but also in terms of taste.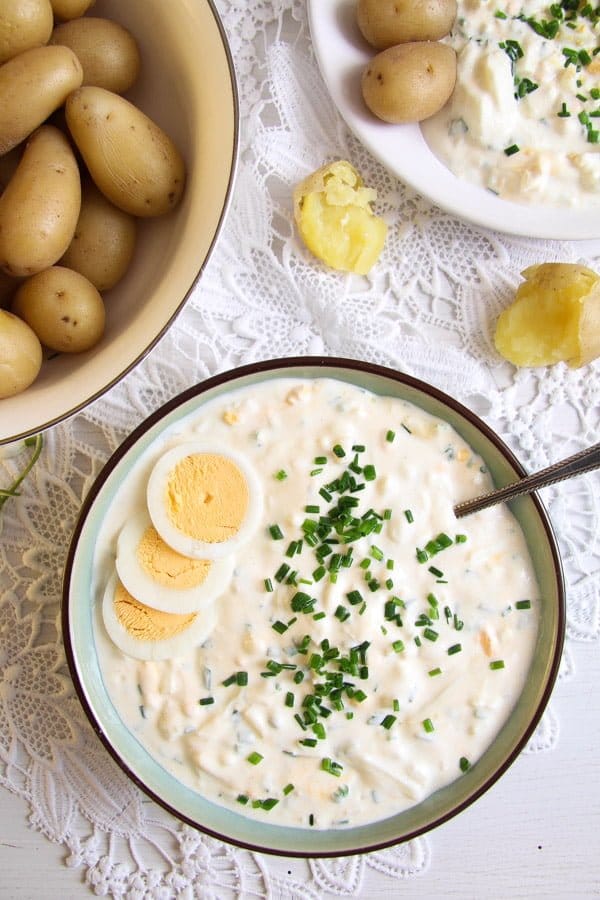 I prefer to use either a combination of German sour cream which has less fat than Schmand and low-fat yogurt or Greek yogurt, which has a lower fat content than Schmand, but it is also extremely creamy.
But if you don't find any Greek yogurt in your region, don't stress about it, you could use pretty much any milk products to make this wonderful salad. I have made it myself with smetana, yogurt, low-fat quark, skyr, sour cream or a combination of some of those.
Most of the times, I choose to make this Egg Salad or Egg Sauce with Greek Yogurt and Chives when I notice that I have lots of open pots of milk products in my fridge. So I actually make this recipe more often in order to use leftover milk products than to use leftover hard boiled eggs. 🙂
I mix everything together in a pot without worrying too much about the quantities, I just use everything I have and cook some hard boiled eggs accordingly, sometimes 8, sometimes only 4 or 6, depending on how much sauce I have.
Chives are the preferred herbs for this dish, I have them in my garden all through the spring and summer and on my windowsill in winter. Not to mention that I always have at least one small pack of frozen chives in my freezer. But a mixture of frozen herbs would work as well. We have these frozen mixture for Frankfurter Sauce containing many many herbs, they would be a good choice as well, if you happen to live in Germany.
I add some mustard and vinegar to the sauce as well. The mustard I use is generally medium German mustard or Dijon mustard. Vinegar is to be added to taste, between 1 and 3 teaspoons, depending on how you like it and also depending on the fat content of the dairy you use. I tend to add a bit more vinegar when using dairy like smetana, which has a high fat content and less when using low-fat quark or low-fat yogurt, which have their own tanginess and require less added acidity.
To chop the eggs in a flash I use this wonderful egg slicer Westmark Germany Multipurpose Stainless Steel Wire Egg Slicer (Grey)
. I have a really old one, that my mother-in-law left in this house when she moved into her new house. I didn't even know that such things existed before I found the one I still use today, I didn't even know what it was at first, I had to ask my husband.
I was a bit skeptic about using in the beginning, I felt like I was very lazy to use such a thing, but it is -oh – so wonderful, especially when you have to chop about 8 eggs like in this recipe.
Otherwise, this egg recipe couldn't be easier. Use leftover hard boiled eggs from Easter or boil some eggs, mix them with the dairy of your choice, add some herbs and boil some potatoes as well. The result is an utterly delicious, satisfying and healthy meal, that you will end up making again and again.
Other mother-in-law German recipes: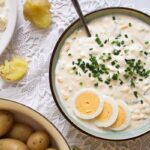 Ingredients
8 large eggs

1 small onion

700 g/ 1.5 lbs/ 2 3/4 cups low-fat Greek style yogurt

250 g/ 8.8 oz/ 1 cup sour cream or smetana

2 teaspoons medium mustard or Dijon mustard

1 to 3 teaspoons apple vinegar, to taste

1 teaspoon sugar

some milk

1 bunch chives

salt and pepper

boiled potatoes to serve
Instructions
Give the eggs to a saucepan, cover well with water and bring to a boil. Remove from the heat and let stand, covered, for 13 minutes. Drain and give to a bowl of iced water. Let stand for about 5 minutes. Peel the eggs. Let them cool down while you prepare the rest.
Start cooking the potatoes as well.
Chop the onion very finely. My mother-in-law taught me to crush it with the fork as well after chopping it, just to make sure that it is fine enough. Of course, that is optional, just make sure it is finely chopped. Give the onion to a very large bowl.
Give the Greek yogurt and the sour cream or smetana to the bowl as well. Add the mustard, 1 teaspoon vinegar and the sugar and mix well. Add some salt and pepper as well.
Finely chop the eggs or use a egg slicer Westmark Germany Multipurpose Stainless Steel Wire Egg Slicer (Grey)
to dice the eggs. Finely chop the chives as well. Give them both to the bowl and mix gently. If the sauce is too thick, thin it slightly with a little milk. Adjust the taste with more vinegar, if necessary and with salt and pepper.
Serve the sauce over hot boiled potatoes and eat the leftovers on bread. The egg sauce will keep for 3-4 days, airtight, in the refrigerator.
[nutrition-label id=9113]
This post might contain affiliate links. The price you pay as a consumer does not change, but if you make a purchase we will receive a commission which helps support the blog.