Last Updated on
Traditional German Savoy cabbage rolls with minced beef and pork, served with a comforting white sauce and boiled potatoes.
This recipe for Easy Stuffed Savoy Cabbage with Minced Meat is another one of those German recipes, which although I have eaten quite often in all the years I have been living here in Germany, I have actually rarely cooked myself. Why? Well, this is another mother-in-law standard recipe. Whenever my husband or his brother crave these Easy Stuffed Savoy Cabbage with Minced Meat they ask their Mama.
Some other of her cherished recipes are for instance this German Leek and Cheese Soup with Ground Pork , this German Beef Soup with Egg Custard and Marrow Dumplings ,this Salad Torte with Vegetables, Ham and Cheese or this German Cabbage Salad with Creme Fraiche and Herbs.
However, even if my mother-in-law cooks these Easy Stuffed Savoy Cabbage with Minced Meat ofter than I do, I did cook this recipe myself quite often, it is one of my husband's favorite dishes. And I don't think I have ever made this dish and not invited my brother-in-law to eat with us when we had it. I would have a bad conscience if I didn't.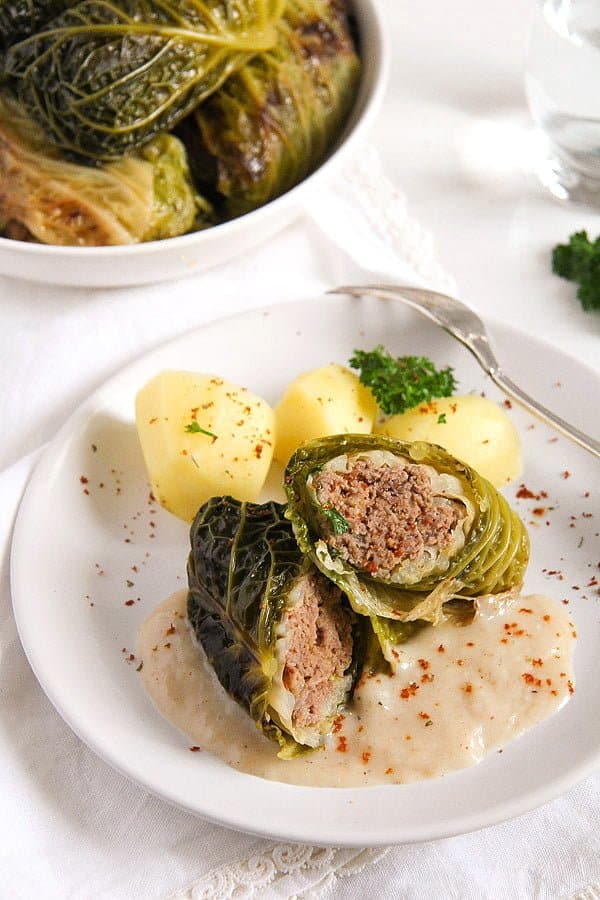 Notes on the Easy Stuffed Savoy Cabbage with Minced Meat
You will not need quite the whole Savoy cabbage for this recipe. I usually prepare more leaves than needed, just to make sure that I have enough when ready to form the rolls. Some leaves will be smaller or will break while you handle them, so make sure you have enough blanched savoy leaves to fix these issues.
To blanch the Savoy cabbage leaves bring a large pot of water to a boil. Add salt. Remove the first outer leaves of the cabbage, in case they are wilted or have holes, and carefully remove the leaves by cutting them off the core. Blanch the leaves until wilted, about 2-3 minutes, remove from the water with a slotted spoon and let drain well. Pat them dry with kitchen paper before filling them.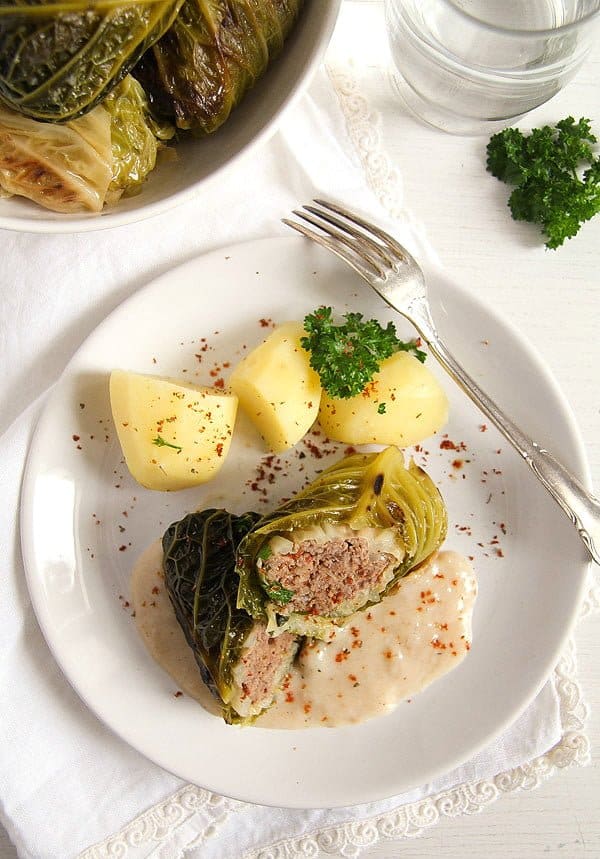 When you form the rolls, work carefully, the blanched Savoy cabbage leaves are more tender than those of white cabbage, they will be more likely to break. If that happens, don't worry, use some of the extra blanched leaves to cover the holes. Do the same if the leaves are too small, just overlap two or even three leaves to obtain a larger surface to fill. These particular cabbage rolls are generally a bit larger than the typical white cabbage or sauerkraut rolls that I make.
And what to do with the leftover Savoy cabbage? How about a nice German Savoy Cabbage Soup with Ground Meat and Potatoes.
I used a leaner mixture of minced beef and pork to make the filling for the Easy Stuffed Savoy Cabbage with Minced Meat. If you wish, you can use only beef or only pork.
Serve the Easy Stuffed Savoy Cabbage with Minced Meat with boiled salted potatoes, that is a must, I cannot imagine eating them with anything else.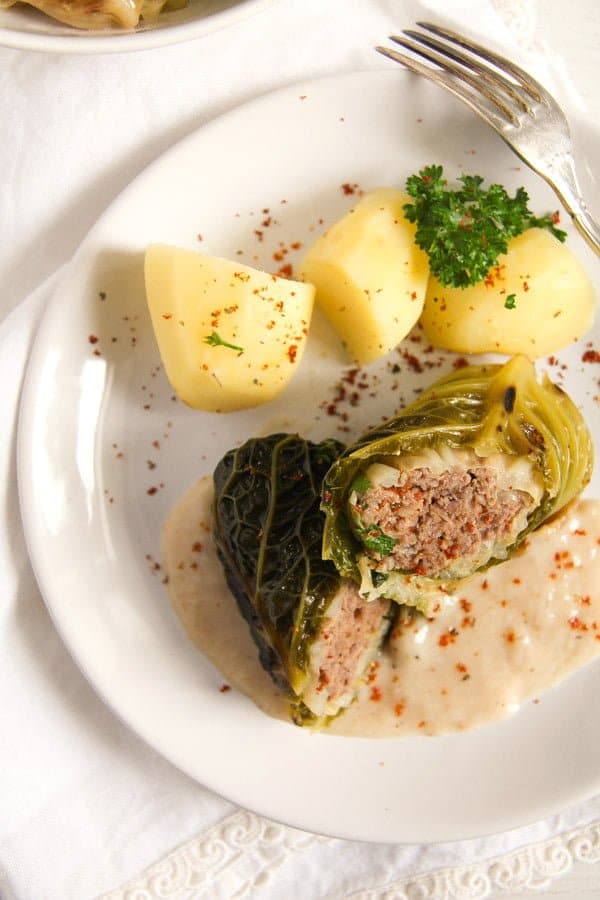 Other traditional German main dishes: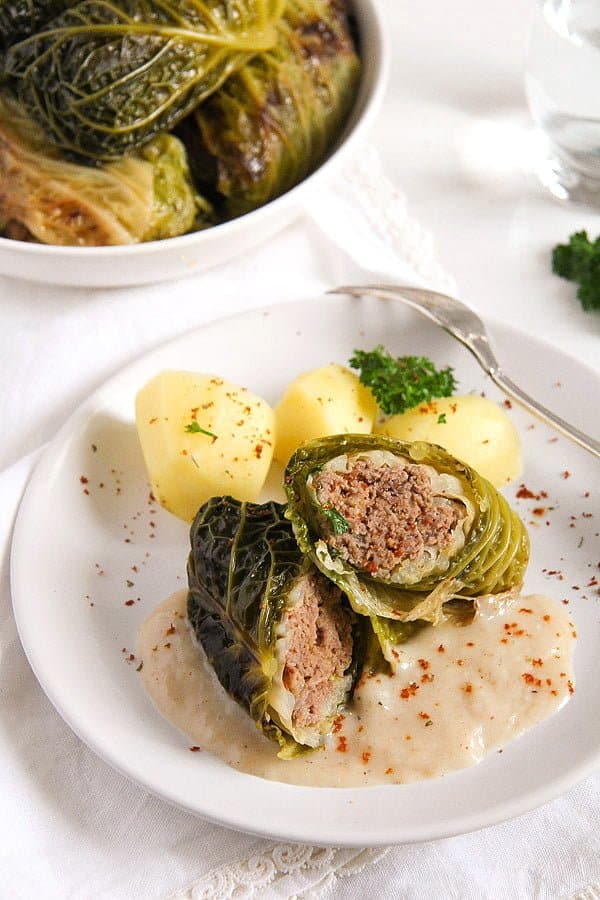 Ingredients
1 large Savoy cabbage

60 g/ 2.1 oz day-old white bread or dinner roll

400 g/ 14.1 oz minced meat (a mixture of beef and pork)

1 small onion

2 teaspoons mustard

1 pinch of sweet paprika powder

2 tablespoons vegetable oil

500 ml/ 2 cups beef or chicken stock

250 ml/ 1 cup milk

2 tablespoons cornstarch

nutmeg

salt and pepper

potatoes to serve
Instructions
Bring a large pot of water to a boil. In the meantime remove the wilted outer leaves from the Savoy cabbage and carefully remove the leaves by cutting them off the core. The recipe will make 8 rolls, but you will need to prepare more leaves, you will sometimes need 2 or 3 leaves to form a roll.
When the water boils, add some salt and blanch the leaves until wilted, about 2-3 minutes. Drain well. Pat them dry with kitchen paper before filling them.
Soak the white bread in a little warm water. Chop the onion very finely. Give the minced meat, onion, mustard, sweet paprika powder, salt and pepper to a bowl and mix well. Squeeze the bread well to remove the excess moisture and give it to the bowl as well. Mix everything very well together.
Lay one large Savoy cabbage leaf on the working surface. If the leaves are too small or broken, overlap 2 or 3 cabbage leaves. Divide the filling into 8 portions and form 8 cabbage rolls. Give the filling into the middle-lower part of the leaf, fold the right and left side over the filling and roll the parcel starting at the base. Place seam down on a plate. Some people bind the rolls with cooking string. You could do it if you are unsure that the rolls will hold their shape, but personally I have never done it, it always worked well. Repeat to form all the rolls.
Heat the oil in a round Dutch oven or a deeper pan large enough to hold all the rolls in one layer. Give the rolls to the pan and fry them on all sides, they should become golden brown all over. Pour the stock into the pan, cover and bring to a boil. Turn the heat down to low and simmer the cabbage rolls for about 25 minutes.
In the meantime cook the potatoes in salted water.
When the cabbage rolls are cooked, carefully remove them from the pot. Place on a platter and keep warm.
To make the sauce, give the milk to the cooking liquid in the pan. Bring to boil. In the meantime stir the cornstarch with a little water to form a paste. Slowly give this mixture to the pot while whisking continuously. Let bubble a couple of times. Add some gratings of nutmeg and adjust the taste with salt and pepper.
Serve immediately with boiled potatoes.
This post contains affiliate links. The price you pay as a consumer does not change, but if you make a purchase we will receive a commission which helps support the blog.