Beef roulades are a traditional German main dish. Learn how to make delicious roulades filled with onions, pickled cucumbers, and bacon.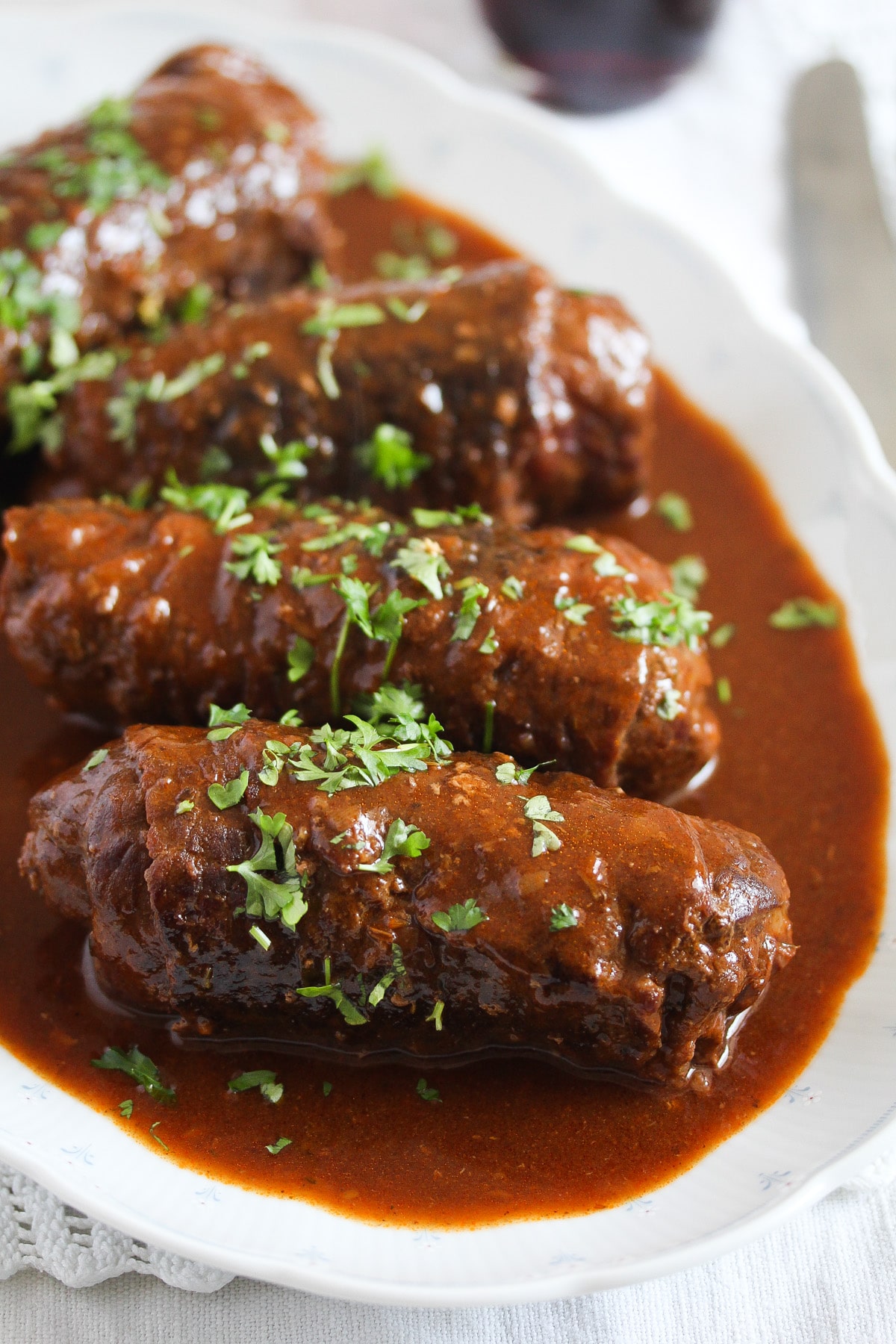 How to make roulades?
Beef roulades are a typical German Sunday or festive main dish, I would say. Pretty large and very thin pieces of beef, smeared with mustard and filled with onions, bacon, and a little gherkin or pickled cucumber.
Everything is simmered in a delicious sauce and served with mashed potatoes and vegetables of choice. For me, there can be hardly any dish more German than that (well, maybe Sauerbraten).
I had these for the first time at my mother-in-law's place, and it took me years until I finally decided to make my own roulades. I've always thought it would be too much hassle to roll and cook the roulades, but once I finally cooked them, I realized that it wasn't that complicated at all.
Really, you can buy already cut roulades at the butcher's, all you have to do is to fill and roll them, and that really isn't a big deal.
So if you want to impress your family or friends with some real German cooking, this is the dish for you. Everybody will love the beef roulades, and they will think you are an amazing cook, not only because the food tastes so good but also because the roulades look like so much hard work. Only you will know how easy it is to make them. 🙂
And learn How to Cook Beef Ribs in the Oven, another rich and incredibly comforting beef dish perfect for the holiday season.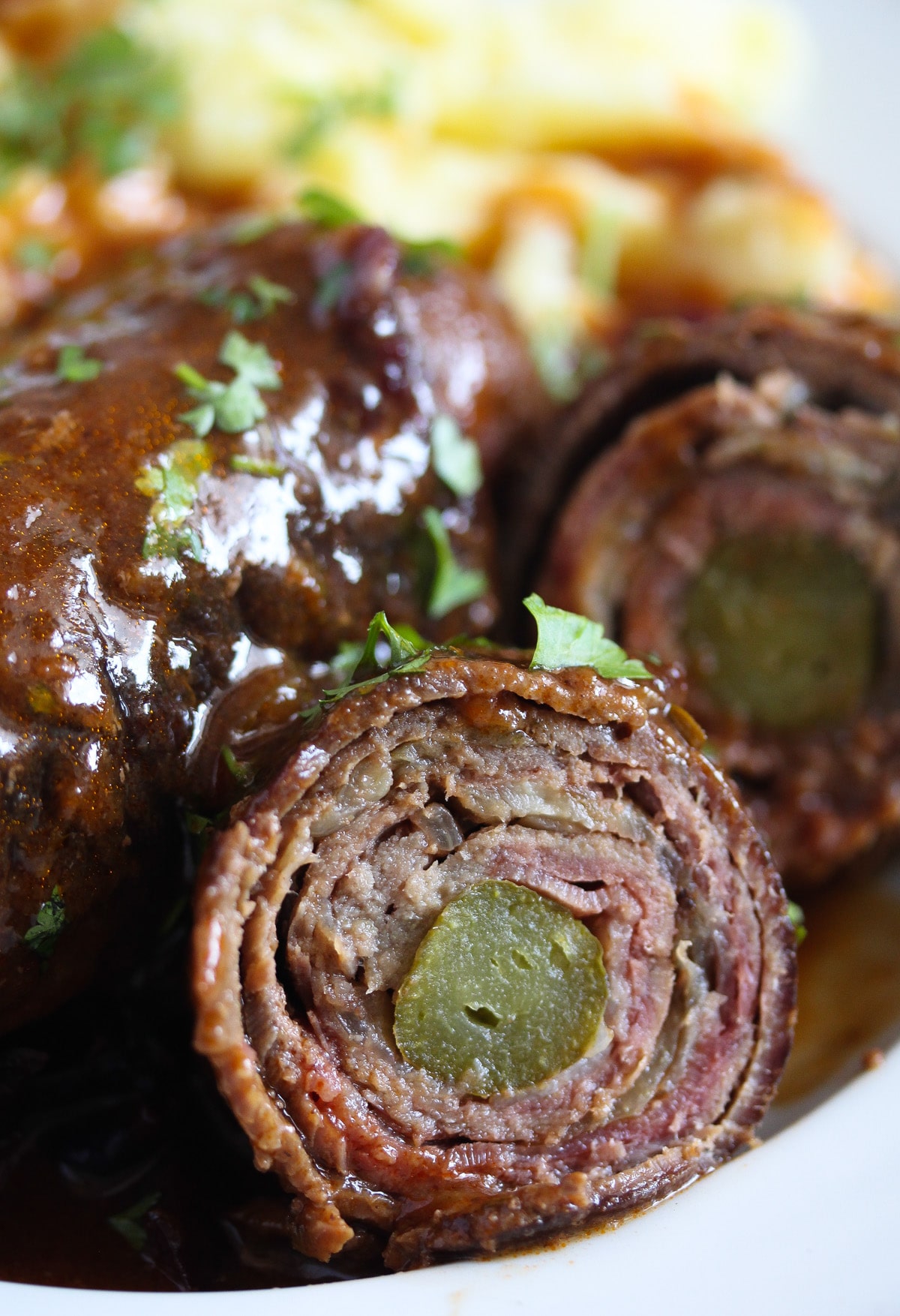 What do you need?
Beef:
If you live in Germany, buy Rouladen, which are already thinly cut slices of beef that are meant to be turned into roulades.
Otherwise, buy beef slices as thinly cut as possible; the best is to ask the butcher to cut them for you.
A slice of beef should be rather long, about 20-25 cm/ 8-10 inches, about 10-11 cm /4-4.5 inches wide, and it should weigh between 160 g – 200 g/ 5.6 – 7 oz each.
You can use thin round steaks. Flatten them with a meat mallet, and if they are not long enough, layer two of them to get the length you need.
Pickles:
Small, thin pickled cucumbers/gherkins.
As you can see in the photographs, my cucumbers are very short, which is why I needed two for each roll.
Bacon:
The bacon in Germany is super thin and super narrow.
Narrow is not mandatory, but thin is.
Use very thin bacon slices and, depending on how wide they are, use one to three slices.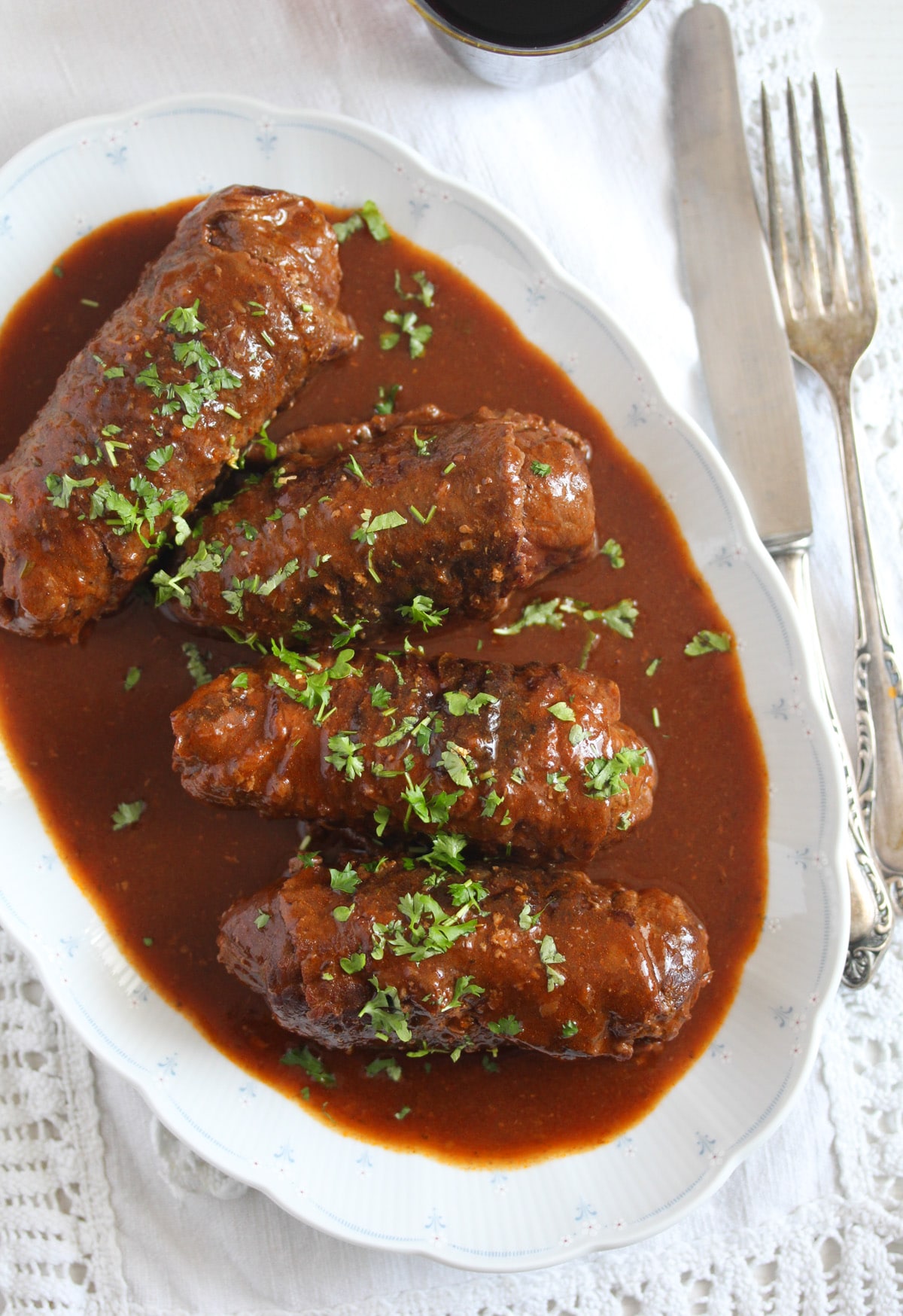 Tips for making good roulades
Pound the meat until thin. Use a meat mallet or a smaller, heavy saucepan.
Place the slices between lightly oiled pieces of plastic foil. This way, the meat won't stick to the mallet/saucepan, and there are fewer chances of bruising the meat.
If using special Rouladen meat, you will not have to pound the meat for too long; hitting it two or three times should be enough.
If using slightly thicker slices, tenderize until evenly thin.
Cook the onions needed to fill the rolls; they will get sweeter and softer. This way, the step is worth making.
Buy the thinnest pickled cucumbers you can find. If they are too short, use two for each meat roll.
Brown the roulades very well all over before starting with the sauce.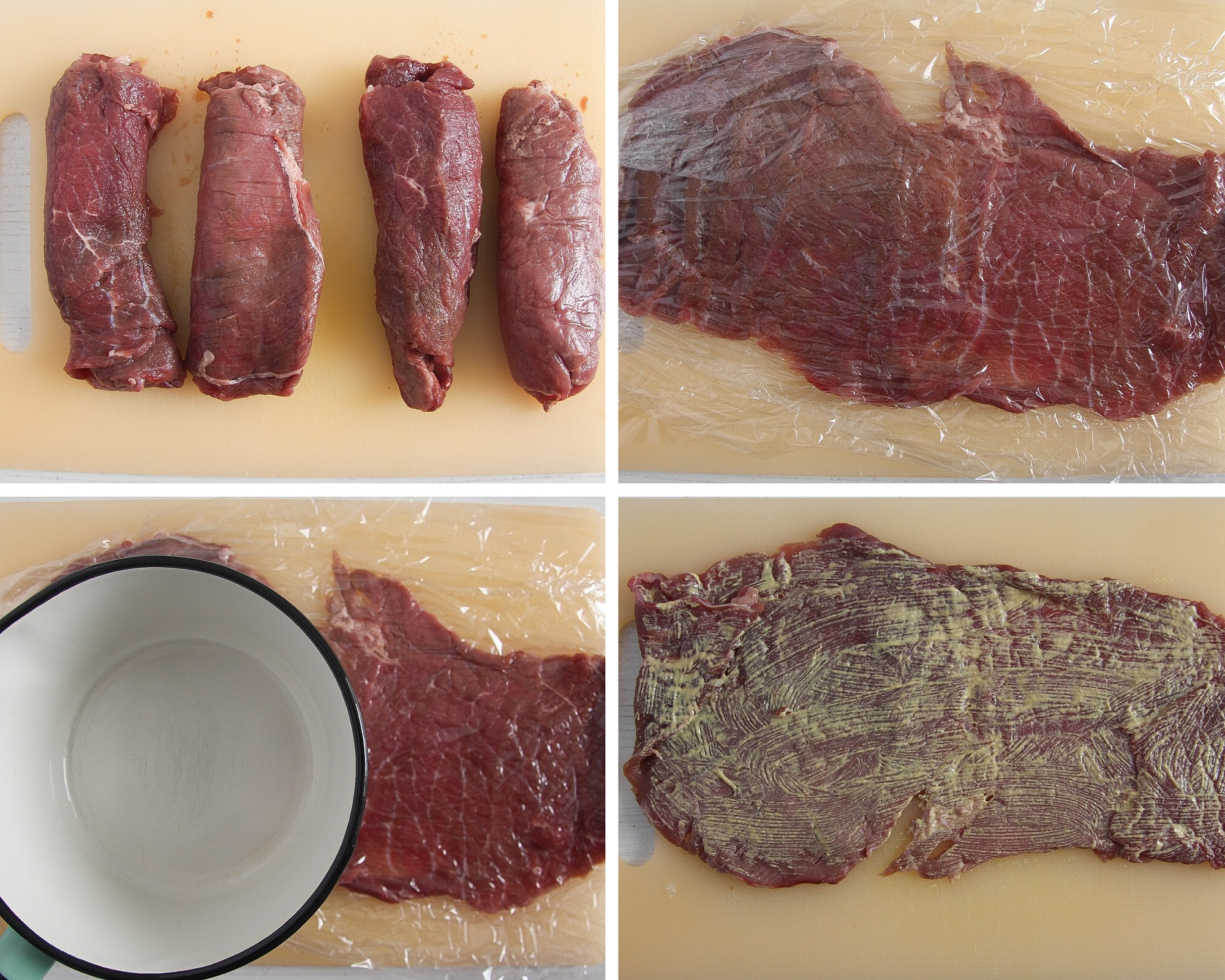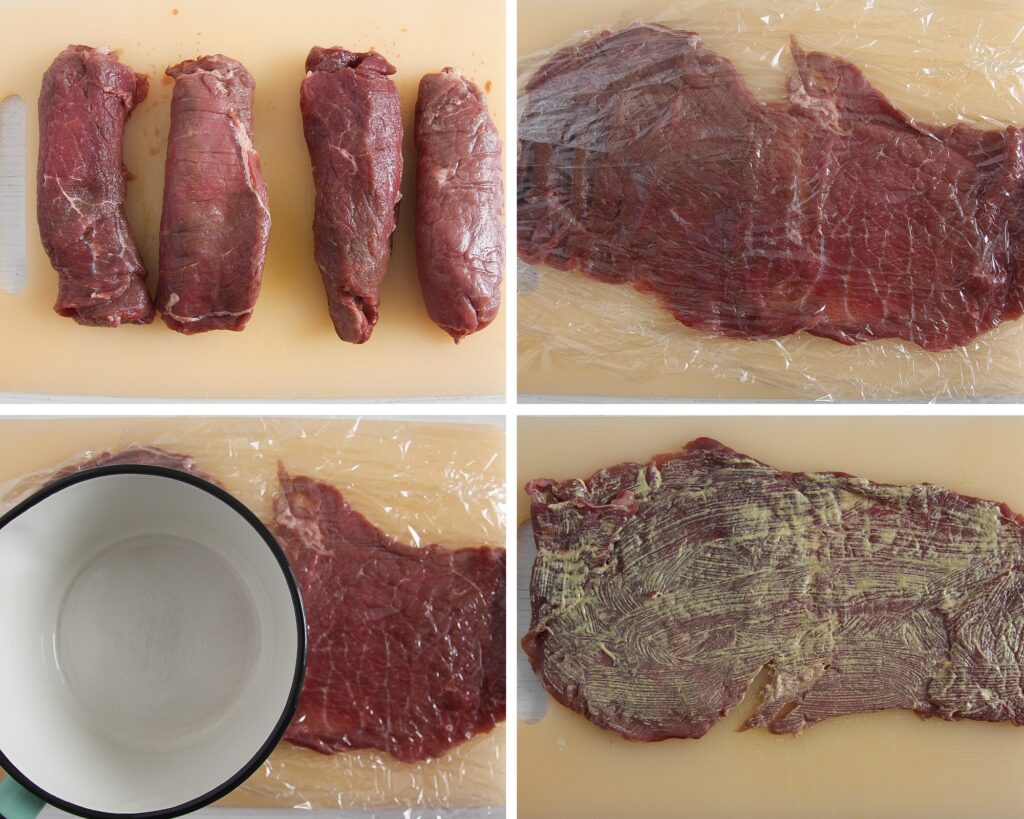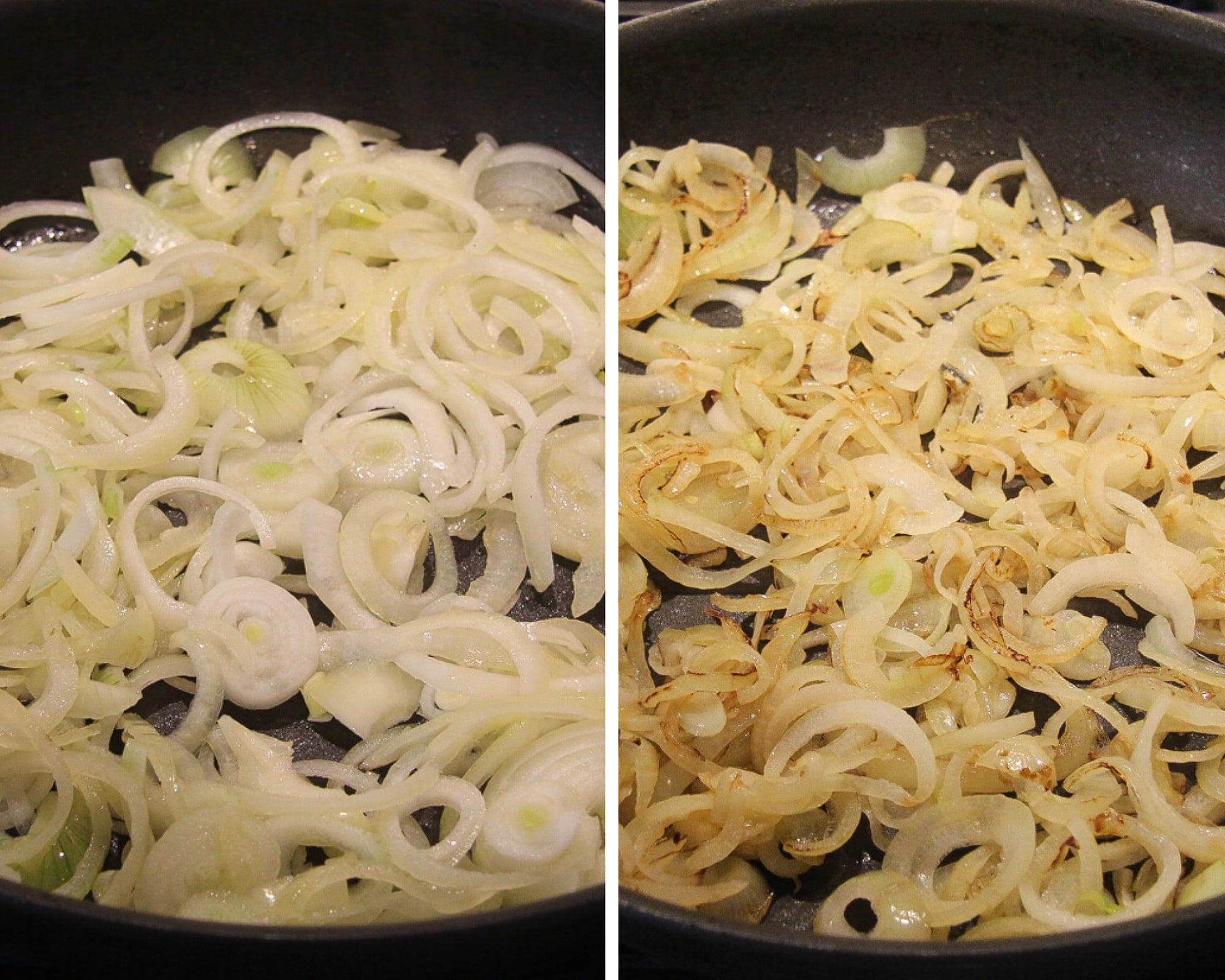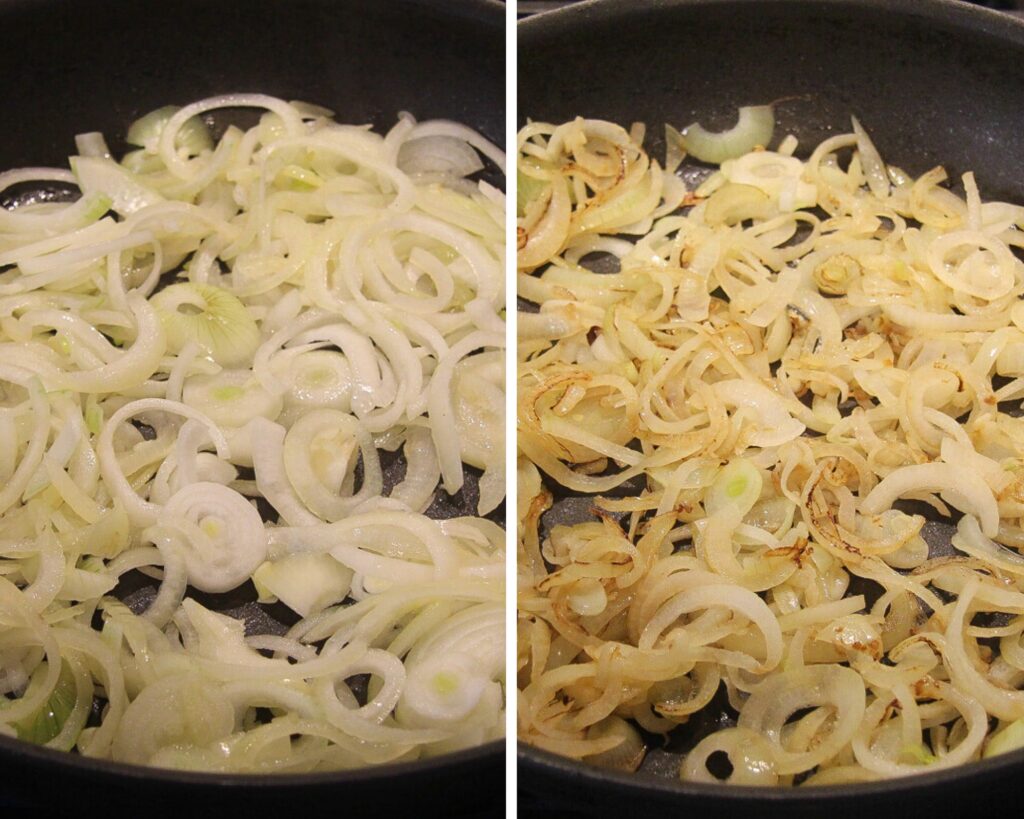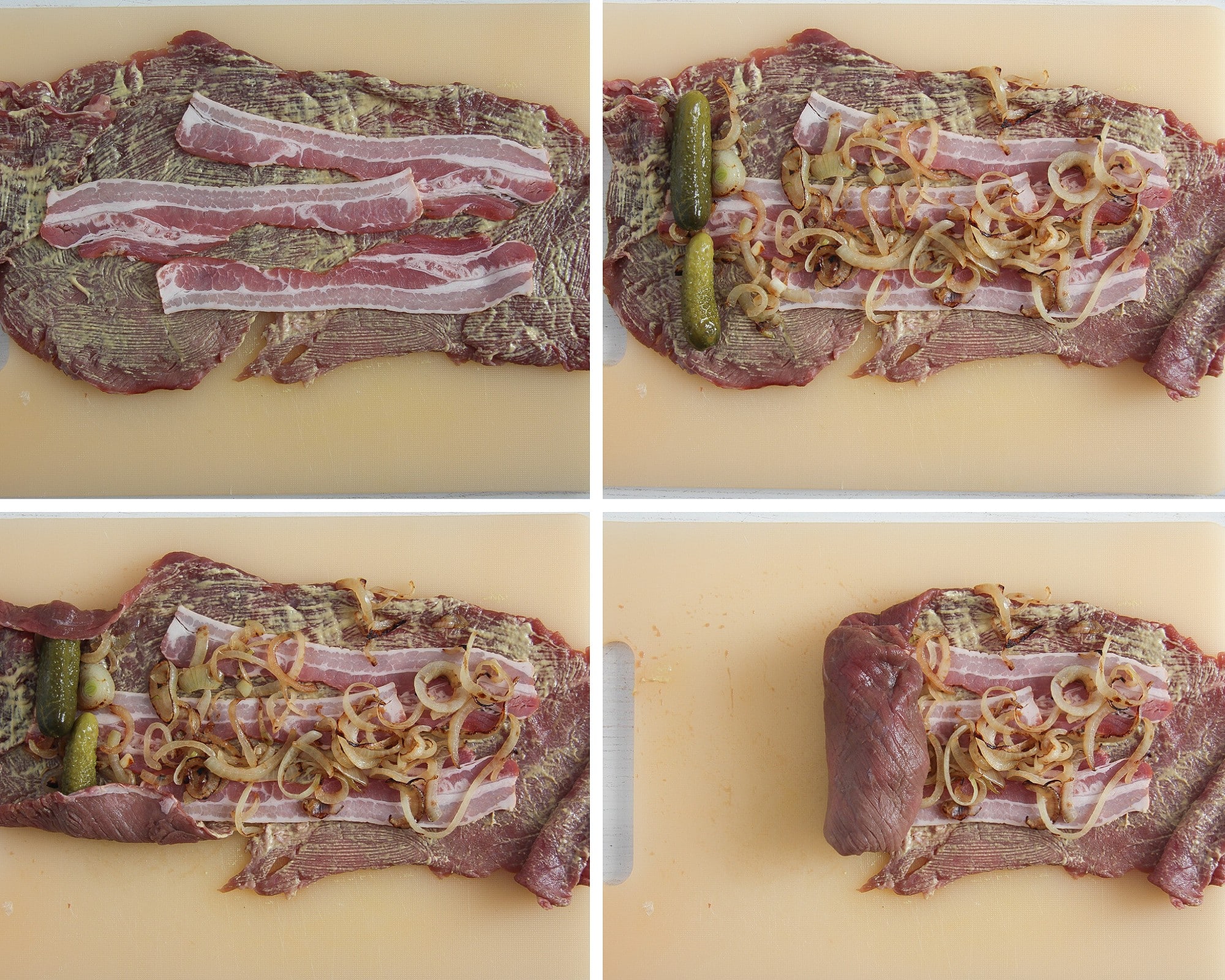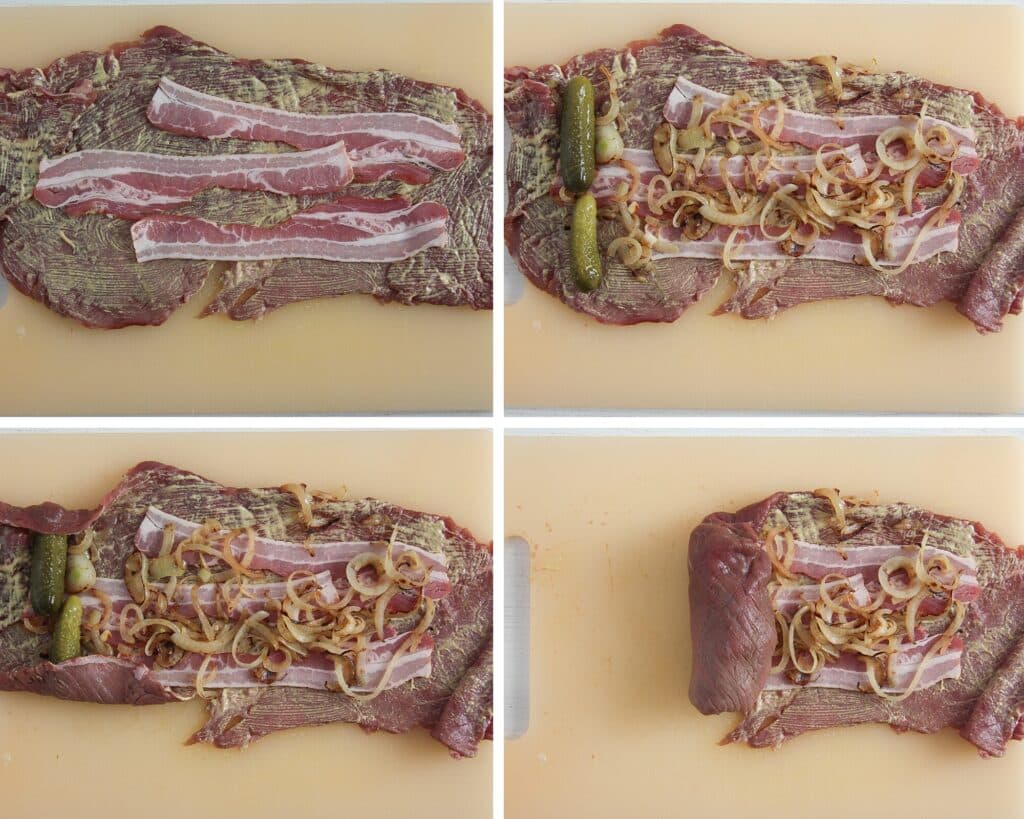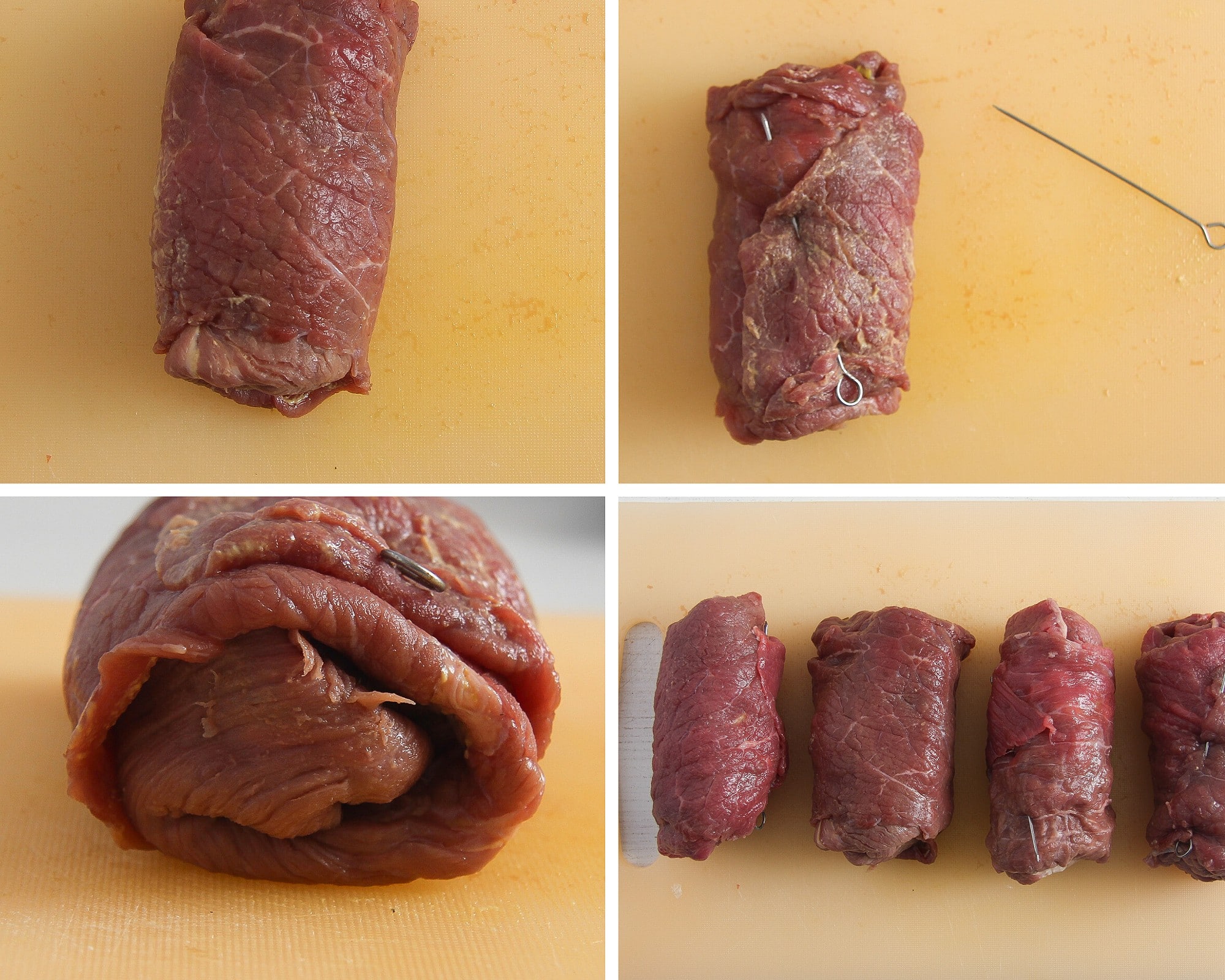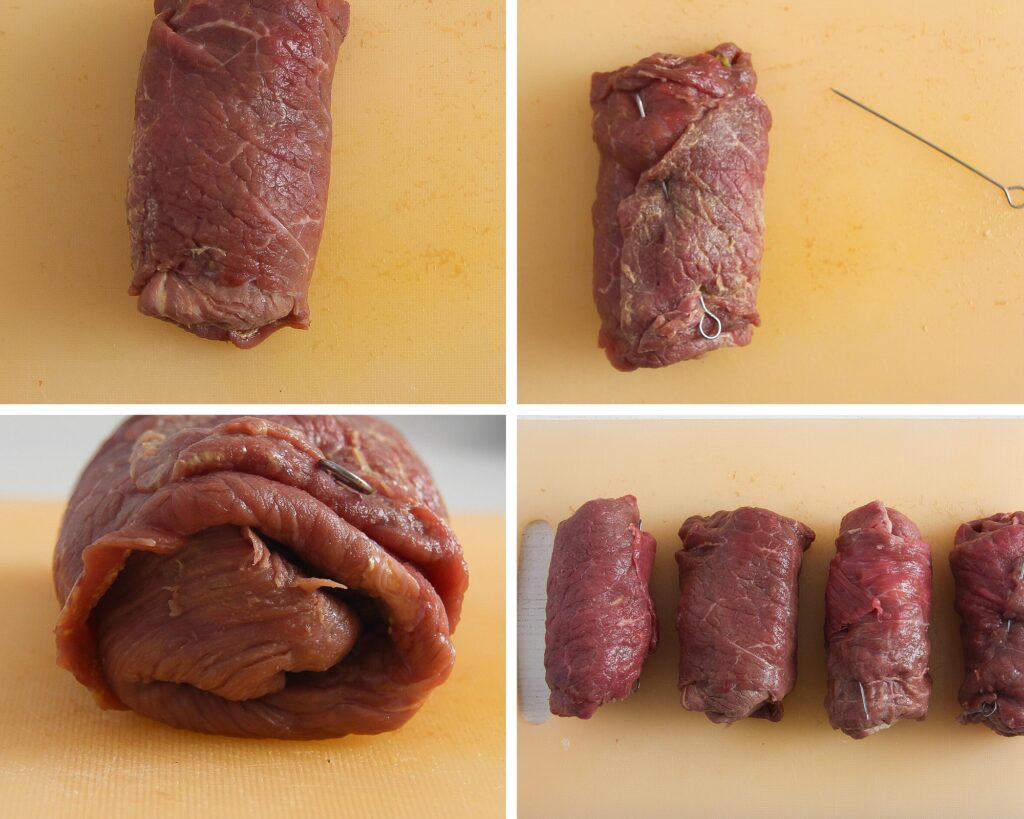 How to make the sauce?
Cook the German beef roulades in a sauce made with carrots, onions, and thyme.
You will have a lot of liquid to start with: red wine, which will cook off at the beginning of the cooking process, beef broth (or chicken stock), and water. The sauce might seem like a lot at first, but it will cook off nicely.
Remove the lid from the pot during the last 15 minutes of the cooking time so that the liquid can start reducing.
Don't add too much salt at the beginning; just a pinch or not at all. The sauce might be too salty if your beef broth is very salty. It is preferable to check the sauce for salt at the end of the cooking process.
Once the rouladen are cooked, remove them from the skillet and continue cooking the sauce until it reaches the desired consistency, it will take about 10 minutes.
If you don't want to discard the vegetables, you can blend them in the sauce (with an immersion blender). The sauce will taste great, but it will turn rather opaque, and it will be quite thick.
For a glossy, fine sauce, remove the veggies with a slotted spoon and reduce the remaining sauce until the desired consistency is achieved.
You could thicken the sauce with a cornstarch slurry if you wish. I used to do that in order to speed up the process, but nowadays, I prefer to reduce the sauce a little bit longer; the results are superior.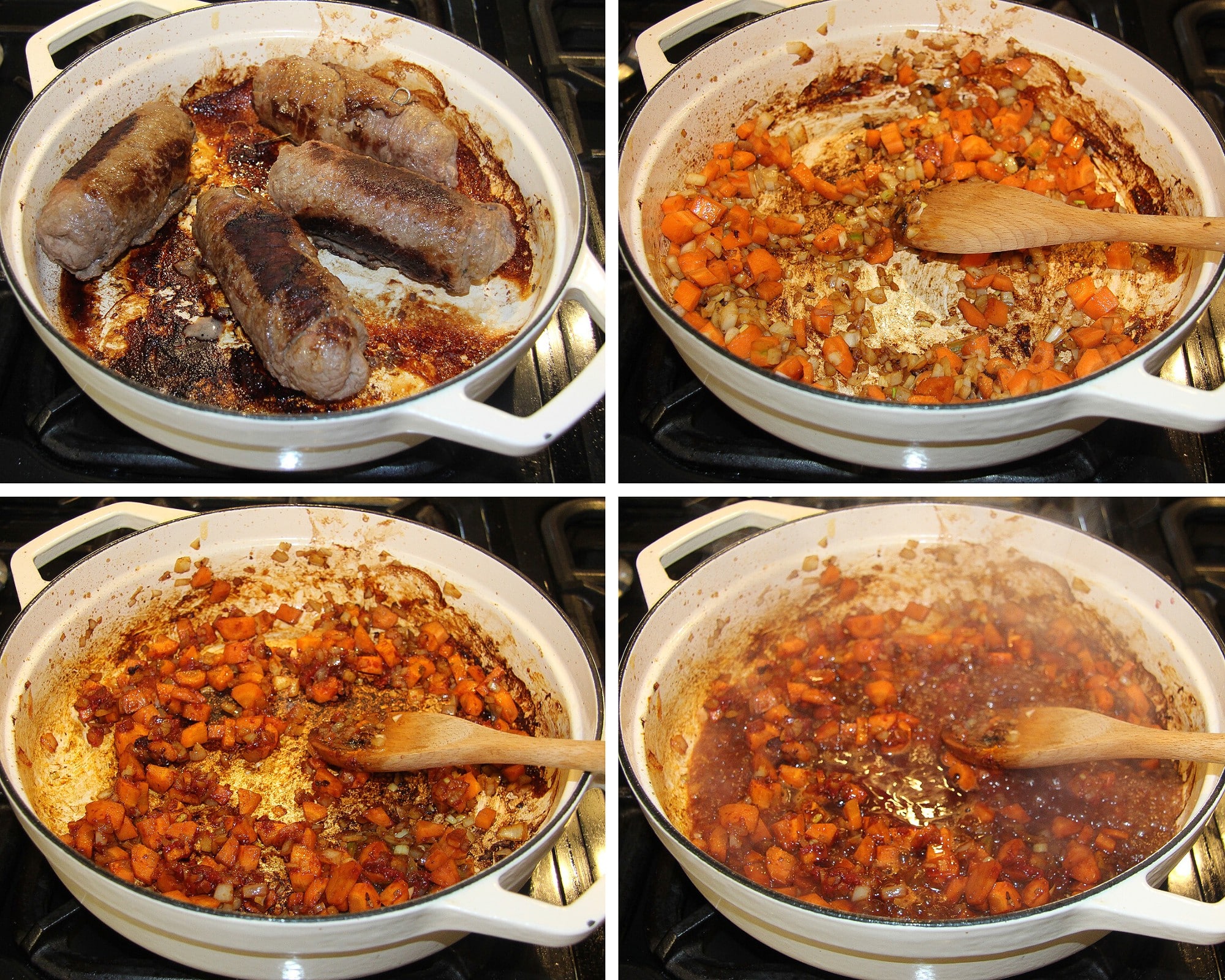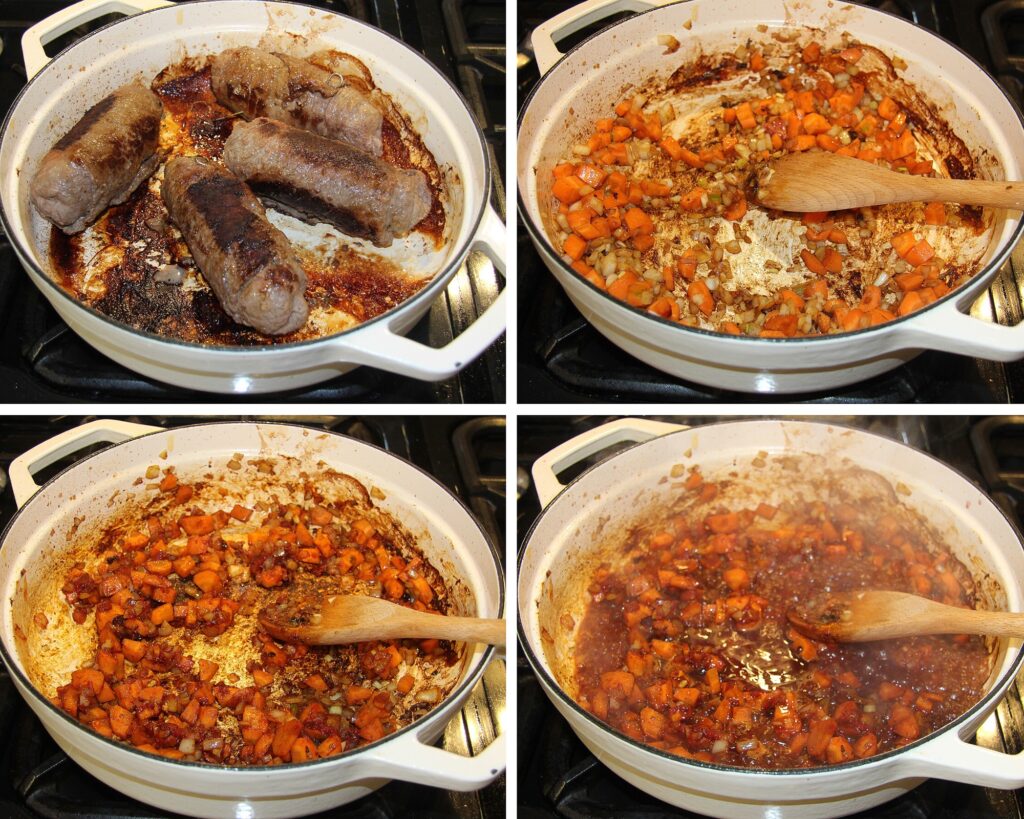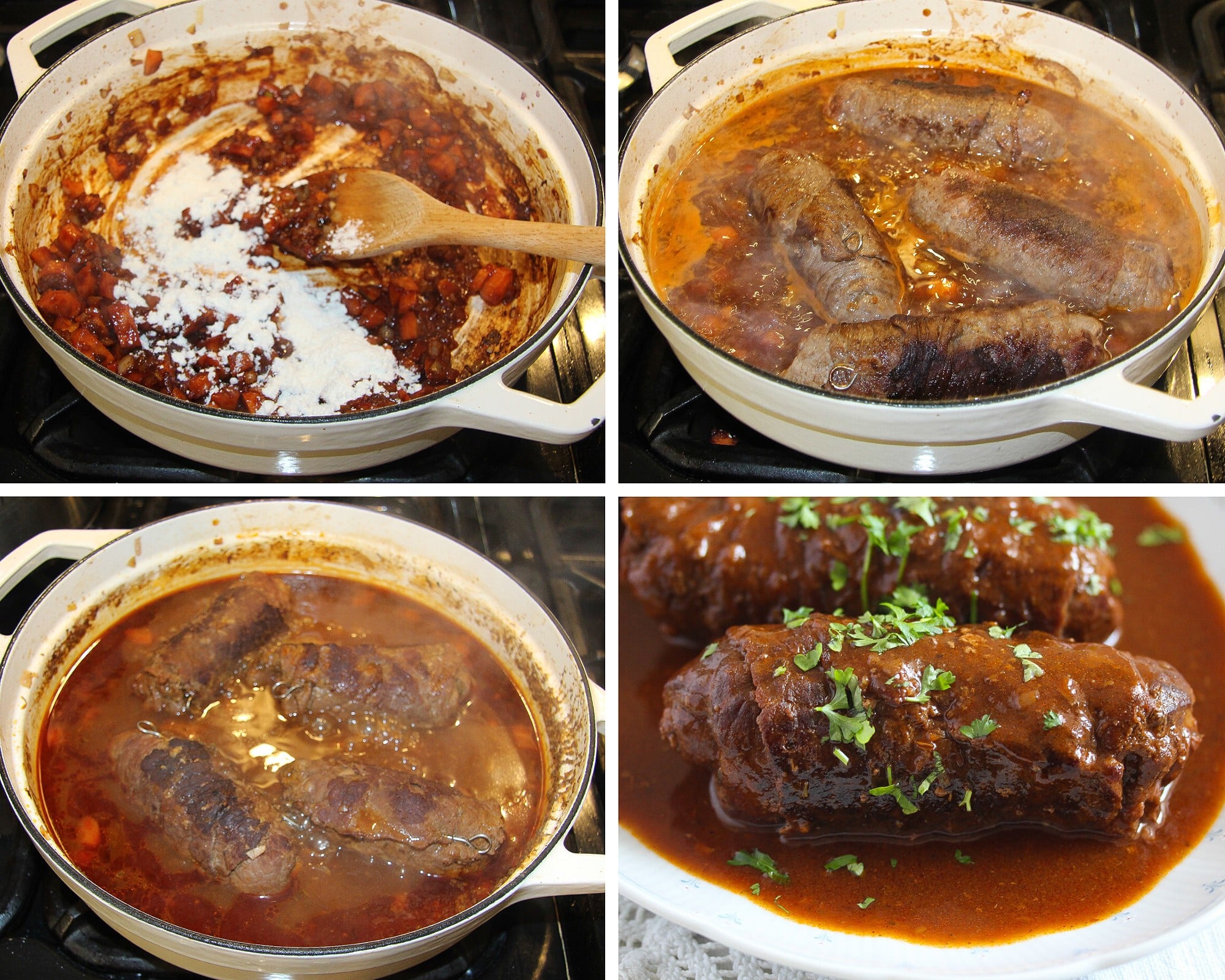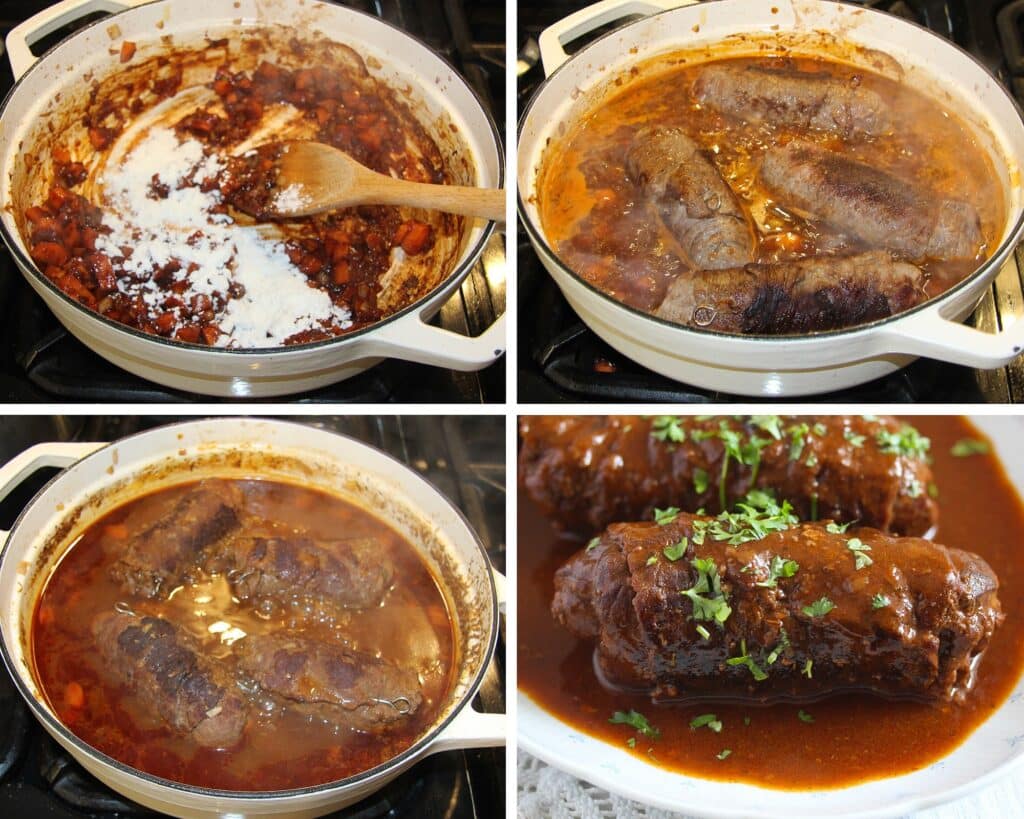 How to serve?
As I mentioned above, this roulade recipe would make an ideal festive lunch for a special Sunday, Easter, or Christmas.
I love serving the rouladen with mashed potatoes, which are perfect for that hearty sauce. Plain boiled potatoes, which you can crush in the sauce, are fine as well.
Another very traditional way of serving beef roulades is with Semmelknödel or German bread dumplings. You can buy them just about anywhere here, and they are great, but if you really want to go the whole way, you can make your own.
When it comes to the vegetable side dish, German red cabbage is just perfect; I think I serve the roulades with red cabbage most of the time.
Otherwise, cauliflower, Brussels sprouts, or a mixture of carrots and peas are good choices as well.
More German main dishes?
Jägerschnitzel - German pork schnitzel with mushroom sauce. Serve with fries or potato salad.
Eggs in Mustard Sauce - Leftover hard-boiled eggs in a creamy mustard sauce with dill. Serve with boiled potatoes.
Stuffed Savoy Cabbage Rolls - Traditional German Savoy cabbage rolls with minced beef and pork, served with a comforting white sauce and boiled potatoes.
Cheese and Leek Soup with Ground Meat - A popular thick and savory soup everybody loves. Best served with sourdough bread.
Königsberger Klopse – Delicate meatballs in white wine sauce with capers and anchovies and served with boiled potatoes.
Or check out the German main courses category.
Do you like this recipe?
Please leave a good rating in the recipe card below. Stay in touch through social media:
Pinterest
,
Facebook
, and Instagram. Don't forget to tag me #whereismyspoon when you try a recipe!
German Beef Roulades
Beef roulades are a traditional German main dish. Learn how to make delicious roulades filled with onions, pickled cucumbers and bacon.
Print
Pin
Share
Grow
Saved!
Rate
Equipment
Dutch oven or heavy-bottomed pot
Ingredients
Roulades:

4

thin beef slices/rouladen

See note

2

onions

1

tablespoon

butter

4-8

small pickled cucumbers/gherkins

depending on size

2-3

teaspoons

medium mustard

4-12

very thin bacon slices

depending on size

fine sea salt and freshly ground black pepper

some oil for brushing

Sauce:

2

onions

2

carrots

1

tablespoon

oil

1

tablespoon

tomato paste

1

teaspoon

granulated sugar

1

tablespoon

all-purpose flour

1

cup

red wine

2

cups

beef broth

1

cup

water

1

large garlic clove

2-3

sprigs thyme

fine sea salt and freshly ground black pepper
Instructions
Roulades:
Tenderize meat: Cut two pieces of plastic foil larger than the roulades and brush them with a bit of oil. Lay the roulades one at a time on one of the plastic foil pieces, cover them with the second piece and tenderize them using a flat object (I used a heavy saucepan with a handle, I "beat" the meat with the bottom of the saucepan). Set the beef slices aside.

Saute onions: Peel and halve the onions, then cut them into thin half circles. Melt the butter in a pan and cook the onions until nicely golden. Leave them to cool down slightly.

Fill: Brush each roulade with mustard. Place 1-3 very thin bacon pieces on the meat; it depends on how wide the bacon is; German bacon slices are very thin and narrow. Divide the onions into four portions and spread one part on each roulade. Place 1-2 small pickled cucumbers at the end of each beef slice.

Roll: Fold the long sides of the beef just a little bit over the filling so that it would not come out. Roll the meat starting at the end where the cucumber lies. Fix the roulades by sticking them with a special roulade needle (if you have any) or with a toothpick. Sprinkle with salt and pepper on all sides.
Sauce:
Brown: Chop the onions and the carrots. Heat the oil in a large skillet or Dutch oven. Brown the roulades on all sides, take them out of the pot, and set them aside.

Saute onions: Place the onions and the carrots in the same pot and cook until the onions are golden brown, about 5 minutes.

Roux: Add the tomato paste and the sugar and cook, stirring, for a couple of minutes. Add the flour and continue cooking while stirring for another minute or two until the flour is slightly golden.

Add the red wine little by little (3 or 4 large splashes) and let it reduce before adding the following splash. Finally, add the last splash of wine, the beef broth, and the water, and bring everything to a boil.

Simmer: Place the roulades back into the Dutch oven, together with the finely chopped garlic clove and the thyme sprigs. Cover, turn the heat down, and simmer for about 1 ¼ hour. Remove the lid during the last 15 minutes of cooking time to allow the sauce to reduce.

Keep warm: Take the roulades out of the sauce, carefully remove the needles or toothpicks and keep them warm.

Cook the sauce down for about 10 minutes. You can leave the vegetables inside and blend the sauce smooth, this will thicken the sauce, but the sauce will not be that fine anymore. For a finer sauce, remove the vegetables with a slotted spoon and reduce the sauce to the desired consistency.

Taste and add salt, if necessary. It might not be; it depends on the saltiness of the beef broth. Add pepper.

Reheat: Place the roulades back into the sauce and heat them again. Serve immediately as suggested above.
Notes
A slice of beef should be rather long, about 20-25 cm/ 8-10 inches, about 10-11 cm /4-4.5 inches wide, weighing between 160 g – 200 g/ 5.6 – 7 oz each.
You can use thin round steaks. Flatten them with a meat mallet, and if they are not long enough, layer two of them to get the length you need.
Nutrition
Serving:
1
roulade
|
Calories:
716
kcal
|
Carbohydrates:
19
g
|
Protein:
63
g
|
Fat:
37
g
|
Saturated Fat:
13
g
|
Polyunsaturated Fat:
19
g
|
Trans Fat:
1
g
|
Cholesterol:
191
mg
|
Sodium:
1398
mg
|
Fiber:
3
g
|
Sugar:
8
g