Enjoy the best garlic and rosemary mashed potatoes recipe as a warm, comforting side dish, perfect for any occasion.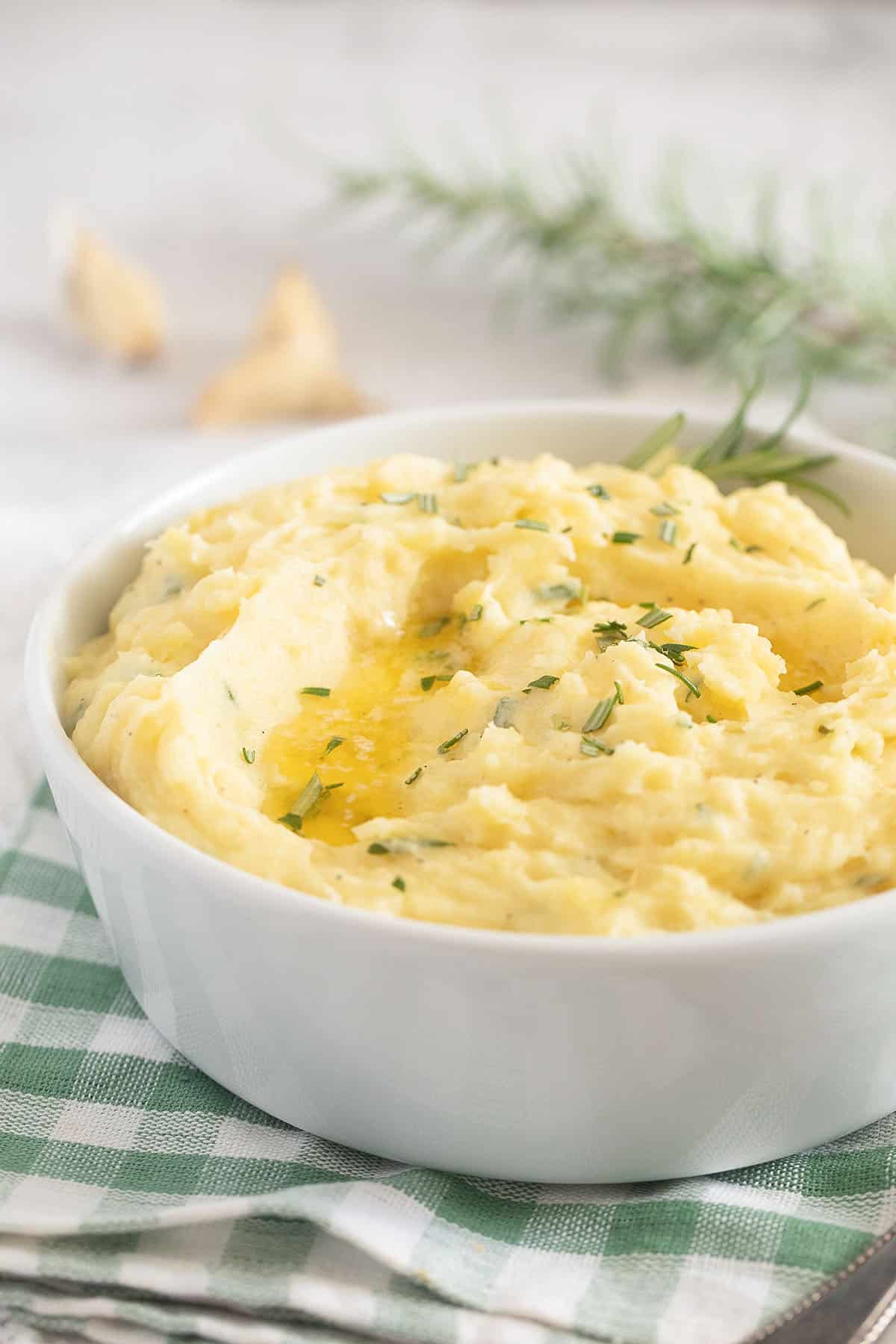 Today, we're going to whip up a super tasty side dish: garlic and rosemary mashed potatoes. They are a cozy side dish, great for any meal. Whether it's a big holiday feast or just a family get-together, this recipe will impress. 
The potato mash is creamy, buttery, and filled with the delicious flavors of garlic and rosemary. Plus, the recipe is easy to make and will have your guests ask for seconds.
Mashed potatoes are a timeless and popular side dish that everybody enjoys during the holidays and any time of the year. Check out more of our delicious versions of a good potato mash: Truffle Mashed Potatoes, Spinach Potato Mash, or Cauliflower and Potato Mash.
Jump to recipe
📝Recipe ingredients
Potatoes: You can choose either Yukon Gold or Russet potatoes. Or any other sort of potatoes, except waxy ones. Waxy potatoes don't make the best mash.
Fresh rosemary sprigs provide a pleasant, earthy, and herby aroma. You can substitute fresh herbs with dried rosemary (around one teaspoon) if you don't have fresh herbs. Remember that the dried rosemary won't be as strong in flavor.
Garlic: I use it fresh, but you can also replace it with roasted garlic. Check out Garlic Parmesan Mashed Potatoes to learn how to roast garlic.
Whole milk: Whole milk makes the mashed potatoes creamy. If you want them even creamier, you can opt for half and half, which is a richer mix of milk and cream.
Butter adds rich flavor and a smooth, creamy texture. It also enhances the flavor.
Nutmeg is a warm and slightly sweet spice that's indispensable when making mashed potatoes.
Cream cheese or sour cream is added for extra creaminess and a hint of tangy flavor, making your dish even more delightful. I usually use soft cream cheese because I always have some in the fridge. However, sour cream is just as delicious. 
Other ingredients: Fine sea salt and ground black pepper. 
🌿Variations on this recipe
Garlic: Use it to taste. I added two large garlic cloves, but you can add a third one if you like. Or make the mash with roasted garlic, as suggested above.
Vegan and dairy-free: You can use plant-based milk (like almond or oat) and dairy-free butter.
Cheese: Add grated Parmesan cheese or Cheddar for a savory, cheesy twist.
Herbs: Substitute rosemary with other fresh herbs like parsley, thyme, chives, or dill for a different flavor.
Loaded mashed potatoes: Bring this garlic rosemary mashed potato recipe further by adding toppings like crispy bacon bits, cheddar cheese, chives, or a dollop of sour cream. It's like a loaded baked potato in mashed form. You might find a simple salad alongside this hearty dish is all you need.
👩🏻‍🍳How to make rosemary mashed potatoes with garlic?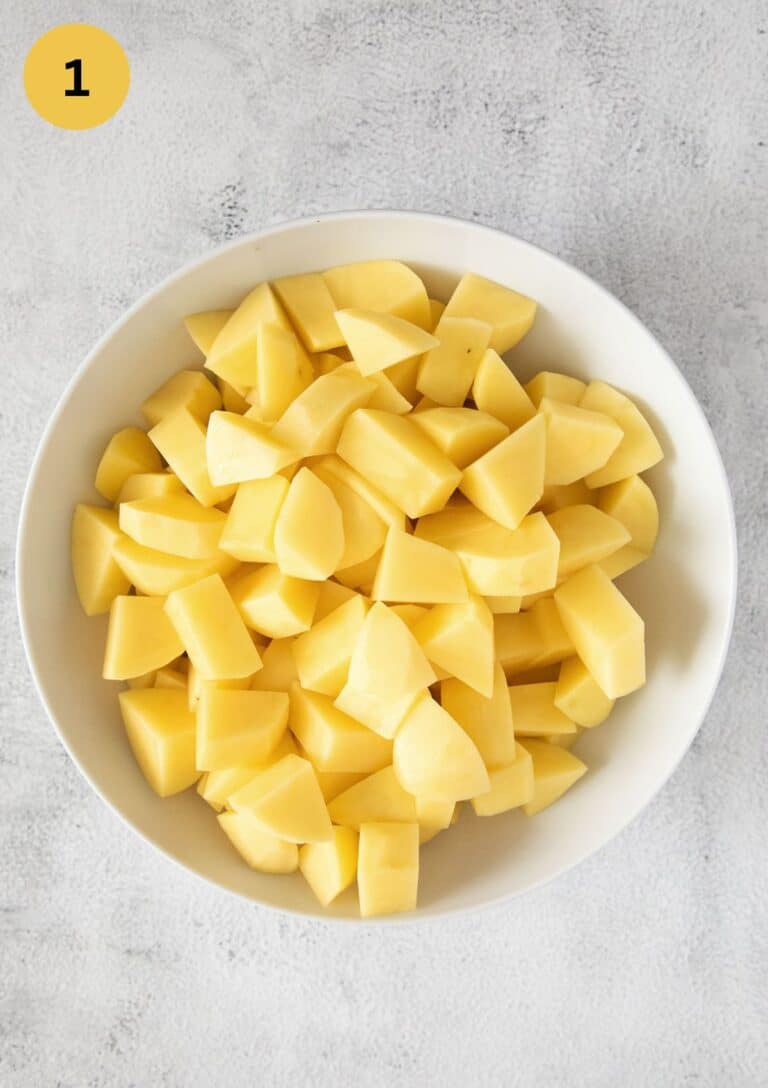 Step 1: Peel, wash, and cut the potatoes into cubes.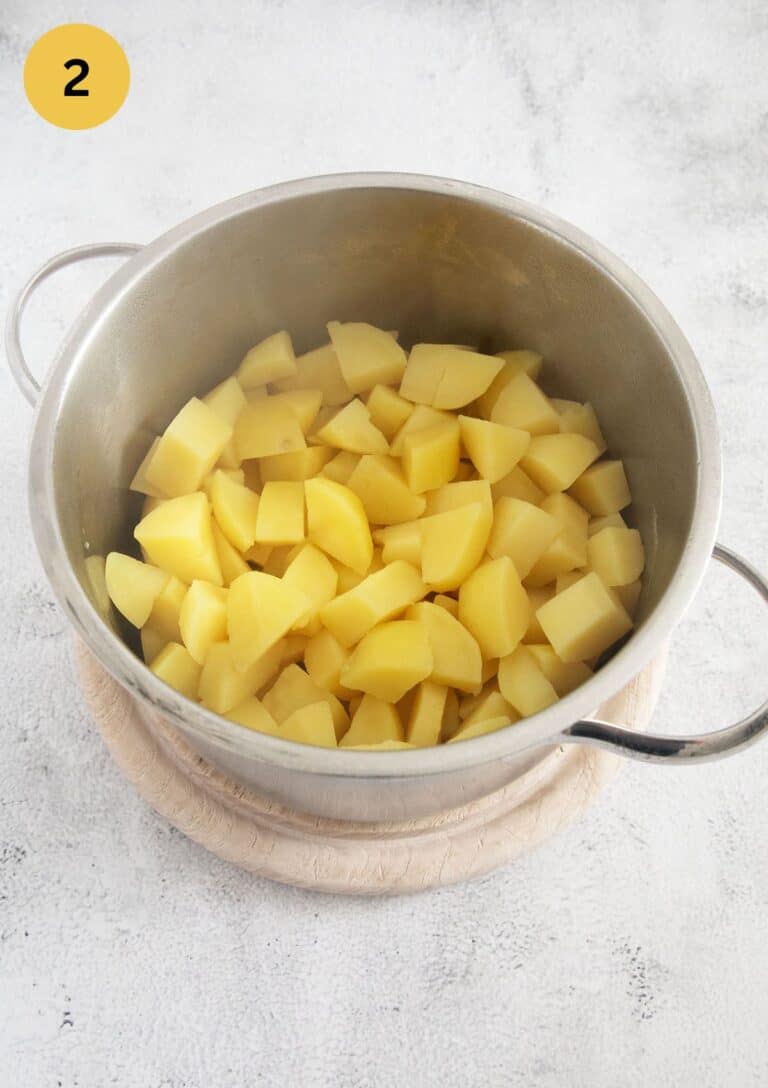 Step 2: Cook the potatoes in a large pot on medium heat for 15-20 minutes until they're fork-tender, drain and let them steam shortly.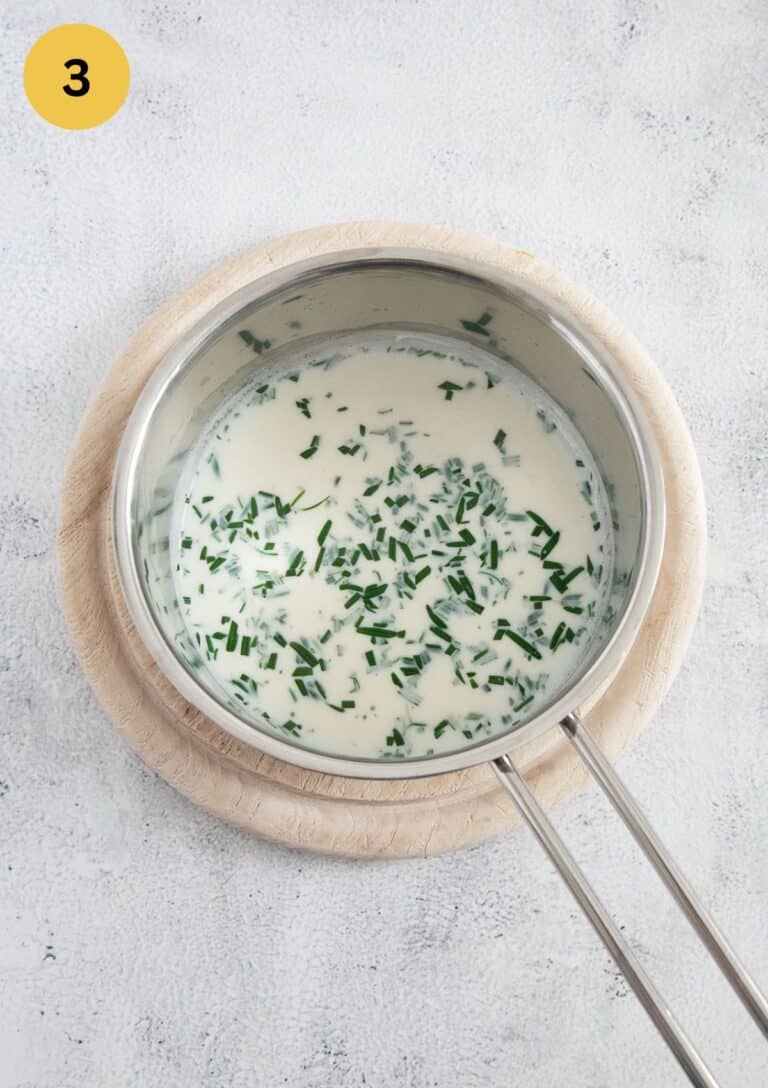 Step 3: Make garlic and rosemary infusion. Let it steep while the tubers cook (the longer, the stronger the rosemary flavor).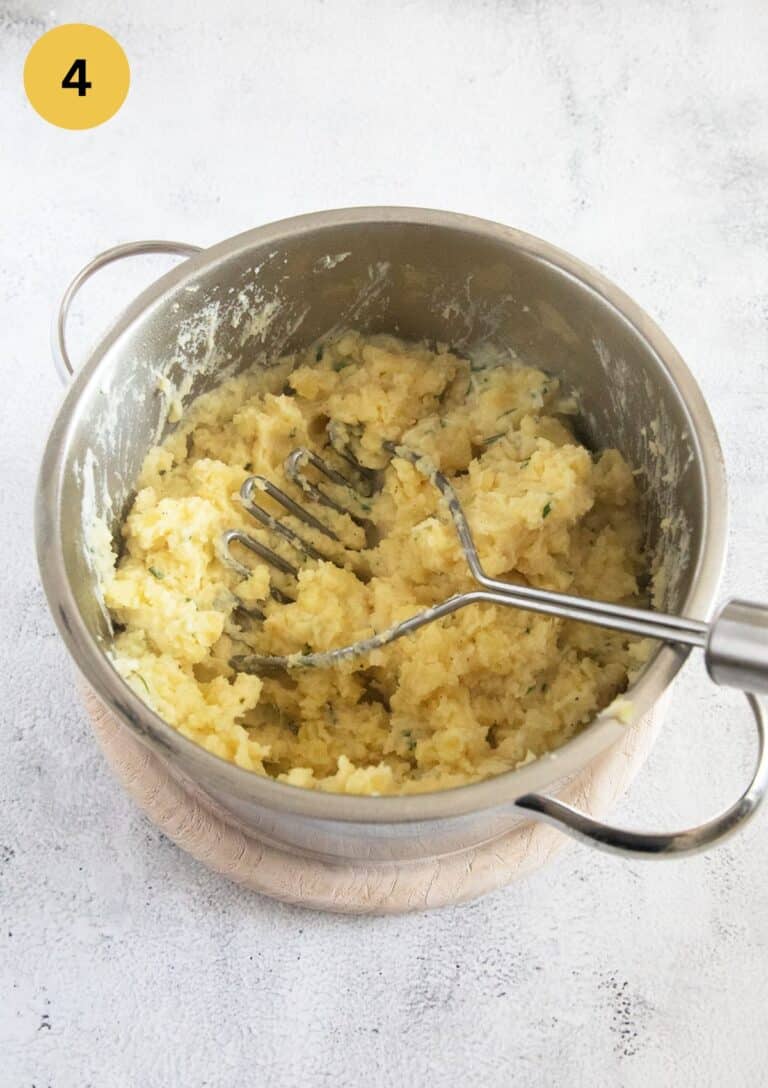 Step 4: Mash potatoes, and add the milk mixture and remaining ingredients. 
❗Expert Tips
Using cold water to start cooking potatoes ensures that they cook evenly. This method also helps maintain the desired potato texture, keeping them from becoming mushy.
For a smooth mash, use a potato masher, potato ricer, or a food mill, but don't over-mash, as this can lead to a sticky, gluey texture.
Use butter at room temperature and warm milk when mashing your potatoes for improved absorption and creaminess.
Don't use garlic powder instead of minced garlic; it's just not the same. 
❓Recipe FAQ
What are the best potatoes for this recipe?
Yukon Gold or Russet (Idaho) potatoes. These varieties work well for making creamy mashed potatoes. Yukon Gold potatoes are not as starchy as Russet or Idaho potatoes, falling between starchy and waxy types, making them versatile for different cooking methods, including mashed potatoes. While they are not as floury as Russet potatoes, they work well for making creamy mash.
Do I have to peel the potatoes?
The choice is yours, but I always do it; I really don't like the feel of that peel in mashed potatoes. If you leave the peel on, the mash will never be as creamy as desired. 
Can I prepare rosemary garlic mashed potatoes in advance?
While they are at their best when served immediately, you can prepare the dish ahead of time. Store them in the fridge and reheat them when needed. Add a bit of extra milk to maintain their creaminess.
Why are my mashed potatoes gluey?
Mashed potatoes become gluey when they're over-mashed, causing the starch in the potatoes to make them gummy.
How to store and reheat?
Refrigerate in an airtight container for 3-4 days. 
While freezing leftovers is possible, I don't recommend it.  When thawed and reheated, frozen mashed potatoes may become slightly grainy, watery, and less smooth; they will not have the same ideal texture as fresh ones.
Reheat: To maintain their creaminess, add some extra milk or cream. Reheat in the microwave, using short intervals and stirring between them, or on the stovetop in a saucepan over low heat. Stir occasionally to ensure even heating.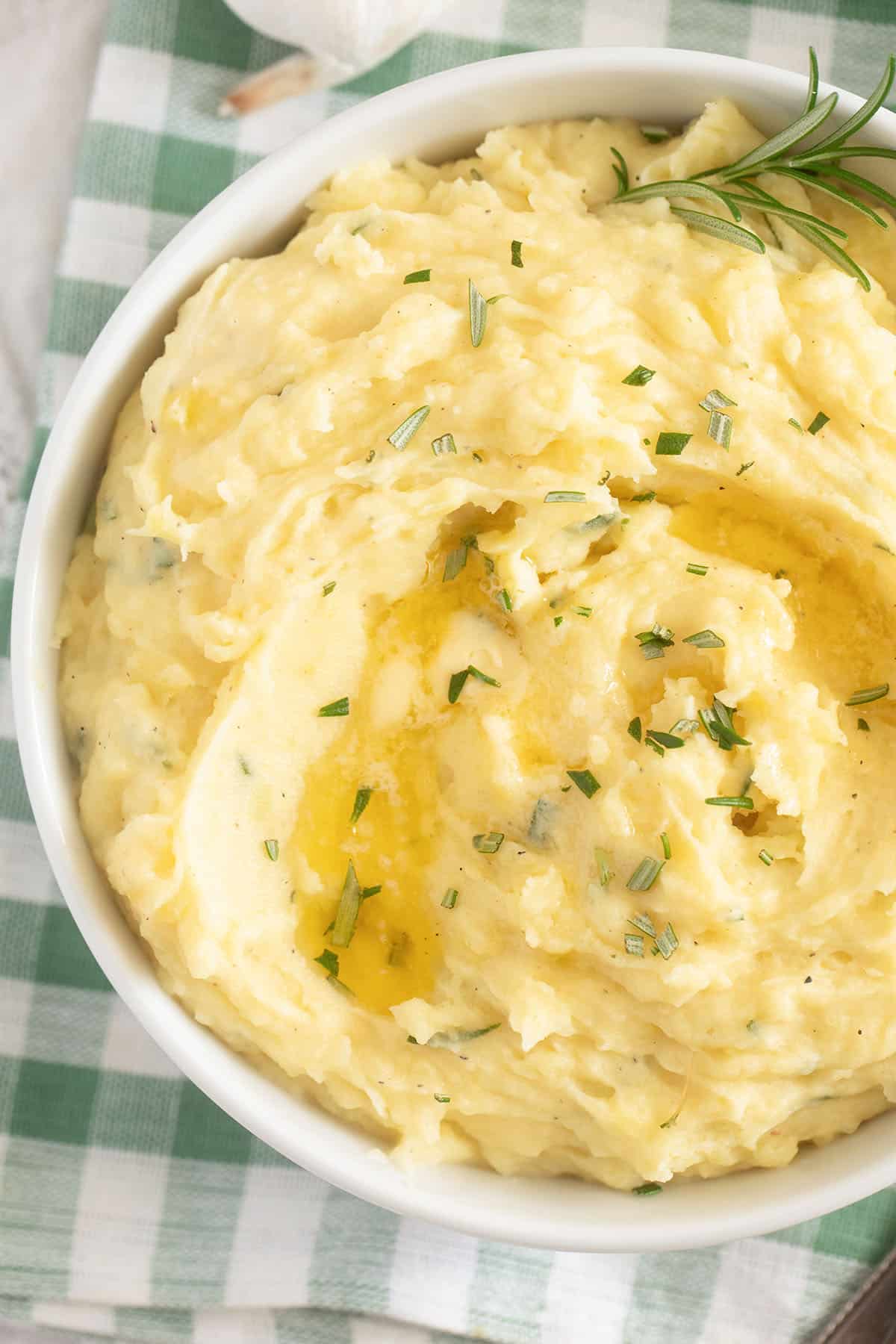 🍽️What to serve with them?
📖Recipe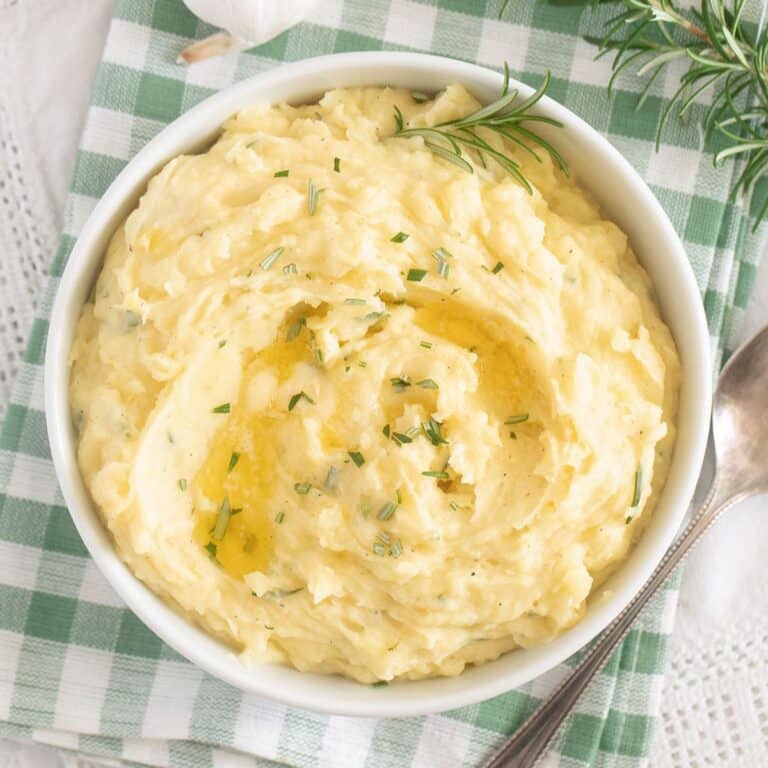 Creamy Garlic and Rosemary Mashed Potatoes
Try our irresistible garlic and rosemary mashed potatoes: your next favorite side dish, perfect for the holidays!
Print
Pin
Share
Grow
Saved!
Rate
Equipment
Potato masher, potato ricer, or food mill

Large pot
Ingredients
2

lbs

potatoes

1 kg, Note 1

2

sprigs fresh

rosemary

2

large

garlic cloves

1

cup

whole milk

or half and half, 250 ml

a few gratings of

nutmeg

2

tablespoons

butter

at room temperature, Note 2

3

tablespoons

cream cheese

soft, Note 3

fine sea salt and ground black pepper

to taste
Instructions
Cook the potatoes: Peel, wash, and cut the potatoes into evenly-sized cubes. Place them in a pot, cover them with cold water, bring to a boil, add salt, and cook the potatoes for 15-20 minutes until they're fork-tender. Drain them, return them to the pot, and let them steam for about 2 minutes.

2 lbs potatoes

/ 1 kg

Rosemary infusion: While the potatoes are cooking, prepare the rosemary and garlic milk. Chop the rosemary leaves very finely and grate the garlic cloves.

2 sprigs fresh rosemary

+

2 large garlic cloves

Heat the milk in a small saucepan. Turn off the heat and add rosemary and garlic. Let the mixture steep until the potatoes are ready. The longer you leave them steep, the stronger the flavor. If you prefer, you can strain the liquid before adding it to the mash, but I never do; I love the bursts or rosemary flavor.

1 cup whole milk

250 ml

Mash the potatoes until they reach the creamy and smooth consistency you prefer. Don't overdo it, or the mash will turn gluey.

Pour the infused milk over the potatoes, and add butter and cream cheese or sour cream. Stir to combine, and add nutmeg, salt, and pepper to taste.

2 tablespoons butter

+

3 tablespoons cream cheese

+

a few gratings of nutmeg

+

fine sea salt and ground black pepper
Notes
Potatoes: Yukon Gold or Russet (Idaho) potatoes. These varieties work well for making creamy mashed potatoes.
Butter: Salted or unsalted; adjust the salt accordingly.
Sour cream instead of cream cheese also works.
Nutrition
Serving:
1
portion from 4
|
Calories:
305
kcal
|
Carbohydrates:
44
g
|
Protein:
7
g
|
Fat:
12
g
|
Saturated Fat:
7
g
|
Polyunsaturated Fat:
1
g
|
Monounsaturated Fat:
3
g
|
Trans Fat:
0.2
g
|
Cholesterol:
34
mg
|
Sodium:
708
mg
|
Potassium:
1075
mg
|
Fiber:
5
g
|
Sugar:
5
g
|
Vitamin A:
446
IU
|
Vitamin C:
45
mg
|
Calcium:
125
mg
|
Iron:
2
mg