Mashed potatoes with spinach – a perfect side dish for fish, chicken or just a poached egg.
An extra recipe this week. I was actually done with the spinach series, but this Spinach Potato Mash recipe is so good, I could not keep it only for myself.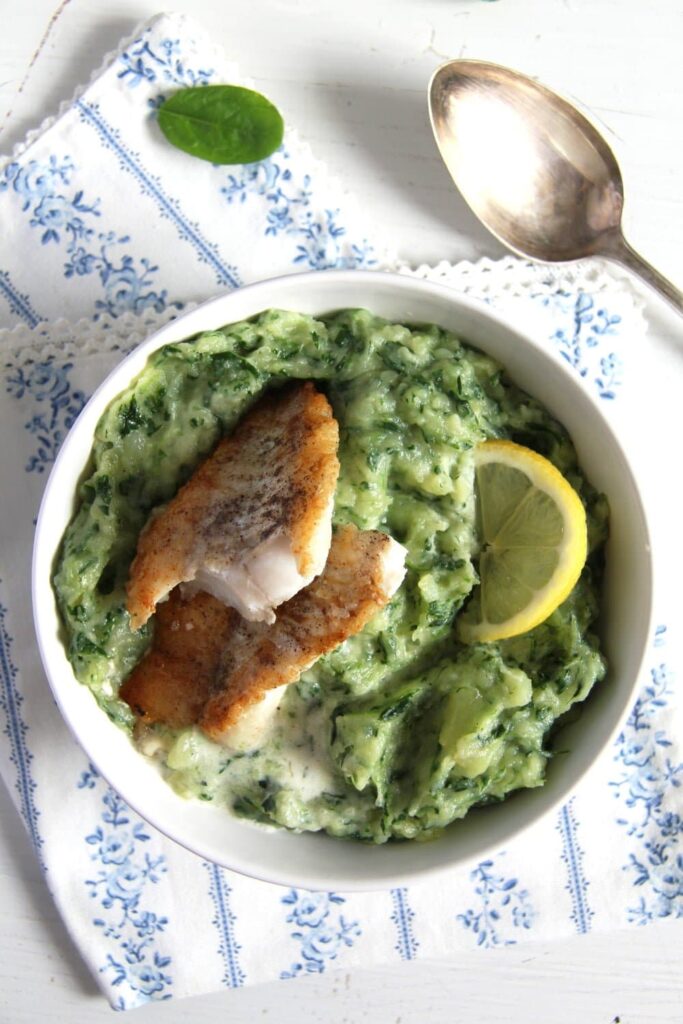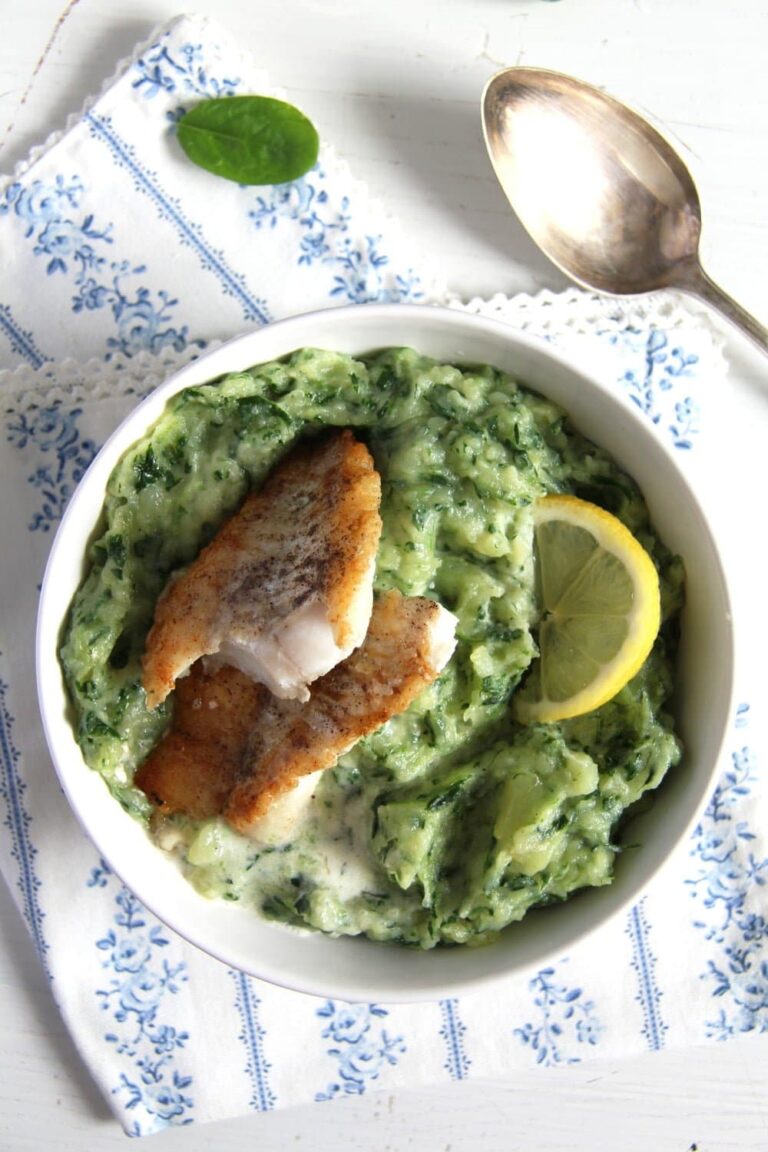 I've only made this because I had some leftover baby spinach from the Spinach Feta Pie – Börek from yesterday and I didn't feel like making only salad with it. So I thought about this mash. I had seen the recipe in a Romanian magazine, but could not remember in which one. But it wasn't difficult to make it spontaneously and without a recipe, I mean at the end of the day we are talking about mashed potatoes here. I don't think anybody really needs another recipe for mashed potatoes, we all make mashed potatoes and everyone has its own way with it. But I find that mixing the potatoes with the spinach is worth mentioning, I had never tried that before and I was so impressed by the result.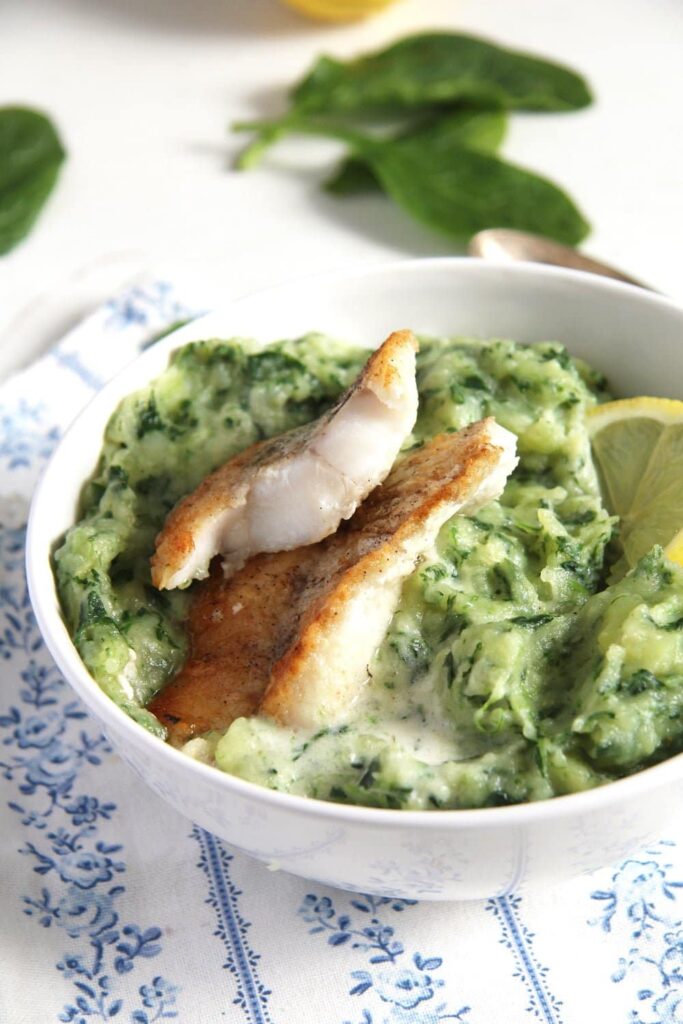 Not to mention this is great way to get your children to eat spinach without complaining one bit. Mine are really more into spinach now after we had so much spinach dishes lately, but still they found that combining potatoes with spinach was a particularly good idea. If it wasn't for that darn fish!!! 🙂 Yes, fish is another issue in our house… my husband and I love it dearly, but both Bruno and Perla don't. Perla used to as a toddler, but as soon she was old enough to understand that Bruno doesn't like fish, she stopped eating it as well. Same with mushrooms, broccoli, cauliflower… and so on.
Otherwise, I hope you are having a great weekend and a relaxing 1st of May.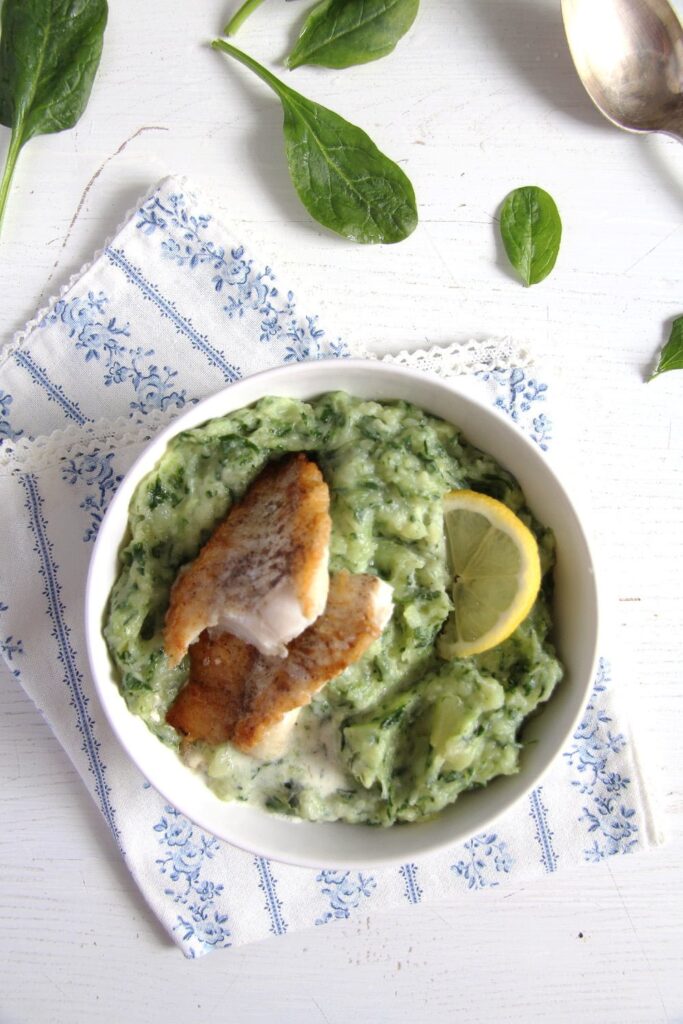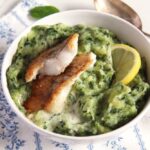 Ingredients
For the mash potatoes:

600 g/ 21 oz potatoes

150 g/ 5.3 oz baby spinach

100 ml/ 3.4 oz/ scant ½ cup hot milk (or more if necessary)

1 tablespoon butter

some nutmeg

salt and pepper

For the fish:

4 filets redfish or other fish of choice (for instance pollack, pangasius), about 125 – 150 g/ 4.4 – 5.3 oz each

1-2 tablespoons all-purpose flour

salt and pepper

1 tablespoon butter

lemon to serve
Instructions
Peel and chop the potatoes. Cook in salted water. 5 minutes before they are done add the spinach and continue cooking until the potatoes are soft and the spinach wilted and cooked. Drain.
Mash the potatoes and the spinach adding the hot milk and the butter. Add more milk if necessary to get your preferred consistency. Adjust the taste with nutmeg, salt and pepper.
For the fish: melt the butter in a cast iron pan. Sprinkle the fish filets with salt and pepper and drag them through the flour. Pat the fish to remove the excess flour and fry in the hot pan for about 2 minutes per side.
Serve the fish immediately with lemon, the spinach potato mash and salad or other vegetables of choice.
This post contains affiliate links. The price you pay as a consumer does not change, but if you make a purchase we will receive a commission which helps support the blog.
You might also like: