Last Updated on
Creamy cauliflower mash recipe with potatoes and garlic, the perfect low carb side dish.
A very easy, quick and healthy recipe for you today – Mashed Cauliflower and Potatoes – this is one of my favorite side dishes at the moment.
Although this recipe for cauliflower mash seems to be known all around the world, I found the recipe for this version in another old Romanian cookbook written by Sanda Marin. That is the pseudonym under which Cecilia Simionescu, the daughter of a well-known professor at the beginning of the 20th century published her cookbooks. Her first cookbook was published in 1936 (the year my grandmother was born) and has been republished many many times ever since.
Apparently the original version of the book contained about 1300 recipes but only 850 of them were "safe" enough to be published during the communist times of Romania. I found it funny to read that somebody would think that recipes needed censorship and that the communists removed the recipes they considered to be "bourgeois", whatever those might have been and they even changed the names of some recipes that were too French, too un-Romanian or too un-communist. For example Sauce Bechamel became White Sauce and a cake called Napoleon lost her name as well. And they didn't stop there: they have changed the ingredients and the quantities as well, for example one hen became half a chicken, because food was scarce and people had to cook and eat less…
After 1989 the original edition of the book got republished and that is the version I own as well. I like reading the book, the recipes are short and quite interesting, even for me, who grew up eating only Romanian food. There are lots of recipes I would love to try and I like knowing that they are such old recipes, all what we would call "clean eating" nowadays, no funny things insides, everything kept healthy, simple and seasonal.
But back to the Cauliflower Mash recipe. I have decided to make it after trying this delicious Spinach Potato Mash. We all loved it so much and that it put me in the mood of trying some more mashed vegetable potato mixtures like mashed celeriac and potatoes, carrots and potatoes and then the mashed cauliflower. I didn't expect my kids to eat the mashed cauliflower, so I only made a small portion the first time I cooked this recipe, but surprise surprise, they both loved it and kept filling their plates with the mash completely forgetting about the meat that the mashed cauliflower and potatoes were accompanying. Especially my son liked the mash so much, he keeps asking me to make it again, although he now knows that the main ingredient is cauliflower… 🙂
I have changed the original recipe a bit, added some garlic and some nutmeg, but the principle is simple and you can either keep to this version or change it easily to suit your own taste. I made this with fresh and frozen cauliflower, both versions were just as good. And in case you have some cauliflower (or even broccoli) stems left over from cooking another dish where you only used the florets, do take that opportunity and make the mashed cauliflower and potatoes, the stems are a perfect fit for this recipe. You can serve the mashed cauliflower and potatoes with just about anything, from meat and poultry to fish or vegetarian main dishes. We had it with roast, sausages, fish and meatballs until now.
And in case you have some leftovers, first of all they can be easily reheated if you wish, or you could add some vegetable or chicken broth and make a soup out of it. Totally delicious!
Ingredients
1 cauliflower, about 800 g/ 28 oz

3 potatoes, about 300 g/ 10.6 oz

1 tablespoon butter

3 tablespoons milk

2 tablespoons smetana or crème fraiche

1 garlic clove

some nutmeg

salt and freshly ground pepper

some parsley
Instructions
Bring a large pot of water to a boil. Add some salt, the chopped cauliflower and potatoes and cook them until soft, about 20-25 minutes.
Drain and mash well. Add the butter, milk, smetana, grated garlic clove, freshly grated nutmeg, salt and pepper to taste. You can adjust the milk quantity to your liking. Start with 2 or 3 tablespoons and add more for a thinner consistency. Sprinkle some chopped parsley on top. Serve hot.

This post contains affiliate links. The price you pay as a consumer does not change, but if you make a purchase we will receive a commission which helps support the blog.
You might also like: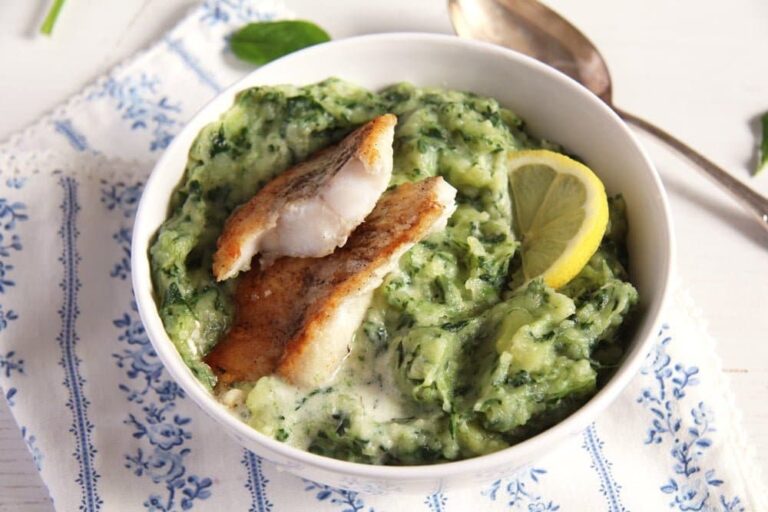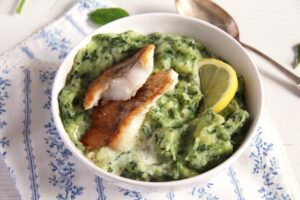 Spinach Potato Mash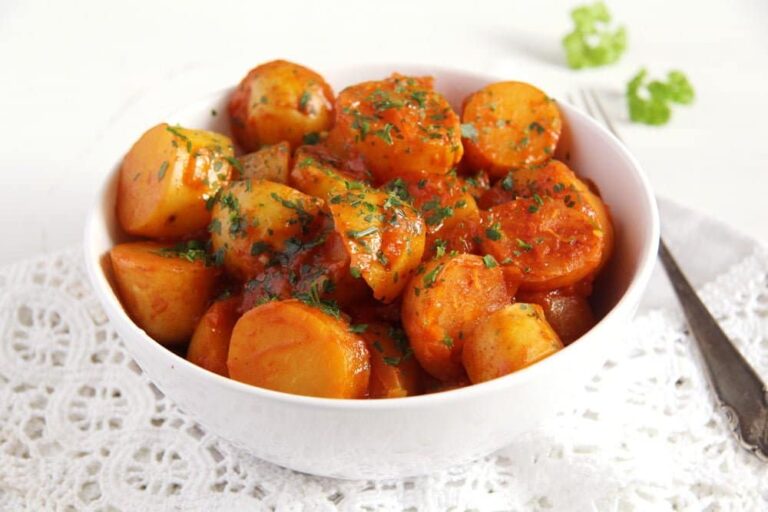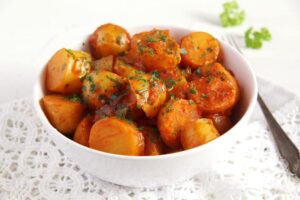 New Potatoes in Tomato Sauce
Cauliflower in Tomato Sauce