Spicy Mexican ground beef quesadilla recipe with black beans, avocado, and cheese.
Who doesn't love a good, hearty quesadilla? Learn how to make an easy ground beef quesadilla recipe with lots of beans, creamy avocado, and cheese.
Trying new Mexican recipes has become quite a "hobby" lately, I bought some books, searched the internet and I try one recipe or another every other week or so. Have a look at this soothing Mexican Chicken Soup, these amazing Tostadas, or the Tres Leches Cake. And not to mention the tacos. My son is a fan and keeps wishing me to make tacos.
Ingredients
Ground beef:
I normally use lean ground beef, but I have made this black bean quesadillas recipe with ground turkey as well.
Spices:
Tomato sauce:
I use tomato paste and water for the ground beef quesadilla recipe most of the time. However, if I happen to have an open salsa jar or bottle in the fridge, I would definitely use that, about 4 tablespoons salsa of choice instead of tomato paste and water.
Tortillas:
The tortillas available here are rather large, about 24-26 cm/ 9.4-10.2 inches diameter.
If your tortillas are smaller you will need more than four for all the filling.
Cheese:
I used Gouda cheese for my black bean quesadillas recipe, but Cheddar will do just as well.
If available, you could definitely use a more authentic Mexican cheese for the ground beef quesadillas. However, Mexican cheese is not available in Germany.
Herbs:
When it comes to the herbs, fresh coriander would be the best, most genuine option. But again, fresh coriander is tricky to get around here, so I often replace it with parsley.
Chives are nice as well, I use them often enough for quesadillas or tacos, I love the extra onion flavor.
How to make ground beef quesadillas?
Cook the meat, onions, and garlic making sure to break all the lumps while the meat is cooking. Add the spices, tomato paste, and water, stir well. Let cook shortly.
Only add the chopped avocado and fresh herbs after removing the pan from the heat.
Brush a non-stick pan with some olive oil. Place one tortilla in the hot pan. Sprinkle half of the tortilla with some of the cheese. Cover this half with a little of the beef mixture, add some more cheese on top and fold the other tortilla half over the filling.
Turn the tortilla carefully using a spatula. Fry it on the other side as well. The quesadillas should be golden on both sides and the cheese should be melting by now.
Repeat with the remaining tortillas.
How to serve?
Definitely with some lime wedges and sour cream on the side. Greek yogurt would also be an option, it makes the meal livelier, more refreshing.
I always have some tomatoes on the side or a nice tomato or corn salsa.
You could make this corn tomato salsa and maybe leave out the avocado, as the quesadillas already contain some avocado.
A cold beer on the side makes the ground beef quesadillas even better.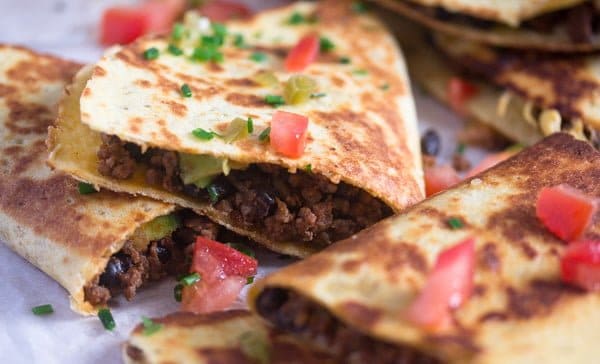 More Mexican food?
Spicy Mexican Chicken Soup – With avocado and chickpeas, there is nothing more comforting than a bowl of good chicken soup.
Mexican Bean Salad with Corn – A spicy bean salad or salsa with black beans, corn, chickpeas, and lots of herbs, a perfect side dish for any summer barbecue.
Salsa Verde Chicken – A simple recipe for salsa verde chicken or Pollo en salsa verde, only 3 ingredients but so much flavor.
Tres Leches Cake – Mexican Desserts – Incredibly moist Mexican dessert recipe – tres leches or three milk Mexican cake.
Ground Beef Quesadillas (with Black Beans)
Spicy Mexican ground beef quesadillas with black beans, avocado, and cheese.
Ingredients
2-3 tablespoon olive oil, divided
500 g/ 1.1 lbs lean ground beef
2 garlic cloves
1 onion
½ teaspoon dried oregano
½ teaspoon sweet paprika powder
¼ teaspoon cayenne pepper (more or less to taste)
¼ teaspoon ground cumin
¼ teaspoon ground coriander
salt and pepper
2 tablespoons tomato paste
65 ml/ 2.2 fl.oz/ ¼ cup water (See note)
125 g/ 4.4 oz/ 2 cups cooked black beans
1 large avocado
4 large tortillas
200 g/ 7 oz/ 2 cups grated cheese (Gouda, Cheddar or Mexican cheese)
1 lime
3 tablespoons chopped fresh coriander, parsley or chives
sour cream to serve
Instructions
Heat 1 tablespoon of the oil in a large cast-iron or non-stick pan. Add the ground beef and brown it well, taking care to break the lumps while it browns.
In the meantime, chop the onion and the garlic. Add them to the meat and cook for about 3-4 minutes until the onions are softened.
Add the dried oregano, paprika powder, cayenne pepper, cumin, coriander, salt (½ to 1 teaspoon to taste) and pepper. Stir in the tomato paste and the water as well. As mentioned above you could replace the tomato paste and the water with about 4 heaped tablespoons of salsa of choice.
Add the drain black beans. Stir well and cook on medium-low heat for about 5 minutes.
In the meantime, chop the avocado. Remove the pan from the heat and stir in the avocado and herbs.
Heat a large non-stick pan. Brush the pan with some of the remaining olive oil.
Place one tortilla in the pan, add some cheese on one half of it. Top with some of the beef mixture and add more grated cheese. Fold the other tortilla half over the filling.
Fry the quesadilla lightly on both sides until golden. Use a spatula to carefully turn the quesadillas on the other side.
Repeat with the remaining tortillas and filling.
Serve immediately with tomatoes or tomato salsa, sour cream and lime wedges.
Notes
You could replace the tomato paste and water with about 4-5 tablespoons of salsa of choice, I always do that if I happen to have a jar or bottle of salsa in the fridge.
Nutrition Information:
Yield:

4
Serving Size:

1
Amount Per Serving:
Calories:

875
Total Fat:

52g
Saturated Fat:

18g
Trans Fat:

1g
Unsaturated Fat:

28g
Cholesterol:

161mg
Sodium:

1209mg
Carbohydrates:

48g
Fiber:

10g
Sugar:

3g
Protein:

56g
Nutritional information is not always accurate.