A simple and delicious fish recipe with tomato sauce, made in a skillet and ready to serve in no time.
Now that summer is over (not that we had much summer this year anyway) there is a new series starting on Where is My Spoon. This time I will dedicate the next two weeks to recipes from another part of Romania, from Dobrogea – the territory found in the South-East of the country at the Black Sea.
Dobrogea is an historical region divided in the 19th century between Romania and Bulgaria and the Romanian part of it comprises the Danube Delta, which must be one of the most beautiful places I have seen in my whole life.
White Fish Fillets in Tomato Sauce
As a child, my grandparents and I used to go for holiday to the seaside, always Mamaia, every summer. Later on, after the fall of communism when the money my grandmother was earning lost most of their value, we stopped going, but those years of constant seaside holiday did leave an imprint on my brain. There is nothing that makes me happier (in terms of nature and scenery) than the sea and the smell of the sea is the best smell in the world, if you ask me.
I did not get to see the Black Sea often in my adult life, I left Romania many years ago and my husband and I only visited Constanta, the largest city of the region, once. From there we went to the Danube Delta, a very aleatory decision, which proved to be the best we made that summer. We actually only wanted to take a boat and visit Sulina, a port town found at the mouth of one of the branches of the Danube.
While waiting for the boat we were approached by a man asking us if we wouldn't like to visit a small village in the Delta called Mila 23. He told us that his friend was renting rooms in his house and we would be more than welcomed, if we wanted to spend a few days there.
I was quite apprehensive and I would not have done it without my husband. He, however, a more adventurous spirit convinced me to give it a try and so we did. We hopped on a small motor boat and drove for a while through the Danube channels until we got to this place where we could see a long hedge on one side of the channel.
We got out of the boat, passed the hedge through a small opening and got on a small sandy road about half a meter wide, facing another hedge. Another opening and there it was, one of the most idyllic little villages I have seen in my life, a village with small houses, lots of flowers, lots of weeds, chickens and cats, dust and hot air. It was amazing!
We actually only wanted to spend one night there, but we ended up staying for four days. I cannot even begin to tell you about the trips we took through the narrow Danube channels, all the trees growing on the sides of the channels and over the water forming some kind of green tunnels, the pelicans and all the other birds we didn't know by name, the water lilies everywhere, watching the sunset on the water, eating fresh fried fish with garlic sauce and polenta cooked by the mother of the house owner and vegetable rice cooked by the owner of another boat that took us around the channels, cold beer in the local pub, walks through the hot narrow paths around the village and so on.
We were even so lucky not to have any troubles at all with mosquitos, which can become quite a challenge there, it was too hot all the time (about 40 degrees Celsius/ 104 degrees Fahrenheit), or so the locals said, too hot for the mosquitos as well.
Oh! The sweet memories! 🙂
To remember and better know that region (from a culinary point of view) I decided to cook some of the dishes I remember eating there and some others that I know are quite common for the region, things I did not get to eat in my grandmother's house. I hope you will like them.
Skillet Fish Cooked in Tomato Sauce
I will start with one of the easiest yet totally delicious fish dishes I have ever made: Easy Skillet White Fish Fillet in Tomato Sauce. Just a few and good quality ingredients and you will have a meal that you will probably end up cooking on repeat for a long time. At least I did.
I used redfish this time because that is easily available in Germany, but you could use more or less any white fish fillet you wish. On other occasions I have made this dish with pollock or pangasius fillet. The only thing to consider is the thickness of the fish fillet, the thinner they are, the shorter the cooking time. Mine were standard about 125 g – 140g / 4.4 – 5 oz each and they only needed 5 minutes cooking time in the sauce.
If your fillets are thinner reduce the cooking time slightly, if they are thicker increase it slightly, but please don't overcook the fish. Rather cook it for too short a time, than for too long. If it still slightly undercooked, it will still have time to get perfect while you bring it to the table, but if it is cooked too long, it is ruined.
I cook this dish in my beloved cast iron pan, which I have been using a lot during the past two years and which is very well seasoned by now. However, a word of caution: I have read that it is inadvisable to make a tomato sauce in a very new and not too well seasoned cast iron pan, the acidity of the tomatoes might not have a very good influence on the pan.
I cannot say for sure it is so, as I have never had any problems with this issue myself, but it is something it stayed in my mind. I have never used my cast iron pan for tomato sauce in the beginning for fear of ruining it, but now that I consider it very well seasoned through quite constant use, I do use it for tomato sauces as well.
And if you would like to see the other Dobrogea recipes from this series have a look at these links:
Ingredients
2 medium onions

3-4 garlic cloves

1 green bell pepper

2 tablespoons oil

2 cans chopped tomatoes, 400 g/ 14 oz each

2 tablespoons tomato paste

½ teaspoon sugar

4 white fish fillet,125 g-140g / 4.4 – 5 oz each (redfish, pollock, pangasius or similar)

lots of parsley

mashed potatoes to serve
Instructions
Chop the onions and the garlic cloves finely. Chop the pepper into small cubes.
Heat the oil in the cast iron pan or another pan of your choice. Cook the onions and the bell pepper until the onions are translucent. Add the garlic and stir for another two minutes or so.
Give the chopped tomatoes and their juices to the pan. Add the tomato paste and the sugar and stir well. Cook for about 15-20 minutes or until the peppers and onions are very soft.
Place the fish fillet in the pan, spoon a little tomato sauce over them and let simmer gently for about 5 minutes.
Sprinkle with chopped parsley and serve immediately with mashed potatoes.
Others you might like:
Creamy Spinach Potato Mash with Fish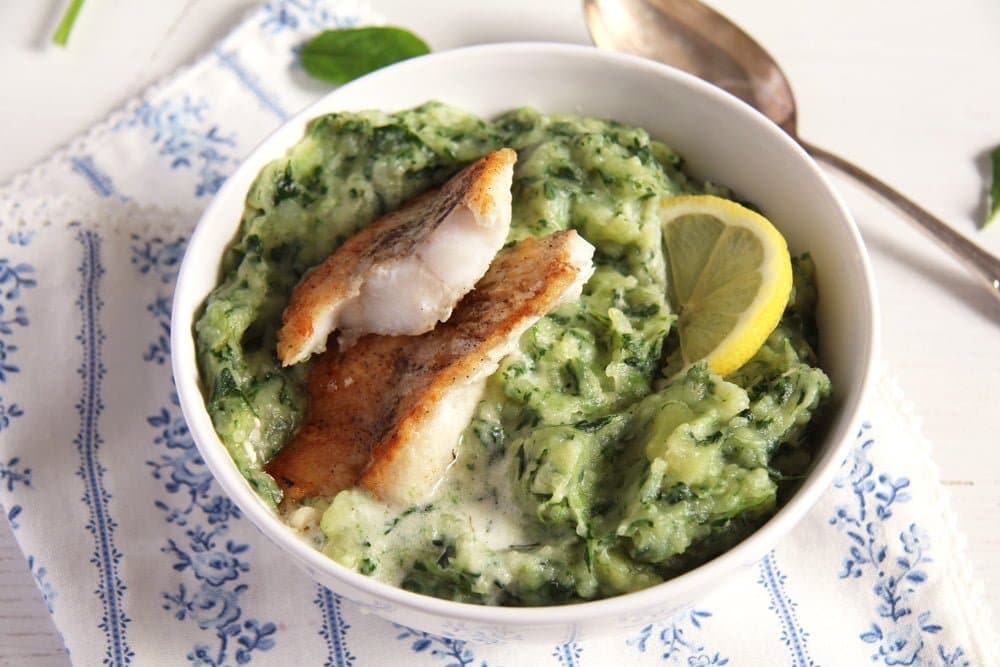 Vegan Eggplant Slices in Homemade Tomato Garlic Sauce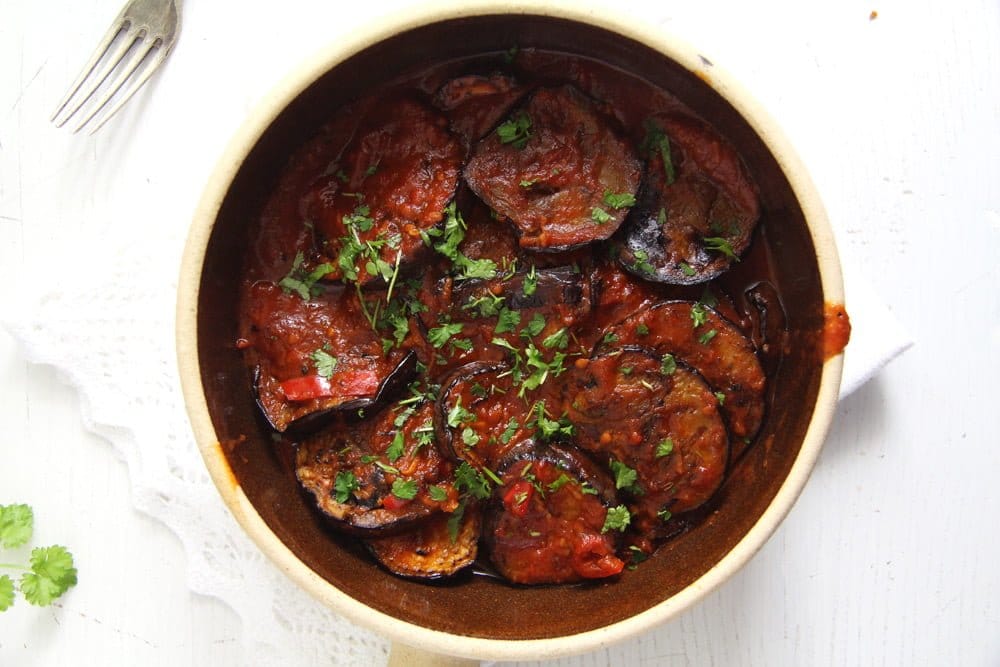 Salmon with Lime Crust and Mashed Sweet Potatoes