Fresh pike pieces baked in the oven on a vegetable bed. The recipe includes instructions on how to easily scale the fish.
Like I have mentioned in my last post Easy Skillet White Fish Fillet in Tomato Sauce, I will dedicate the next two weeks to food coming from the South-East of Romania, a territory at the Black Sea and Danube Delta, called Dobrogea. Obviously, as it lies at the sea and the river, the people of Dobrogea eat lots and lots of fish, much more than we used to do in the middle of Romania, in Transylvania, where there are only mountains.
Of course, we do have our many rivers and my step-father has always been a very passionate fisher, but still we did not eat so much fish as I grew up. But I do remember the early summer mornings (well, still in the night) when my step-father would wake up in the morning to go fishing, sometimes staying away for several days. One time he did take us all (my mother, my sister and me) with him. I must have been about 12 or 13, but it was such an extraordinary thing, that it stayed in my mind to this day.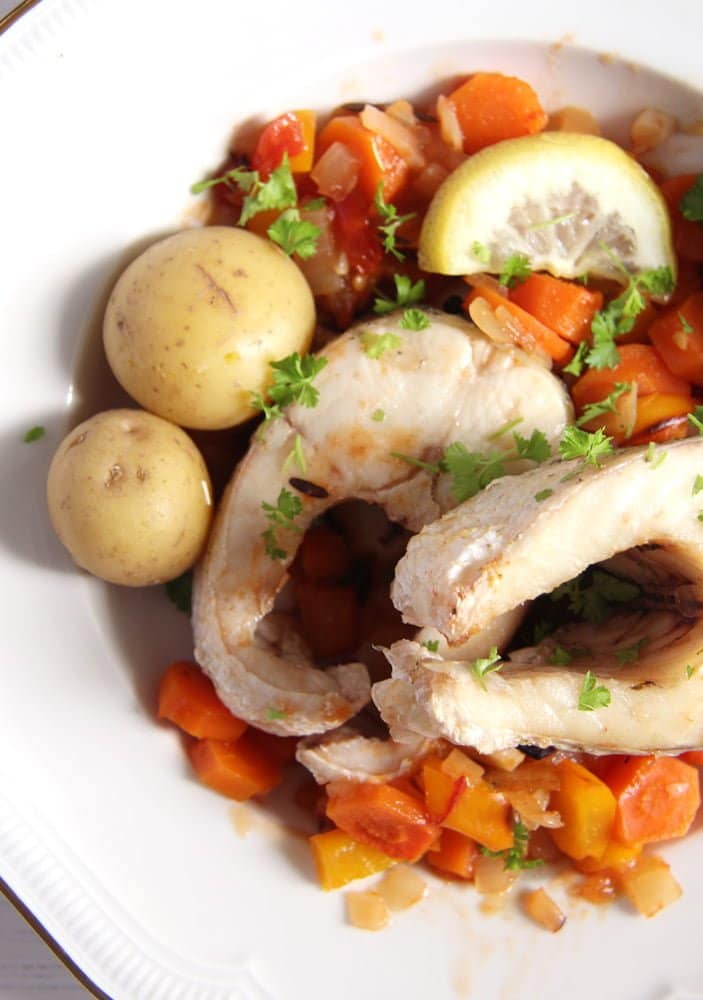 I remember the early morning, me being still very tired and sleepy. I don't remember how we got there, if it was either by car or by train, but I remember the cool early morning and the river bank, the plants scorched by the summer heat and us playing in the heat of afternoon. As it was the one and only time that my step-father ever took us with him, I assume it was not such a pleasant experience for him, at least not as pleasant as it was for us kids. You do need your peace and quiet when fishing and he is a man of few words, who loves peace and quiet, probably having kids running around and talking loudly when he was trying to catch something, was not ideal. 🙂
And another thing about him. If I remember correctly, although fishing was and probably still is his biggest hobby, I don't think he ever ate the fish he caught, or at least, I remember my mother complaining her freezer being full of fish and he fishing every weekend without ever eating what he caught…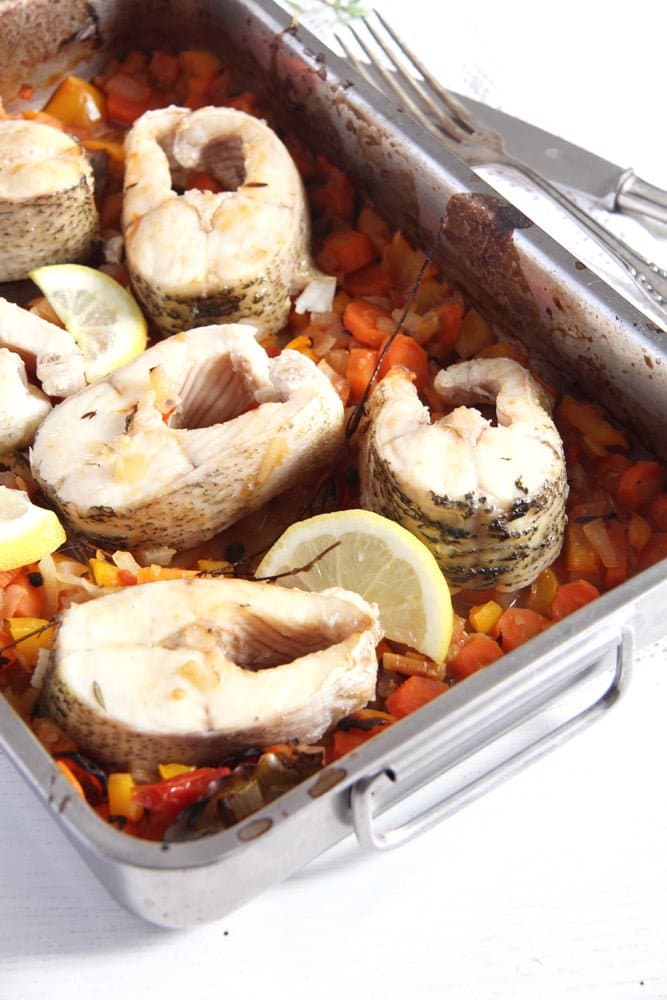 Pretty much the same with this pike here. Pike is not the sort of fish you could easily buy in this area, although it is abundant in the beautiful lake Diemelsee, which is only 3 – 4 km away from us. My husband never fished in his whole life and has absolutely no interest in it either, but during the last 4 years or so he always went to the lake Diemelsee on the 1st of June for the Fishing Season Opening. He has several friends, who do fish and he just hangs around with them, chatting and helping them get through all the beer they keep cold in the lake waters. 🙂 And sometimes at about midnight, I have to pick him up and put him to bed…
As he doesn't fish himself he never brought home anything until this year. But this June, one of the people there caught this large pike, which he intended to throw back in the water, as he said pike is not the sort of fish he likes. However, the pike was badly injured by the hook and as putting it back in the water would not have saved its life, they decided to keep it after all. They had lots of other fish lying around, nobody really wanted the pike and my husband knowing that this would be exactly the kind of thing which would distract me from him coming home drunk, he did take the pike. And it worked, I was so impressed with the pike, I forgot to scold him for drinking too much.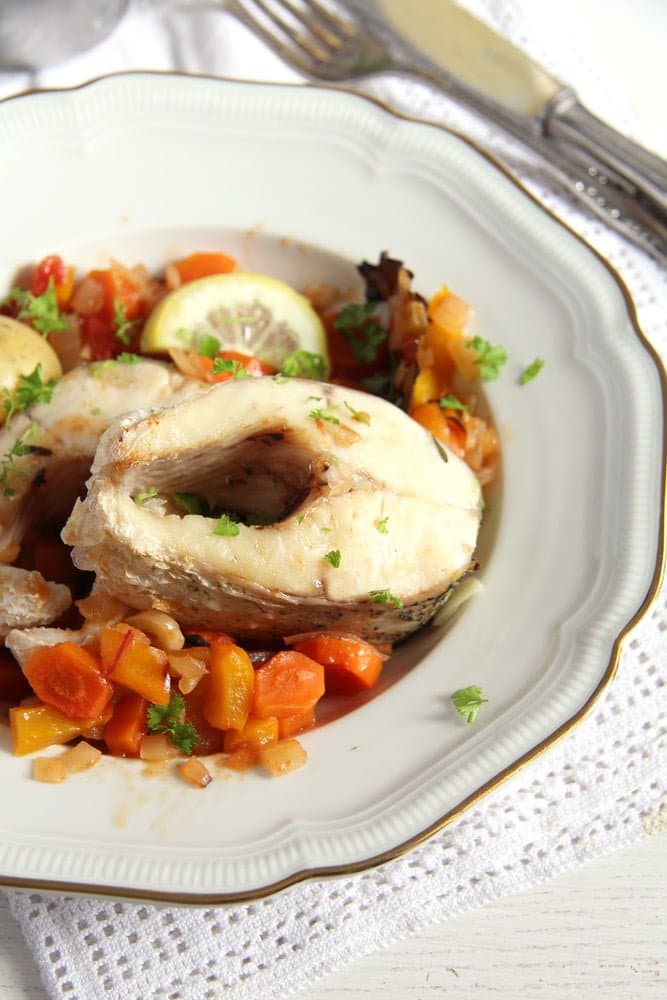 How to Scale a Fresh Pike
The pike was, thank God, gutted but I did have to scale it. It was something I had never done before, but something I remember my grandmother doing very often. And her main complain about it: the scales to be found all around the kitchen several days after scaling the fish and after swiping the floor several times in between…
I did have to google to be sure about the right way of scaling a fish and I think I found a very easy method or at least one that worked perfectly for me (here, in Romanian). I still did find fish scales all over the kitchen days after eating the fish, just like my grandmother used to say, but the scaling itself could not have been easier. At least after the initial moment of disgust, touching a fresh pike is really not yummy, it is so slimy and slippery, pretty bähhh.
The method involved uses hot water, you should submerge the pike for only a few seconds into the hot water before beginning to scale it. As I have never seen this hot water method used for other fish, I suppose it has something to do with the sliminess of the pike. After "bathing" it, you will actually be able to hold and scale it properly.
So, if you ever find yourself with a whole pike in your hands, do give this recipe a try, it is so delicious. And if you cannot find a pike, I have made this dish with pangasius pieces as well, it was just as good.
I had a whole pike, but only used its body for this dish. I kept the head, the tail and two extra pieces to make a fish soup the next day. I will post that recipe next week.
And if you would like to see the other Dobrogea recipes from this series have a look at these links: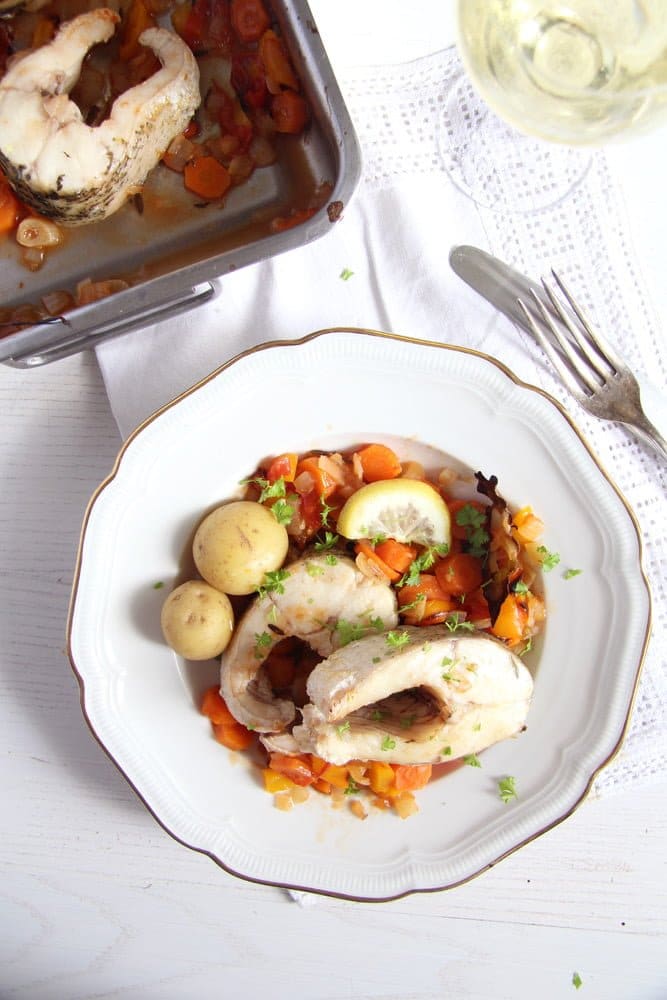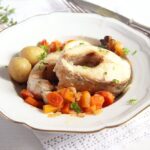 Ingredients
1 pike, about 40-50 cm/ 15-20 inches long

3-4 large carrots

1 red bell pepper

2 medium large onions

4 garlic cloves

2 medium tomatoes

2 bay leaves

10 black peppercorns

175 ml/ 6.7 fl.oz/ ¾ cup white wine

150 ml/ 5 fl.oz/ 2/3 cup fish or chicken stock

½ an organic lemon

1 tablespoon tomato paste

a few thyme sprigs

salt

a small bunch of parsley
Instructions
Preheat the oven to 180 degrees Celsius/ 360 degrees Fahrenheit.
Wash the pike very very well. Gut it, if necessary. If it is already gutted, remove the head. Keep it to make soup. You could freeze it together with the tail and leftover fish pieces for making soup at a later time.
To scale the pike, bring a large kettle of water to a boil. You might need to boil two batches of water to fill a large heatproof bowl. Pour the hot water into a very large heatproof bowl or pot that will hold the pike. Submerge the headless pike for only a few seconds into the hot water. Take it out, place it onto a large chopping board and scale it using the back of a smaller knife. Hold the fish steady with the left hand at the tail and scrape the scales with the back of the knife from the tail to the head. The scales should come off easily.
Chop the carrots into rings, the pepper into cubes about the same size and the onions into thin half rings. Slice the garlic cloves thinly and slice the tomatoes and the lemon as well. Give them all to a large and deep baking or casserole dish. Add the bay leaves, peppercorns and lemon slices
Give the white wine and stock to a small bowl. Add the tomato paste and whisk well until smooth. Pour the liquid into the dish, place the thyme sprigs on top and bake the vegetables for about 30 minutes or until almost done.
In the meantime cut the pike into pieces, about 5 cm/ 2 inches thick. You will need 4 pieces for 4 servings, but if you want you can cook all of the pike pieces at this point or use the leftover pieces for making soup or another dish. Place the fish pieces on top of the vegetables and continue baking for about 20-25 minutes or until the fish is nice and flaky, but not overcooked.
Sprinkle with the chopped parsley and serve with plain boiled potatoes.
Others you might like:
Orange Salmon with Dill and Orange Rice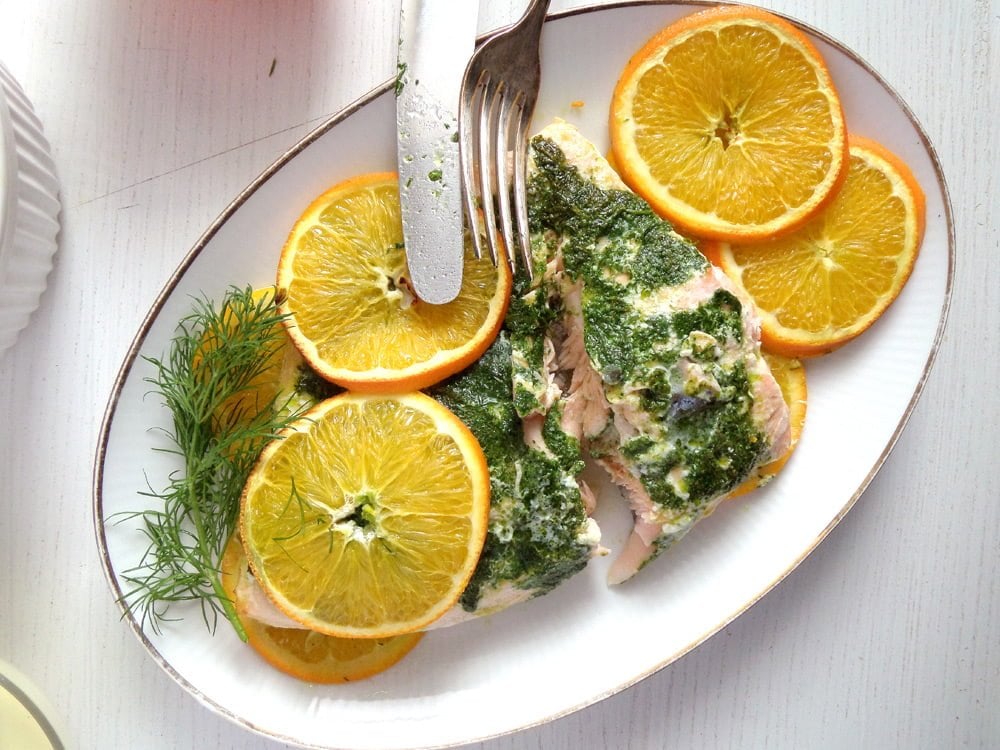 Quick Mustard Wild Salmon with Spices
Baked Vegetables with Almond Dressing