Delicate trout pieces in an incredibly aromatic onion, garlic and white wine sauce. Can be served hot with polenta or boiled potatoes or at room temperature with crusty white bread.
After the Easy Skillet White Fish Fillet in Tomato Sauce and the Oven-Baked Pike with Vegetables and White Wine, this Aromatic Skillet Trout with Onions and Whole Peppercorns is the third fish recipe in a row on Where Is My Spoon. Well, I am in the middle of a Dobrogea series, a Romanian territory at the Black Sea and the Danube Delta, so no better time to post fish recipes, I suppose.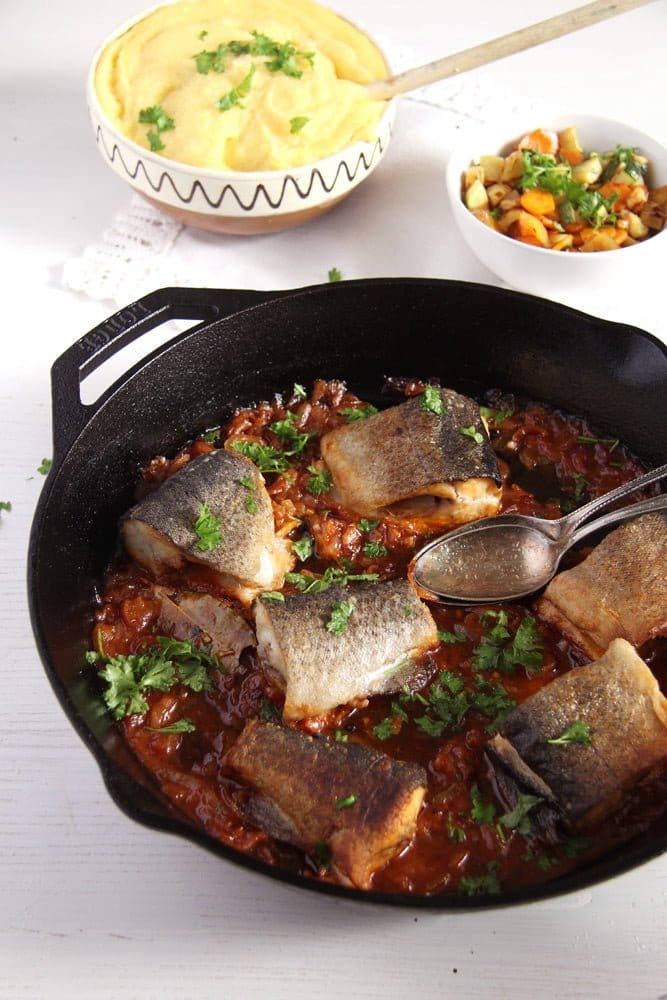 At the first glance you might think that the Skillet White Fish Fillet in Tomato Sauce and this Aromatic Skillet Trout recipe are quite similar, but trust me, they are not. Both incredibly delicious, only writing about them makes me drool and crave fish again, but still these are two different dishes, two different recipes. Both yummy, healthy, low-fat, low carb (if you leave out the side dish), probably gluten-free (but I am not an expert), whatever… main thing super healthy and good for you. 🙂
Not to mention so easy to make, a recipe to impress any guest with its taste and its looks as well, but really with a minimum of work involved and just a few ingredients. And another bonus about it, you can either eat it warm with polenta or boiled potatoes like we usually do or you could serve this at room temperature with some nice crusty white bread on the side. Either way, you will love it.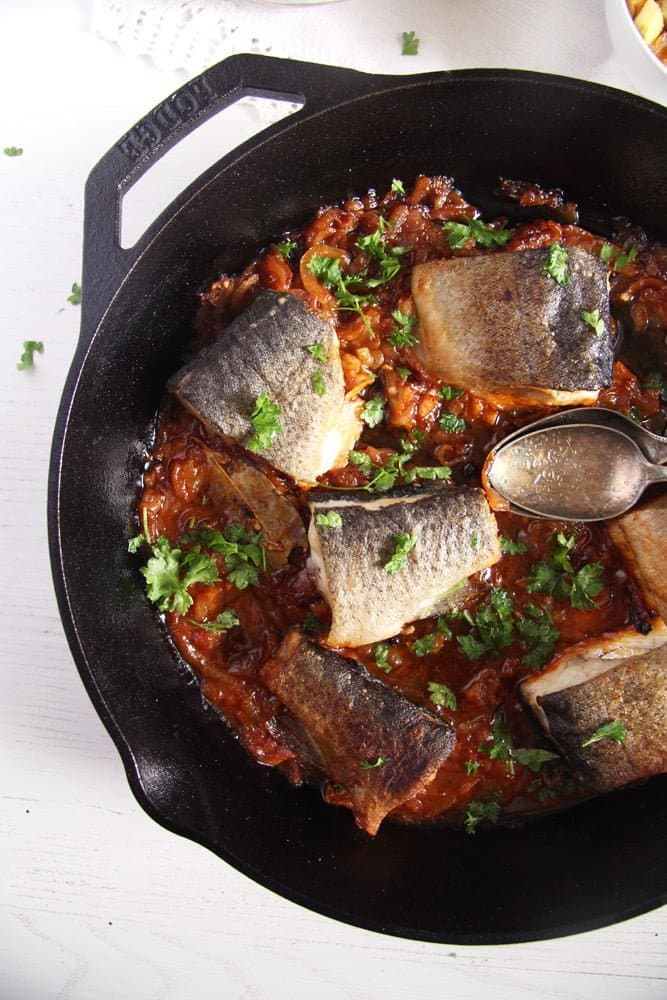 I made this aromatic trout in my Lodge L10SK3 12″ Skillet With Assist Handle
cast-iron pan. But like I have mentioned while writing the post for the White Fish in Tomato Sauce you might not want to risk your pan with tomato based sauces. I have never encountered any problems myself as I have been using my cast-iron pan for several years now and I consider it to be very well seasoned.
However, I have read about people ruining their pan's seasoning with tomato sauces and Sissi from With a Glass also warned me in a comment about the risks of cooking tomato sauce in a cast-iron pan. So, I guess you decide, you know your own pan – how well seasoned and old it is – better than I know it. In any case do use an oven-proof pan, the pan will need to go to the oven for the last 20 minutes of the cooking time.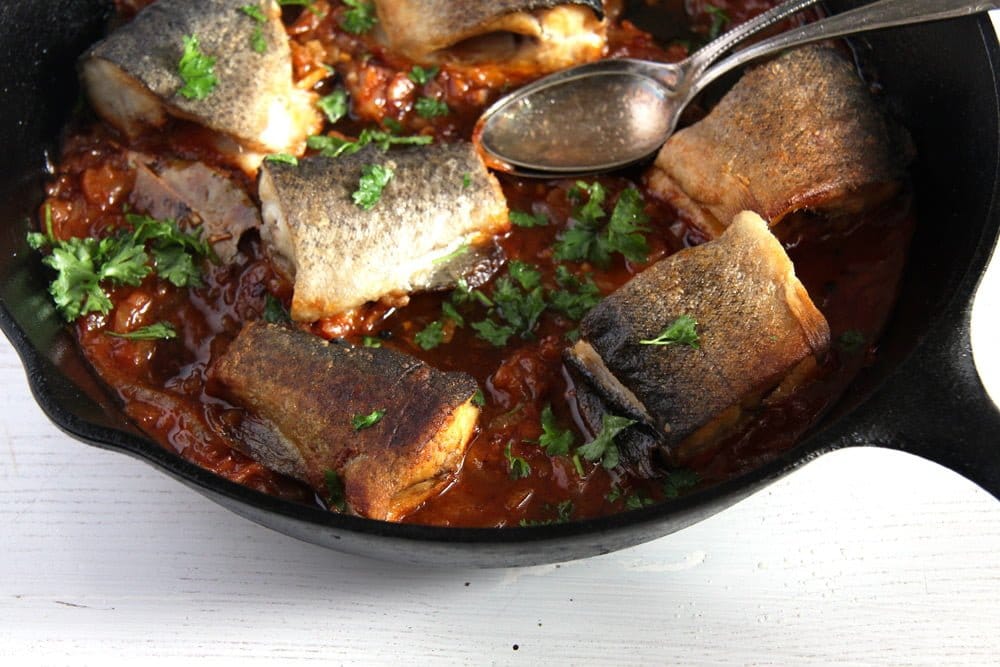 I used fresh trout to make this recipe, they are probably the most readily available fresh fish around here. We have private trout ponds all over the region, selling the trout either fresh or smoked (which is soooo good, I should get some soon again), so I have cooked trout in quite a few ways until now. My husband and I both love it and even the kids have been known to nibble a bit of the fish from time to time and not complain too much about it. 🙂 The trout has a very delicate and tender taste and I think that makes it quite suitable for children (or people who are generally not going wild with fish) as well. Do give it a try, I think you will love it!
And it wouldn't be me, if I wouldn't use every last bit of the fish (or chicken or turkey or beef) to make a nice soup as well. Keep the heads and the tails of the trout, freeze them if you don't have enough of them in one go or if you want to make the soup at a later time. I usually gather whatever I happen to get over several months (trout, salmon, pike, pollock etc) and then make a mixed fish stock following the recipe for this Homemade Fish Stock with Salmon Balls. This homemade fish stock can be then turned into various amazingly delicious fish soups like this Easy Fish and Vegetable Soup with Pollock Fillets for instance.
However, only freeze the heads and tails of fresh fish, don't freeze already defrosted fish again. If your fish was already frozen, use the leftover parts to make the stock immediately or discard the leftovers if you are not interested in making stock.
And if you would like to see the other Dobrogea recipes from this series have a look at these links: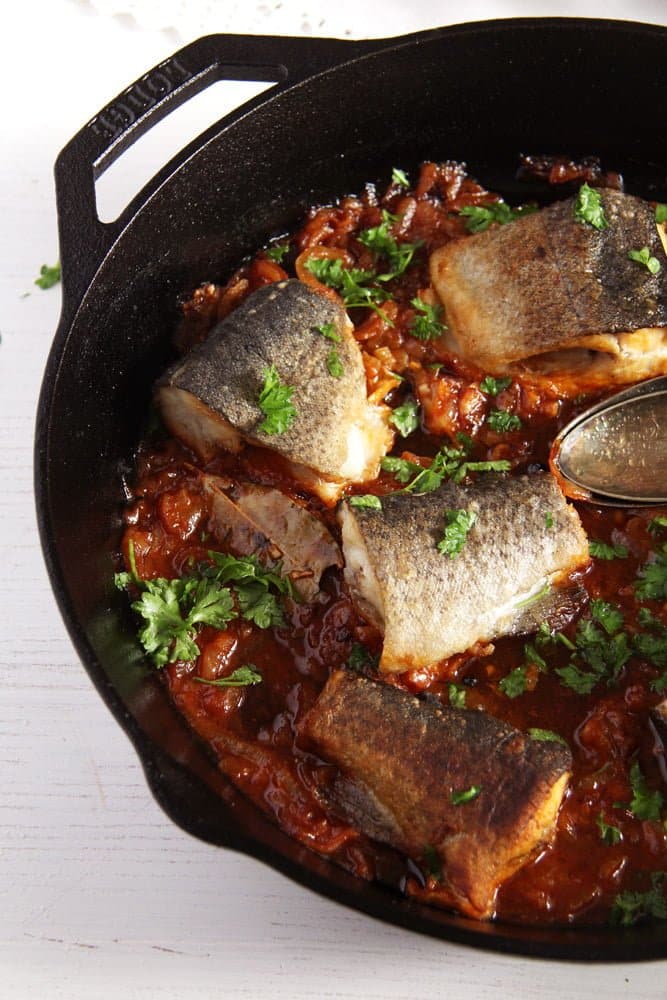 This post contains affiliate links. The price you pay as a consumer does not change, but if you make a purchase we will receive a commission which helps support the blog.
Others you might like:
Basic Skillet Chicken Breasts
Zucchini Beef Skillet with Potatoes and Garlic
Butternut Squash and Sausage Stew in the Cast Iron Pan