Last Updated on
Brazilian moqueca de peixe or moqueca de camarao or Brazilian fish stew with coconut milk: firm white fish, prawns and bell peppers. All served over fragrant Brazilian rice.
Today I am sharing the last recipe from the World Cup Food series on Where Is My Spoon, a series that I have started in June. It took me a long time to cook one dish from all the countries participating in this year's Football/Soccer World Cup, but I did manage, I didn't leave any country out.
And I am finishing not with a recipe from France, who won the championship, but with my personal food winner: Brazil. This Brazilian Fish Stew with Coconut Milk or Moqueca de peixe is my absolute number one. So good, you will not believe it! And so easy to make as well.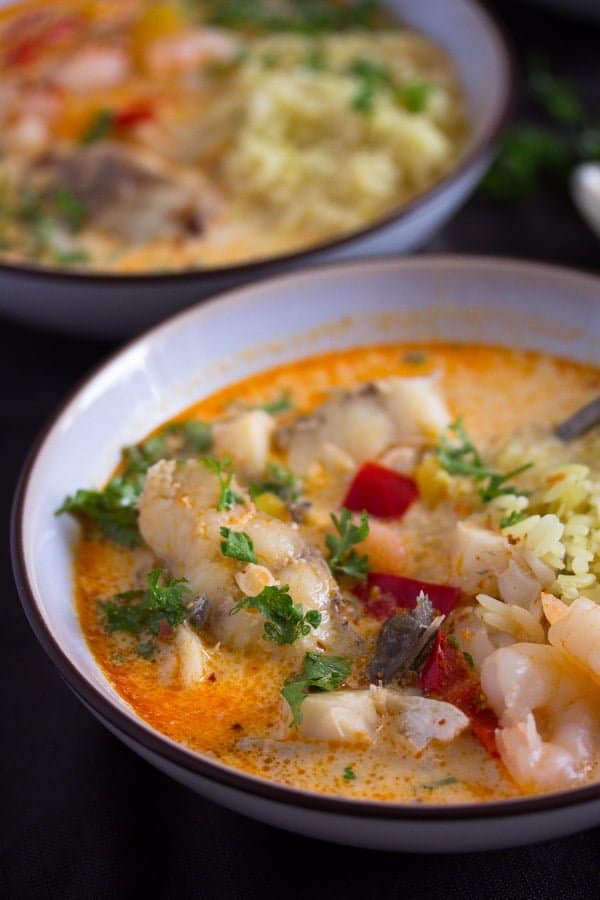 Moqueca de peixe baiana
What is moqueca de peixe baiana?
Moqueca de peixe is one of the most popular Brazilian dishes, particularly popular in the northwest region of Bahia, where according to Lonely Planet "Africa meets South America". This Brazilian fish recipe has African origins, many components of the dish reminding of the African roots of many inhabitants of Bahia.
During the 16th and 19th century many African people were forcibly brought to Brazil, most of them in the region of Bahia. The over 4 million slaves influenced strongly not only the Brazilian cuisine, but the entire Brazilian culture.
Some of the elements belonging to this moqueca de peixe baiana, which have definitely an African origin are the traditional use of red palm oil and coconut milk. Many versions of this Brazilian fish stew are also made with okra, which has African origins as well and all moquecas are served with rice – the so-called Brazilian rice.
According to Wikipedia rice was brought to Brazil by the Portuguese and their African slaves and "recent scholarship suggests that enslaved Africans played an active role in the establishment of rice in the New World and that African rice was an important crop from an early period."
How to make moqueca de peixe – Brazilian fish stew
First of all, my version of this fish stew is actually a mix between the moqueca de peixe (peixe = fish) and moqueca de camarao (camarao = shrimp).
It was not a conscious thing to make a Brazilian shrimp stew recipe at any time, it just happened one time when making the fish stew for the probably 6th or 7th time. I just happened to have some frozen tiger prawns and not enough fish. So, I added the prawns to the fish stew and that made the whole affair even more delicious than it already was.
Ever since, I have always been adding prawns to the fish stew.
This recipe for the moqueca de peixe is not something new for us. I discovered the inspirational recipe somewhere online many years ago. And after making this stew once we were hooked, the Brazilian fish stew has become one of the most repeated recipes in our house, I must have cooked it at least 30 times already. Especially since the kids love it as well.
Despite all the fish and the heat of the dish, they absolutely love it and request to have it regularly. OK, I admit, they leave out the prawns/shrimps, but no stress there, if they eat all the rest, I am as happy as it can be. And, on the positive side, more shrimps for the grown-ups. 🙂
So, how to make moqueca de peixe?
The recipe is very simple indeed. The list of ingredients might seem rather long, but don't worry about it, all ingredients are easy to come by.
The fish/seafood:
Using fresh fish and prawns would be the ideal way of cooking the Brazilian fish stew. However, if I was only to make this stew when I am able to buy fresh cod and shrimps around here, than I would not be making this very often at all.
I know it is hard to imagine, but living in a village quite far from any major city in Germany, makes it a challenge finding such simple ingredients as fresh fish sometimes, you will always find some, but not the sort you want at one point or another.
If I think I want to make fresh salmon or fresh cod this week, I will probably not find it and have to wait another week or two for it. And then a combination of fresh fish AND fresh shrimps, both together… well, that is almost impossible. So, I use frozen fish often and frozen prawns or shrimps most of the times.
Traditionally, you would make the moqueca de peixe with cod. I do it often and it is absolutely wonderful. However, if I cannot find any cod or if the kids would rather eat salmon (which is their favorite fish at the moment), than I make the fish stew with salmon instead. I have even used pieces of pollack combined with salmon and prawns and they were delicious as well.
Just keep in mind when using pollack that pollack is not a firm sort of fish and will only need to spend minutes in the hot stew before it is cooked. Don't overcook it or it would become rubbery.
I always under cook the fish when cooking this Brazilian fish stew, the fish will continue cooking after you turn off the heat and it will be perfectly cooked by the time you serve it.
If using prawns or shrimps also add them to the stew during the last minutes of the cooking time.
For today's recipe I used cod pieces from a whole (rather small) cod, which I cut into pieces without making fillets, so the spine of the fish was still present. If you are using fish with bones, do warn the people at the table that there are still bones in the fish.
However, most of the times I would use cod or salmon fillets, without any bones. But I could not resist buying fresh whole cod, that is why I used this kind of pieces this time.
The fat:
Traditionally, you would use red palm oil. I would, if I could find it. But I cannot, unless I order it online, it is pretty expensive and it comes in large bottles, which I would not be able to use before it expired.
So, I used coconut oil instead, I think it suits the coconut milk in the stew perfectly. If you wish, you could use olive oil as well.
The base of the stew:
The liquids I use to make the moqueca the peixe are coconut milk and fish stock. I always use this recipe to make fish stock. If I make a batch of the stock, it is usually enough for making the moqueca de peixe or moqueca de camarao 2 or 3 times.
If you don't want to make your own fish stock, buy some good quality fish stock instead or use a light vegetable broth. However, I do recommend fish stock.
A traditional moqueca de peixe is maybe not quite as soupy as my version. I did make it less soupy at the beginning, but after making it soupier once, we decided that we like it even better this way. We always serve the fish stew with Brazilian rice and we love having lots of this flavorful soup to soak the rice. Oh, I just hope many of you will cook this recipe for Brazilian fish or shrimp stew, it is just too good to miss.
The rice:
I always make Brazilian rice to serve with the moqueca de peixe. Brazilian rice is very easy to make and particularly delicious. First you cook some onions and some garlic, then fry the rice shortly, add water or a light stock and let it cook. So good, you will end up using this recipe not only for serving with this stew, but also to serve it with other dishes as well.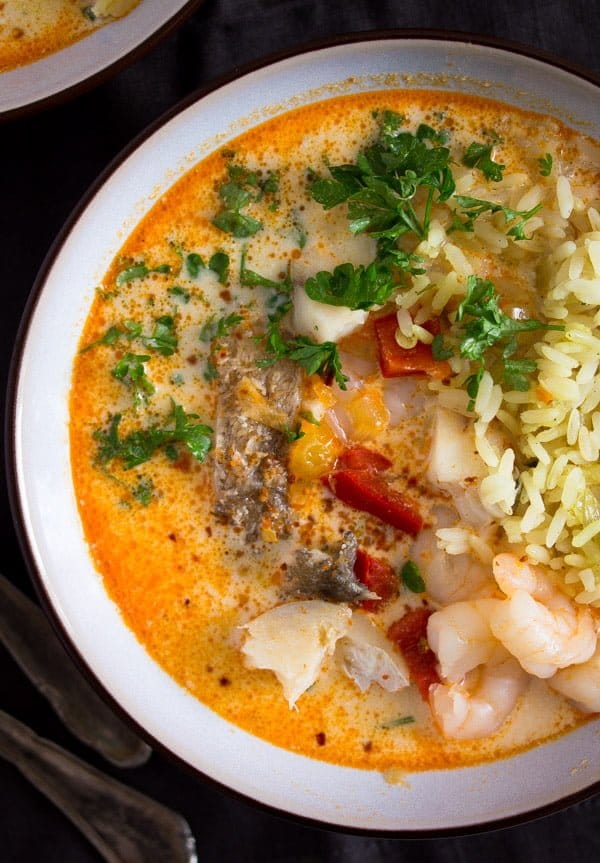 Ingredients
Ingredients for moqueca de peixe:
1 medium onion
1 medium red bell pepper
1 medium yellow bell pepper
1 tablespoon coconut oil (See note 1)
2 garlic cloves
1 teaspoon sweet paprika powder
¼ teaspoon cayenne pepper
1 chili, more or less depending on how hot it is
500 g/ 1.1 lbs cod fillets
500 ml/ 17 oz/ 2 cups fish stock (See note 2)
1 can coconut milk (400 g/ 14.1 oz)
250 g tiger prawns, peeled and deveined
salt and pepper
½ – 1 tablespoon freshly squeezed lime or lemon juice (See note 3)
a few sprigs fresh coriander
Ingredients for the Brazilian rice:
1 small onion
2 garlic cloves
1 tablespoon olive oil
350 g/ 12.3 oz/ 1 ½ cups long grain white rice (See note 4)
700 ml/ 23.6 fl.oz/ 3 cups hot water or hot vegetable broth
1 teaspoon salt (only ½ teaspoon if using vegetable broth)
some black ground pepper
Instructions
Moqueca de peixe:
Chop the onion finely. Cut the peppers into small cubes or small stripes.
Heat the coconut oil in a wider pot. Saute the onion and the bell peppers for about 8 to 10 minutes or until soft. Add the finely minced garlic cloves, sweet paprika powder, cayenne pepper and finely chopped chili. Stir for 1 to 2 minutes until fragrant.
While the vegetables are cooking cut the cod into larger chunks, if necessary. If you bought already filleted cod, just cut it into larger pieces, about 4-5cm/ 1 ½ -2 inches.
Season the fish pieces with some salt and pepper. Arrange the fish on top of the vegetables. Add the fish stock and the coconut milk. Cover, bring to a simmer and simmer for 5 to 10 minutes.
I always under cook the fish slightly. It will still have a couple of minutes cooking time together with the prawns that are added at the end of the cooking time and they will continue cooking while you bring the pot to the dish.
Add the peeled and deveined prawns and continue simmering for 2 or 3 minutes until the prawns turn white.
Adjust the taste with salt, pepper and a little lime or lemon juice. Start with half a tablespoon, stir and add more to taste.
Serve moqueca de peixe baiana over Brazilian rice and sprinkled with some fresh coriander.
Brazilian rice:
Chop the onion and the garlic cloves very finely.
Heat the oil in a small pot and saute the onion and the garlic until soft.
Add the rice and stir to coat. Continue stirring the rice in the pot for about 3 or 4 minutes.
Add the water or vegetable stock and some salt. Bring to a boil, turn the heat down and simmer, well covered, for about 18-20 minutes or until tender. Regard the packet's instructions concerning the cooking time of the rice, depending on the sort and brand of rice you are using, cooking times might differ slightly.
Fluff the rice with a fork. Give some rice to a deeper plate, add the fish stew on top and sprinkle with chopped coriander. Serve immediately.
Notes for the recipe:
Note 1: You can use red palm oil (traditionally used) or olive oil instead.
Note 2: I have often made the stew with salmon fillets instead of cod. Or salmon/cod combined with pollack fillets. If using pollack, keep in mind that this sort of fish is not firm. Only add it to the stew during the last 3 or 4 minutes of the cooking time.
Note 3: You can use homemade fish stock or a good brand of fish stock in a jar. If you cannot find fish stock, use a light vegetable broth.
Note 4: Lime is perfect, but if I don't have it I use lemon juice.
Note 5: I use either jasmine or basmati rice. However, if I forget to buy any of those, I just use plain white rice and it is still delicious.
[nutrition-label id=10354]