Incredibly moist Mexican dessert recipe – tres leches or three milk cake.

MEXICAN CAKE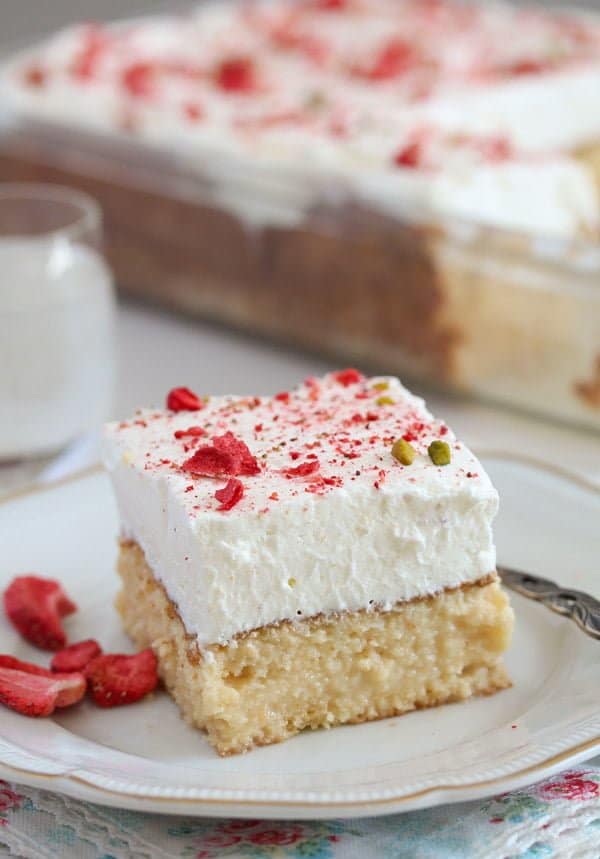 A light sponge cake soaked with a mixture of evaporated milk, sweetened condensed milk and cream and topped with more whipped cream, a cake can hardly get any more decadent and delightful. This is the famous Mexican dessert - Tres Leches Cake.
Well, I do have a few more decadent and delightful cakes full of whipped cream on the blog, if you like, have a look at this Amazing Cake with Lemon Curd, Cream and Raspberry Filling or this Mandarin Orange Cake with Cream and Almond Meringue.
Mexican desserts
Origins
Well, I am saying Mexican dessert or cake recipe, but according to many sources, including Wikipedia, although soaked-cake desserts were known in Mexico in the 19th century already, this particular cake became famous all through Latin America sometimes during the 20th century, mostly due to the fact that a recipe for it was printed on the Nestle sweetened condensed milk can labels.
So, this three milk cake became popular not only in Mexico, but almost everywhere in Central and South America, North America, the Caribbean, and the Canary Islands.
During the past years, it also became famous in several European countries, such as Albania, Macedonia, or Turkey and this is believed to be the result of the popularity of South American telenovelas in these countries. I only wonder, telenovelas are incredibly popular in Romania as well, and they have been so for almost 30 years now, but I have never heard of tres leches in Romania.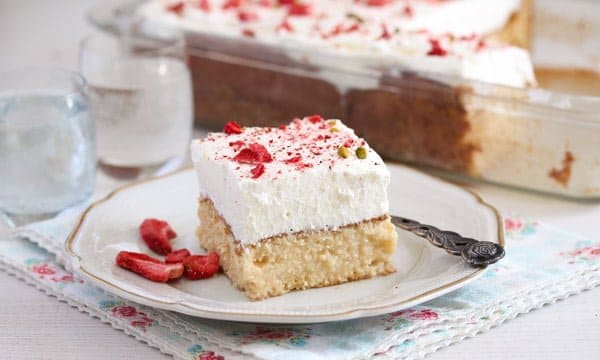 Actually, the first time I've heard of it was while searching for a recipe for the Polish Bezowy Torte, an amazing meringue cake filled with whipped cream and mascarpone.
While it proved very difficult to find a recipe in English/German/Romanian for this particular Bezowy cake that would resemble the wonderful cake we had eaten in Poland, I stumbled upon a recipe for a Polish version of the Mexican cake.
I was wondering, as the name is so very much Spanish, so I had a look at the recipe, and knew I had to make that someday... It took me about half a year, but I got there. 🙂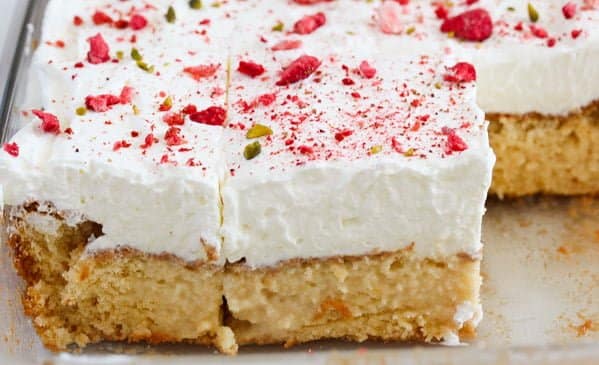 How to make?
Base:
Separate the eggs and beat the egg whites until stiff. Gradually add the sugar and beat until stiff and glossy.
Beat egg yolks and the remaining sugar. Add milk and vanilla.
Fold in flour mixed with baking powder and salt.
Fold in the egg whites. Don't overmix!
Pour into a greased baking dish (20x32 cm/ 8x12 inches) and bake in the preheated oven for 25-30 minutes. Check with a toothpick; it should come out clean.
Let cool in the pan.
Tips for making the base:
Most recipes would instruct you to first beat together the egg yolks with other ingredients and only then beat the egg whites and add them to the mixture. I used to do that a long time ago, but in the meantime, I keep beating the egg whites first and then turn to the egg yolks and so on.
The reason is that I find it super annoying to have to wash the mixer beaters just for beating the egg whites. Egg whites would not become stiff if they come in contact with any trace of fat; that is why the mixer beaters have to be squeaky clean before you start with the egg whites.
The recipes instructing you to beat the egg whites only after you have beaten the egg yolks assume that the egg whites will lose air while waiting to be added to the mixture. Well, I have done it a thousand times, but I have never noticed any difference. So, I make my life easier and I beat the egg whites first, setting them aside for a few minutes, and beating the rest of the ingredients without washing the beaters.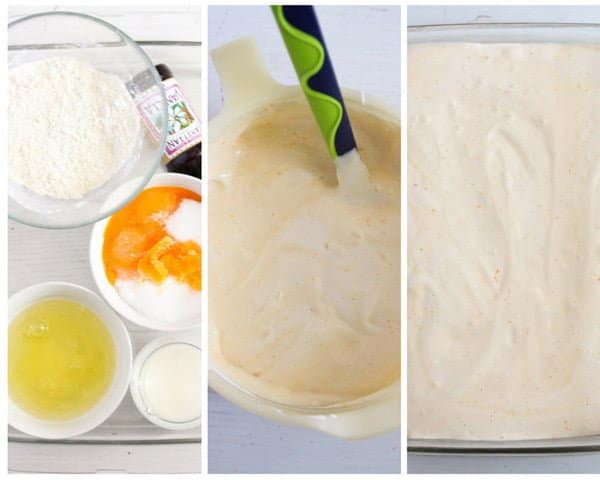 Soak:
To soak the cake, start by poking it evenly with a fork. When adding the three milk mixture make sure that you pour the mixture evenly and that you reach all the edges and corners.
Cover and refrigerate for several hours or overnight. I always make this Mexican dessert one day in advance and leave it overnight.
Topping:
Top with the freshly whipped heavy cream adding sugar to taste. I didn't add much, about one tablespoon, I found the soaked sponge was sweet enough.
More topping ideas:
I topped the cake with freeze-dried strawberries.
I generally prefer to top whipped cream cakes with berries or fruit. Why not try fresh strawberries, raspberries, or even red currants (provided you can find some).
However, a rich caramel or chocolate sauce would be really nice as well.
Or you could just sprinkle it with desiccated coconut (preferably unsweetened) OR a little cinnamon OR a little brown sugar. In this case, do make sure you do not add too much sugar to the whipped heavy cream.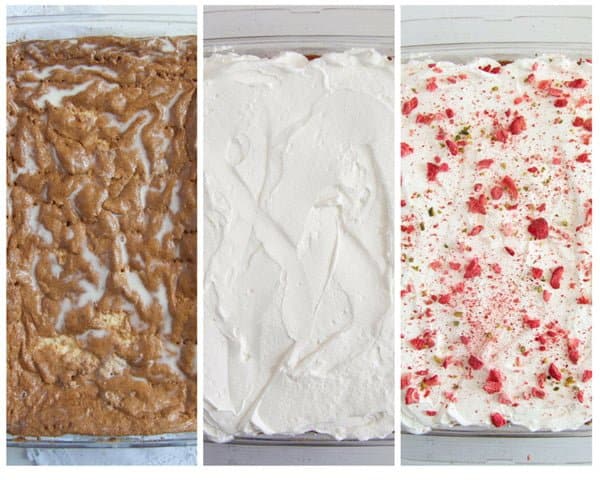 Can you make it in advance?
Yes, you should make tres leches one day in advance so that the sponge has enough time to soak the milk. You can make it up to two days in advance, but in this case, only top it with whipped cream (and fruit or berries) shortly before serving.
How to store?
Keep refrigerated in an airtight container. It will keep for up to 4 days. It will become slightly soggier with every day that passes, but it will still taste good.
Can I freeze it?
I would not freeze the leftovers, the soaked sponge would become soggy and the whipped cream would not be that great once thawed.
However, you can freeze the sponge. Let the cake base cool completely, poke with the fork all over, wrap well in plastic film and freeze for up to 3 months. Defrost in the refrigerator overnight. Soak and top.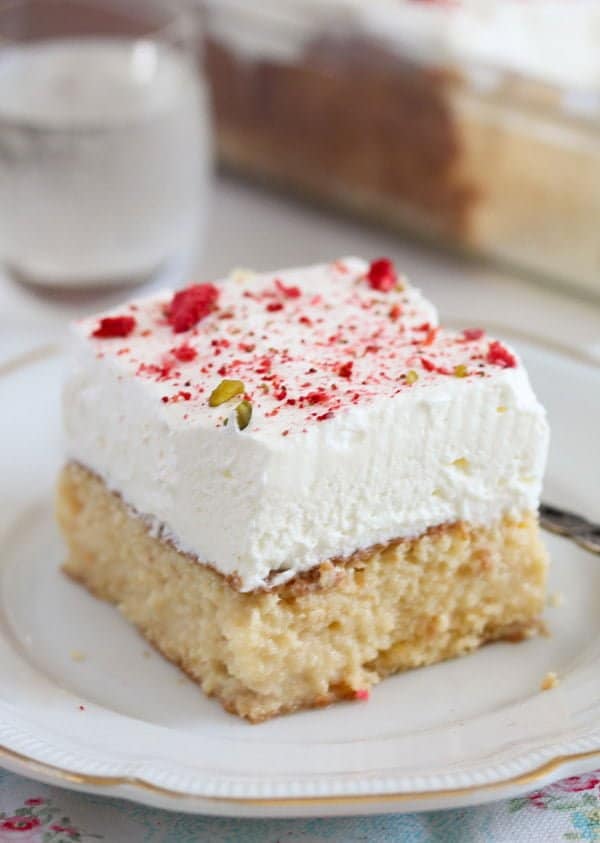 MORE MEXICAN RECIPES?
Lime Chili Tacos
PIN IT FOR LATER!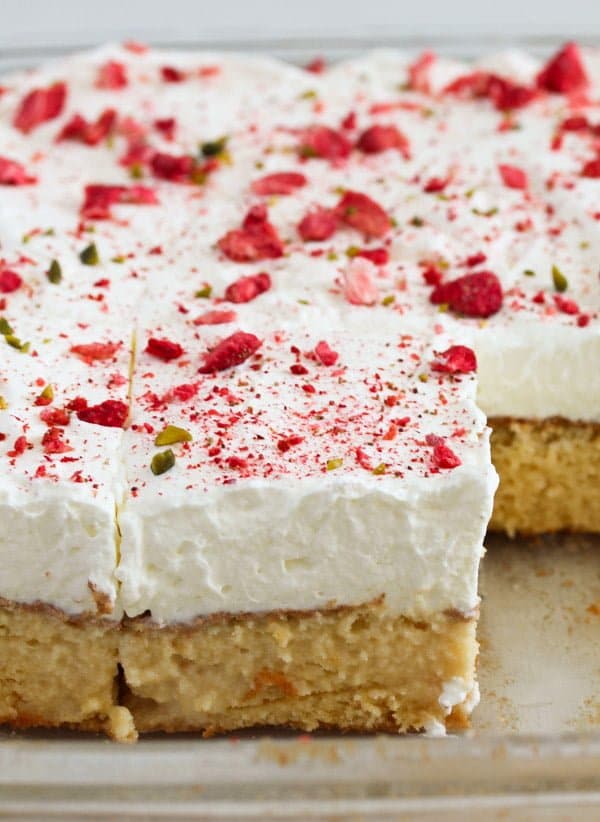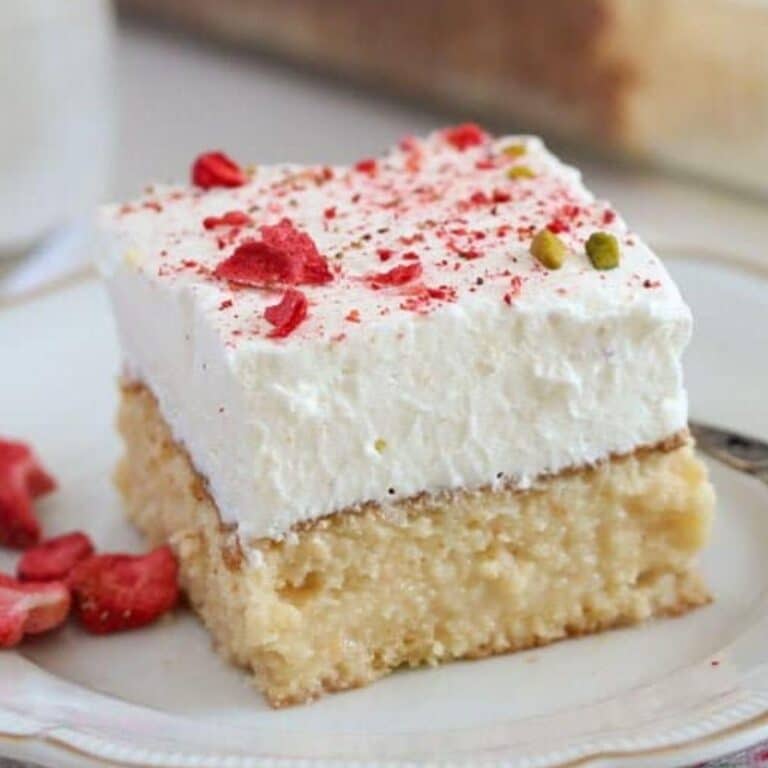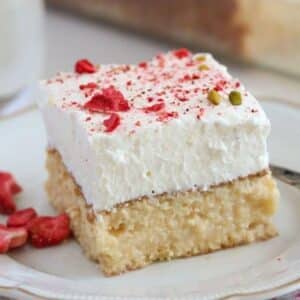 Tres Leches Cake – Mexican Dessert Recipe
Incredibly moist Mexican cake – tres leches or three milk cake. A light sponge cake soaked with a mixture of evaporated milk sweetened condensed milk and cream and topped with more whipped cream, a cake can hardly get any more decadent and delightful.
Print
Pin
Share
Grow
Saved!
Rate
Equipment
Baking dish of about 20x32 cm/ 8x12 inches
Ingredients
Cake:

1

cup

all-purpose flour

1 ½

teaspoons

baking powder

a pinch of salt

5

eggs

large

1

cup

sugar

⅓

cup

whole milk

1

teaspoon

vanilla extract

For soaking the cake:

1

can

evaporated milk

12 oz/ 300 ml

1

can

sweetened condensed milk

14 oz/ 400 ml

¼

cup

whole milk

Topping:

2

cups

heavy cream

1

tablespoon

sugar

more to taste

small handful freeze dried strawberries

optional
Instructions
Cake:
Preheat the oven to 180 degrees Celsius/ 350 degrees Fahrenheit. Lightly grease a baking dish of about 20x32 cm/ 8x12 inches (a couple of inches more or less would be OK).

Mix the flour, baking powder, and salt in a bowl. Set aside.

Beat egg whites: Separate the eggs. Beat the egg whites with an electric mixer until stiff peaks form. Gradually add about 50 g/ 1.8 oz/ ¼ cup of the sugar and continue beating until the egg whites are stiff and glossy. Set aside.

Batter: Beat the egg yolks and remaining sugar until pale and fluffy. Add the milk and the vanilla extract and incorporate. Pour the mixture over the flour and fold in gently. Fold in the egg whites as well.

Bake: Pour the batter into the prepared pan and make sure the layer is even. Bake in the preheated oven for about 25-30 minutes or until a toothpick inserted in the middle of the cake comes out clean. Let the cake cool entirely without removing it from the baking dish.
Topping:
Soak cake: When the cake is cool, poke it all over with a fork. Mix the evaporated milk, condensed milk, and whole milk, and slowly pour the mixture all over the cake in the baking dish, making sure you reach all the edges and corners.

Chill: Cover the baking dish with cling film and refrigerate the cake for several hours or overnight, to make sure the milk is completely absorbed by the cake.

Topping: Whip the heavy cream adding sugar to taste. Spread the cream on the cake in an even layer and top with crushed freeze-dried strawberries, if desired. Fresh strawberry slices or raspberries would be great as well.
Nutrition
Serving:
1
square
|
Calories:
560
kcal
|
Carbohydrates:
65
g
|
Protein:
13
g
|
Fat:
28
g
|
Saturated Fat:
17
g
|
Polyunsaturated Fat:
9
g
|
Trans Fat:
1
g
|
Cholesterol:
180
mg
|
Sodium:
247
mg
|
Sugar:
56
g