Last Updated on
A very easy cake recipe with canned mandarin oranges, whipped cream and almond meringue, everybody just loves this cake!
Another mother-in-law typical German recipe. If you like to see more of those, have a look at these links: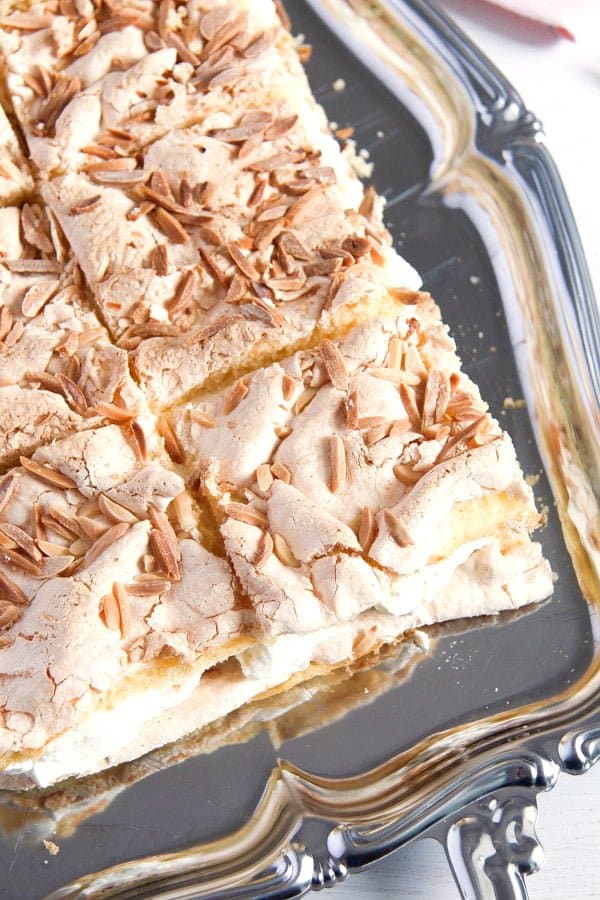 And just like in the case of the above mentioned recipes, this is a cake I have often eaten, but rather seldom baked myself, just twice actually. I don't get to bake the Mandarin Orange Cake with Cream and Almond Meringue that often because this is one of my mother-in-law's specialties, so it is her that gets to bake the cake most of the times.
This Mandarin Orange Cake with Cream and Almond Meringue is one of the first cakes I have ever eaten in Germany. I like any cake made with cream and fruit, so when Rosi asked, many many years ago, what cake she should bake for my birthday, I said that I would like something creamy and fruity.
So she baked this cake for me and I was in heaven! One of the best cakes ever, I am telling you! Sweet, yet refreshing thanks to the mandarin oranges; creamy, yet crunchy due to the almond meringue. So good! You would love it, I am sure!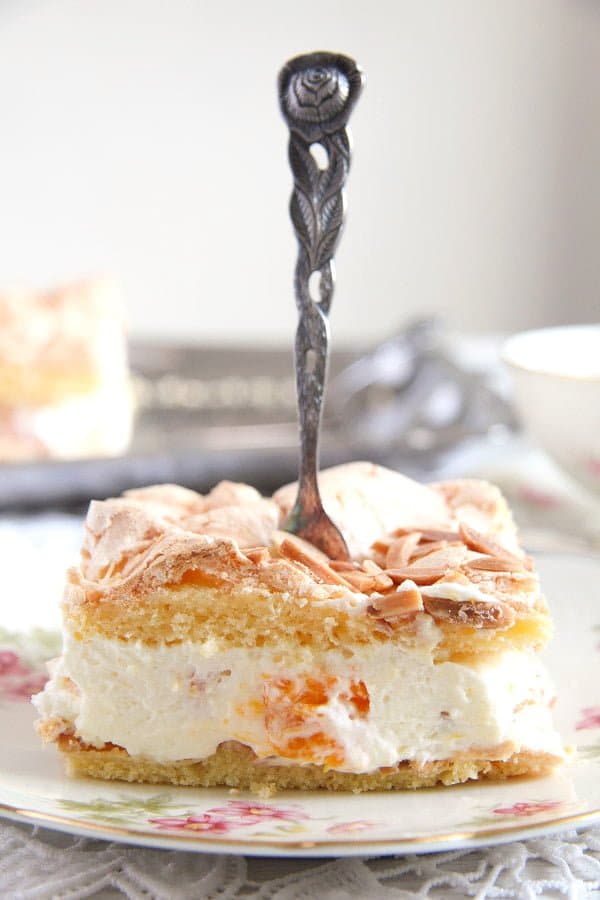 This is a cake my mother-in-law used to bake for their bakery. My husband's ancestors built a bakery in this house sometimes during the last decade of the 19th century and the bakery was active until the early 1990's when my father-in-law suddenly died at a rather young age.
They not only baked bread and bread rolls every day, but also lots and lots of different, typical German "Teilchen and Kuchen" – pastries and cakes. And while my father-in-law, a trained baker and pastry chef would make the bread and the pastries, my mother-in-law and her mother-in-law would take care of the cakes they were selling in the bakery and in their cafe.
So, you can imagine that Rosi is pretty good when it comes to cakes, I have yet to find one she made that I didn't like. She doesn't get to bake much these days, mostly because I am the one doing most of the baking (I am stealing her the show, so to say), but she definitely knows a lot about cakes. I should definitely post more of her cake recipes.
Mandarin Orange Cake with Cream and Almond Meringue
And I should not forget to mention how easy it is to make this cake. Just mix a few ingredients, whip some heavy cream and fill the cake, if you leave out the 20 minutes baking time and the short cooling time, you will not need more than 30 minutes to make this mandarin orange cake.
The ingredients for the Mandarin Orange Cake with Cream and Almond Meringue
I use butter to make the sponge mixture, although the original recipe asks for margarine. However, I am not a fan of margarine and I always replace it with butter. But feel free to go for margarine, if you like.
The mandarin oranges come from a can, fresh mandarins or clementines would not work in this cake, unless you want to spend hours removing the white skin from every single mandarin segment…I use lightly sweetened canned fruit, but you can choose the unsweetened version as well, the cake is sweet enough to take that.
Use good quality heavy/double cream, pure stuff and not the vegetable, sweetened stuff (that some Romanian people – my aunt – like to use for reasons unknown to me).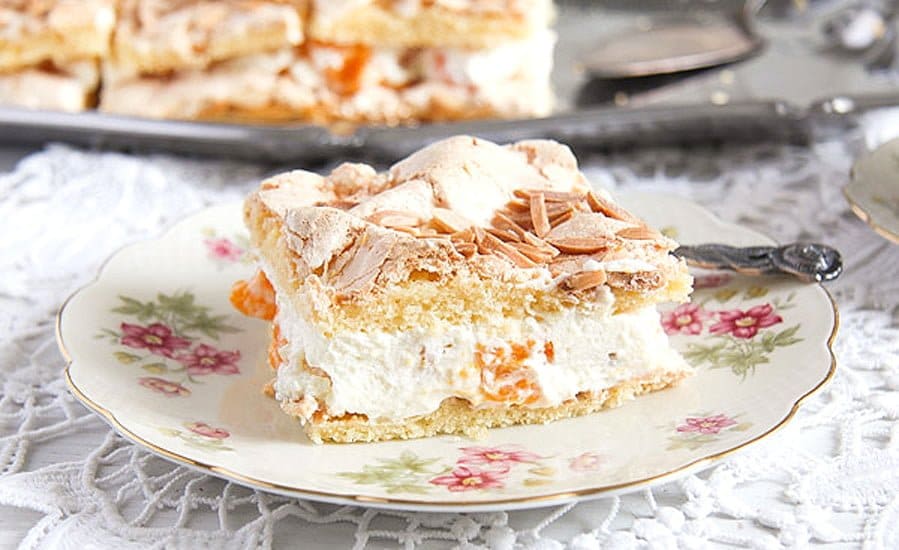 To help stabilize the cream I use Dr. Oetker cream stabilizer Dr. Oetker Sahnesteif ( Whip Cream Stabilizer ) -5 pack. One packet of it weighs 8 g/ 0.3 oz and it is enough for 250 ml/ 1 cup of heavy cream. You can use a similar product more easily available in your country, but make sure to read the packet's instructions to know how much of it you will need for the required amount of cream.
I use almonds for the meringue, but hazelnuts would be a nice change as well, I have used them once and found them just as good as the almonds, so take whichever you prefer.
The Mandarin Orange Cake with Cream and Almond Meringue is best served on the day you make it. However, you could prepare the meringue cake base one day in advance. Once the cake is assembled with the double cream, keep refrigerated.
Happy baking!
Ingredients
For the meringue:

2 egg whites

100 g/ 3.5 oz/ ½ cup sugar

½ teaspoon vanilla extract

100 g/ 3.5 oz/ 1 cup slivered almonds

For the base of the cake:

125 g/ 4.4 oz/ ½ cup soft butter

80 g/ 2.8 oz/ 1/3 cup + 1 tablespoon sugar

2 egg yolks

120 g/ 4.2 oz/ 1 cup all-purpose flour

2 teaspoon Dr. Oetker baking powder

125 ml/ 4.2 fl.oz/ ½ cup milk

For the filling:

500 ml/ 17 fl.oz/ 2 cups heavy/double cream

2 packets Dr. Oetker cream stabilizer (or a similar product)

2 cans mandarin oranges (ca 300 ml/ 10 fl.oz each can)
Instructions
Preheat the oven to 190 degrees Celsius/ 370 degrees Fahrenheit. Line a baking tray (approximately 30x40 cm/ 12x15 inches) with baking paper.
To make the meringue beat the egg whites until stiff. Slowly start adding the sugar and beat until the egg whites are stiff and glossy. Incorporate the vanilla extract. Set aside.
Mix together the soft butter and sugar until pale and creamy. Add the egg yolks and incorporate. In another bowl mix together the flour and the baking powder. Mix into the butter mixture alternatively with the milk.
Evenly spread the mixture onto the prepared baking tray. Spread the meringue on top of the batter. Sprinkle the meringue with the slivered almonds. Bake the cake base for 20 minutes. Remove from the oven, transfer the cake together with its baking paper on a wire rack and let cool completely. It will not take that long.
When the cake is cool, divide it in the middle/crosswise, so that you have two equal halves. Run a long knife underneath the cake to more easily release the baking paper. Place one half on a serving platter.
Give the heavy/ double cream to a mixing bowl and beat it shortly. Slowly start adding the cream stabilizer Dr. Oetker Sahnesteif ( Whip Cream Stabilizer ) -5 pack
and continue beating until the cream has the desired consistency. Drain the mandarin oranges well and fold them into the whipped cream. Spread the mixture onto the cake on the platter. Cover with the second cake half and press gently. Keep refrigerated until ready to serve.
[nutrition-label id=9256]
This post might contain affiliate links. The price you pay as a consumer does not change, but if you make a purchase we will receive a commission which helps support the blog.