Blitzkuchen or lightning cake, a delicious, soft German coffee cake with almond sugar topping, ready in less than 30 minutes.
German Coffee Cake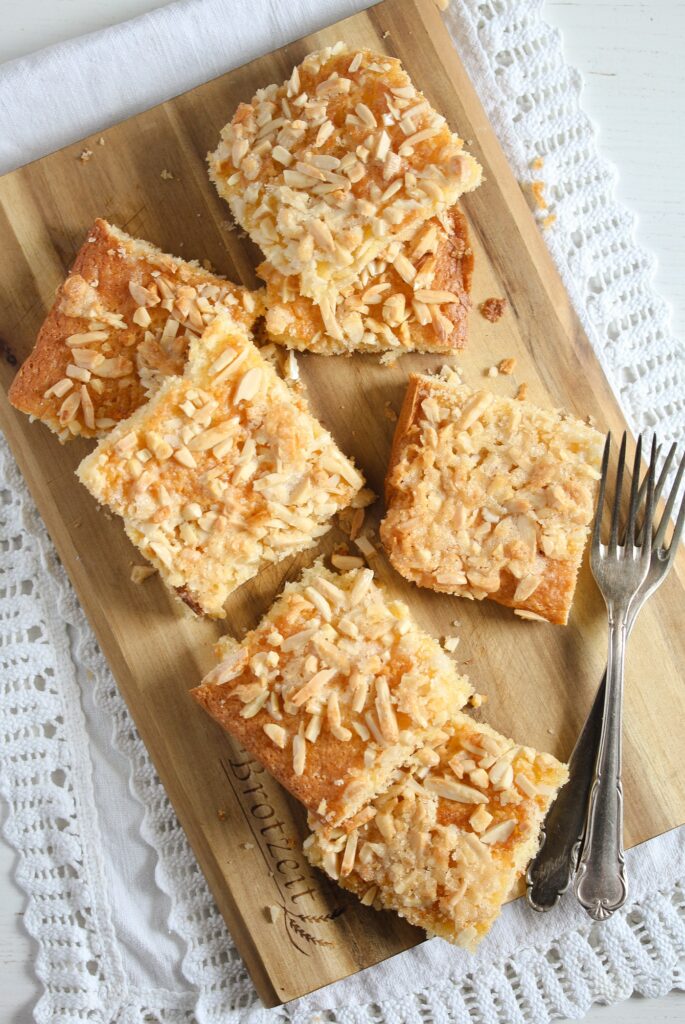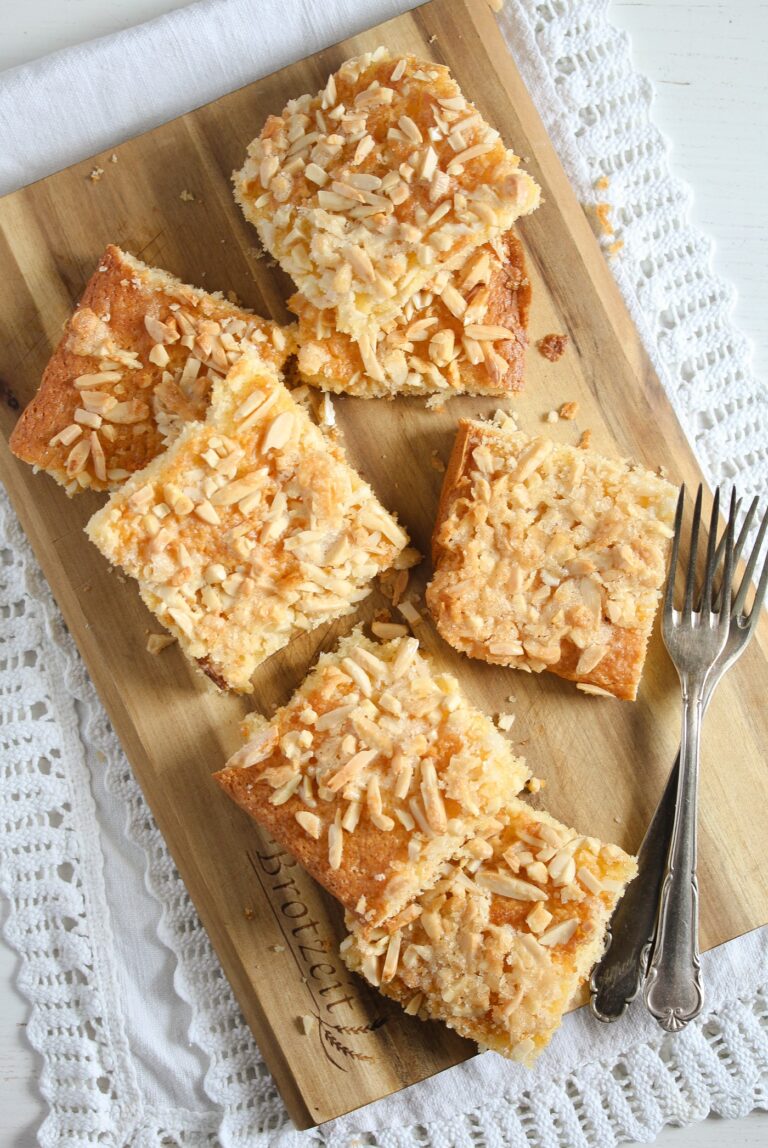 German cakes are amazing! German people love cakes, love to eat them and love to bake them. They are present on any occasion, unless you are invited to dinner, you will always get some.
When invited to a German birthday party, for instance, you will be served coffee and cake first and later on something savory, mostly grilled meats in summer or dinner in the evening. At Christmas or Easter, you will have lunch first and Kaffee und Kuchen in the afternoon.
And there will always be lots of cakes. Not just one, like you would think it should be, no… even if you are only 4 or 5 people present there will be at least 2 of them. Probably 3. And if serving more than 5-6 people, well, the table might break under the weight of all those cakes.
My friend celebrated her birthday a few days ago. I counted: there were 7 cakes, 12 blueberry tartlets, 12 muffins, and a small platter of cheese sandwiches. For 12 adults and a few small children.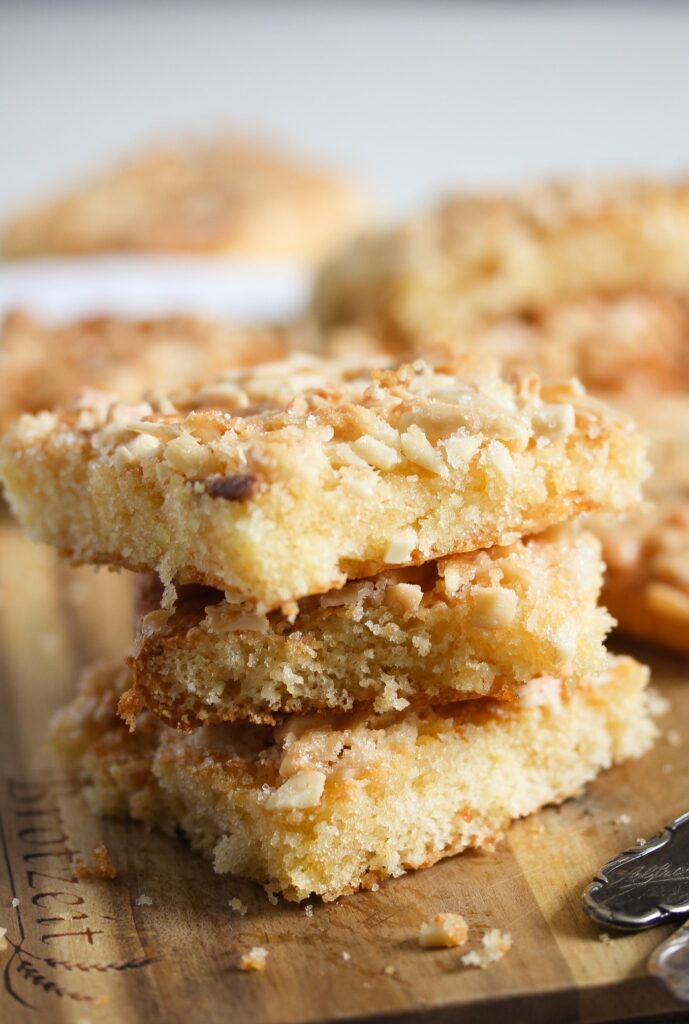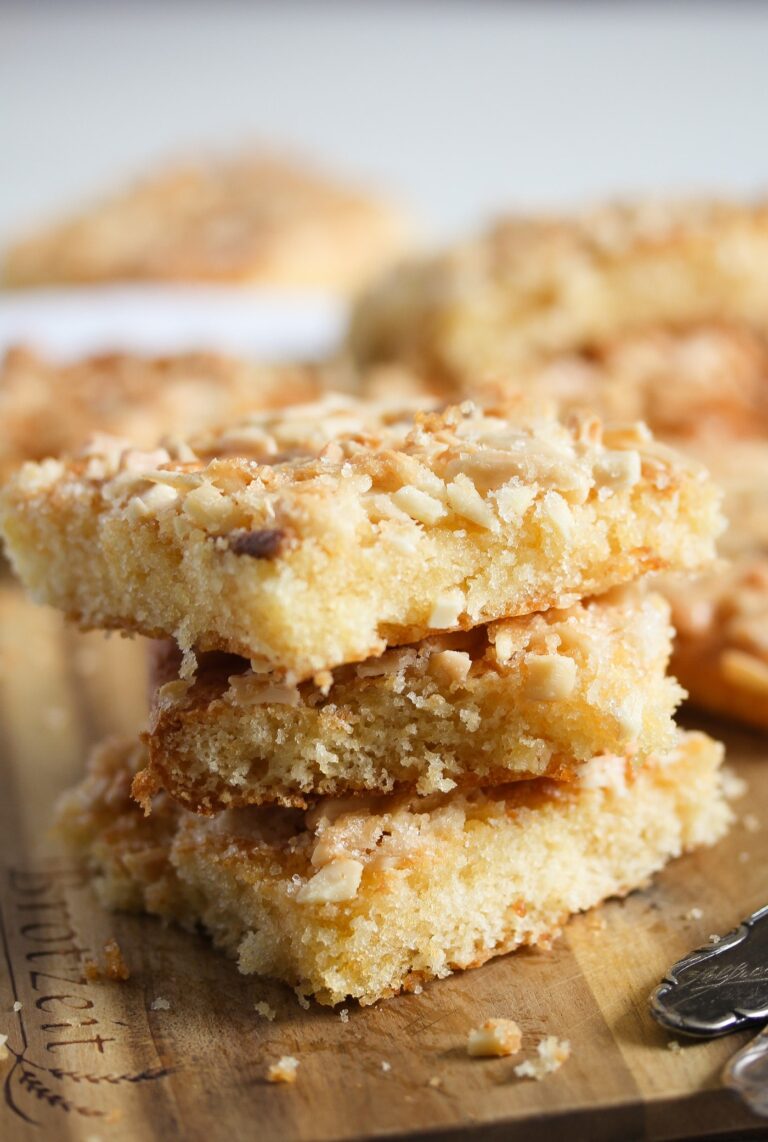 What is Blitzkuchen?
The Blitzkuchen is a super quick version of the popular German butter cake (Butterkuchen) or sugar cake (Zuckerkuchen), a very popular German coffee cake, the standard one served at any wedding and any funeral. It is soft and sticky and so delicious you will not be able to stop after just one piece.
You will get other cakes on these occasions, but a Butterkuchen will always be a part of the menu. It is probably the only cake I've ever seen my mother-in-law eating when we have to attend a funeral, she likes sweets more than anything, but for some reason, she only eats this cake at funerals.
You can also buy the original butter cake in absolutely any bakery in Germany, soft and sticky and loaded with sugar. It is the kind of cake that my late father-in-law used to bake every day in his almost 100-year-old bakery.
The original butter cake is made with yeast and covered with melted butter and sugar. Another version of it is called Zuckerkuchen or sugar cake. It is made the same way, but more sugar is used for the topping.
The Blitzkuchen or lightning cake is the super quick, yeast-free version of the above-mentioned. It can be topped with only butter and sugar, but the most popular and delicious version is the one including almonds.
I could not say which version I like best… I love any kind of yeast cake, but I also love it when I can make a similar dessert in less time. And I absolutely love the almond topping, that extra is really worth it!
The best about the Blitzkuchen?
All you have to do is stir the ingredients together and bake them for 10 minutes.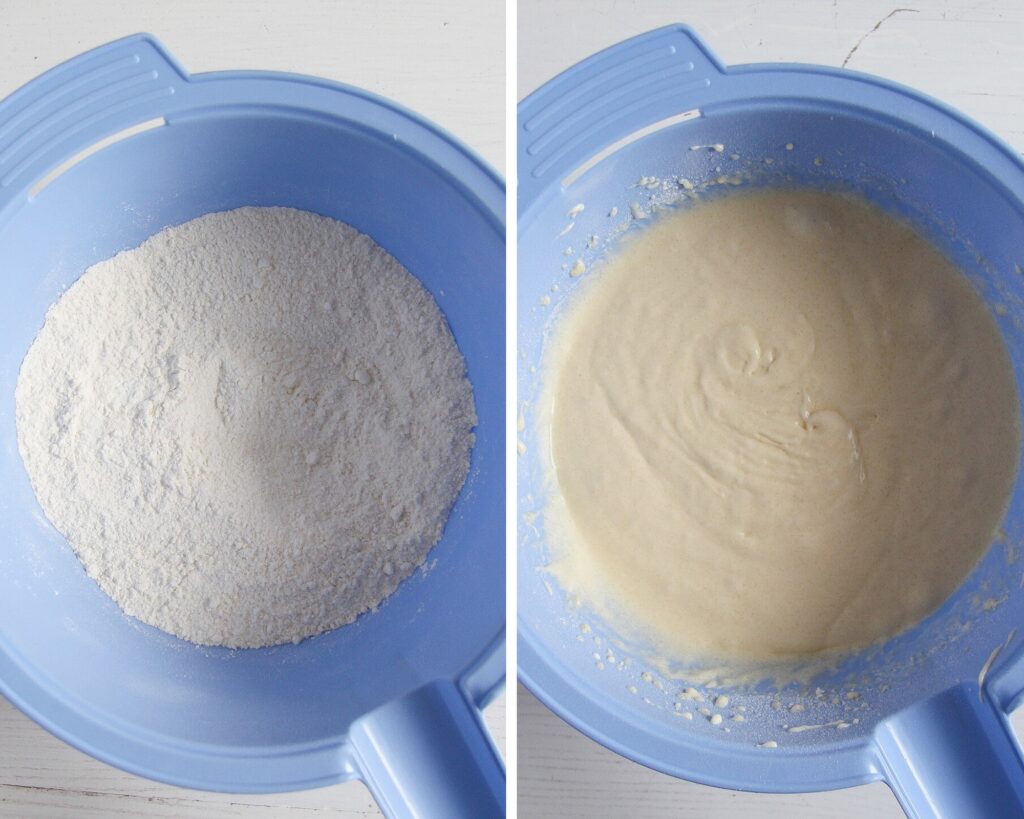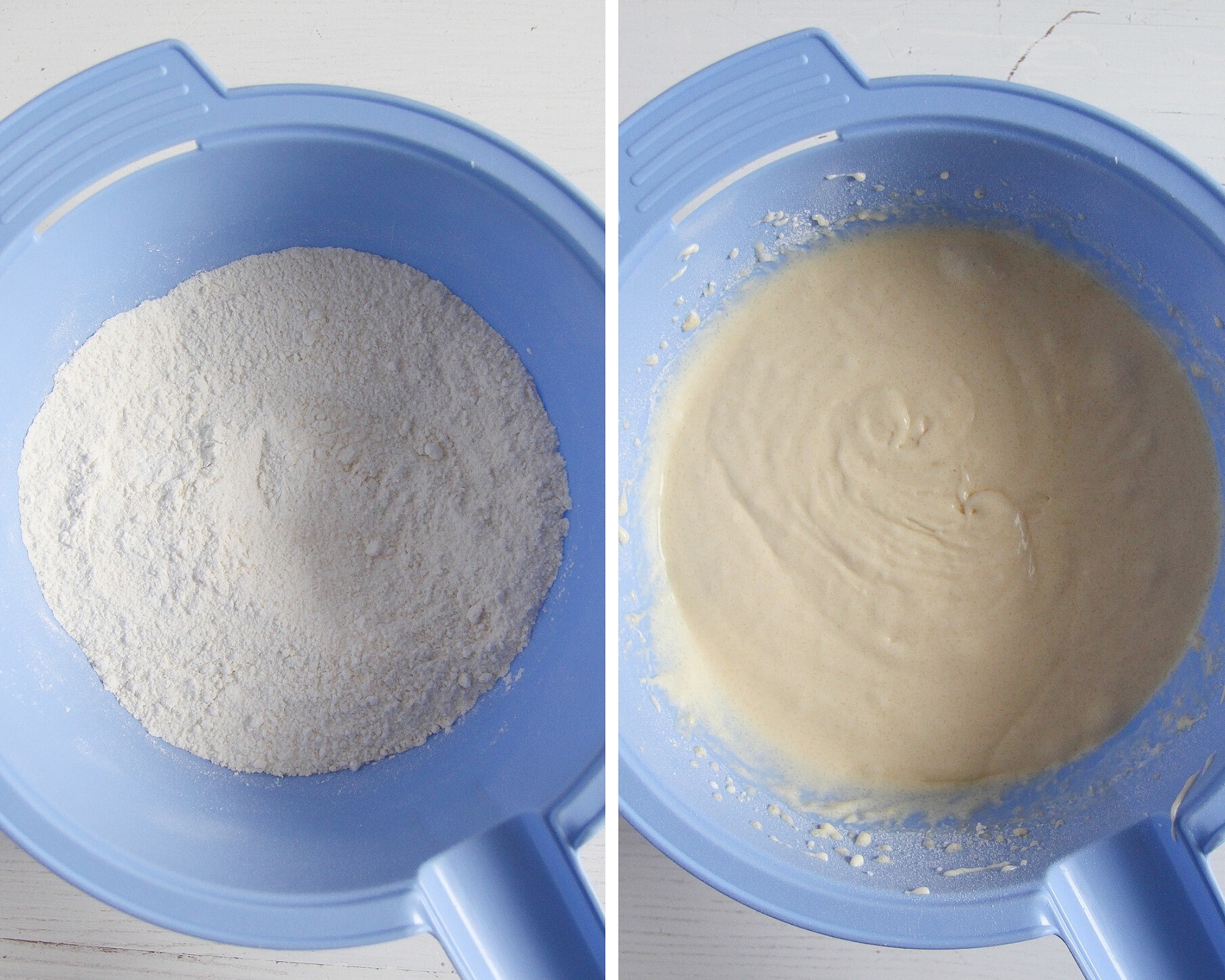 While the batter bakes, melt the butter and stir the topping ingredients together.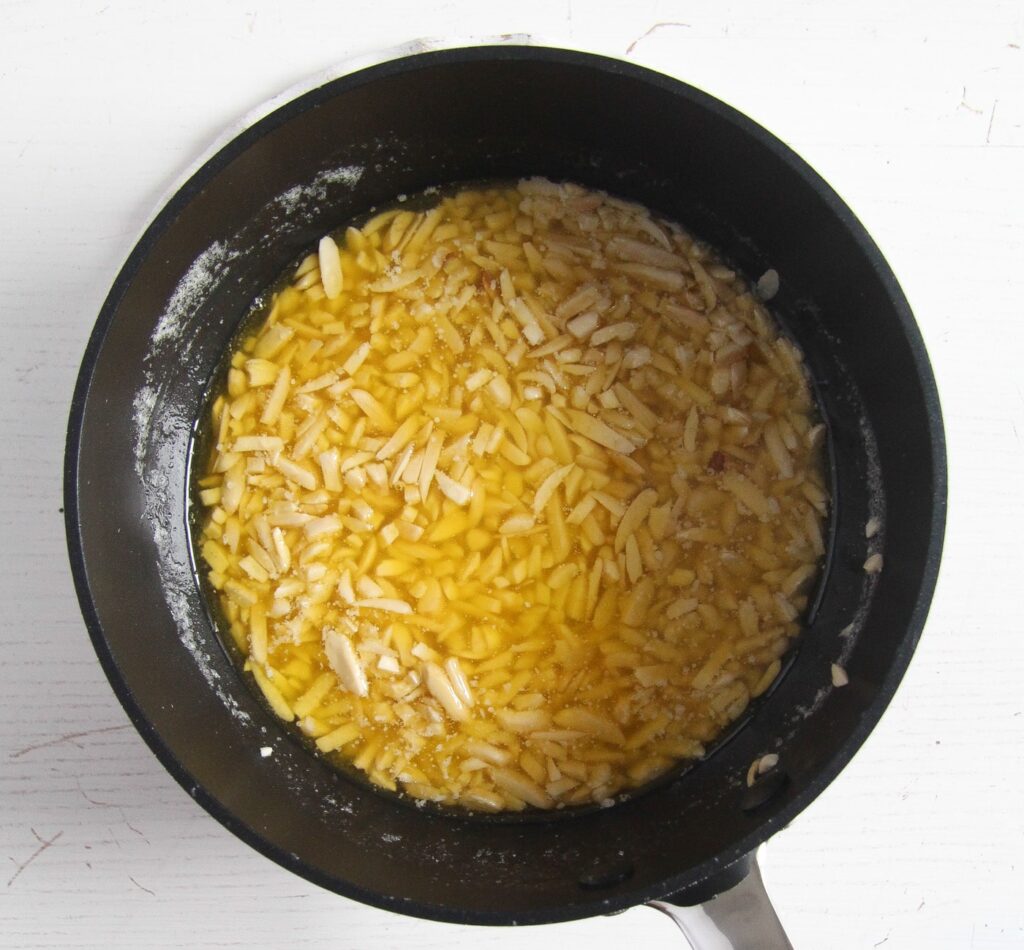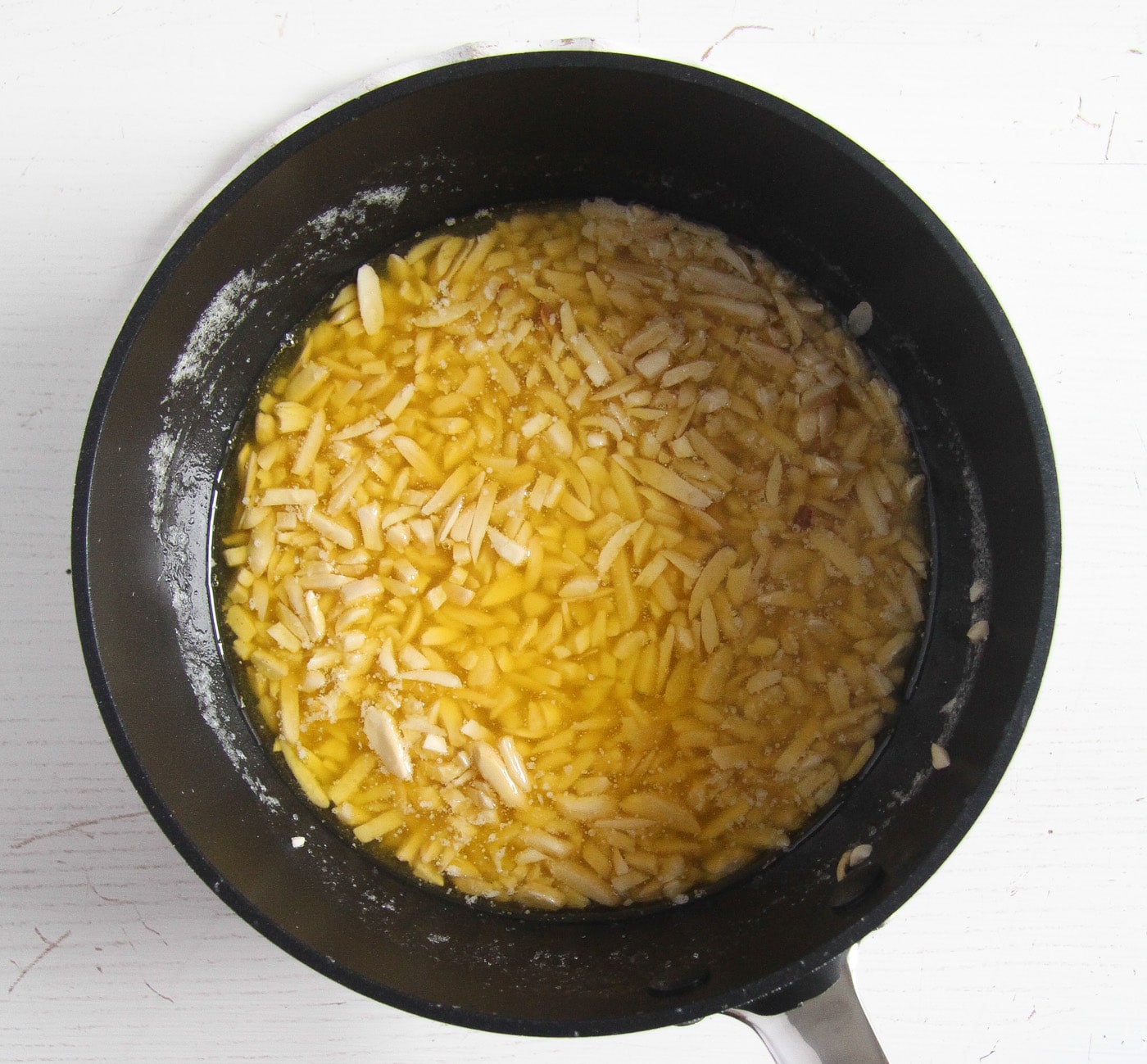 Spread the mixture over the half-baked batter and bake for another 10 – 15 minutes. That's it!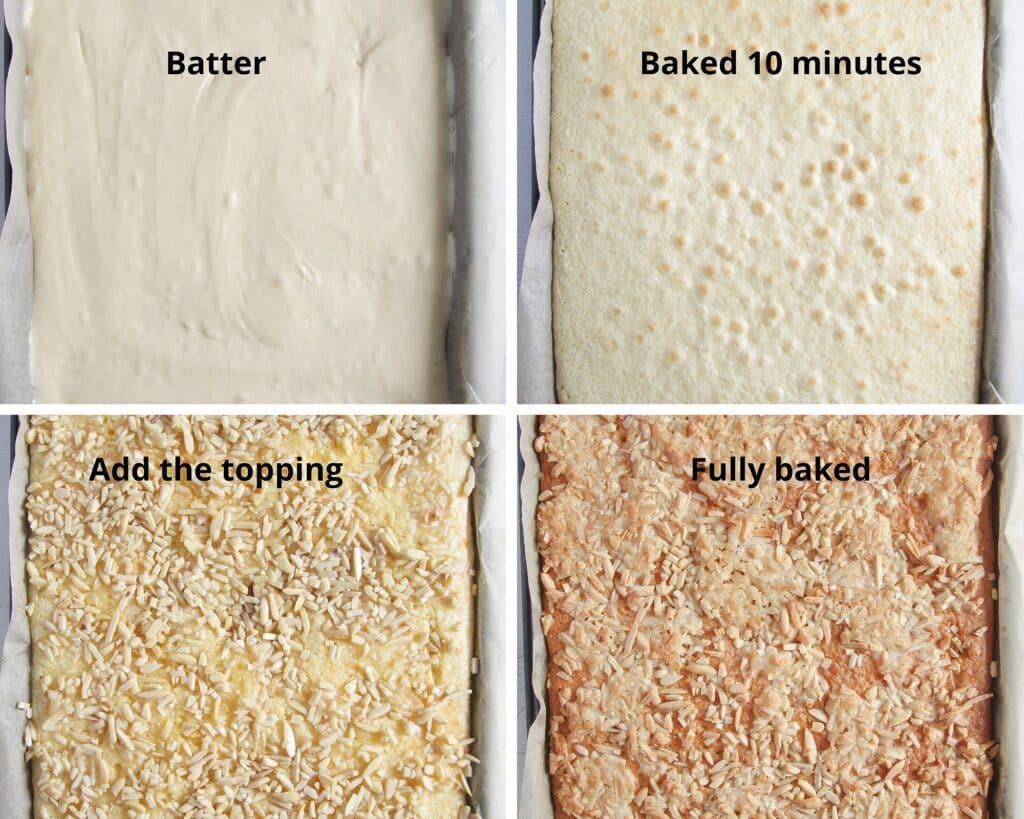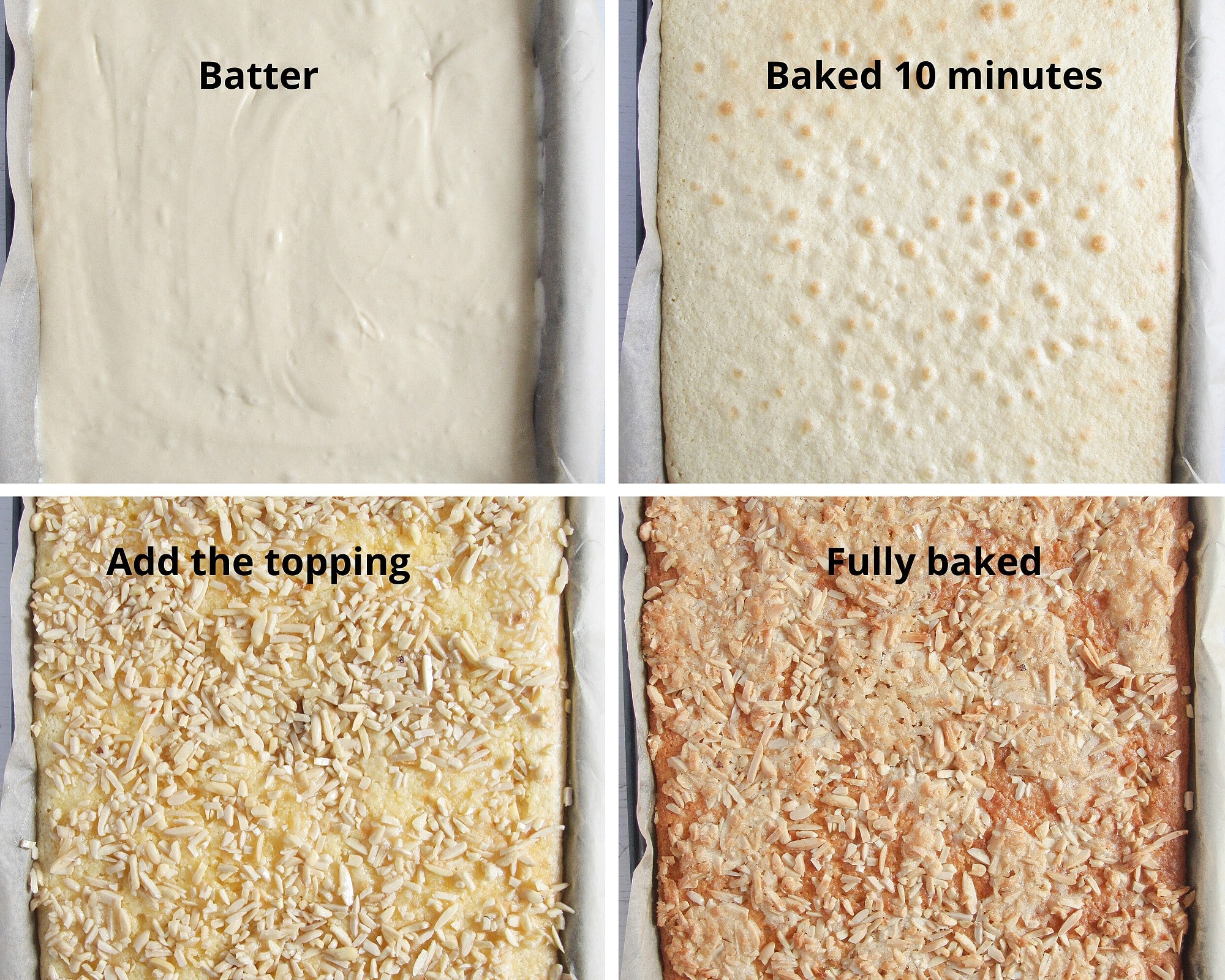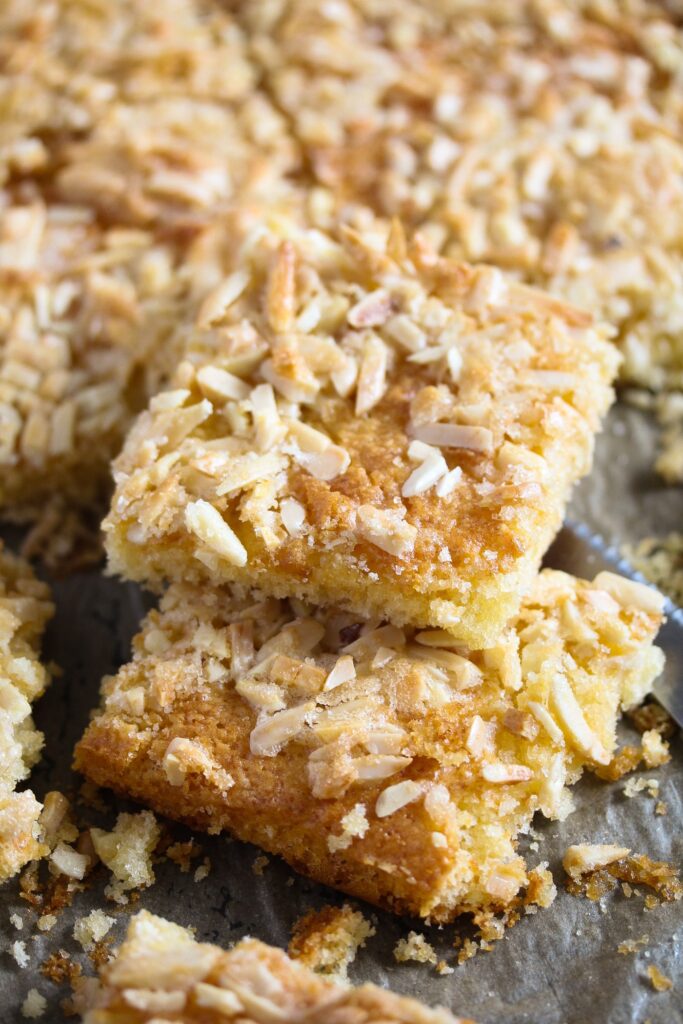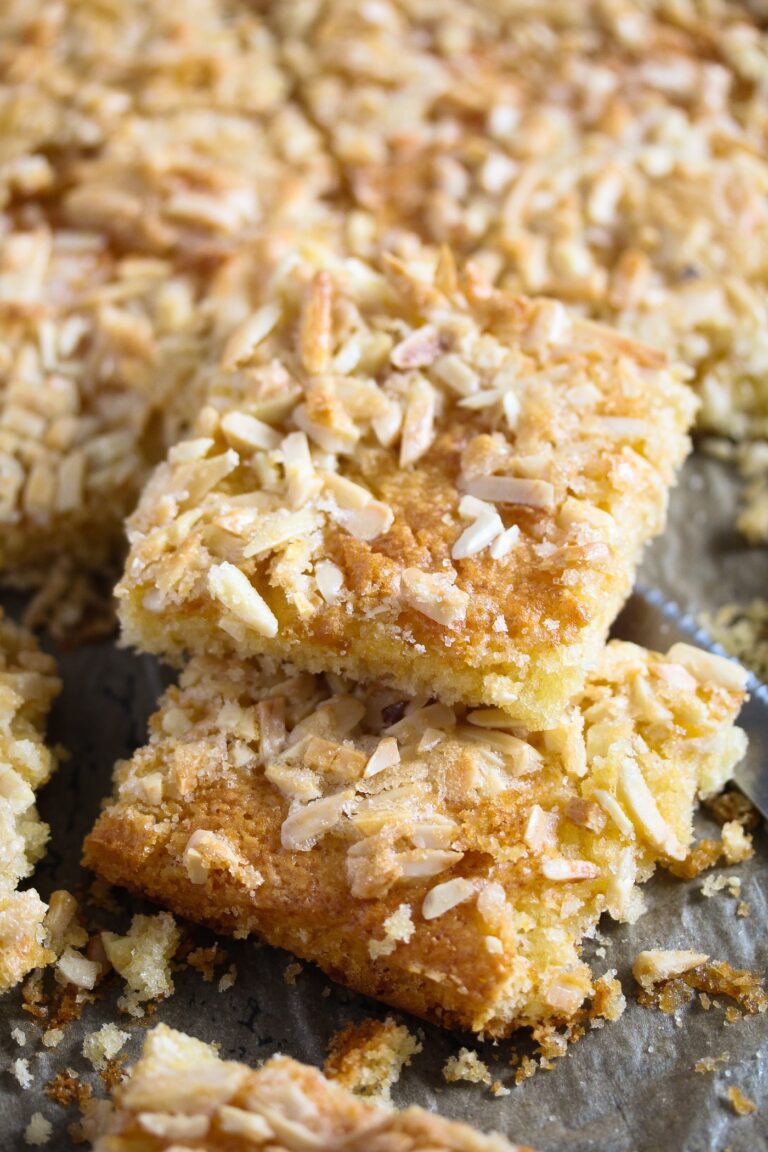 More German cakes?
PASSION FRUIT CHEESECAKE – This passion fruit cheesecake is a typical German cheesecake made with quark and cream.
GERMAN PLUM CAKE WITH STREUSEL – Zwetschgenkuchen with streusel, a standard recipe in any German kitchen or bakery.
RED CURRANT STREUSEL CAKE – A typical German streusel dessert loaded with fresh red currants and topped with a delicious and easy to make coconut streusel.
MANDARIN ORANGE CAKE WITH CREAM – Another mother-in-law typical German recipe, one of my favorite cakes ever!
APPLE CRUMBLE CAKE – A soft and moist German apple crumble cake with a crisp crumb topping, a perfect autumn recipe.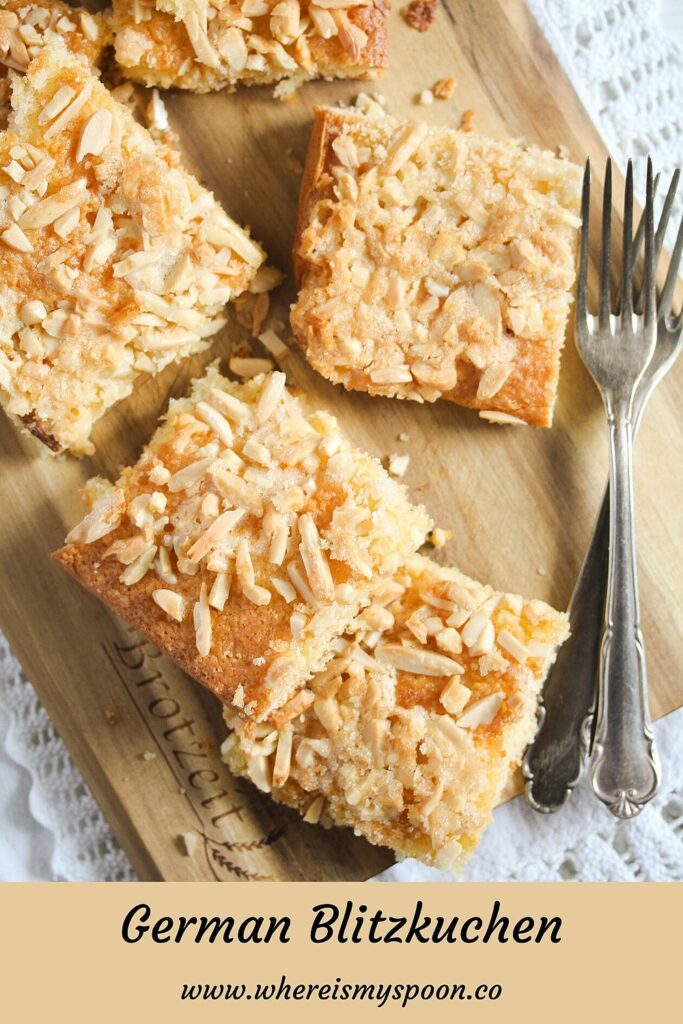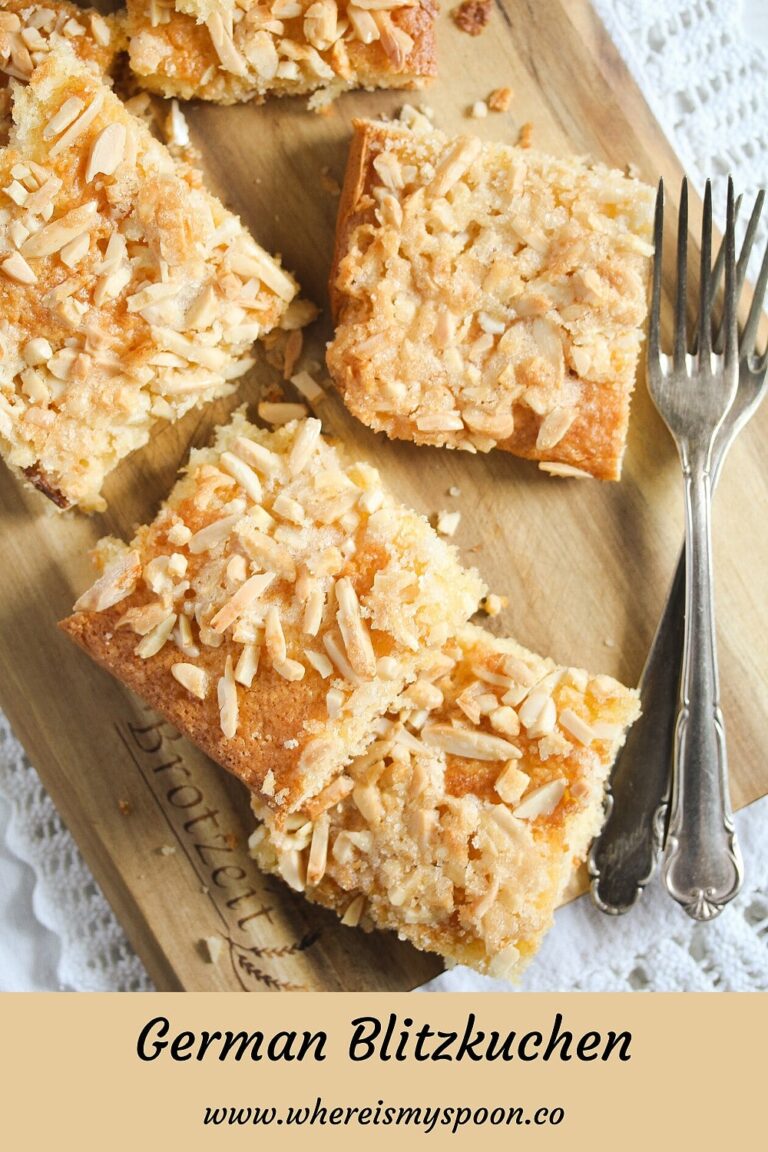 Blitzkuchen Recipe
Blitzkuchen or lightning cake, a delicious, soft German coffee cake with almond sugar topping, ready in less than 30 minutes.
Ingredients
Cake:
200 g/ 7 oz/ 1 cup granulated sugar
250 g/ 8 oz/ 2 cups all-purpose flour
3 ¾ teaspoons baking powder
200 ml/ 6.7 fl.oz/ scant 1 cup heavy cream
4 eggs
Topping:
175 g/ 6.2 oz/ ¾ cup unsalted butter
100 g/ 3.5 oz/ ½ cup granulated sugar
200 g/ 7 oz/ about 3 cups flaked almonds
Instructions
Cake:
Preheat the oven to 175 degrees Celsius/ 350 degrees Fahrenheit. Line a baking tray of about 40x30 cm/ 16x12 inches with baking paper.
Mix together the sugar, flour, and baking powder in a large bowl. Pour in the heavy cream and add the eggs. Mix until incorporated. Pour the mixture onto the prepared baking tray, and bake the cake for 10 minutes.


Topping:
In the meantime, melt the butter, add the sugar and the almonds and mix well.
Spread this mixture over the cake and bake for 10 - 15 minutes more until the cake is golden brown.

Nutrition Information:
Yield:

16
Serving Size:

1 square
Amount Per Serving:
Calories:

344
Total Fat:

21g
Saturated Fat:

9g
Trans Fat:

0g
Unsaturated Fat:

11g
Cholesterol:

84mg
Sodium:

199mg
Carbohydrates:

34g
Fiber:

2g
Sugar:

20g
Protein:

6g
Nutrition information isn't always accurate.