A refreshing and aromatic cheesecake with quark, whipped cream and maracuya or passion fruit juice, a typical German no bake cheesecake.
I've started the month on Where Is My Spoon with one of my favorite cakes ever: The Best Carrot Cake with Coconut and Lemon Glaze. I will continue with many other favorite cakes, today's Passion Fruit or Maracuya Juice Cheesecake with Quark and Cream followed by several other cakes. All of them are the top of my list when it comes to cakes, my absolute favorites, cakes I have been baking dozens and dozens of time during the last 10 years or so.
I've called this cake a no bake cheesecake although you do have to bake the base. Otherwise this is a typical German no bake cheesecake as opposed to the other sort of German (quark) cheesecake, which has to be baked.
The result is a completely different cake, something more refreshing and light (not in calories, but in taste), a cake suitable for sunny warm days, when you want to have something refreshing with your coffee.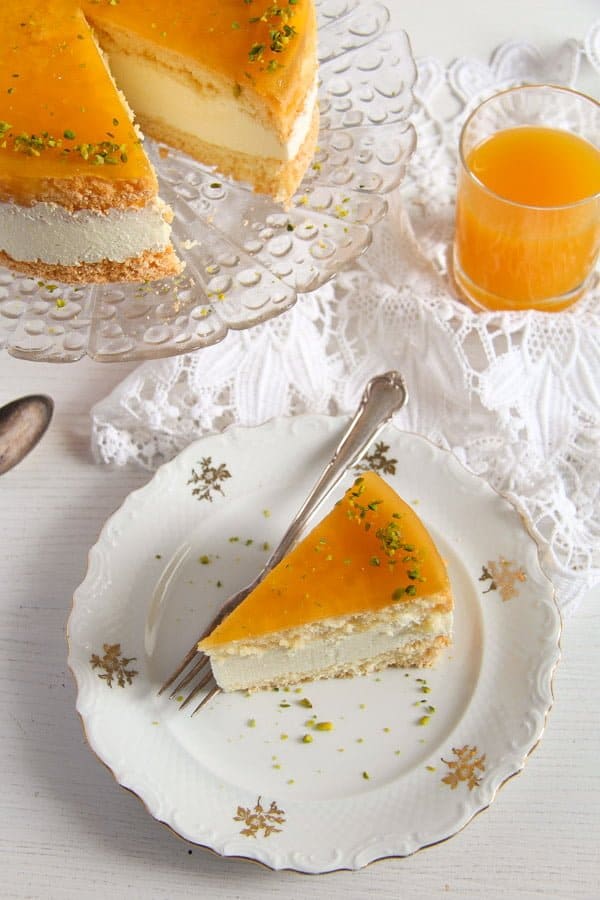 Passion Fruit or Maracuya Juice Cheesecake with Quark and Cream
What is quark?
Quark is a very common ingredient used in cooking and baking in Germany. According to Wikipedia  "Quark or quarg is a type of fresh dairy product made by warming soured milk until the desired amount of curdling is met, and then straining it. It can be classified as fresh acid-set cheese. Traditional quark is made without rennet. It is soft, white and unaged, and usually has no salt added."
Quark is not only common in Germany, but also pretty much all over Europe, in all German speaking European countries, but also in Poland and Russia.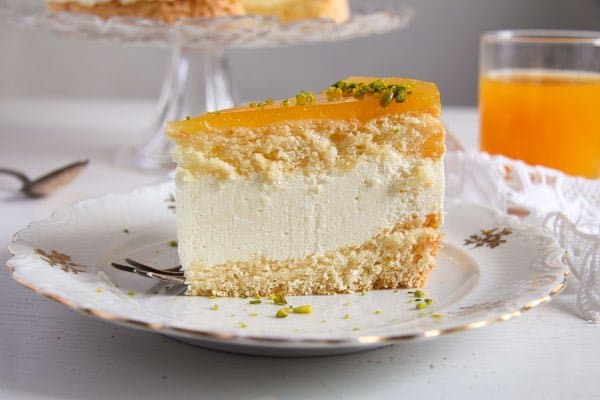 In Germany we can buy low-fat quark, which has pretty much no fat at all, quark with 20% fat or quark with 40% fat. To tell you the truth, I don't even remember if I have ever bought the 40% fat quark, I rarely buy the 20% fat one (only when purposely specified in a cake recipe), but I buy the low-fat one all the time, I have it quite often in my fridge.
I use low-fat quark in most of the cake recipes made with quark, I use it often in this Egg Salad or Egg Sauce with Greek Yogurt and Chives . I use it for many other bread spreads, I make desserts with quark, something like this Strawberry Sauce Mascarpone Quark Dessert with White Chocolate or this Amazing Strawberry Tiramisu with Mascarpone and Quark.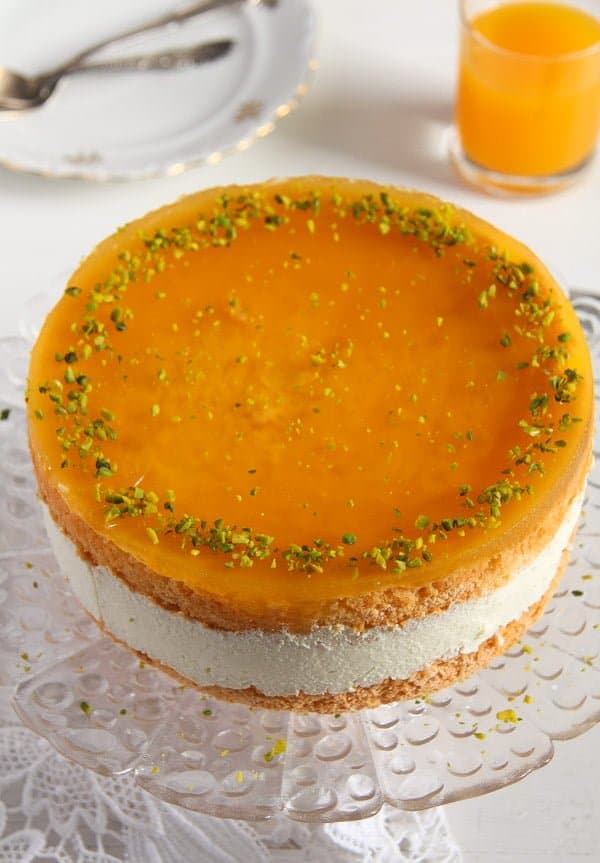 How to replace quark in recipes?
If quark isn't readily available in your area, there are ways to substitute it in a satisfactory manner. Similar products are cream cheese, Greek yogurt, fromage frais cottage or farmer's cheese. Try to use a product that has a similar fat content to the type of quark indicated in a recipe.
So, for instance, as I use low-fat quark in this recipe for Passion Fruit or Maracuya Juice Cheesecake with Quark and Cream, I would replace that with a smooth farmer's cheese (which is normally pretty low-fat) or lower-fat cream cheese.
However, that is not mandatory, this kind of cakes are pretty versatile, so if you use full-fat cream cheese or even mascarpone the cake will still taste great, but it will be more calorie laden, so the choice is yours.
Another wonderful way of replacing the quark in this cake recipe (or another no-bake cheesecake with quark) is with a mixture of full-fat cream cheese and yogurt, I use that combination in another one of my favorite cakes Strawberry Cheesecake with Cream Cheese and Yogurt Filling and I love it.
When making a bread spread, for instance, I would definitely go for cottage or farmer's cheese when unable to find quark.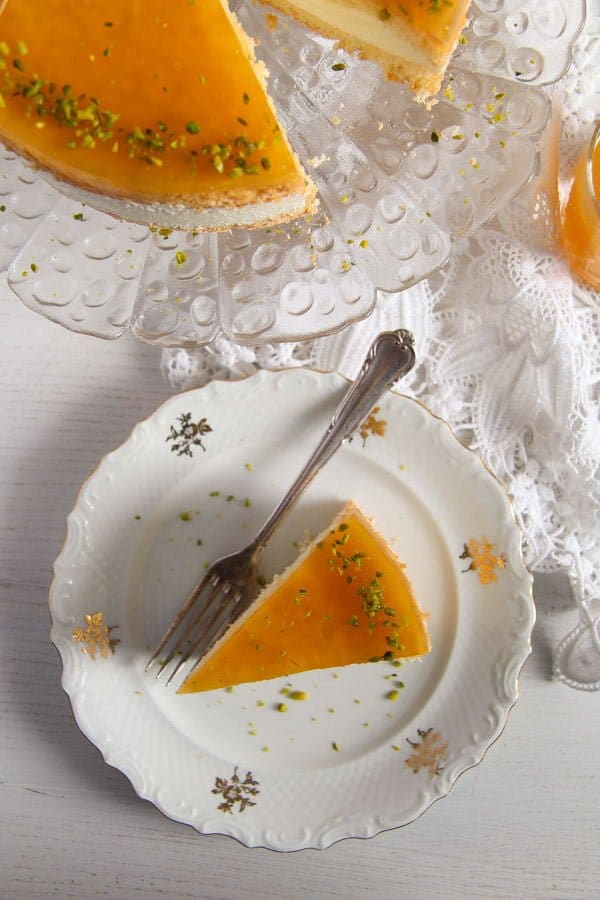 The ingredients for the Passion Fruit or Maracuya Juice Cheesecake with Quark and Cream
We talked about the quark already.
Otherwise you will need double or heavy cream for the filling. Or whipping cream, whatever it is called in your part of the world. Make sure to use pure cream and not some sweetened or no dairy weird product. I am thinking of Romania when I say this, it is very common to use a no dairy, sweetened cream there, which is thoroughly disgusting and which will ruin any cake you use it for.
For very detailed instructions on working with gelatin, have a look at this post: No Bake Ricotta Sour Cream Cheesecake with Raspberries.
I use passion fruit or maracuya juice to make this cake, I don't normally drink this juice or any other kind of juice, but I find this passion fruit juice wonderful in this cake, it has a very particular and very aromatic taste.
I use the German Dr. Oetker Tortenguss – Glaze (clear) Dr. Oetker Tortenguss Klar (Clear Cake Glaze )- 3 pack
 for the top of the cake. Use a similar kind of jelly powder, which will stiffen the glaze, if Dr. Oetker glaze is not available.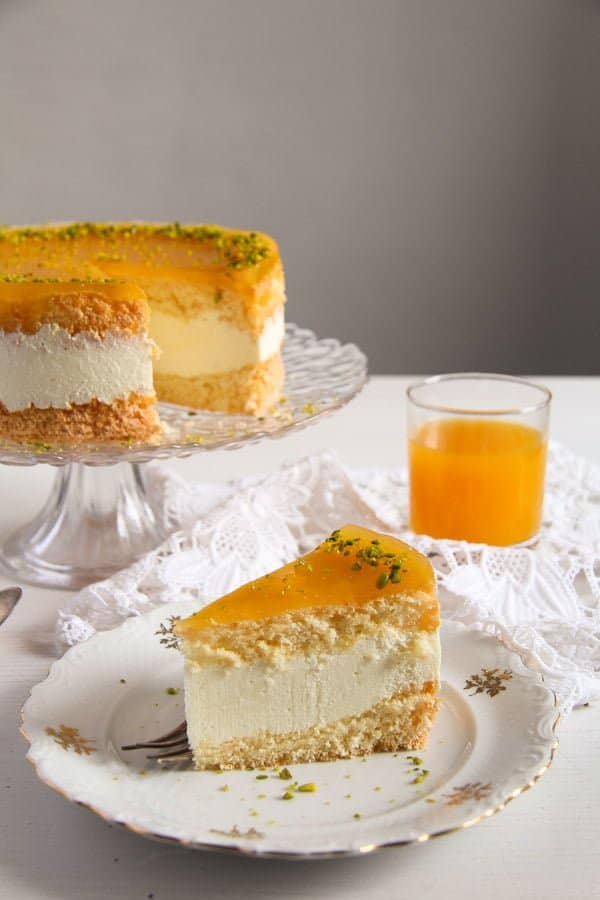 Other recipes using quark: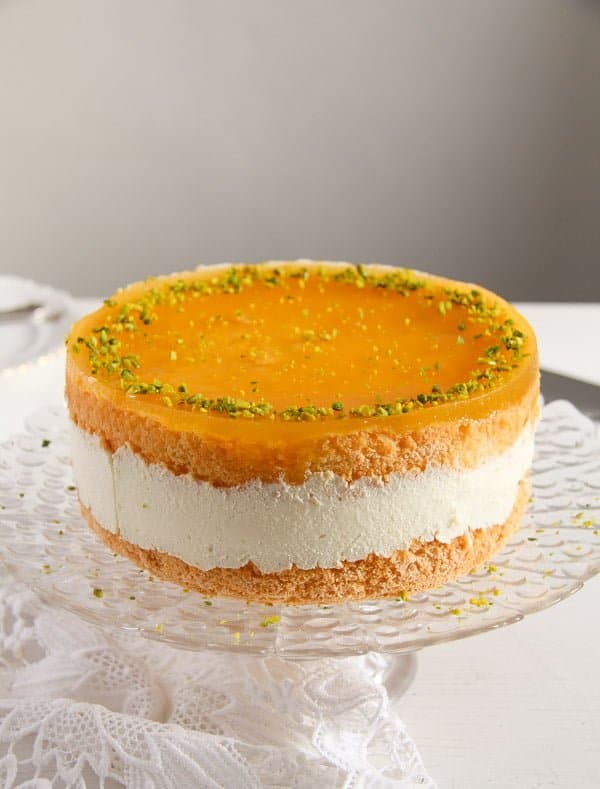 This post might contain affiliate links. The price you pay as a consumer does not change, but if you make a purchase we will receive a commission which helps support the blog.