This is a repost from May 2015.
The best strawberry cheesecake I have ever made, a soft base with a delicious cream cheese, yogurt and heavy cream filling, topped with beautiful and aromatic strawberries.
This Strawberry Cheesecake with Cream Cheese and Yogurt Filling has been a standard in my kitchen for more than 8 years now, I bake it every spring at least two or three times. And I have an acquaintance that orders this cake for her birthday in May every year, it must be the 4th or 5th year in a row now.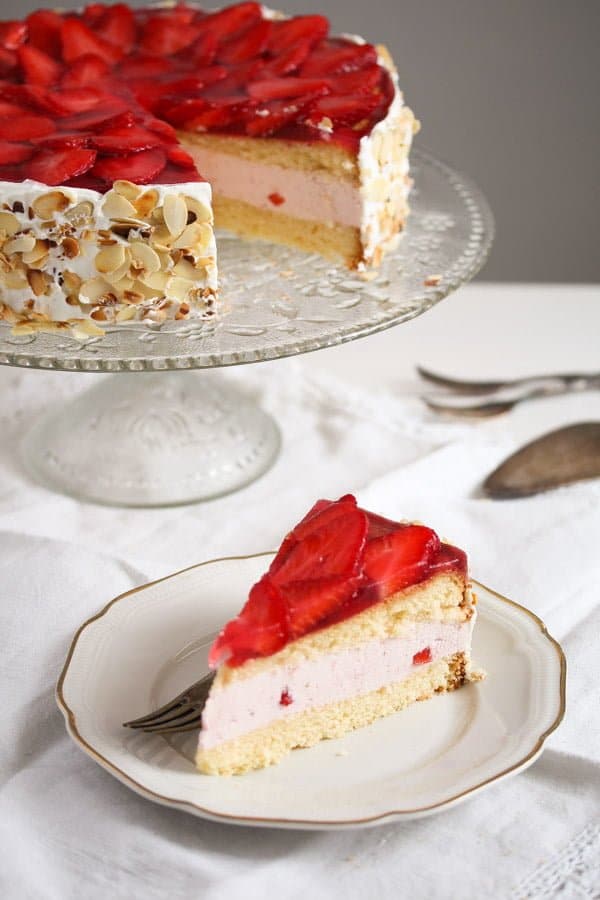 Strawberry Cheesecake with Cream Cheese and Yogurt Filling
Ingredients for the Strawberry Cheesecake with Cream Cheese and Yogurt Filling
This Strawberry Cheesecake is really good, I have never eaten a better strawberry cake. You can make it using other berries as well, I tried it with raspberries also, but still I like the strawberry original best. The cheese layer is so fine and not overly sweet and tastes wonderfully of strawberries, the cake base is soft and sweet and almost melts in your mouth. Other benefits of the cake: it is easy to make, but it will still look impressive on your coffee table.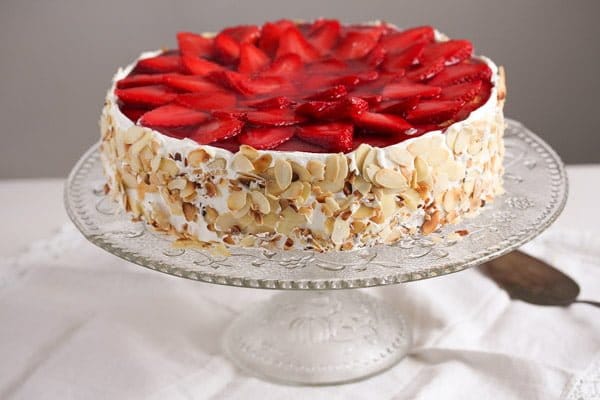 I use a combination of cream cheese, creamy yogurt and heavy cream to make the filling, probably my favorite combination for a no bake cheesecake. Make sure to use pure heavy/double cream and not a sweetened version of it.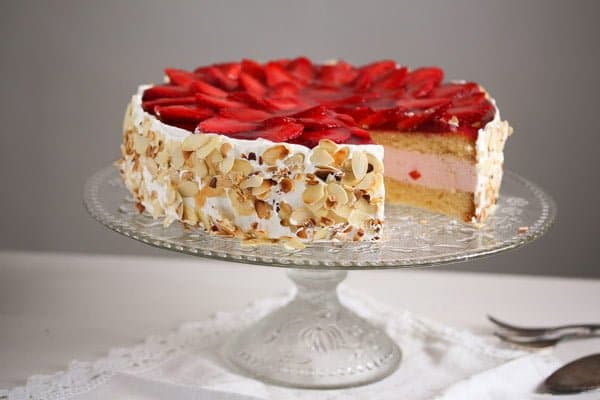 I use Dr. Oetker gelatin sheets to help set the filling. For more details about working with gelatine see this post No Bake Ricotta Sour Cream Cheesecake with Raspberries.
6 gelatin sheets from Dr. OetkerGelatine Weiss, Gold Extra (Dr.Oetker) 3pk
are the equivalent of 1 Dr. Oetker packet of gelatin, which weighs 9 g/0.3 oz and it's enough to bind 500 ml/ 2 cups liquid (that's what the package says, but I always use gelatin according to the recipe instructions). When using ground gelatin instead of gelatin leaves, follow the packet's instructions, mine says that I have to mix the ground gelatin with 4-6 tablespoons cold water and let it bloom for 10 minutes. Dissolve the gelatin and mix with the filling as instructed in the recipe.
1 packet Dr. Oetker red fruit tart glaze Dr. Oetker Tortenguss Rot (Red Cake Glaze )- 3 pack
for 250 ml/1 cup water or water mixed with juice weighs 12 g/0.4 oz. I always follow the packet's instructions when I make the glaze. If you cannot find red glaze, clear one is ok as well, the difference is not very noticible, as the strawberries have so much color themselves.
1 packet Dr. Oetker cream stabilizer Dr. Oetker Sahnesteif ( Whip Cream Stabilizer ) -5 pack
weighs 8 g/ 0.3 oz.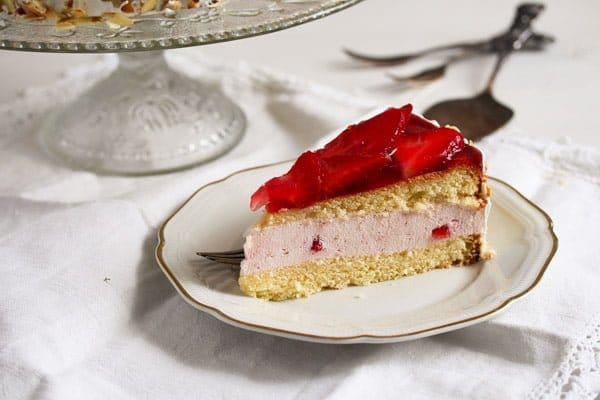 Other strawberry desserts: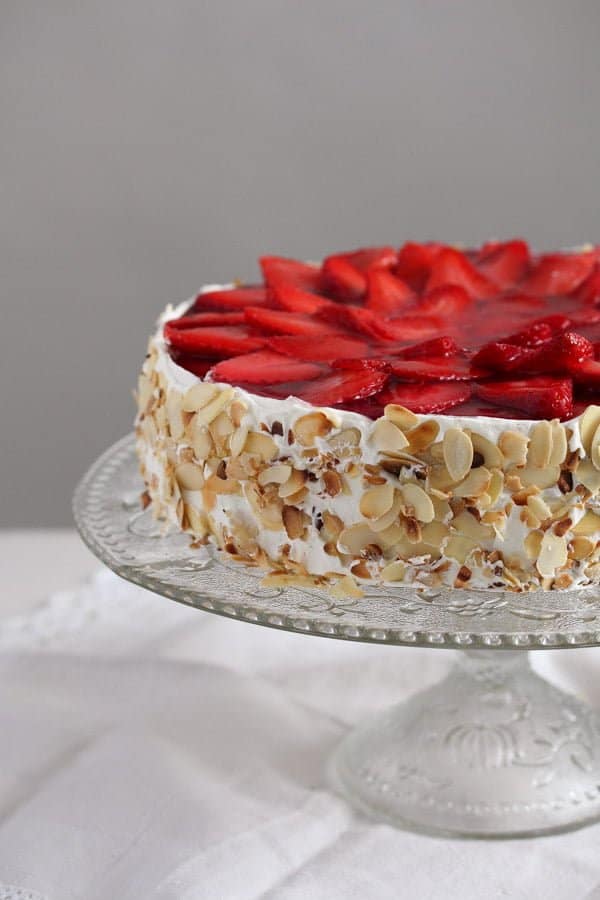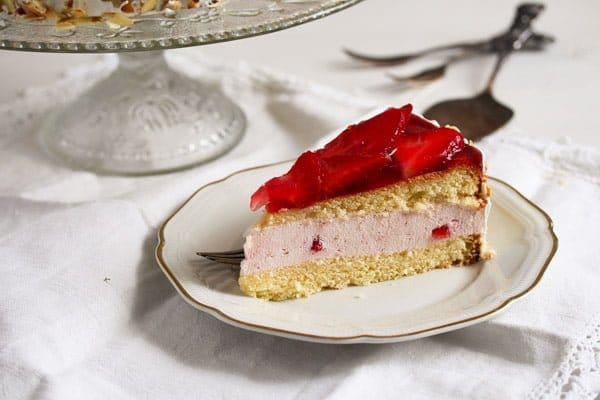 This post might contain affiliate links. The price you pay as a consumer does not change, but if you make a purchase we will receive a commission which helps support the blog.