An amazingly fluffy and comforting pancake served with a deliciously aromatic warm strawberry sauce.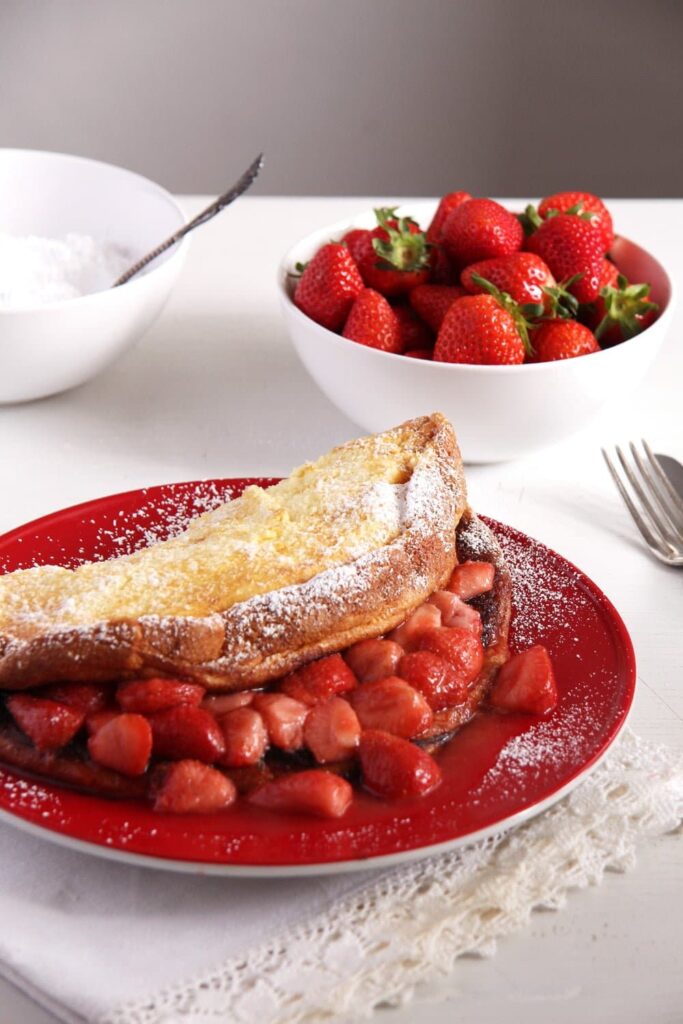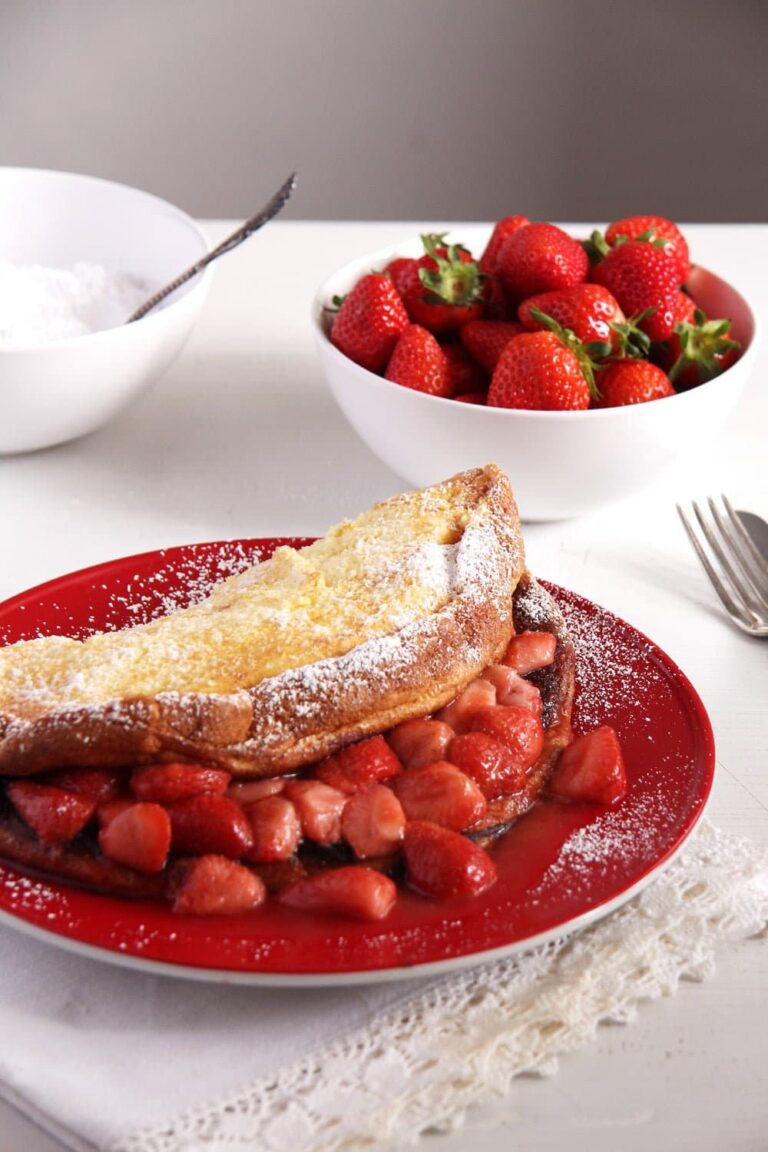 This is one of those recipe I knew I have to make the first time I saw it. And not only kept it in mind for later, but actually made it one day later, I only had to buy the strawberries. I found the recipe on Chefkoch, but I can imagine this being an American recipe shared by another delighted home cook, who found the recipe somewhere online.
I don't know if I mentioned before, but I think there is hardly anything that I like eating as much as I like eating crepes or pancakes. I put crepes first because they are the "normal" thing for me, as a Romanian, we only had thin crepes there and I only got to know the thick and fluffy American-style pancakes as a grown-up. But I love them too, almost just as much as I love crepes. 🙂 So this slight crepes/pancake obsession made me try dozens and dozens of different recipes. I think the "worst" crepes/ pancake time in my life was during my second pregnancy, I used to make crepes or pancakes at least once a week during that time. The result: my daughter loves crepes probably even more than I do… she would eat them anytime of the day, either sweet or savory.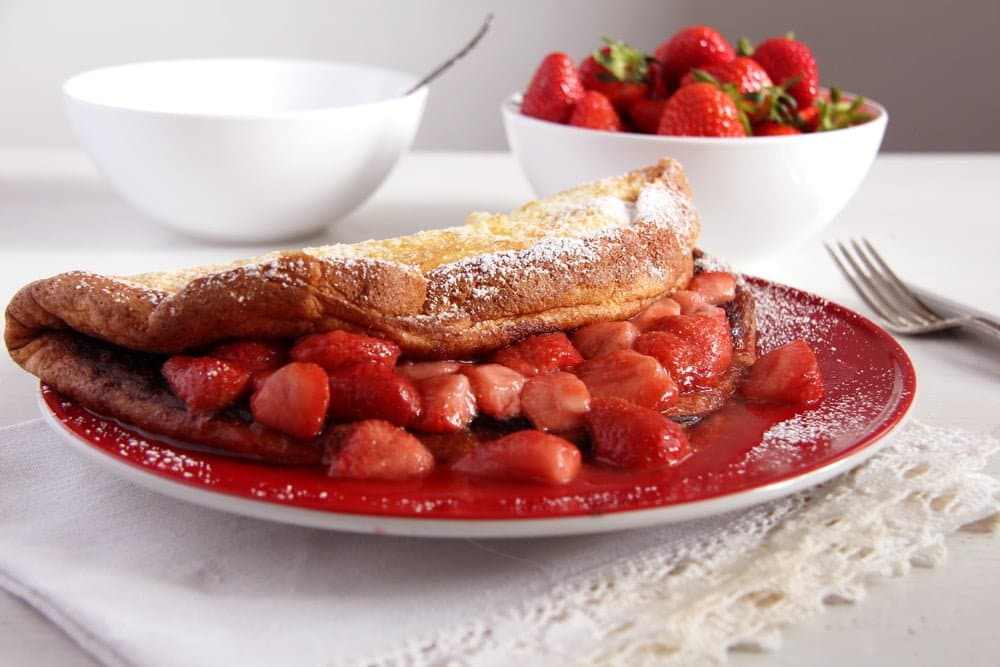 It was the first time I made one of these huge pancakes, you have to give it a try, it is so wonderfully fluffy, such a delight! Not to mention how easy it is to make, when you only have to cook just a large one instead of dozens smaller ones.
Oh, and maybe I should mention at this point, this new series is not about pancakes but about strawberries, so actually I should write more about the strawberry sauce accompanying the pancake… 🙂 .
So the strawberry sauce: you definitely have to try this, either with this huge oven pancake or with regular pancakes, crepes or waffles. It is sooo good! It was the first time I had warm strawberries, never really could imagine eating warm strawberries before, but you really have to try them, sooooo delicious.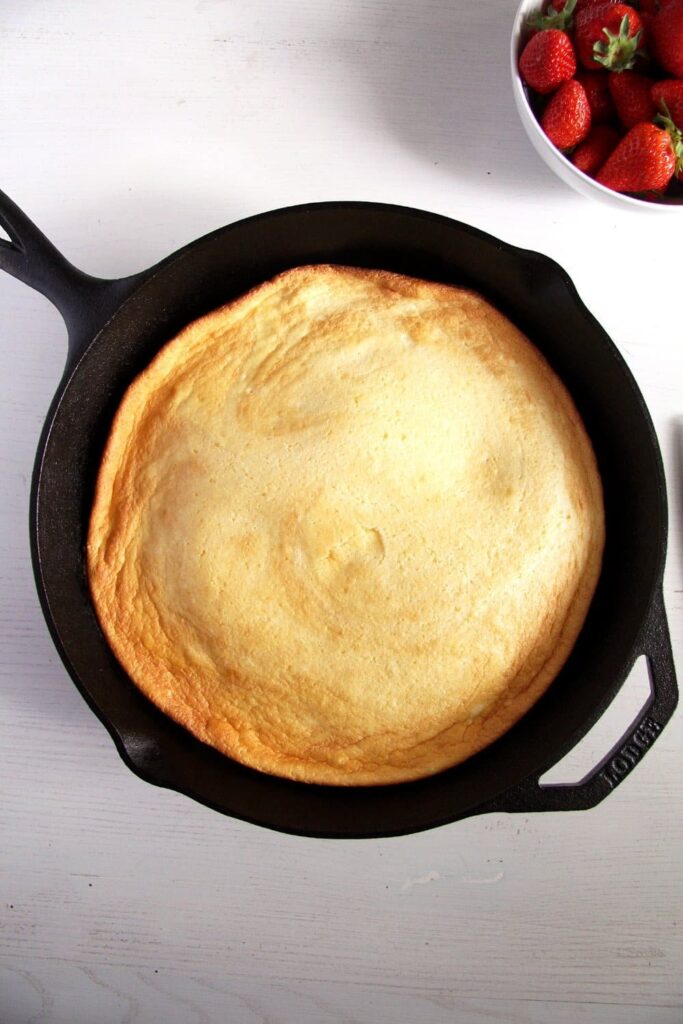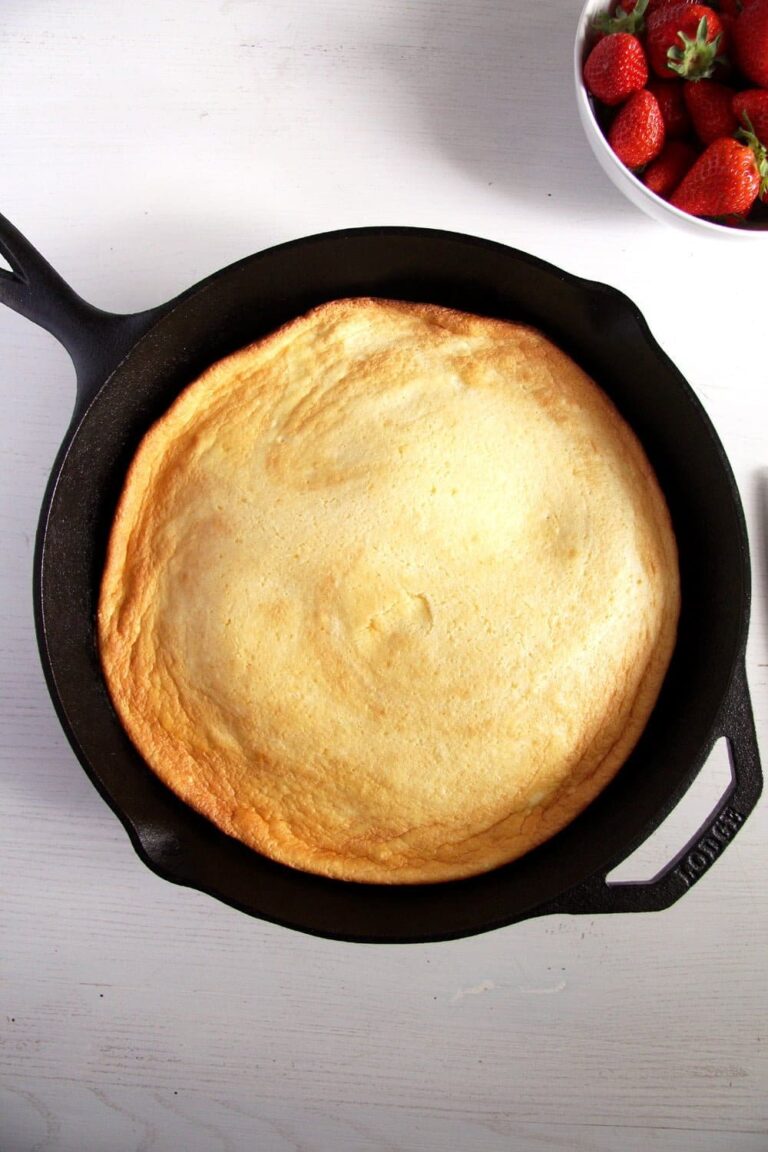 I think this recipe for warm strawberry sauce to be very suitable when you happen to buy some strawberries, which are not exactly at their best, meaning under ripe. We do have some of those, unfortunately, in the supermarket, especially at the beginning of the season. Nobody really wants to eat them then, so they end up in a smoothie or something similar. But this recipe offers a wonderful solution, the honey and the butter enhance the strawberry aroma and they get soft and nice due to the short cooking time.
The recipe is supposed to serve 2, but it was enough for all four of us, two adults and two children. I am categorizing it under Mains as well, because we really had it for lunch one day, it was completely satisfying, we didn't need anything else. But, of course, it is actually a dessert.
And one more word, while this post goes live I am in the hospital having the right half of my thyroid removed, so keep your fingers crossed for me. It is not a complicated or very dangerous procedure, but I cannot say that I am not afraid. 🙁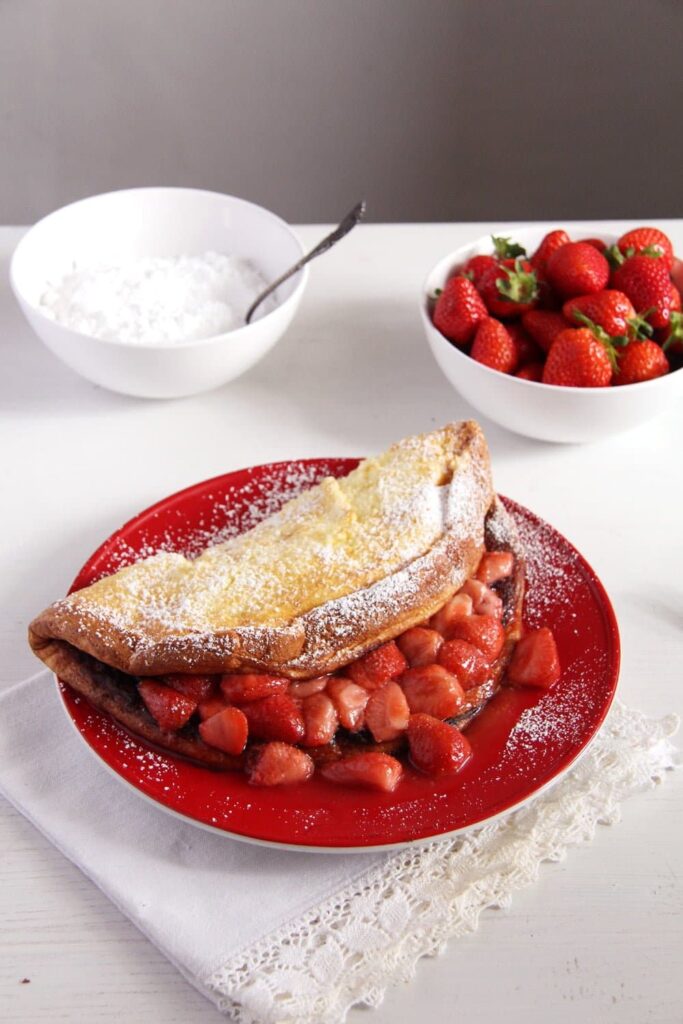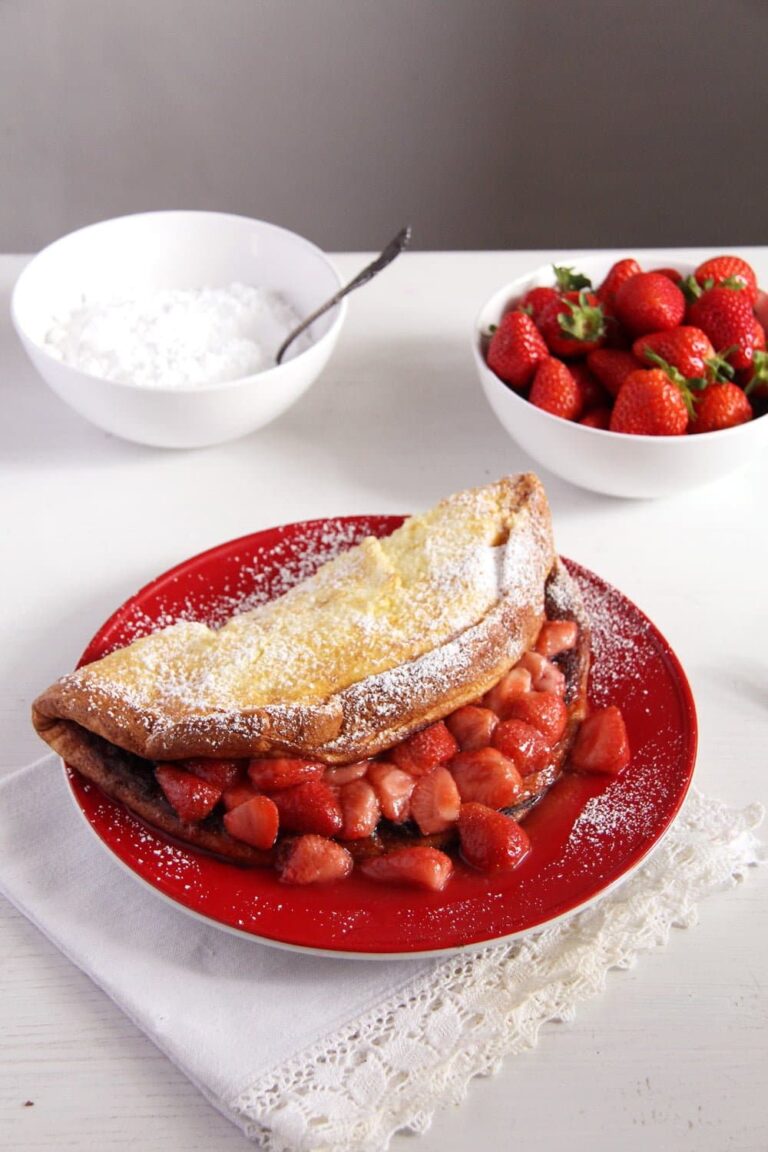 Others you might like: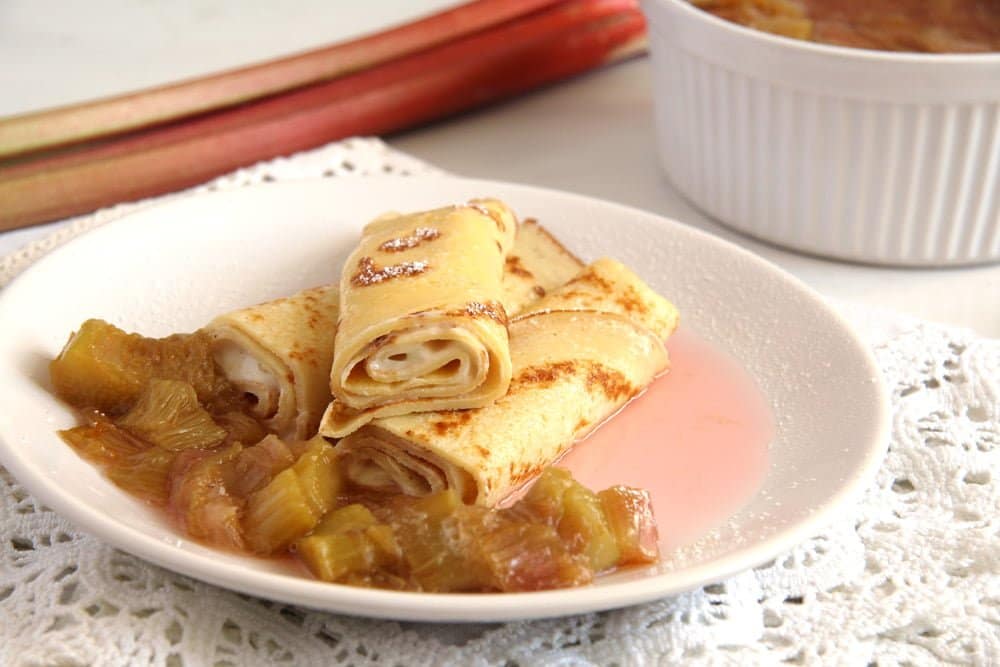 Wild Garlic Crepes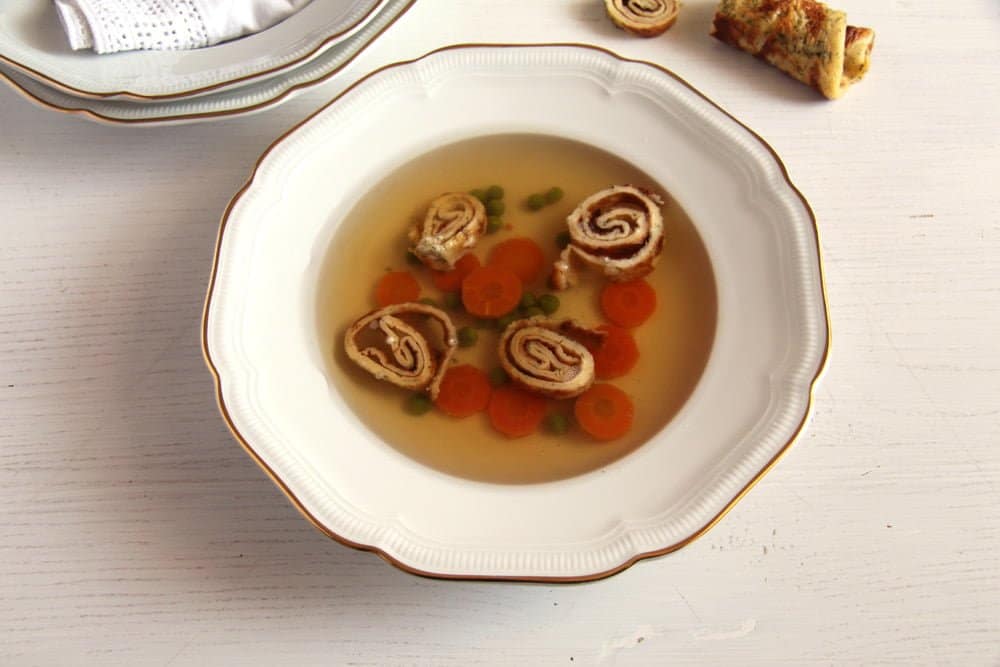 Beef Broth and Dill Pancakes