Last Updated on 19/08/2020 by Adina
Easy to make German potato pancakes or fritters, which can be served either as a side dish for a savory meal or as a delicious dessert.
Potato pancakes, potato fritters, Kartoffelpuffer, Reibeplätzchen and so on, there are many names for this simple and utterly delicious potato recipe. They are a traditional dish in Germany and not only, they are also a part of the traditional cuisine of many other countries in Europe, such as Poland, Russia, Austria and so on. And of course, the Transylvanian Saxons in Romania have always had their own version of the Kartoffelpuffer, the one I will present you today.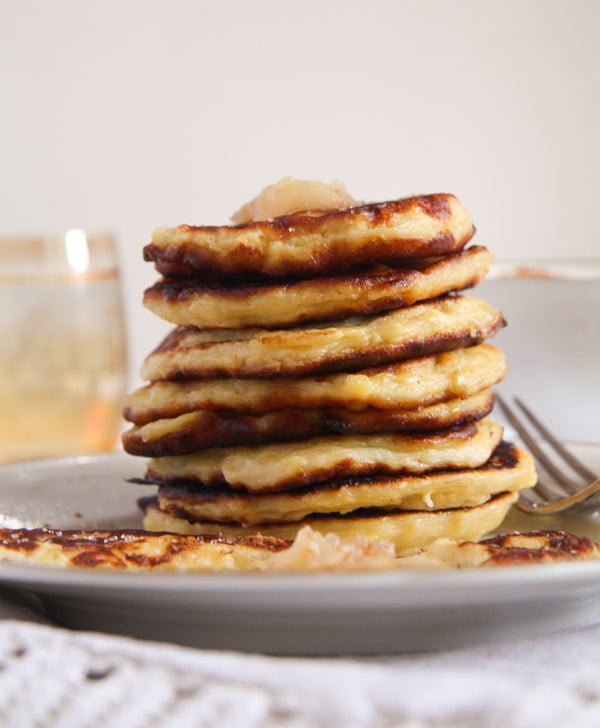 I have actually eaten potato fritters or Kartoffelpuffer for the first time in Germany, they were not something my grandmother ever cooked. But when I got here this was one of the first typical German dishes I have ever eaten, cooked by my husband's grandmother – Oma, who still lived in the house at the time. She always served the Reibeplätzchen or potato fritters in the traditional way with apple sauce and my husband was always particularly happy when she would make these for us.
I did got her recipe and made the Reibeplätzchen myself many times, my husband loves them and nowadays my daughter is crazy about them too, it was just me that was always a bit unwilling to make them. Why? Well because they are very fatty, they are fried in lots of oil and the raw potato mixture just soaks up all that oil and even letting the fritters rest on kitchen paper will not help that much in absorbing the excess oil. They do taste delicious, but I have always felt so "done" after such a meal.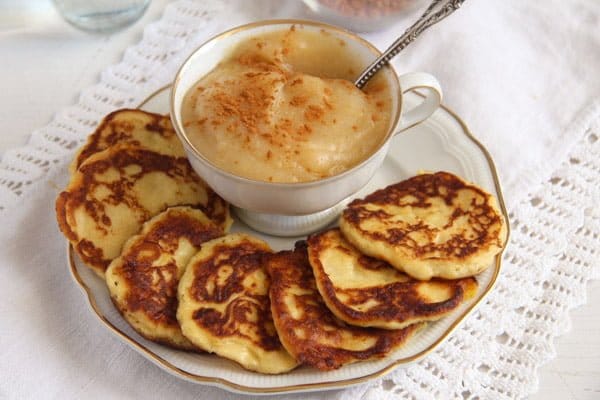 Quite a different story with this Saxon version of the potato fritters or pancakes. I have no idea if it is the fact that they are made with cooked potatoes (that's the main difference between the two recipes), however I was able to fry these delicious pancakes in a non-stick (pancake) pan just like frying regular pancakes, that is – I have only brushed the pan with a little oil between each batch of the pancakes and that was enough.
The pancakes turned out perfectly fluffy, lightly crisp on the outside and soft on the inside, so comforting and so good!!! I will admit that they are less crispy than the very crispy, oil fried and soaked Reibeplätzchen, but I so don't need that super oily crispness. I prefer them nice and tender!
But still, I would like to say it again, it is not that I don't think Oma's original Reibeplätzchen are not delicious, they truly are and maybe I will post that recipe too someday, I just prefer this less oily version.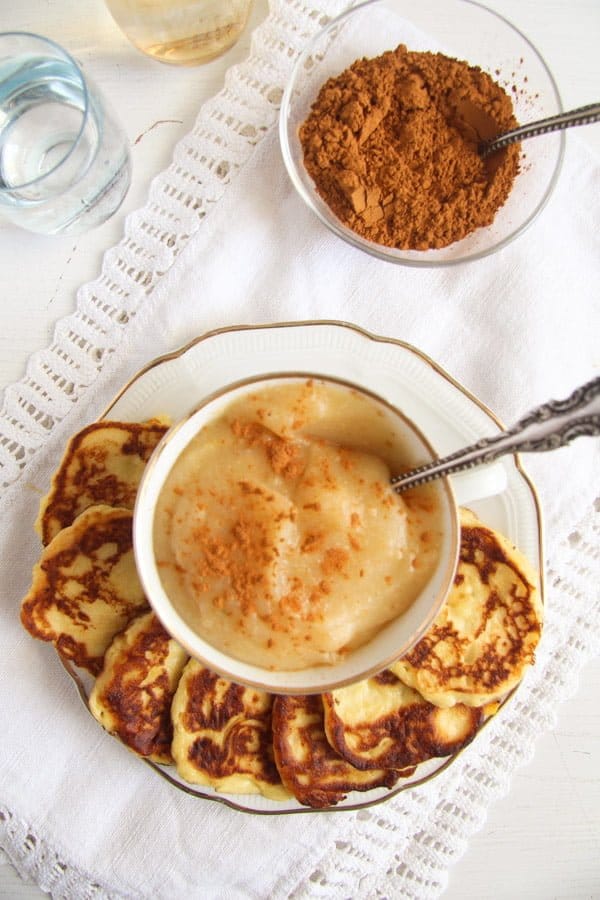 How to serve the Easy Potato Pancakes or Fritters?
Well, you really have a choice. You can have them as a side dish for soups, like for instance this Creamy Mushroom Soup with Cream Cheese , this Delicious Romanian Spinach Dill Soup with Omelet or this Creamy Sunchoke Soup with Sambal Oelek Bacon Topping . Or as a accompaniment to salads, such as this Roasted Beetroot with Crisp Chickpeas on Greek Yogurt or this Very Green Salad with Broccoli, Peas and Parsley . Or as a side dish for meat and sauce dishes, such as this Onion Pork Stew with Chickpeas and Beef Bone Broth or this Comforting and Tender Beef Apple Goulash.
Or you can have them as a sweet main meal with applesauce and cinnamon or with sweetened cottage cheese and banana slices or as breakfast or dessert with blueberry sauce for instance, plain sugar beet molasses or maple syrup. Or whatever other sweet topping you enjoy having on your regular pancakes.
I found the recipe in Olga Katharina Farca's Saxon Cookbook Das Kochbuch der Siebenbürger Sachsen: Mit geschichtlichem Überblick . I didn't change it, still my pancakes look completely different than the picture in the book. It doesn't matter: they were still the best Kartoffelpuffer/potato pancakes I have ever had. 🙂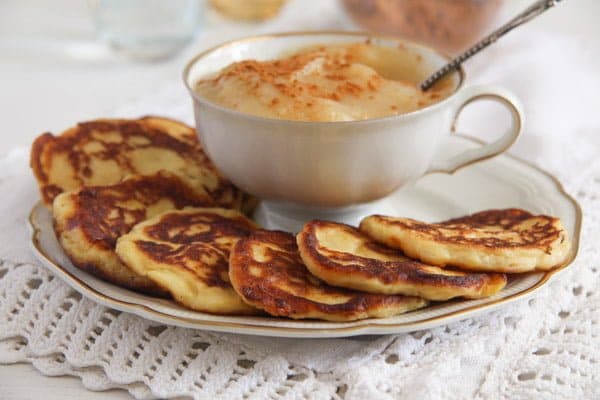 Ingredients
500 g/ 17.6 oz boiled potatoes in the skin

1 teaspoon salt

125 g/ 4.4 oz/ 1 cup + 1 ½ teaspoons all-purpose flour

4 tablespoon sour cream or smetana

3 tablespoons milk

3 eggs

a little oil for frying the pancakes
Instructions
This is a good recipe for using leftover boiled potatoes in the skin. But if you don't have them, bring some water to a boil, salt it and boil the potatoes in the skin, for about 20 minutes or until tender. Drain and let cool.
Peel the cooked potatoes and mash them with a potato masher or a fork. Add the salt, flour, sour cream, milk and lightly beaten eggs. Stir to mix.
Heat about 1 teaspoon of oil in a non-stick pancake pan or regular non-stick pan. Spread the oil in the pan using a brush.
Give 1 tablespoon of batter in the pan, level nicely and form a round pancake. Repeat with as many pancakes as you can fit in the pan, I can make 4 at a time in my pan.
Fry the pancakes on medium heat for about 2 minutes on each side or until nicely colored and cooked through.
Add another teaspoon of oil to the pan before frying the following batch.
Keep warm in the oven while you fry the rest of the pancakes.
Serve sweet or savory as suggested above.
This post contains affiliate links. The price you pay as a consumer does not change, but if you make a purchase we will receive a commission which helps support the blog.