Our favorite homemade blueberry sauce is easily canned and delicious on top of pancakes, crepes, waffles, milk rice, ice cream, or whatever kind of dessert you like.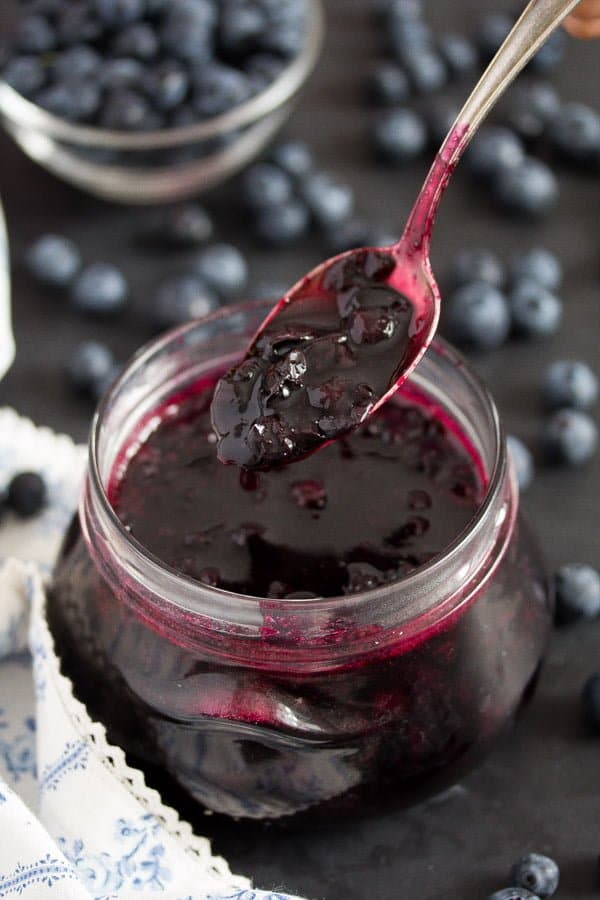 Two weeks ago, on a sunny day we went blueberry picking. It was so nice, and I have wanted to post about that ever since, but somehow I didn't manage until now. A few days ago, I made blueberry pancakes, ate them with some blueberry sauce, and thought that it would be a shame not to share this wonderful recipe.
I don't know about you, but I love picking things: berries, fruit, herbs, flowers. It feels so nice to be out there in the fields or in the woods, in silence, enjoying whatever nature has to offer. And after picking stuff, I love finding ways of cooking, baking, or preserving it.
We are lucky enough to have blueberry fields not far away from us: two places where the blueberries grow wild and you can pick them without paying anything, and this huge plantation where you have to pay, but where picking is so much easier, and the berries are larger and sweeter.
Until this year, we only went wild blueberry picking, but to go to this plantation was actually so much nicer. One doesn't have to search for the berries, the children can eat as much as they can without me worrying about the fox tapeworm, and the berries are not sprayed with chemicals, so I don't have to worry about that either.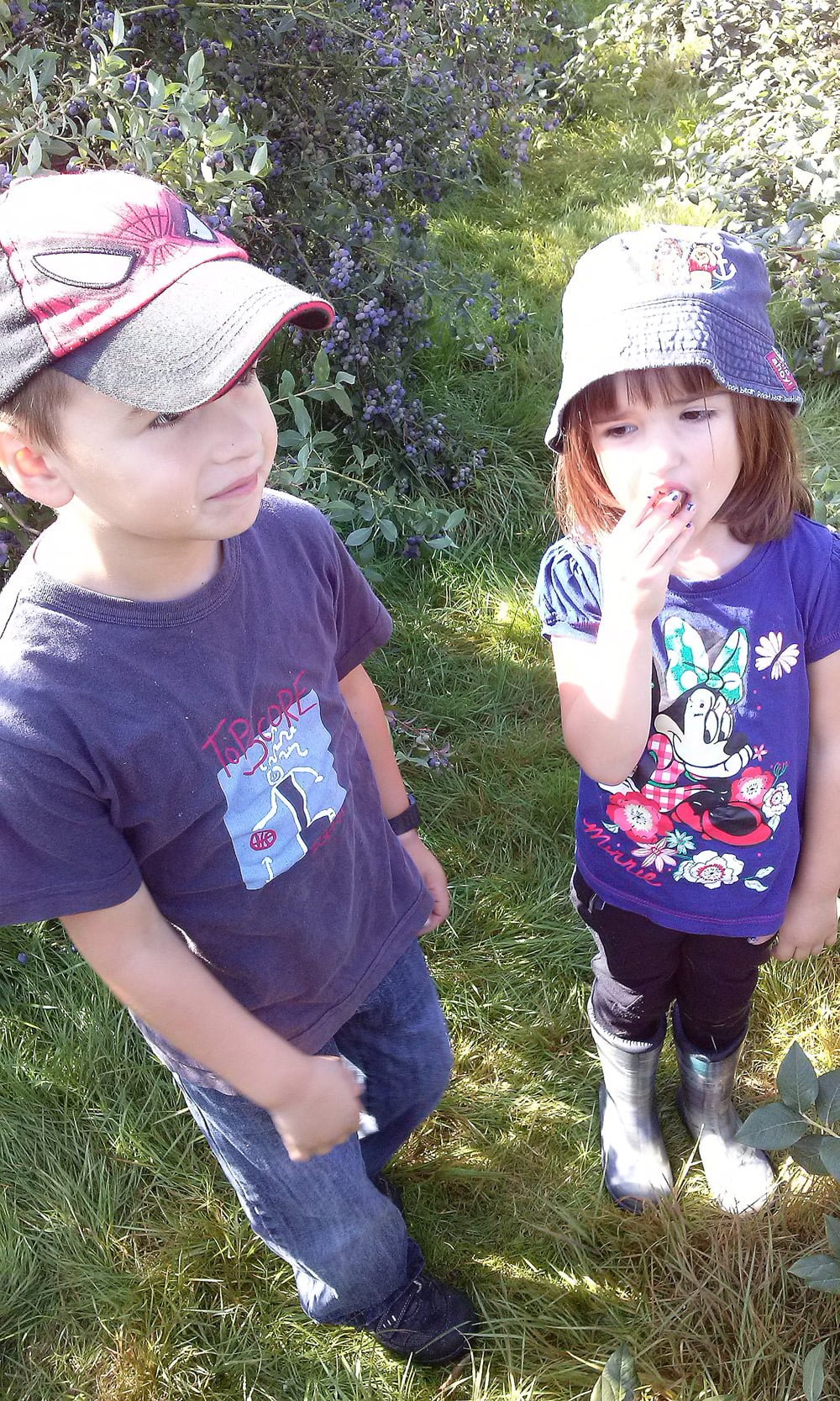 In about 2-3 hours, we had about 10 kg of blueberries, and we had probably eaten 1 kg directly from the bush. And the children, especially my girl, loved it. She sat down as soon as we got there and picked and picked and picked. The whole time. My boy picked for about half an hour, ate a lot, and then started chasing a dog around the place. It made me think of men being hunters and women gatherers. 🙂
And fast forward to 2018 when I am updating this post. We have been to the same blueberry field 2 days ago and picked 17 kg/ 37 lbs of blueberries in just a little over one hour. I had never seen the bushes so full of berries before; it was amazing! But we do have the most amazing summer I have ever experienced in Germany during the past 14 years I have been living here. Only heat and sunshine since April.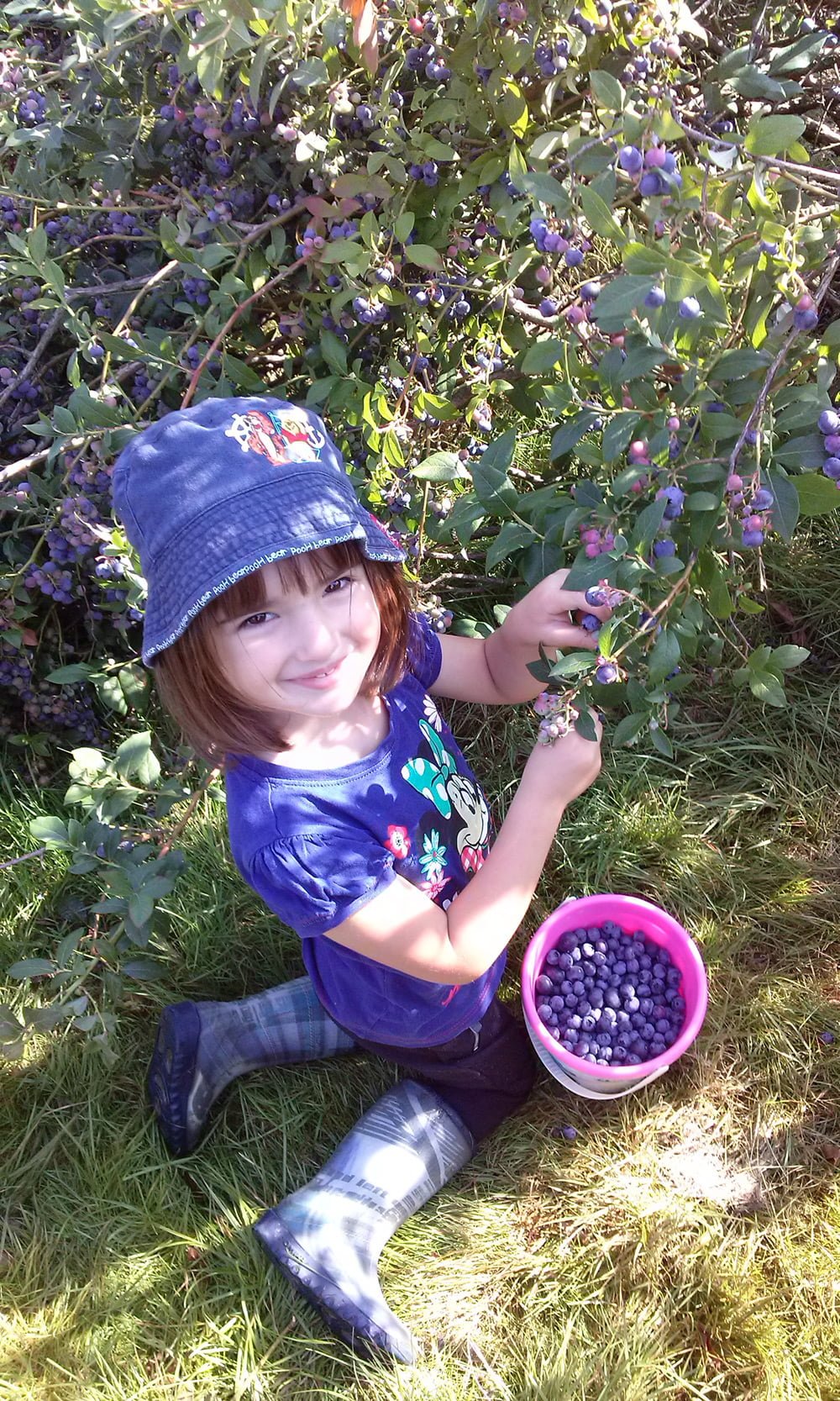 And what did we do with the berries except eat them as they were? Well, first of all, I froze about half of them so that we can enjoy them as they are for a longer time. Otherwise, I made blueberry sauce and blueberry jam, canned blueberries for pie fillings, made blueberry balsamic vinegar, yogurt, blueberry popsicles, and blueberry curd.
With the curd, I made some gorgeous Blueberry Tartlets with meringue on top, and I filled a cake with it. Then came blueberry pancakes and mini pancake muffins. A lot!! And everything tasted great!
Hopefully, I will manage to post some of these recipes before the blueberries are gone. Otherwise, well, there is always next year. 🙂 Or frozen berries.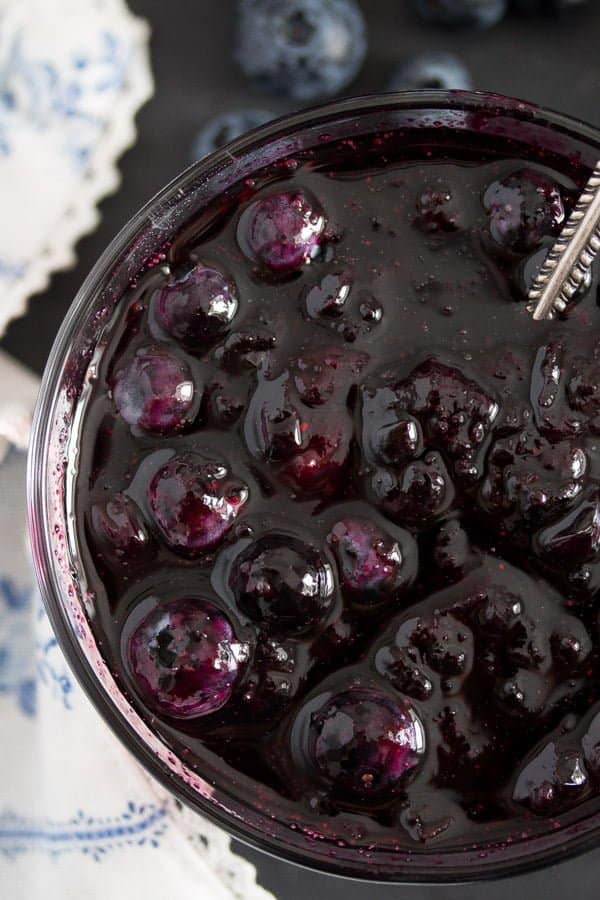 How to make blueberry sauce?
This is one of the easiest recipes for preserving blueberries. Preserving fruit is never particularly difficult, but this recipe is even easier. You will not even have to boil the jars; there is enough sugar in the sauce to preserve the fruit perfectly, just like when making jam.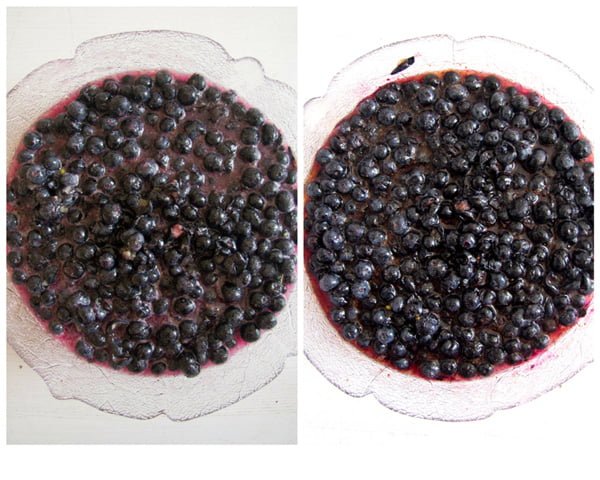 Place the blueberries in a large bowl and mash them roughly with a potato masher. Don't puree them or mash them too much, just a little bit, so that the broken berries will release some juice to slightly dissolve the sugar until the morning. You can also mash the blueberries roughly with your hands; my children loved to do that. Use a glass bowl.
Add sugar and mix well. Cover the bowl with a lid or a clean kitchen towel and let it stand overnight. Usually, I would leave the bowl on the counter, however, this year I put everything in the fridge, it is just too hot around here, and I was worried that the berries would start to ferment.
Place the blueberries in a large pot. Scrape the bowl well with a spatula as some of the undissolved sugar will still cling to it.
Juice a large lemon and add the juice to the blueberries. Bring the blueberry mixture to a boil.
Meanwhile, whisk the cornstarch with 2-3 tablespoons of cold water to obtain a smooth paste. As soon as the blueberries start to boil, whisk in the cornstarch paste. Lower the heat to medium low and cook the blueberries for 10 minutes.
Sterilize the jars. For more instructions on sterilizing jars, have a look at this post on How to sterilize jars.
Ladle the blueberry sauce into the jars and seal. Keep in a cool dark place.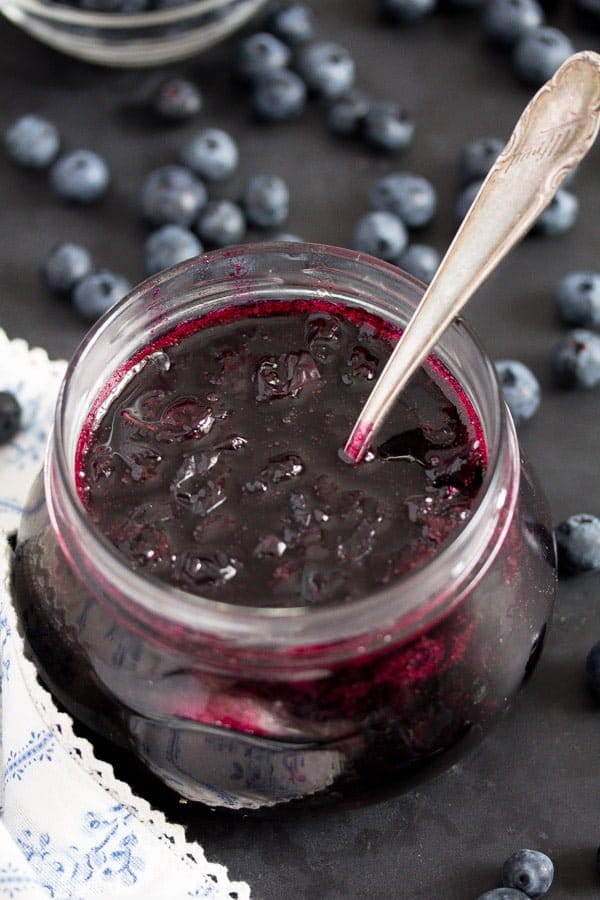 How to serve?
The blueberry sauce will keep for at least 6 months, but we still had a one-year-old jar, and it was perfect.
Our favorite way of serving this homemade blueberry sauce is on top of milk rice or rice pudding. But the sauce is perfect on top of pancakes, crepes or Belgian waffles. You can also stir some in your muesli or have it with desserts like this yogurt bomb.
Another favorite way to serve the homemade blueberry sauce is on top of strained yogurt.
Source: Kleiner Kuriositätenladen (in German).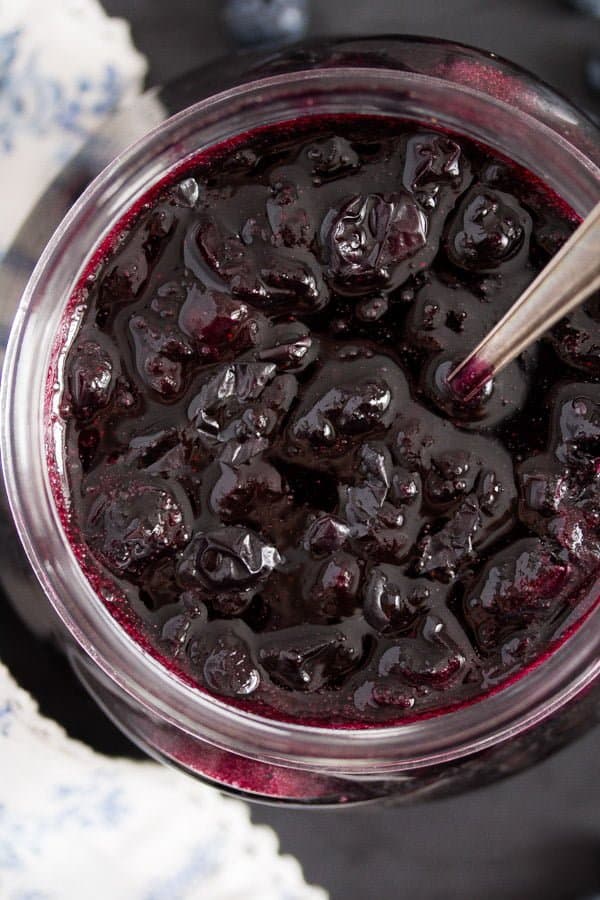 More canned fruit and berries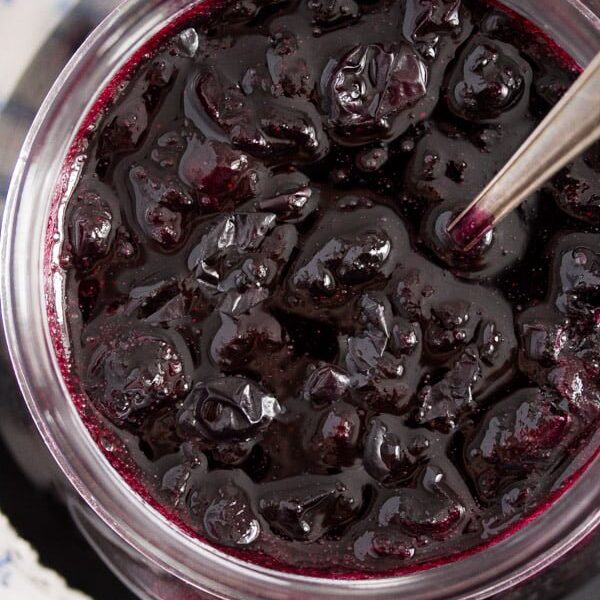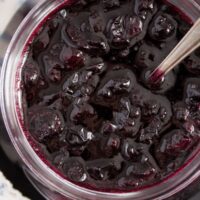 Homemade Blueberry Sauce - How to Preserve Blueberries
Our favorite homemade blueberry sauce, easily canned and delicious on top of pancakes, crepes, waffles, milk rice, ice cream or whatever kind of dessert you like.
Print
Pin
Share
Grow
Saved!
Rate
Servings:
3
jars, 500 ml/2 cups each
Ingredients
1

kg/ 2.2 lbs blueberries

500

g/ 1.1 lbs granulated sugar

1 ½

tablespoons

cornstarch

1

organic lemon

juice and zest
Instructions
Mix the blueberries and the sugar in a large glass bowl.

Mash the berries with a potato masher a little bit to help them release some juice.

Let stand overnight.

Sterilize the jars.

Take some of the released juice from the blueberries and place it in a small bowl. Add the cornstarch and mix well until you have a paste.

Place the berries in a large pan, add the lemon juice and zest and bring everything to a boil. As soon as it starts to boil, add the cornstarch paste and mix very well to avoid clumps. Lower the heat and let cook for about 10 minutes.

Pour the sauce into the sterilized jars, leaving 1 cm/ 0.4 inches free. Place the lids on the jars and leave to cool. Store in the cellar or in a dark, cool place.

Nutrition
Serving:
1
jar
|
Calories:
851
kcal
|
Carbohydrates:
219
g
|
Protein:
2
g
|
Fat:
1
g
|
Polyunsaturated Fat:
1
g
|
Sodium:
6
mg
|
Fiber:
8
g
|
Sugar:
200
g