How to preserve cherries - the easiest way of preserving cherries, either sweet or sour, in a low sugar way: only 1 or 2 tablespoons sugar (to taste) per jar.
We have a lot of cherries this year. In comparison to last year when we didn't have any. Two years ago we had even more than now, but I think the three years before that was also bad, either nothing growing, worms inside, or birds eating them all.
Fast forward to July 2018. We never had so many cherries as we have this year. I've made 17 large jars of preserved cherries, made cherry butter, countless cakes, and desserts and the tree is still heavy.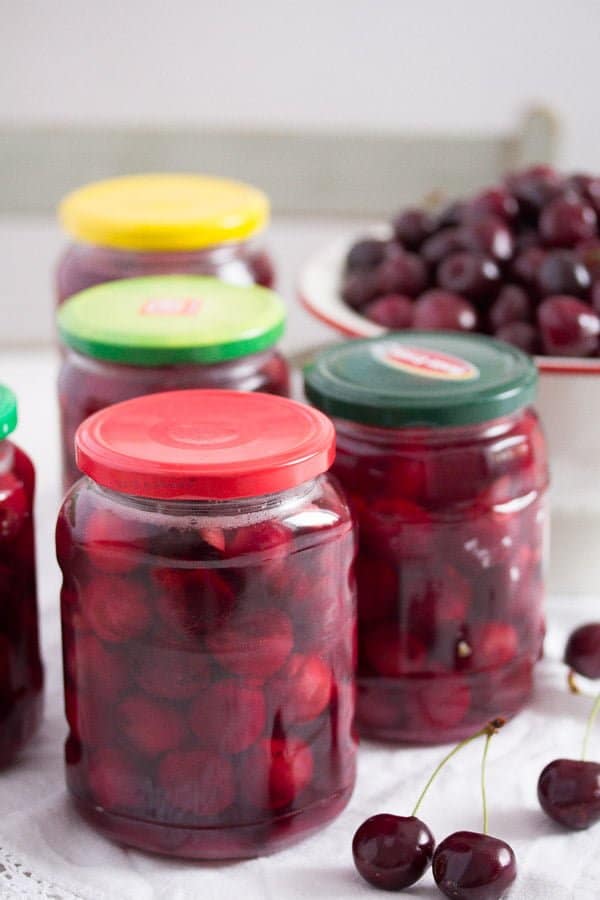 People normally preserve sour cherries this way, but I have been preserving my sweet ones like this for years now. But just that you know, sour cherries can be preserved exactly the same way, you might want to add an extra tablespoon sugar in that case, but it is not mandatory.
The canning is easy and quick, the only thing a bit annoying about it is – again- pitting the cherries. I bought this cheap cherry stoner a few years ago and I've never regretted it. I still wish I could be Harry Potter and conjure all of those pits out of the cherries with a flick of my wand, but as that is not possible, I will have to do with a cherry stoner.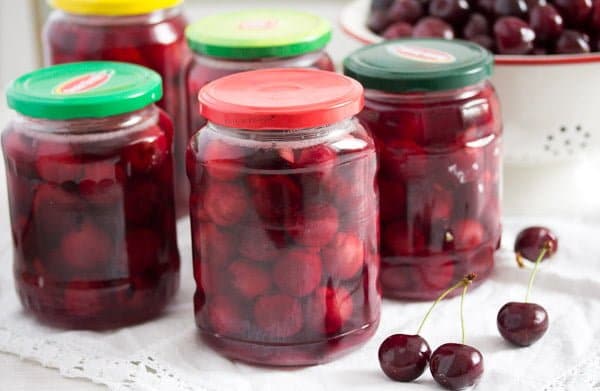 What do you need?
A little sugar, about 2 tablespoons per jar, the jars, and water.
Use large jars, it makes no sense to take small jars which would only hold a handful of cherries. I usually use jars with a capacity of 800 ml/ 24 fl.oz.
You could buy fancy nice jars if you like, but I didn't bother. Clean old jars would do just as well. I usually keep the large gherkins or olive jars, I clean them well, sterilize them before using and put all my cherries or apricots in them. .
How to sterilize the jars?
I have been using the same jars for years, most of them are recycled jars that used to contain something else. However, I always discard them when the lids are not OK anymore.
If using specially bought jars for jams or other preserves, I buy new lids after using them two or three times in a row. Even if these special jars have different capacities, they always need lids of the same size.
I always sterilize 2 or 3 more jars than I think I need, just to make sure I have enough ready.
Steps:
Wash the jars and lids thoroughly with soap and warm water before sterilizing them.
Preheat the oven to 130 degrees Celsius/ 275 degrees Fahrenheit. Place the jars on a baking tray and put them in the oven for 20 minutes.
In the meantime boil the lids for a few minutes in a small pot full of water. Drain in a colander and handle with care, they are hot.
So, once you have pitted the fruit and sterilized your jars, fill the cherries into the jars leaving about 2.5 cm/ 1 inch of space at the top. Add the sugar and fill the jars with water. Put the lid on.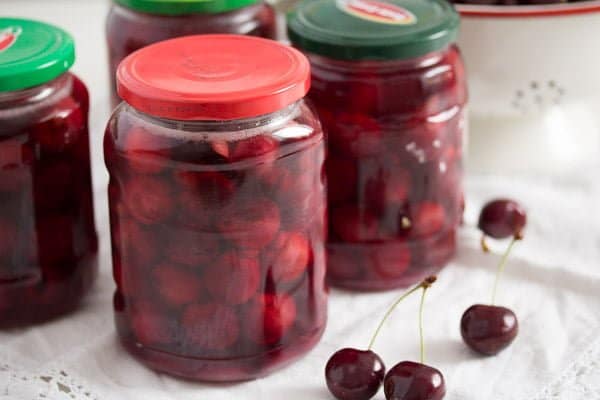 How to can?
To preserve the jars take the widest pot you have. My pot can hold 5 large jars.
Place a clean kitchen towel on the bottom of the pot and arrange the jars in the pot, making sure that they are nicely seated on the towel and that they do not touch each other. Fill the pot with lukewarm water.
Bring the water to a boil, turn the heat down to medium-low and boil the jars for 15 minutes.
Immediately remove the jars from the pot and leave them cool on a folded kitchen towel.
Or use a canner.
Store in a cool dark place, a cellar would be perfect.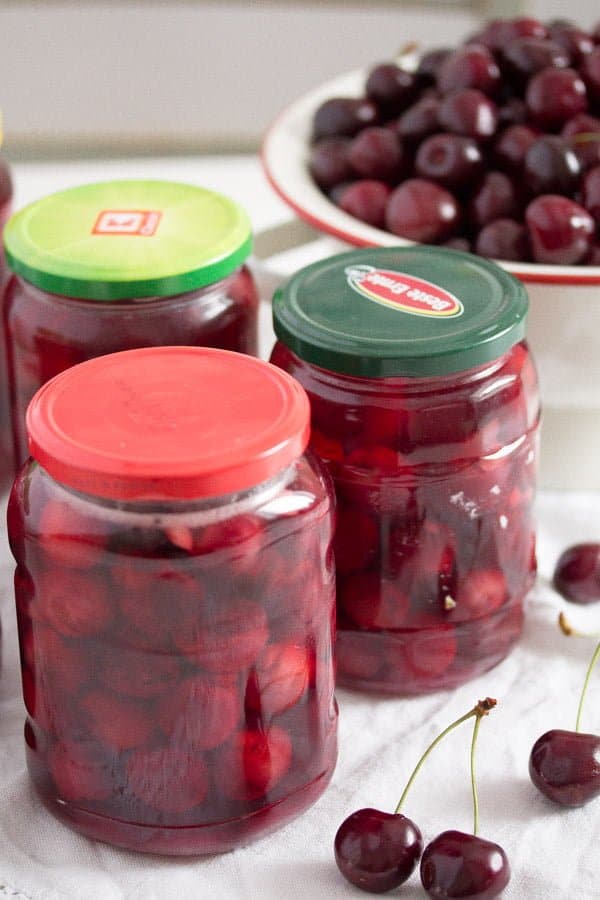 What to expect?
You should not expect them to be sweet. They are not a dessert to be eaten straight from the jar like you would do with shop-bought ones.
If you have them as they are, then preferably on top of another dessert, which will be sweet already.
These preserved cherries are meant to be prepared in one way or another before serving. See below for serving suggestions.
You can make them sweeter by adding more sugar to each jar.
What to do with them?
They keep very well and for quite a long time. The longest I had them were 2 years and they were perfect. But how to use them all?
More preserved cherries: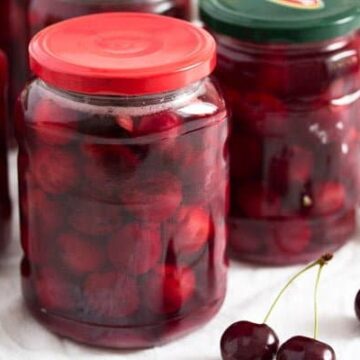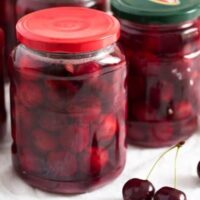 How To Preserve Cherries - Low Sugar
How to preserve cherries - the easiest way of preserving cherries, either sweet or sour, in a low sugar way: only 1 or 2 tablespoons sugar (to taste) per large jar.
Print
Pin
Share
Grow
Saved!
Rate
Ingredients
cherries

Note

1 -2

tablespoons

granulated sugar

per jar

water

large jars

about 800 ml/ 24 fl.oz capacity
Instructions
Clean the jars thoroughly and as instructed above.

Pit the cherries but leave them whole (Note 2).

Place the cherries in the jars leaving about 2.5 cm/ 1 inch of space at the top. Add 1 or 2 tablespoons sugar to each jar (to taste).

Pour water in each jar to completely cover the cherries. Seal the jars.

Can in a canner or water bath (if you don't have a canner). Take a very wide pot. Place a clean, folded kitchen towel inside it. Put as many jars in the pot as they fit, taking care that they don't touch each other. Cover with water and can. Bring the water to a boil and boil the jars for about 15 minutes.

Cool jars: Take them out immediately, place them on kitchen towels, and leave them to cool.

Store cherries in a cool, dark place (I keep them in the cellar). They will keep for a rather long time; the cherries I preserved 2 years ago were still perfect this summer.
Notes
Make as many jars as you wish; it all depends on how many cherries you have. 
A cherry pitter will make your life easier.
Nutrition
Serving:
1
jar
|
Calories:
175
kcal
|
Carbohydrates:
45
g
|
Protein:
2
g
|
Fiber:
4
g
|
Sugar:
38
g