You will not believe how good these cherries are. Amazing! I made this a few days ago and had them with some strained yogurt and we liked them so much that I made another batch the very next day.
It is such an easy easy easy dessert but the taste will knock your socks off.  (Can I actually say that when referring to food?). It is something completely appropriate for guests as well, you can make it well in advance, it looks great on the plate, it is light after a several course meal and the taste… well I've mentioned that before… AMAZING!
I made something similar a few years ago using plums instead of cherries. The plum version is great as well, but I still like the cherries better, I actually like cherries better than plums in any circumstance.
The strained yogurt was more of a happy coincidence. I needed whey to make lacto-fermented cherries and have read in the recipe that I can obtain that by straining a bit of yogurt. I strained more than necessary because I remembered another great dessert I have made a while ago with strained yogurt and strained cream, this Yogurt Bomb with Berries, which is my son's favorite dessert. This time I only had the yogurt which I sweetened afterward. It was soooooooo good, so creamy and delightful and so unbelievable in combination with the hot and later cold cherries.
The cherries will be more than what you need for serving with the yogurt. Keep the rest in the fridge and enjoy it with porridge or muesli in the morning. You can serve the roasted cherries with some plain cake as well or stir them into unstrained yogurt, you can have them with semolina pudding, milk rice or ice cream as well. There are lots and lots of possibilities.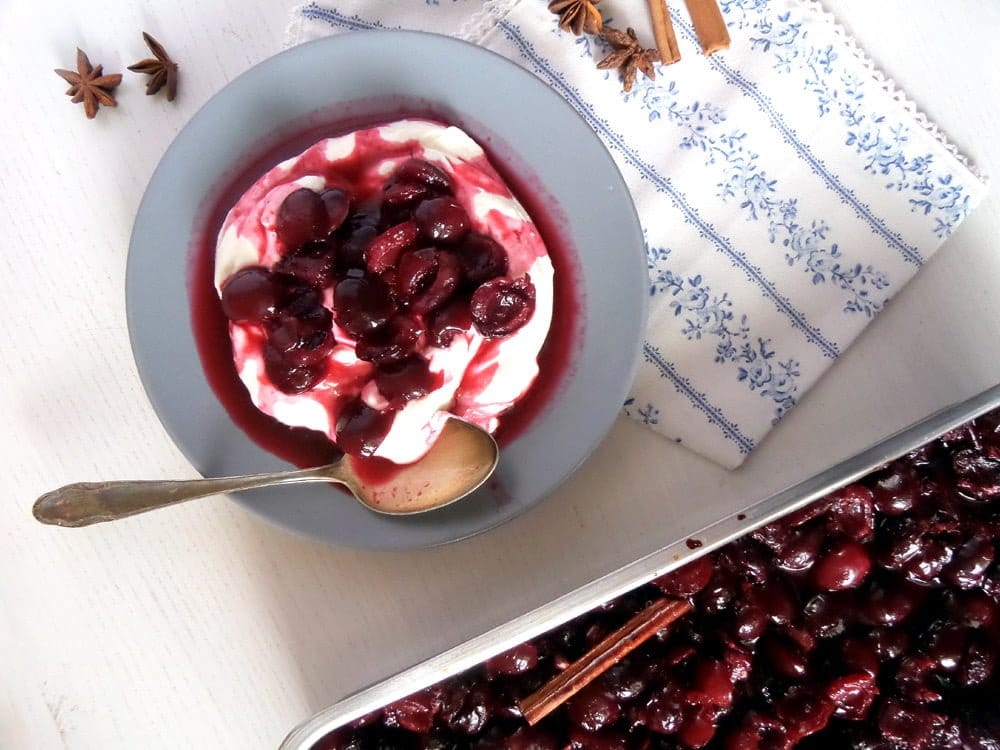 Prep time:
Cook time:
Total time:
Ingredients
1 kg/ 2.2 lbs plain yogurt (I used low-fat)
2-3 tablespoons brown sugar, to taste
vanilla extract, to taste
1 kg/ 2.2 lbs cherries, pitted and halved
4 tablespoons brown sugar
1 vanilla bean
1 cinnamon stick
2 star anise
3 green cardamom pods
150 ml/ ⅔ cup freshly squeezed orange juice (1-2 oranges)
2 tablespoons elderflower syrup, optional
Instructions
Start with the yogurt.
Place a fine meshed sieve on top of a bowl. The sieve should not touch the bottom of the bowl, there should be some space left in between the two. Place a very clean kitchen towel or cheesecloth on the sieve and pour the yogurt in there. Gather the ends of the kitchen towel and cover the yogurt with them. Place the bowl with the sieve in the fridge and leave it there for at least 5-6 hours or ideally overnight. You can throw away the strained liquid once during this time, so that it doesn't touch the yogurt in the sieve.
When ready to serve, turn the strained yogurt into a clean bowl and add brown sugar and vanilla extract to taste. Stir well and leave for a while. The brown sugar that I use is quite rough and it takes a while for it to disintegrate into the yogurt. By waiting a bit you avoid adding too much sugar. Don't forget that the cherries are sweet as well, so don't exaggerate with the sugar.
Preheat the oven to 200 degrees Celsius/ 390 degrees Fahrenheit.
Place the halved cherries into a roasting tray, add the sugar and mix gently distributing the fruit evenly on the tray. Add the split vanilla bean, the cinnamon stick, star anise and cardamom seeds. Let the fruit marinate for about 10 minutes.
Squeeze the oranges and mix the juice with the elderflower syrup. If you don't have any elderflower syrup, you can leave it out or replace it with some other syrup. I can imagine that caramel syrup would be good in this combination as well. Pour over the cherries and mix well.
Place the tray in the oven and bake for about 15 minutes. Stir well, distribute the fruit evenly again and continue baking for another 15 minutes.
Serve hot on cold on top of the strained yogurt.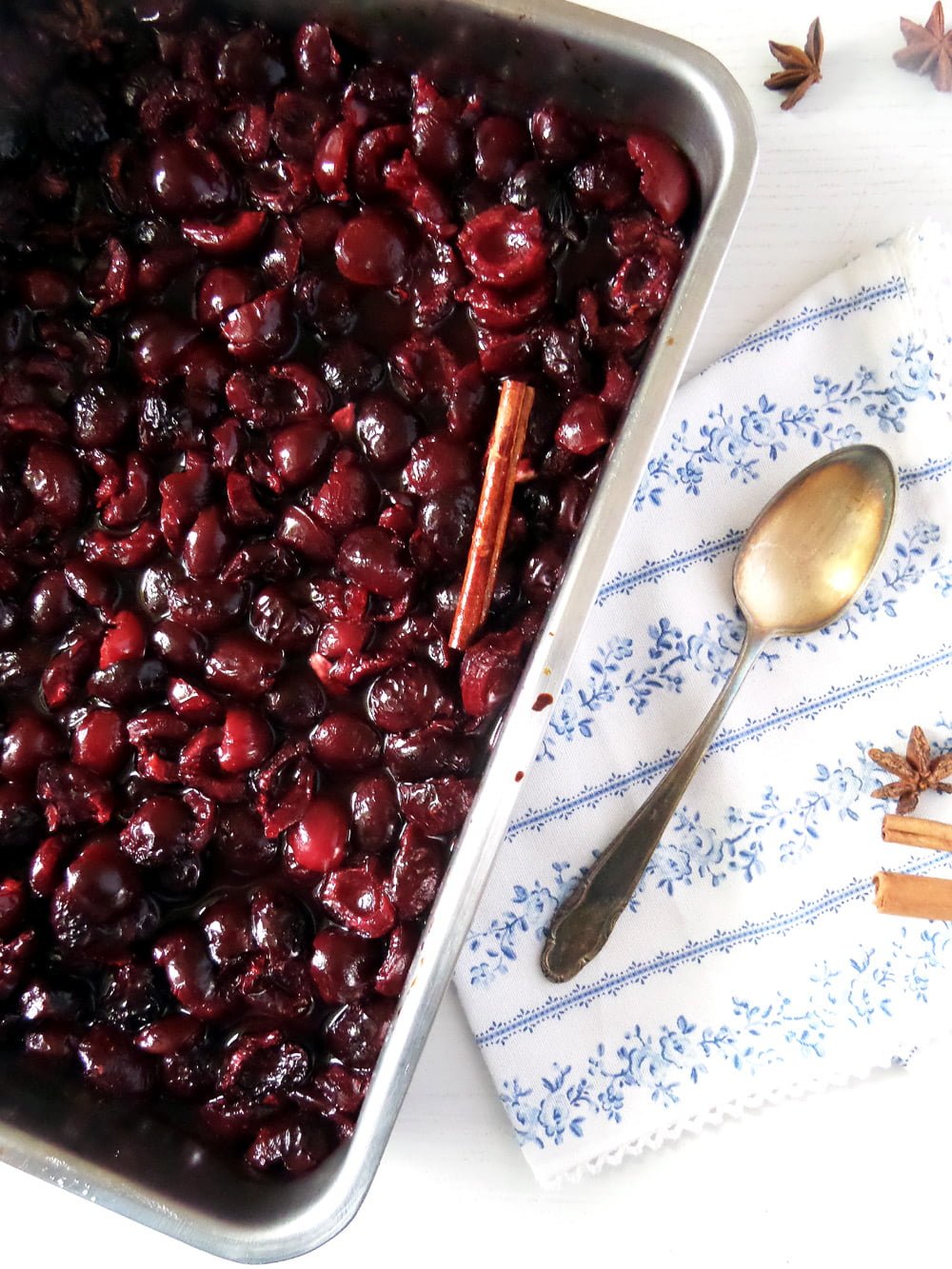 Rate this recipe!
Click on a star to rate it!
Average rating / 5. Vote count:
We are sorry that this post was not useful for you!
Let us improve this post!
Thanks for your feedback!