As an Amazon Associate, I earn from qualifying purchases. There may be affiliate links within the post, see my
Privacy Policy
.
Last Updated on 17/06/2020 by Adina
This is the best dessert ever! Ever! Ever! Creamy strained yogurt and cream, topped with mixed berries, it cannot get any better or easier.
This is really our favorite dessert. We like yogurt based desserts and we have them in many different ways, but this is really something special, something that I make more often than any other yogurt dessert. Our entire family is crazy about it and every single person who had this was completely hooked. I cannot even count the many times I had to write down this recipe, it is my most shared one.
And why? Simply because it is amazing! Strained yogurt is already great on its own, but mixed with whipped cream and then strained… I cannot even begin to tell you how good that is! The creaminess, the mild, sweet and comforting taste, so perfectly complemented by a hint of lemon juice and the slightly sweetened berries. Unless you have a lactose intolerance, in which case, this dessert is nothing for you, I can guarantee you will love this.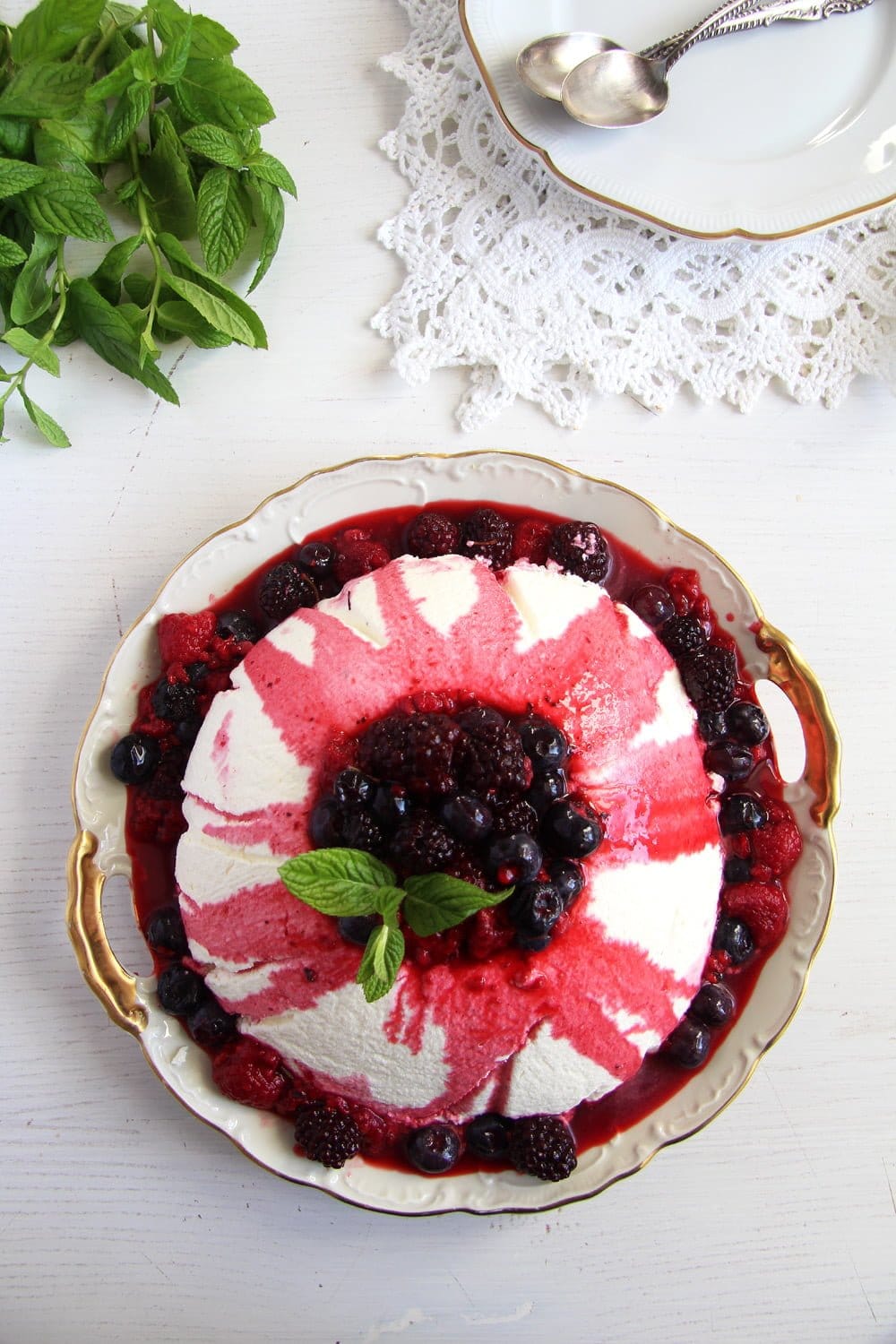 Another thing that speaks for this dessert and makes it such a great choice for the Christmas dinner (or any other dinner with guests) is that it is so easy and quick to make – you're done in less than 15 minutes, it has to be made one day in advance – so it will cause you no stress on the big day and it is also very cheap – I mean yogurt, double cream, 1 lemon and frozen berries – everything very affordable, which is great especially if you have already paid so much money for an organic Christmas goose … for instance. Plus all the other food you need and some good wine. And not to mention the presents… Christmas is a quite costly affair… Well, now that I think about everything we spend anyway, saving on dessert sounds a bit ridiculous, but anyway… cheap or not this yogurt dessert is worth making – you will thoroughly enjoy every single spoonful of it.
I found the recipe on Chefkoch.de many years ago and I have been making it very often ever since. I have changed the original recipe over the years to suit our taste, the biggest change is that I take more yogurt and less cream than originally intended. But we love it this way even better, it tastes fresher and has a bit less calories. I always take low-fat creamy plain yogurt 1,5 % fat, but you can make it with full-fat yogurt or Greek yogurt as well.
We often have the dessert with mixed berries, always the frozen ones, I like that they form a bit of a sauce when thawed and mixed with sugar. Sometimes we have cherries instead of berries. You could either try these amazing roasted cherries or just take a glass of cherries, thicken the juice with some starch, stir in the cherries and sugar to taste. When having cherries, we mostly have them warm with the yogurt bomb.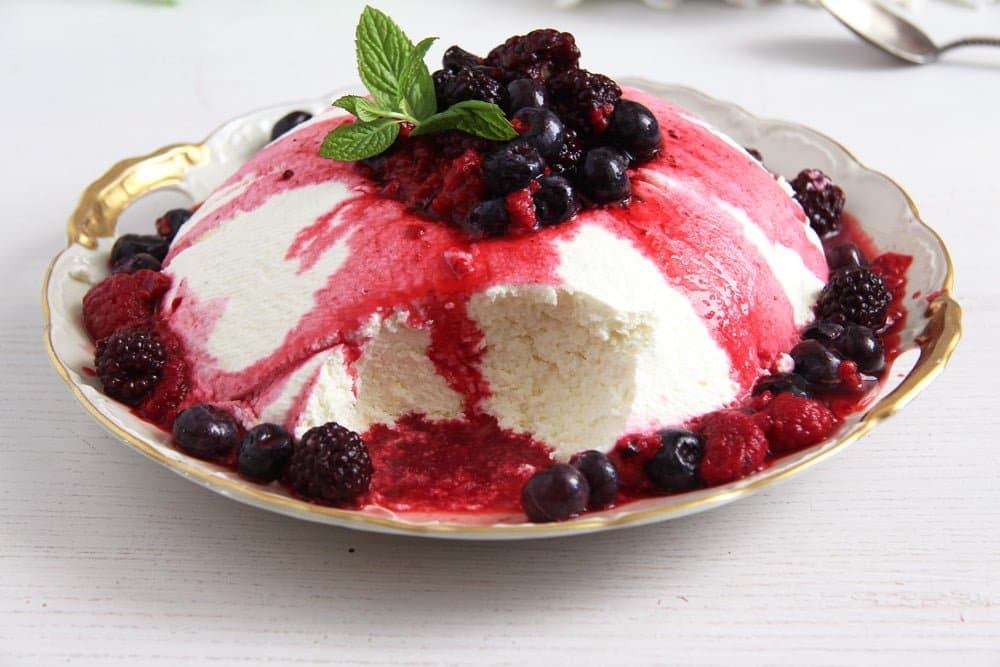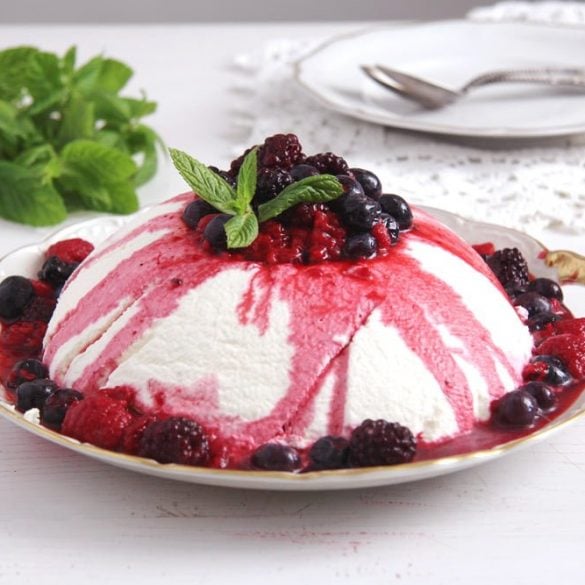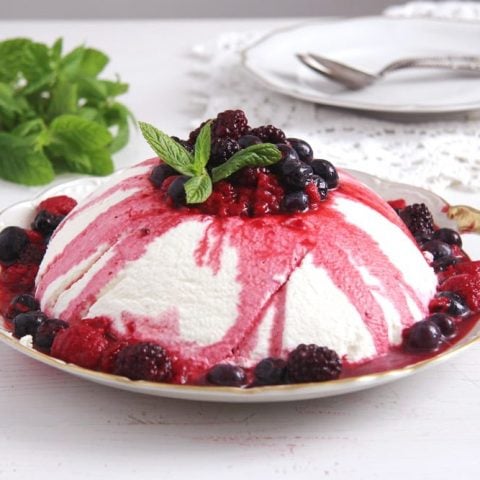 Yogurt Bomb with Berries
Yield: 4-6

Prep Time: 15 minutes

Total Time: 15 minutes
Ingredients
1 kg/ 2.2 lbs creamy (Greek style) yogurt, 1,5% fat or full-fat
600 ml/ 2 ½ cups double cream
200 g/ 1 cup granulated sugar
2 packets vanilla sugar or 1 teaspoon vanilla extract
fresh lemon juice, to taste
500 g/ 1.1 lbs frozen mixed berries, thawed
1-3 tablespoons granulated sugar, to taste
Instructions
Pour the yogurt into a very large bowl. Add the sugar, vanilla and lemon juice to taste, I like it a bit tangy, so I add the juice from one whole lemon.
In another bowl whipped the double cream until stiff. Fold carefully into the yogurt mixture. Taste and add more lemon juice if necessary.
Take another clean, large bowl. Place a fine-meshed sieve on top, it should fit in the bowl but not touch its bottom. Line the sieve with a clean kitchen cloth or a muslin cloth. Carefully pour the yogurt mixture into the sieve, cover with the overlapping cloth and place in the fridge. Leave it to strain for at least 12 hours, I usually strain in for about 20-24 hours. Don't forget to pour out the whey after the first 4-5 hours or so and maybe one more time the next morning, if necessary.
Thaw the berries a couple of hours before serving and mix them with some sugar to taste.
To serve, remove the overlapping cloth from the top of the yogurt bomb. Place the serving platter (or a large serving plate) on top of the sieve. Grab the handle of the sieve with the left hand, place the right palm on the back of the serving platter and carefully turn over the dessert, it should fall smoothly from the sieve onto the platter. It really works easily, so don't worry about, just remember to unwrap the overlapping cloth before turning. Remove the cloth, arrange the berries around the bomb and serve.
Other Christmas dessert ideas: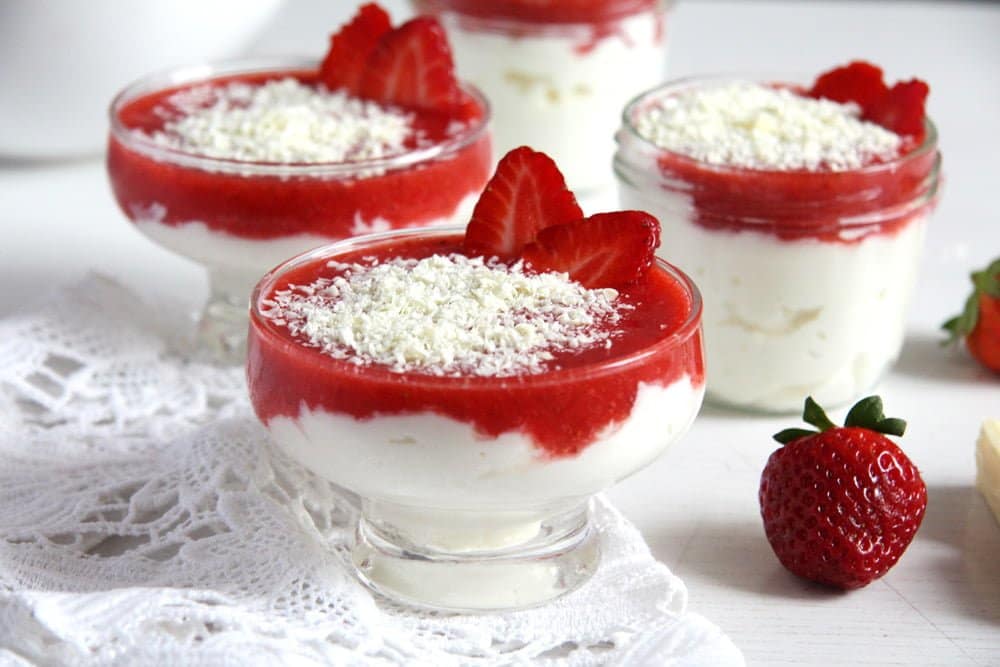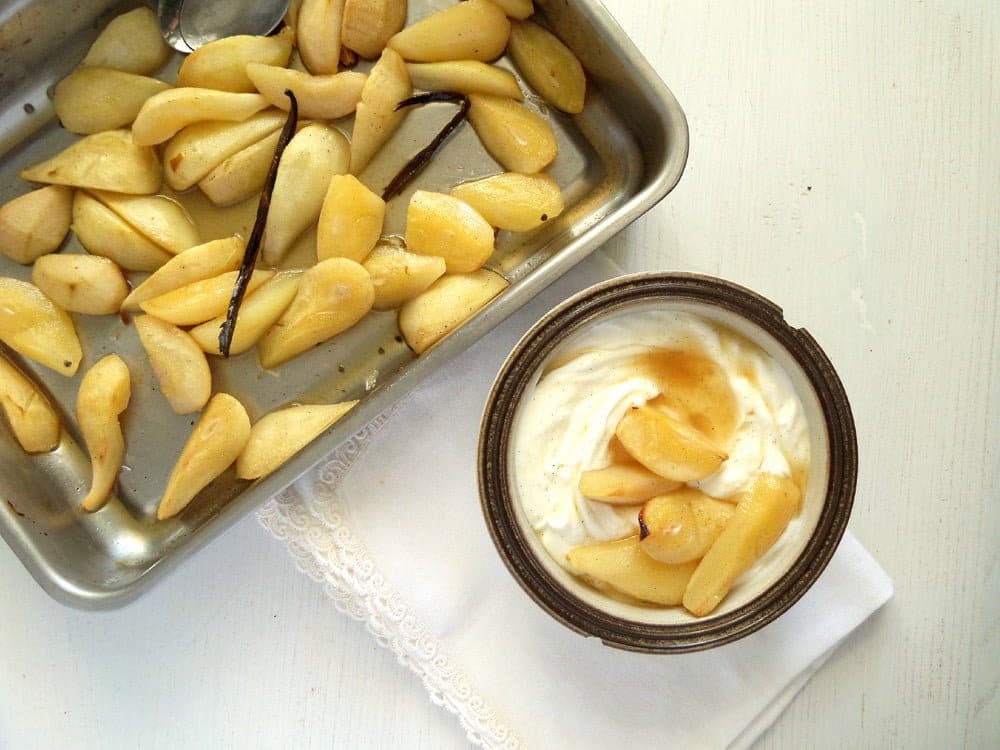 Vanilla Pears with Greek Yogurt