I won't be keeping you long today, just a rather short post, with a simple, short recipe, that you will love anyway. If you decide to give it a try, of course. And you should try it, especially now when the pears are so sweet and perfect and just about everywhere.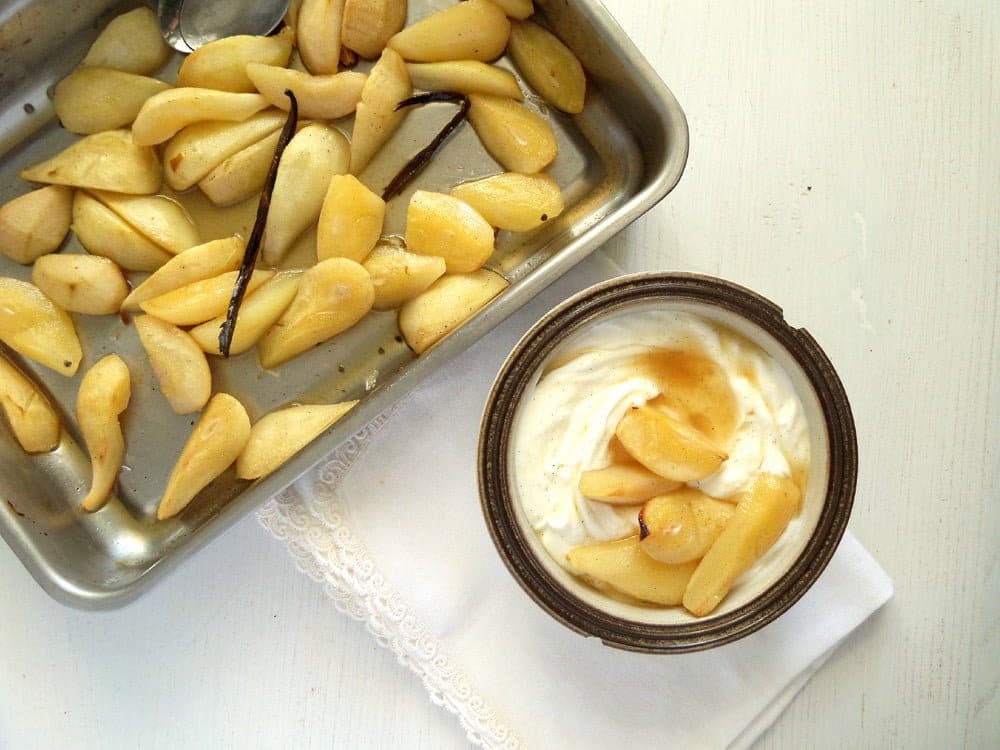 The reason I am keen on keeping it short today, well, actually last night (I am writing this on the Sunday evening) is that I am tired and cannot wait to go to bed. We have been visiting Köln over a long weekend, we just got back home and I am exhausted. It was not a very long drive, only about two and a half hours, but the days have been so full of action, full of walking, of new impressions, in one word: amazing! But in the end, I just need a rest. I am not used to being in a city anymore, a place vibrating with life, with thousand of faces passing you by, with cars, buses, trams… A lot of noises everywhere, so many shops you would like to get into (and don't manage because the husband is making a long face and the children find that boring), so many places you want to visit, so many things you would like to eat (at least in my case), things like sushi for instance, something normal for most of you I suppose, but not at all normal for somebody living in a small village in Germany. 🙂
Oh, I just loved it and I've actually been already planning to go back soon for a more relaxed (shopping) experience with some girlfriends instead of husband and children. It was lovely with them, don't get me wrong, we had fun, we visited the Star Wars exhibition, visited the Dom, been on a boat trip on the Rhine and much more, but I could actually get into exactly 5 shops: TK Maxx (where I bought shoes for the kids), 2 book stores, The Body Shop and a cake shop. I know you women out there understand my pain!!!! 🙂 🙂 🙂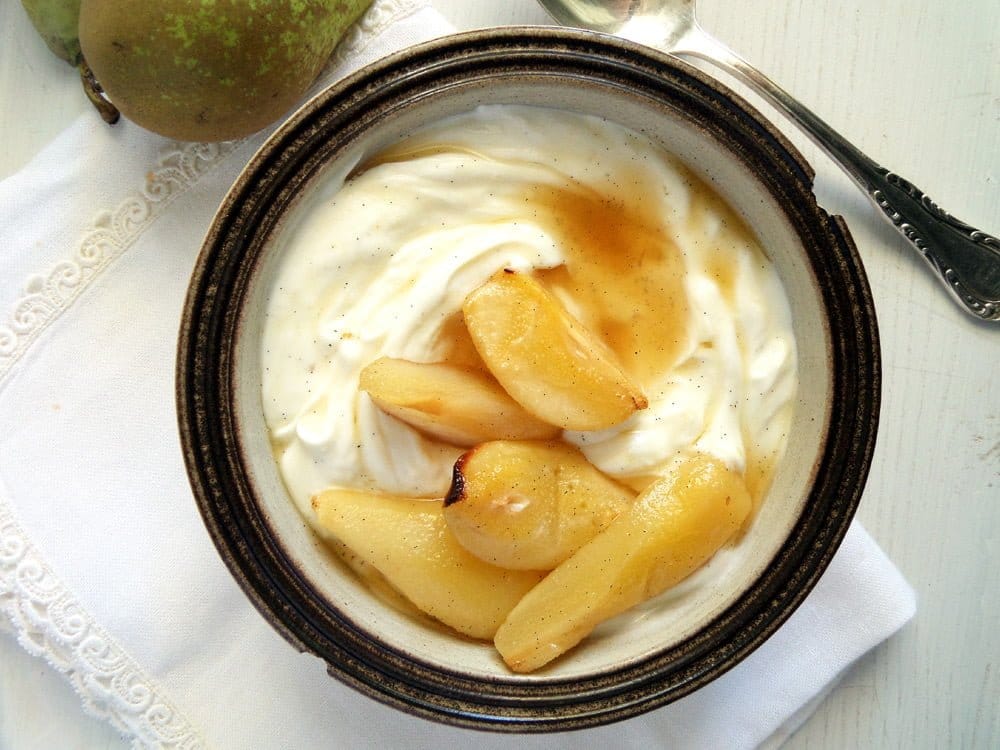 To get back to the present and the pears, once again, you should definitely try this recipe, it makes the perfect ending after an autumn meal, it is light, quite healthy for a dessert, easy to make and incredibly tasty. I love roasted fruit of any kind, been doing it often enough with cherries or plums, apricots or grapes. It is a perfect method to make any kind of fruit, even fruit that is not entirely ripe and which you would not really want to eat otherwise, just perfect, succulent and sweet and desirable. And I don't think I have to mention how wonderfully creamy and lovely Greek yogurt mixed with real vanilla and honey is.
And in case you are interested which Star Wars identities our family members have, here it is: 🙂
Prep time:
Cook time:
Total time: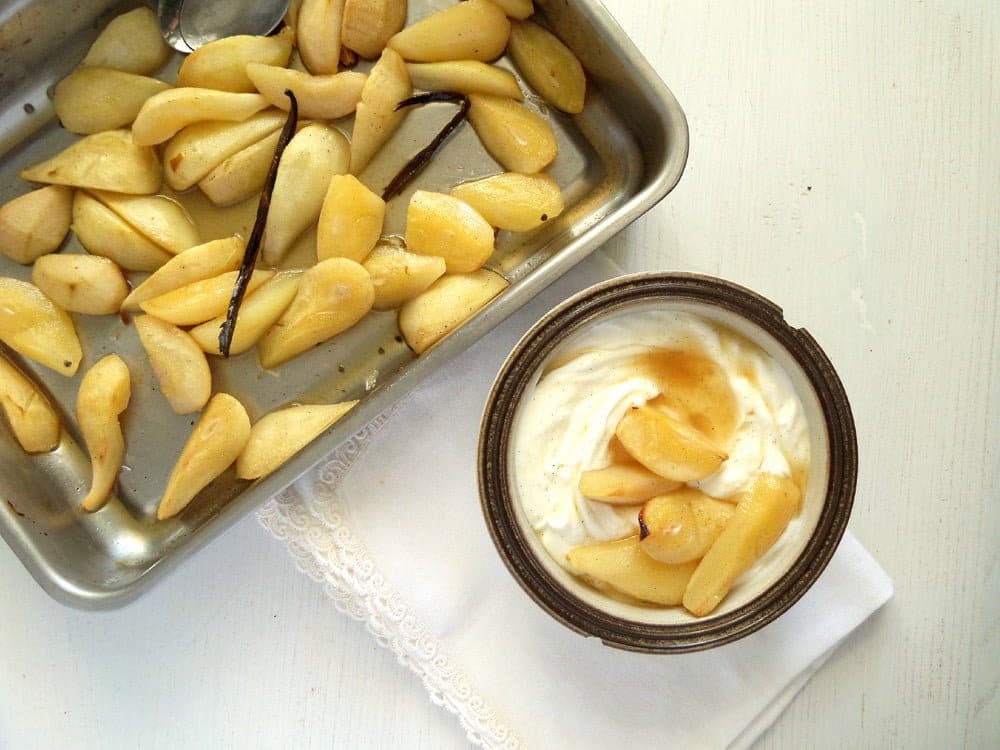 Ingredients
4-6 firm pears, depending on size
4 tablespoons runny honey
3 tablespoons water
1 vanilla pod
½ medium lemon
4 cardamom pods
250 g/ 1 cup Greek yogurt
2 tablespoons runny honey
Instructions
Preheat the oven to 200 degrees Celsius/ 390 degrees Fahrenheit.
Peel and core the pears. Slice each half into 4 or 5 wedges. Place them in a roasting tin in a single layer.
Whisk together the honey and the water until the honey dissolves. Halve the vanilla pod and save half of it for the yogurt. Scrape the seeds of the other half and stir them into the honey-water mixture. Add the lemon juice. Pour this mixture over the pears and stir well to coat the pears. Press the cardamom seeds with a knife to open them and place them in the tin as well. Scrape the seeds of the second vanilla pod half, place them in the bowl where you will later mix them with the yogurt. Take the empty pod halves and put them in the roasting tray as well.
Bake for about 30 minutes or until the pears are softer but definitely still retaining their shape and a bit of a bite. They should NOT be mushy. Start checking after 15 or 20 minutes and take them out of the oven as soon as they are to your liking. Baste with the pan juices at least twice during the baking time.
Take out of the oven and let cool down for a while. You can serve them warm or cold. Don't forget to remove the cardamom pods.
In the meanwhile stir the Greek yogurt with the seeds of the other half of the vanilla bean and honey. Place the yogurt into 4 dessert cups and top with the pears and some of the remaining pan juices.