Only four ingredients, but such a delight! An easy to make dessert featuring roasted pears drizzled with balsamic vinegar and honey.
A very easy recipe for you today. After yesterday's extravagant Dobos Torte – Hungarian Cake with Chocolate Buttercream and Caramel, I decided to give you a super easy idea for a quick yet amazingly delicious dessert today.
I didn't even plan on making this roasted pears recipe, it was not something that immediately caught my eye while perusing Silvena Rowe's cookbook The Eastern and Central European Kitchen: Contemporary & Classic Recipes
. But while having a second look (or maybe a 10th look, I have been going through this wonderful book many times) and concentrating more on Hungarian recipes, which is my theme at the moment, I thought I'd tried this recipe.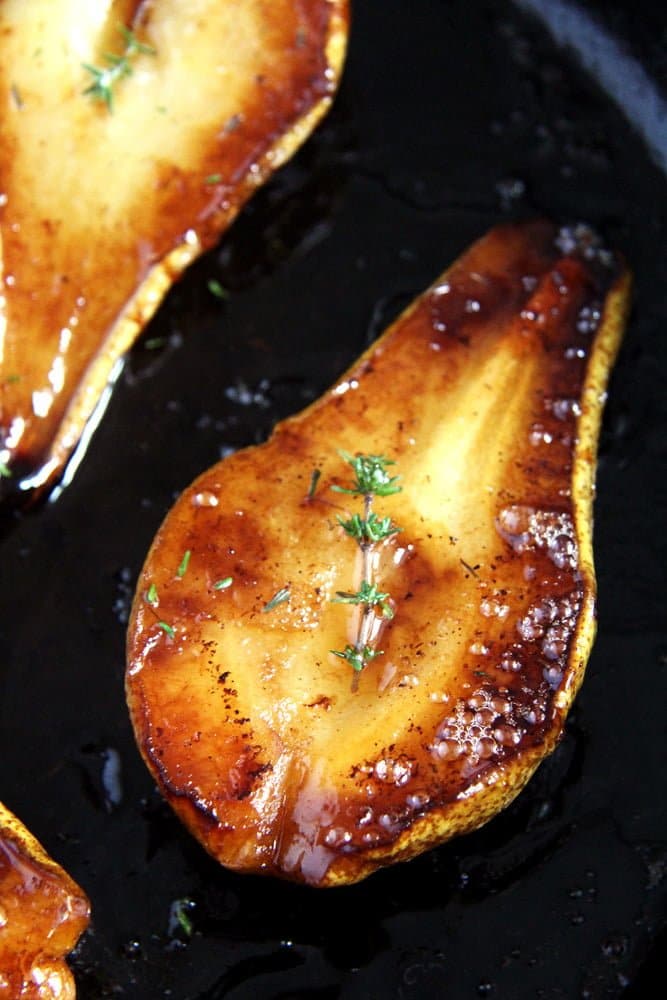 It was a perfect fit as I had bought some rather under ripe pears the day before and I always have butter, honey and balsamic vinegar in the house. So yesterday, after we have just finished lunch (we had these delicious German Meatballs in Caper White Sauce – Königsberger Klopse again) I told my family to give me another half an hour and then they could have dessert.
My daughter was a bit disappointed, she would have preferred a piece of chocolate immediately, but she had no choice, she had to wait. But half an hour later she was more than happy to devour a much better tasting (not to mention healthier) dessert in form of half a pear roasted and drizzled with honey.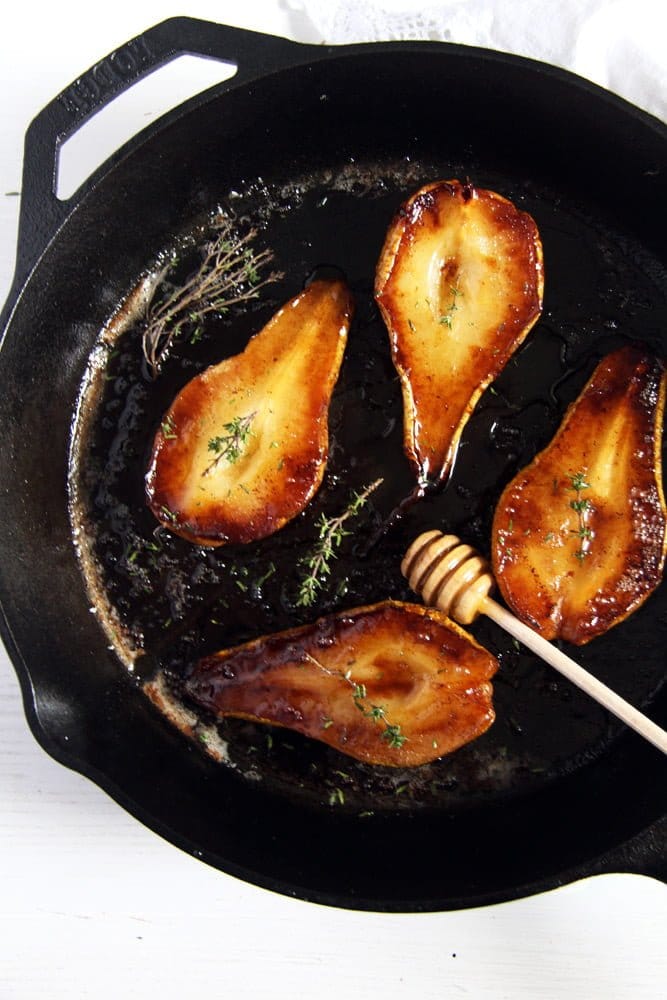 I did not change the recipe much, there was not much room for change, everything is so simple, but I did reduce the butter quantity, I only took 2 teaspoons instead of 2 tablespoons. I did not miss the extra butter at all, the pears were perfectly delicious with less butter. And I only took 1 teaspoon of honey per half a pear because I was not in the mood of measuring half a cup of honey.
We all love this, there is no doubt about that, roasted fruit is something so easy to make, yet so delicious. I do have my fun roasting fruit, just have a look at these Roasted Vanilla Cardamom Pears with Honeyed Greek Yogurt or these Roasted Sweet Cherries with Cinnamon and Strained Yogurt, but each time I make roasted fruit I think I actually don't do it often enough. Roasting fruit is one of the easiest to make and healthiest desserts I can think of.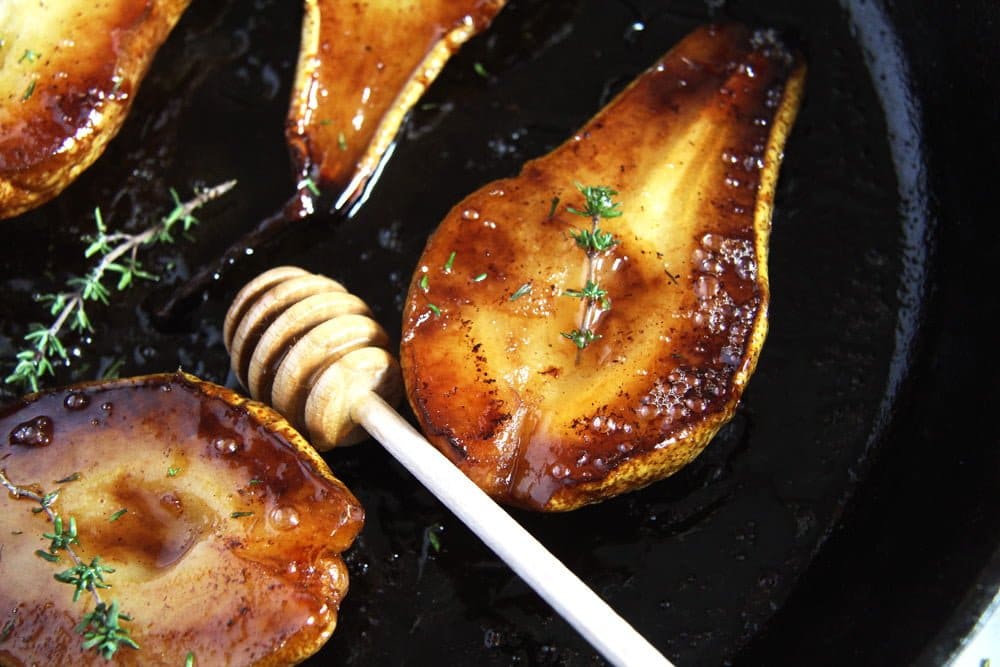 And here are some more ideas for quick and delicious desserts: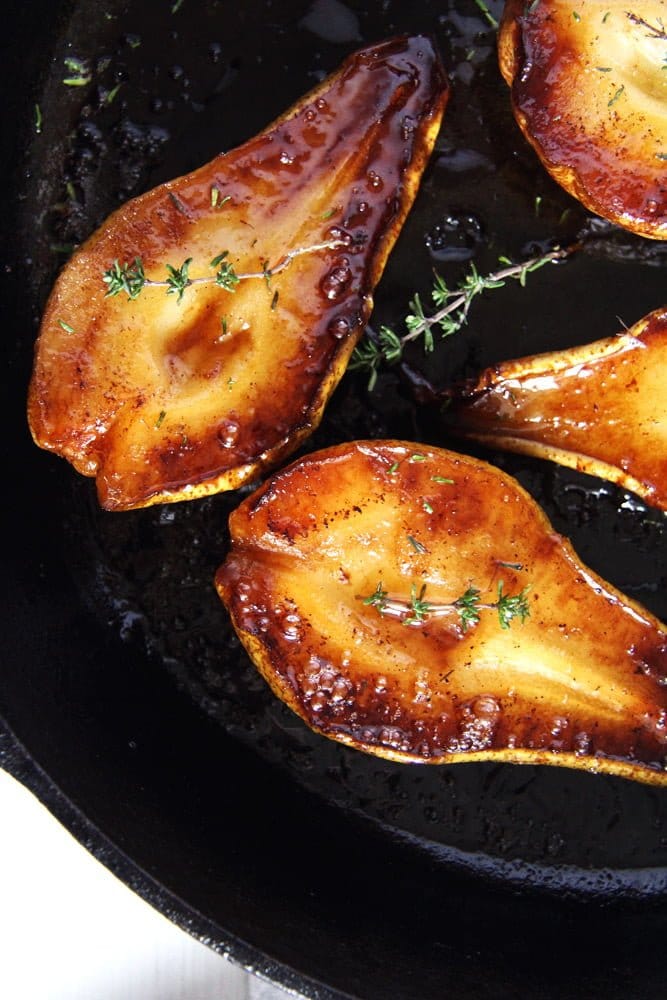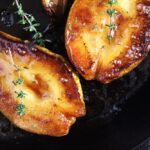 Ingredients
2 large slightly under ripe pears

2 teaspoons butter

3 tablespoons good quality balsamic vinegar

4 teaspoons honey (or more to taste)
Instructions
Preheat the oven to 200 degrees Celsius/ 400 degrees Fahrenheit.
Half and core the pears. Don't peel them.
Melt the butter in a cast iron skillet or another heavy-bottomed, ovenproof pan. Add the pears, cut-sides down and saute them for two minutes on the stove.
Place the pan in the oven and roast the pears for 20 minutes.
Drizzle the balsamic vinegar on the pears and continue roasting for further 5 minutes.
Remove the pan from the oven, drizzle each pear with some honey and let the pears rest for another few minutes.
Serve warm with some of the pan juices and more honey, if you wish.
This post contains affiliate links. The price you pay as a consumer does not change, but if you make a purchase we will receive a commission which helps support the blog.