Last Updated on 23/03/2020 by Adina
Soft and fluffy Moldavian Yeast Pastries soaked in syrup and topped with honey and walnuts.
You will not be able to stop eating these sweet yeast pastries. Just one more, just one more until you are so full, you won't be able to move anymore. Oh, that might not be the right way of talking about the mucenici, you might not want to make them at all, if you think you might not be able to stop eating them…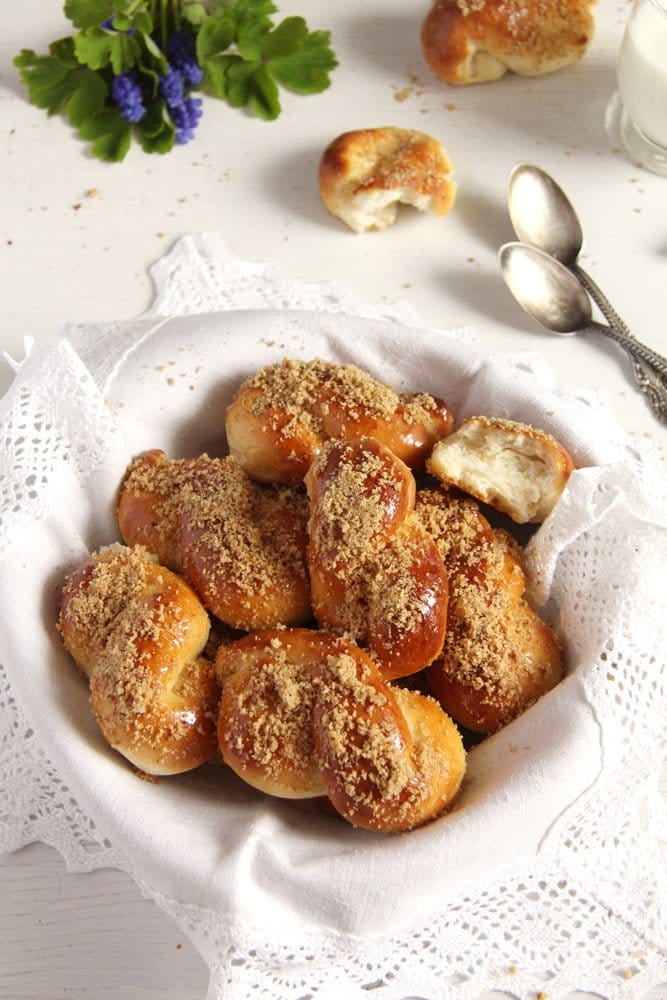 But they are sooooo good, so worth your time and so worth all the calories they contain. The first time I've made them, there were about 40 of them on two large baking trays. They are not particularly large, but still I thought there's no way we could possibly eat them all between 4 adults and 3 kids. I was already thinking about the possibility of freezing them later… but I was so wrong: there were only 3 of them left in the evening…
This recipe for Moldavian Yeast Pastries – Mucenici opens a new series on Where Is My Spoon, a series dedicated to presenting recipes typical for a certain region of Romania. I chose to start with Moldova – Moldavia, a region found in the North-East part of Romania. Moldavia is actually quite a large historical and geographical region that includes not only the Romanian part of Moldavia but also the country called Republic of Moldova and some other parts of Moldavia being part of the Ukraine.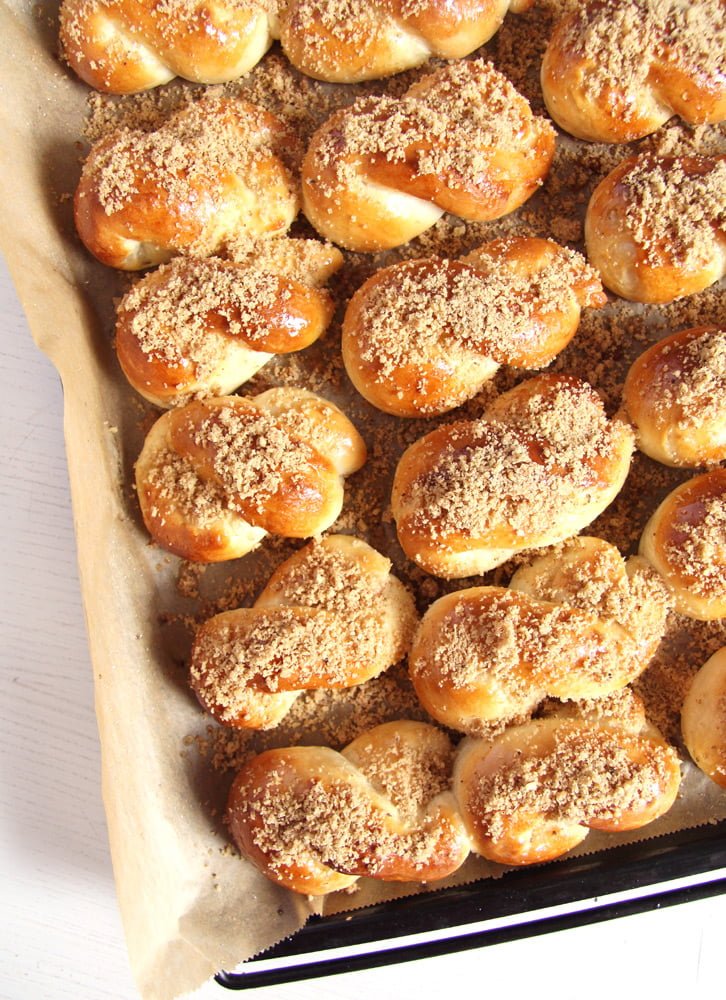 My grandfather was born and raised in Moldavia, although he lived most of his adult life in Transylvania and Oltenia, only moving back to Moldavia when he was quite an old man. I haven't been to Moldavia for a very long time now, but we used to be there from time to time when I was little.
Due to her being married to a Moldavian man my grandmother's way of cooking was quite influenced by the Moldavian cooking style. She made her meatballs the Moldavian way and there were several dishes she made, where she used to say that they were Moldavian.
I could not possibly cover the vastness of the Moldavian kitchen in only just two weeks, but I have chosen several well-known recipes, some that my grandmother used to make and some every Romanian person has at least heard of even if he/she is not Moldavian. I hope you will like them.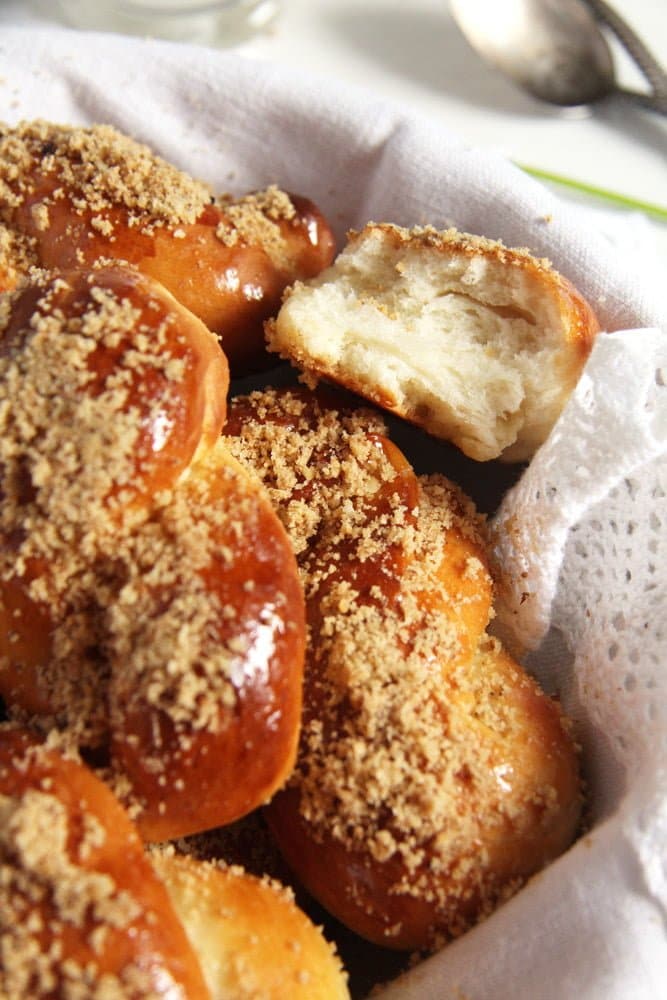 Mucenici is one of the most famous Moldavian recipes for yeast pastry. They are usually baked on the 9th of March to celebrate the 40 martyrs (mucenici) of Sevastia. Apparently these 40 martyrs were Christian Roman soldiers, who refused to give up their faith and were so sentenced to death and left to die in the freezing cold.
And if you would like to try some other delicious yeast recipes have a look at this Transylvanian Yeast Cake (very similar to Mucenici although baked in one large cake) or these Romanian Crescent Rolls – Cornuri simple. Other famous Moldavian yeast pastries are these delicious and vegan Romanian Cabbage Pies – Placinte cu varza.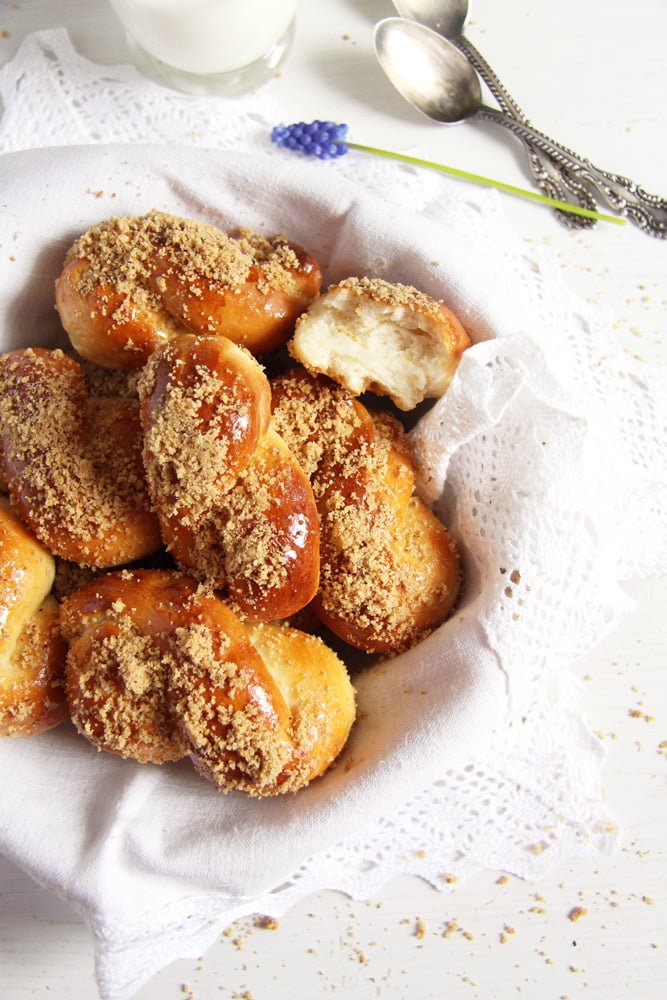 Ingredients
For the pastry:

1 ½ cubes fresh yeast (about 60 g/2.1 oz)

400 ml – 430 ml/ 13.5 oz – 14.5 fl.oz/ about 1 ¾ cups lukewarm milk

200 g/ 7 oz/ 1 cup sugar

1 kg/ 35.3 oz/ 8 cups all-purpose flour

½ teaspoon salt

1 egg + 2 tablespoons milk

For the syrup and topping:

200 ml/ 6.7 fl.oz/ 1 cup water

100 g/ 3.5 oz/ ½ cup sugar

½ teaspoon rum aroma (or more to taste)

3 tablespoons clear honey

3 tablespoons lukewarm water

100 g/ about ¾ cup ground walnuts
Instructions
In a small bowl mix together the crumbled yeast, 50 ml/ 1.7 fl.oz/ about ¼ cup of the lukewarm milk, 2 tablespoons of the sugar. Sprinkle lightly with 1 tablespoon of the flour and let stand for 10-15 minutes.
Give the rest of the flour and sugar and the salt to the bowl of your kitchen machine. Mix well. Pour the yeast mixture on top and add most of the remaining lukewarm milk. Keep about ¼ cup of it aside and only add it if necessary when kneading. The dough should be smooth and elastic.
Knead the dough with the kitchen machine for about 5 minutes. Turn the dough on the working surface and knead it with the hands for 2 or 3 minutes more. Give the dough to a bowl, cover with a clean kitchen cloth and let rise for about 40-45 minutes in a warm place.
Preheat the oven to 180 degrees Celsius/ 360 degrees Fahrenheit. Line two baking trays with baking paper.
Knead the risen dough shortly and divide it into 40 small balls.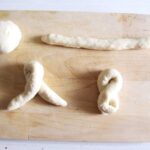 Roll each ball into a 30 cm/ 12 inches long dough "rope". Form an 8 out of this "rope".
Mix the egg and 2 tablespoons milk in a small bowl. Brush the mucenici with this mixture and bake the first tray in the preheated oven while you form the second batch of pastries.
Bake each tray for about 10 to 15 minutes, depending on your oven. The pastries should be golden brown.
In the meantime make the syrup, it should be ready when the mucenici are baked. Give the water and the sugar to a small pot, bring to a boil and cook for 5 minutes. Add the rum aroma.
Mix the honey and the lukewarm water in another small bowl.
Roast the ground walnuts in a pan for a few minutes, until fragrant.
Take the first tray of pastries out of the oven. Brush the second batch of the pastries with the egg-milk mixture and place it in the oven.
Generously brush the baked pastries with half of the sugar syrup. Brush them with half of the honey mixture as well and sprinkle them with half of the roasted walnuts.
Repeat with the second tray of yeast pastries.
Enjoy warm or cold. Although best when served on the day you baked them, they are still good on the next day. Keep them well wrapped in a clean kitchen cloth.
This post contains affiliate links. The price you pay as a consumer does not change, but if you make a purchase we will receive a commission which helps support the blog.