Typical Romanian vegan pies filled with cabbage and lots of dill.
This kind of pies have a long tradition in Romania and the Republic of Moldova. I am not entirely satisfied with the English translation of "pie", I feel that the word is not really suitable for this kind of small, yeasty "cake" or even flatbread, traditionally filled with cheese or with cabbage for a fasting time (vegan) version. However, in absence of a better word, I must go with pie.
The Romanian word for it "placinta" comes from the Latin word "placenta" which was the word used by Cato the Elder, a Roman senator who lived about 200 years BC to describe a kind of cake consisting of several layers of dough, cheese and honey. The Romanian cheese pies nowadays are mostly savory, at least those that I had the pleasure of making and eating. They come in the form of a small flatbread, thinly rolled, filled with a cheese and herb mixture and fried in a little oil in the pan.
Today's version – the Romanian Cabbage Pies – Placinte cu varza – are the fasting time version of those cheese filled pies. Like I've already mentioned in my first post this year – Romanian White Bean Dip – Fasole batuta, many Romanian people are very serious about keeping the fasting times, especially the fasting before Easter and before Christmas. In addition to those times, you can fast on each Wednesday and Friday of the week + several other (unknown to me) days of the year.
While I am not particular about religious fasting, I do think that keeping at least some of those fasting days can be beneficial for your general health, so I try to consider them as often as I can and include quite a few vegan days in our meal planning. I recently read about the diet followed by the Greek monks of Mount Athos, which basically divides the week into 3 periods: 3 days of fasting (pretty much vegan food with lots of nuts, fruits, vegetables, beans), 3 days of moderate eating (a kind of Mediterranean diet) and 1 day of eating whatever you like, in moderation, of course. Theoretically, this is the way I would like to eat myself, I find it the best way of staying healthy, but it is really not so easy … I kind of lack the discipline. But it is a goal at least, that – maybe- slowly, I will be able to achieve.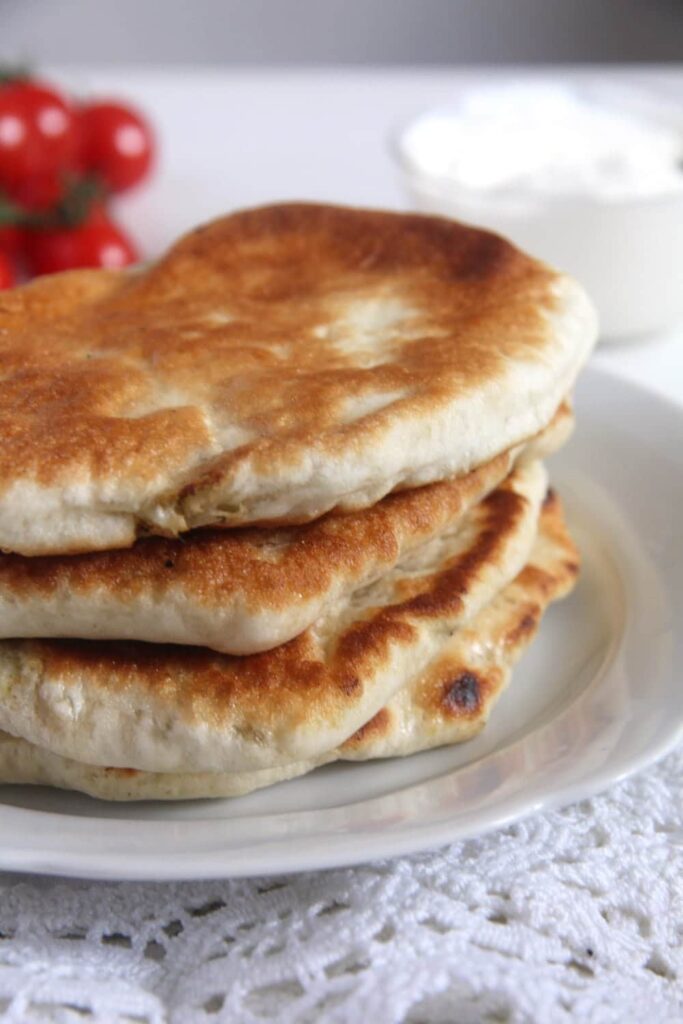 And what can I tell you about these Romanian Cabbage Pies? First of all – they are easier to make as you might think. Especially, if you decide to make the yeast dough in a food processor, which will knead the dough for you. If not, it is still easy, you just have to have the patience to knead the dough for about 10 minutes by hand. The result is a gloriously satisfying pie, savory yet slightly sweet due to the stewed cabbage, something you can eat either warm as a main dish with some tomato salad on the side, or cold as a snack. You can pack it as well and take it to a picnic or even make it your work lunch the next day. This version is strictly vegan, but if you like you can add a small handful of crumbled feta cheese in the cooled cabbage filling.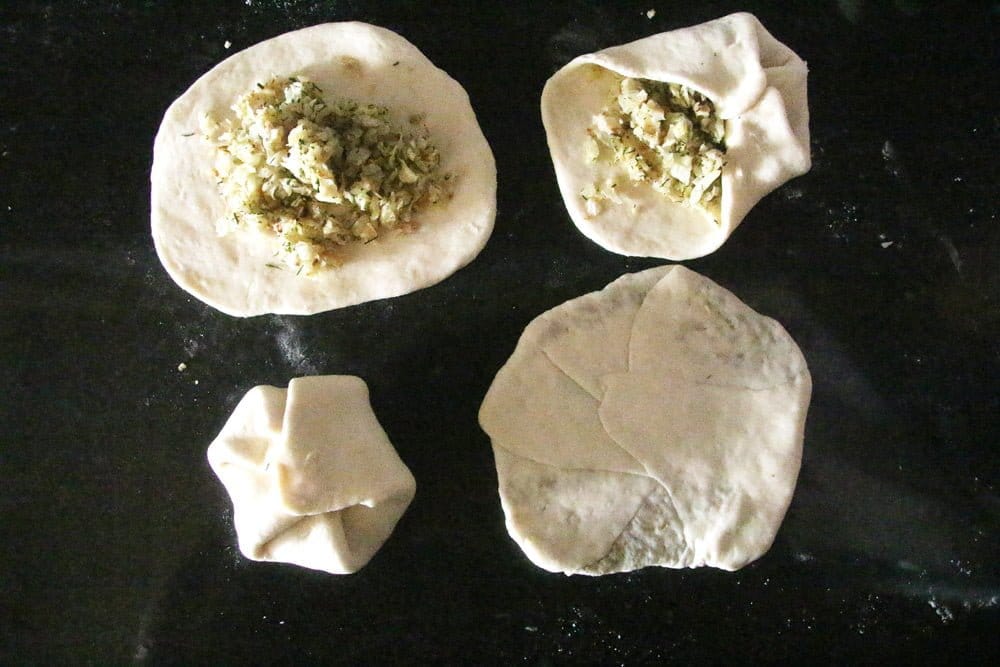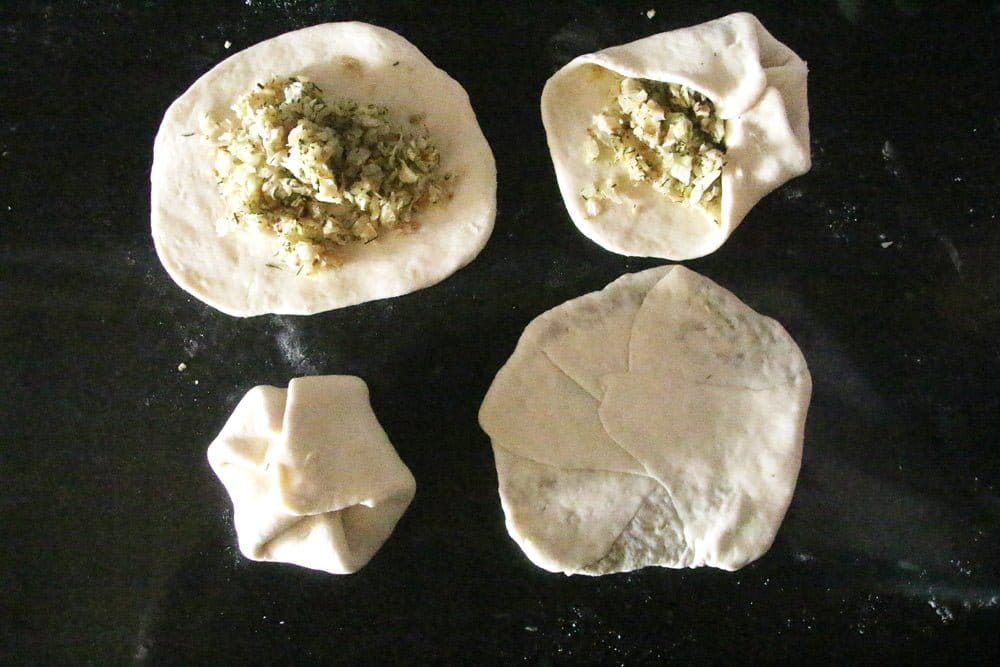 Prep time:
Cook time:
Total time:
Typical Romanian vegan pies filled with cabbage and lots of dill.
Ingredients
500 g/ 1.1 lbs all-purpose flour
1 teaspoon salt
1 sachet dry yeast
1 teaspoon sugar
250 ml/ 8.4 fl.oz/ 1 cup lukewarm water
500 g/ 1.1 lbs white cabbage
a smallish bunch of dill
2 tablespoons oil
salt and pepper
a little oil for frying
creme fraiche or sour cream to serve
tomato onion salad to serve
Instructions
In a large bowl mix together the flour, yeast, sugar and salt. Slowly start adding the lukewarm water, mixing with a spoon until the flour is incorporated. Knead the dough for about 10 minutes or until it stops sticking so much to the bowl, flouring your hands from time to time if necessary. Cover the bowl with a kitchen cloth and let rise in a warm place for about 1 hour or until doubled in size.
Alternatively, you can prepare your yeast dough in a food processor using the appropriate kneading accessories. I knead this kind of dough for about 3-4 minutes in my Thermomix then transfer it to a bowl where it can rise.
In the meanwhile prepare the stewed cabbage. Grate the cabbage roughly or process it in the food processor to obtain a similar result to grating it manually. Add some salt (be generous) and pepper and let sit for about 15 minutes.
Heat the oil in a large non-stick pot or Dutch oven and stew the cabbage until soft, about 15-20 minutes. Adjust the taste, generously, with salt and pepper and stir in the finely chopped dill. Leave to cool slightly until you prepare the rest.
Knead the risen dough very shortly to bring it in shape again. Divide it into 10 parts and form 10 balls. Roll each ball into a thin circle. I did not require extra flour for rolling, but do sprinkle the working surface and the rolling pin very lightly with flour if the dough starts to stick. Place some filling in the middle of the circle and form a pocket by bringing together all the sides of the circle and pressing lightly to seal the pocket. See the pictures above!
Place the pies on a piece of baking paper and let rest for 10 minutes.
Heat a large non-stick pan. Brush it or spray it with a little oil and fry the pies about 2-3 minutes on each side. You will have to work in two or three batches. Keep the finished pies warm in the lightly heated oven.
Serve immediately with tomato and onion salad or eat cold as a snack.
Others you might like: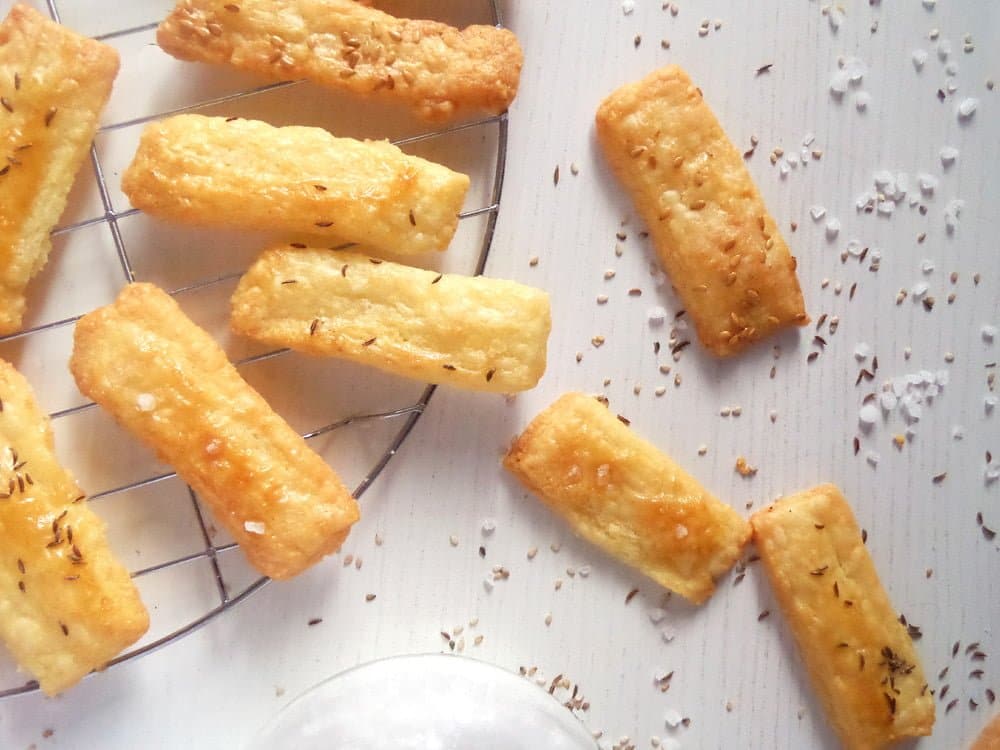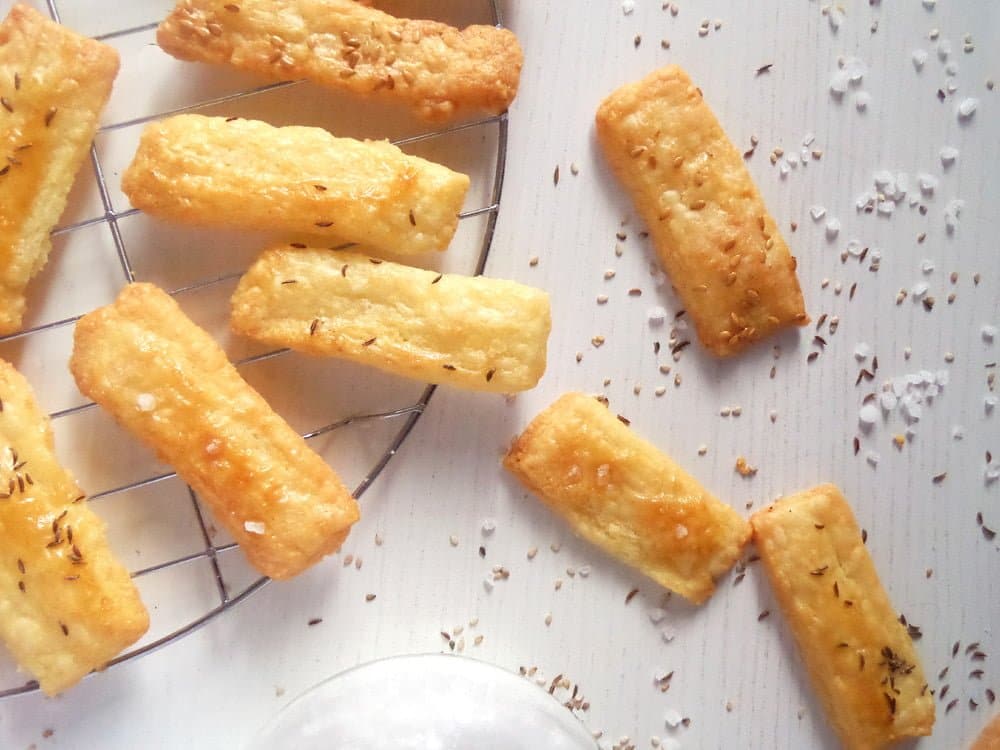 Cheese Caraway Crackers
Chicken Scallion Pie
Albanian Spinach Rolls