Last Updated on
An amazing cheese pie with layers of yufka filled with a mixture of eggs and cheese like quark, feta and yogurt, this is a Romanian style Borek.
This is one of the best savory cheese pies I have had in my life! I mean it! I could not stop eating it! And I wasn't alone there, everyone sitting at the table had the same problem… Four adults, two kids and a whole tray full of cheese pie … three pieces left to take to work the next day… nothing else. And trust me, this pie was huge, actually large enough to feed 10 people. The greed, I am telling you!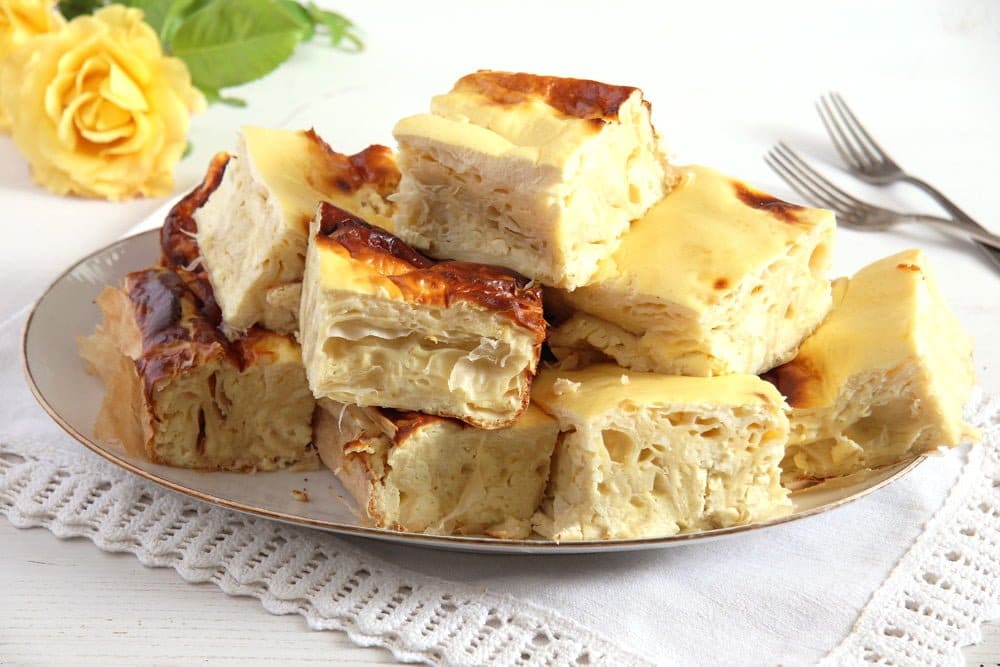 It is a quite well-known kind of pie in Romania, the Placinta Dobrogeana under its original name. Well, I am afraid I have never had it in Romania, like I have mentioned in this post about the Easy Skillet White Fish Fillet in Tomato Sauce, I never got to visit the seaside and Danube area of my country much as an adult, so I have never came into the delight of this particular cheese pie. But I am sure that if I ever get to see the Black Sea again I will make a point of tasting the original of this pie. Until then I will have to do with this cheese pie recipe, which is so thoroughly scrumptious I don't really feel I am missing something.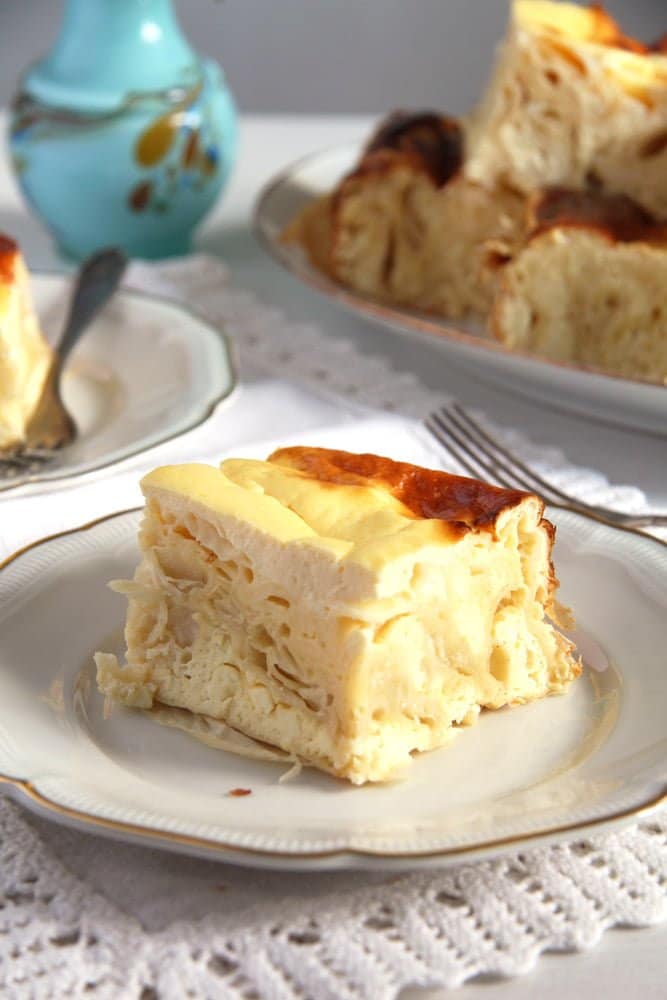 I assume this cheese pie to originate in the Turkish kitchen. There is quite a large minority of Turkish and Tatar population living in this area of Romania and their kitchen greatly influenced the local kitchen. Eating baklava and other Turkish inspired sweets, lamb kebabs and pies similar to the Turkish borek is something you will only find in the Dobrogea kitchen in Romania, I have never known baklava existed until I came to Germany and never had anything made with ground lamb meat.
But Turkish influence on any kind of cooking can only be a positive thing, I find Turkish food amazing, really at the top of my list together with Indian food when it comes to ethnic cuisine.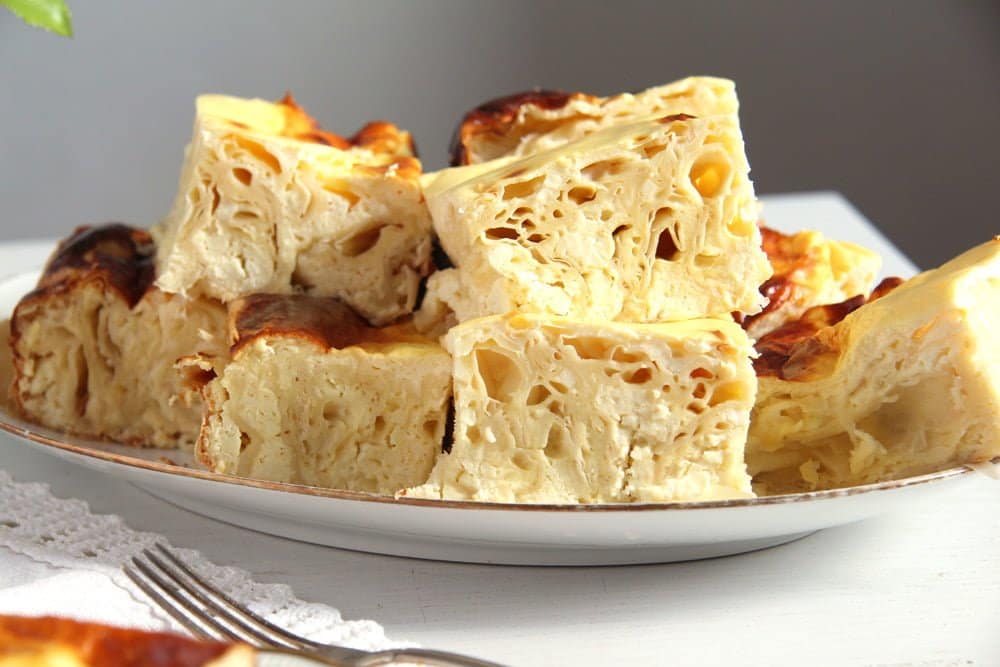 Although having to deal with thin pastry layers like yufka, this pie is actually really easy to make. For sure, it would be more of a big thing if you had to make the pastry yourself, but you don't have to. I really like to make my own pastry, but when it comes to this kind of pastry: yufka, phyllo, strudel and even puff pastry (which I keep telling myself it is really not that hard to make, I should really give it a try someday), I would rather buy the ready-made one. It is easy to work with and I like the way it tastes… and the work involved into actually making that kind of thin pastry scares the heck out of me.
I used yufka pastry, which is very easily available in all the Turkish shops in Germany, but if you cannot find it phyllo pastry will do just as well. Turkish feta is also the best choice, but any other feta you like will be OK as well. I used quark in the filling as well, to replace the Romanian branza de vaci, I like quark, it tastes fresh and its low-fat version, which is the one I use for most of the baking or cooking with quark, is really very low in calorie and that is never a bad thing when making a cheese pie.
Serve this Savory Cheese Pie with Feta, Quark and Yogurt preferably hot from the oven with a salad on the side, if you wish. However, the leftover pieces eaten at room temperature the next day were delicious as well.
And if you would like to see the other Dobrogea recipes from this series have a look at these links: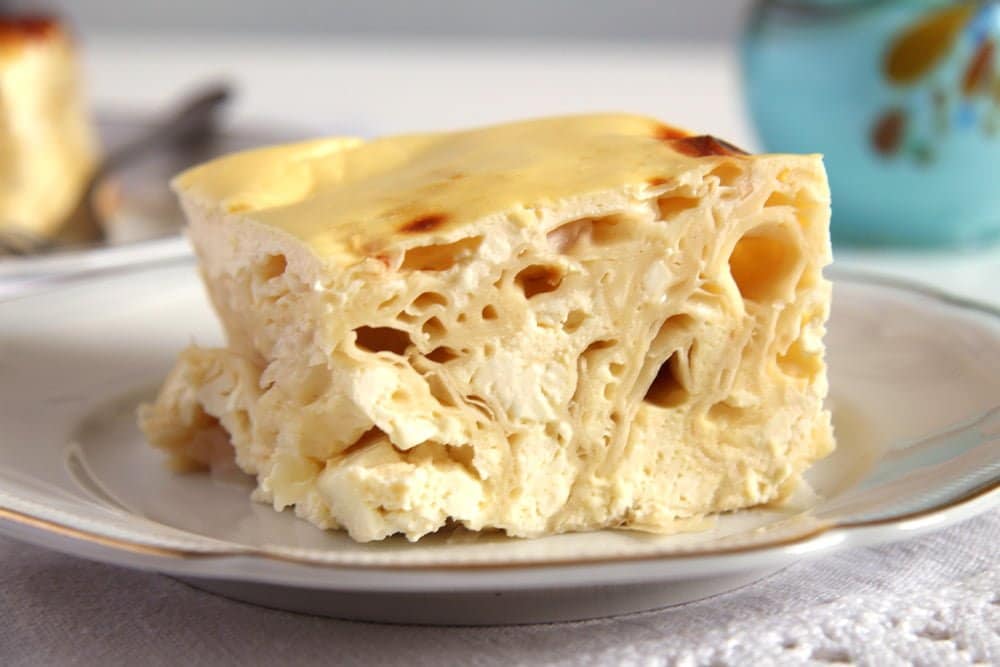 Ingredients
400 g/ 14 oz pack yufka pastry (or phyllo pastry) (See note)

olive oil for brushing

5 large eggs

250 g/ 8.8 oz feta, preferably sheep feta

250 g/ 8.8 oz low-fat quark

250 g/ 8.8 Greek yogurt

salt to taste
Instructions
Preheat the oven to 200 degrees Celsius/ 390 degrees Fahrenheit. Brush a deep baking tin of about 30x22 cm/ 12x9 inches with olive oil. The baking tin needs to be deep to avoid messing up your oven with the runny cheese filling. Mine is about 5 cm/ 2 inches deep.
To make the filling give the eggs to a larger bowl and beat them well with a fork or a whisk. Crumble the feta in the bowl as well, add the quark and the yogurt and mix well with the fork. Add salt to taste, depends on how salty the feta cheese is. Don't overmix, you want the mixture to be rather crumbly from the feta, it should not become a paste.
You will need to work a bit quickly now, so that the pastry doesn't get too dry while waiting for you. Keep the pastry sheets you are not working with covered with a kitchen towel in the meantime.
I prefer to prepare all the pastry layers first, spread them on my very large kitchen table and when they are all brushed and put together, divide the cheese filling evenly between the sheets.
[gallery ids="6962,6961,6960,6959"]
Take one pastry sheet and brush it lightly with olive oil. Place another sheet on top and brush again. Repeat with a third pastry sheet and brush again. Place some cheese filling on only one half of the yufka pastry leaving a little bit of space around the edges. Fold the other half of the pastry on top of it. Brush the folded half again with a little oil. Push the sides of the pastry towards the middle so that the whole things forms creases, see the pictures.
Repeat until you have used all of your pastry and filling. Keep in mind that each layer of pastry should be made out of 3 pastry sheets layered on top of each other with olive oil in between.
Place each formed, creased pastry assembly into the prepared pan. When everything is in the pan, cut 3 times across the filled pastry, it will make things easier for you when the pie is ready to serve.
Place the baking pan in the oven and bake for about 30 minutes or until nicely golden brown. Serve hot or at room temperature.
Notes
My Yufka pastry pack contained 15 sheets of approximately 43x30 cm/ 17x20 inches. You do not need exactly these same sizes, more or less is OK.
This post contains affiliate links. The price you pay as a consumer does not change, but if you make a purchase we will receive a commission which helps support the blog.