Fifteen minutes work and you will have one of the easiest and most delicious cheesecakes ever – a crustless cheesecake for Easter. 
In case you haven't yet decided what kind of cake/dessert you will serve this Easter, here is a very good idea: a crustless cheesecake, very easy and quick to make and so delicious you will probably manage to finish off the whole cake in one go.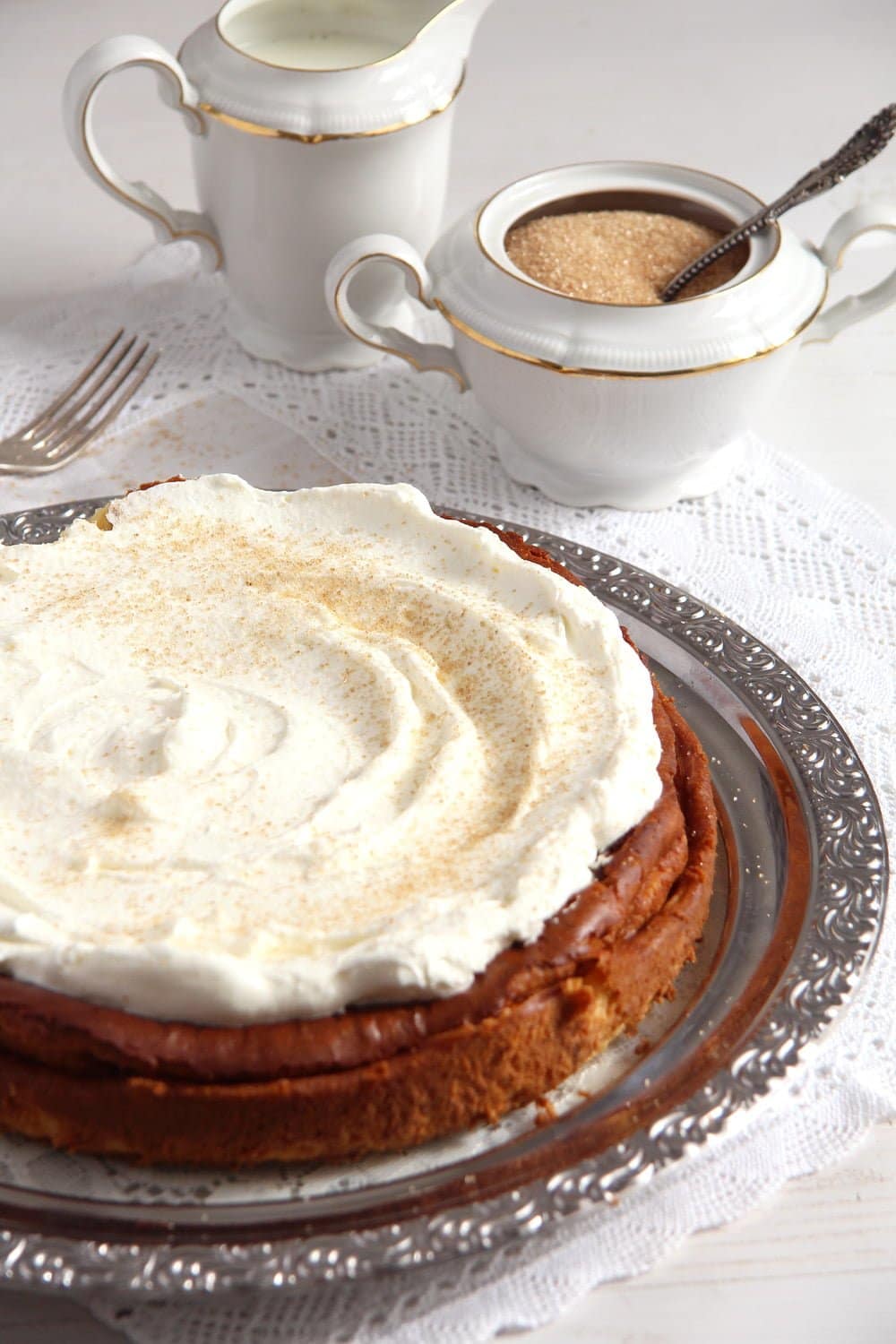 Last Easter I gave you the recipe for the classic Romanian Easter Cheesecake – Pasca. A wonderful cake with only one drawback – it is quite elaborate to make, you do need to make a yeast dough, knead it, let it rise and so on. The result is a comforting, creamy, delightful cake but… this crustless cheesecake is just as delicious with only 10% of the effort involved. You don't even have to separate the eggs and beat the egg whites before folding them into the rest of the mixture, just throw all the ingredients into one bowl, mix well and bake.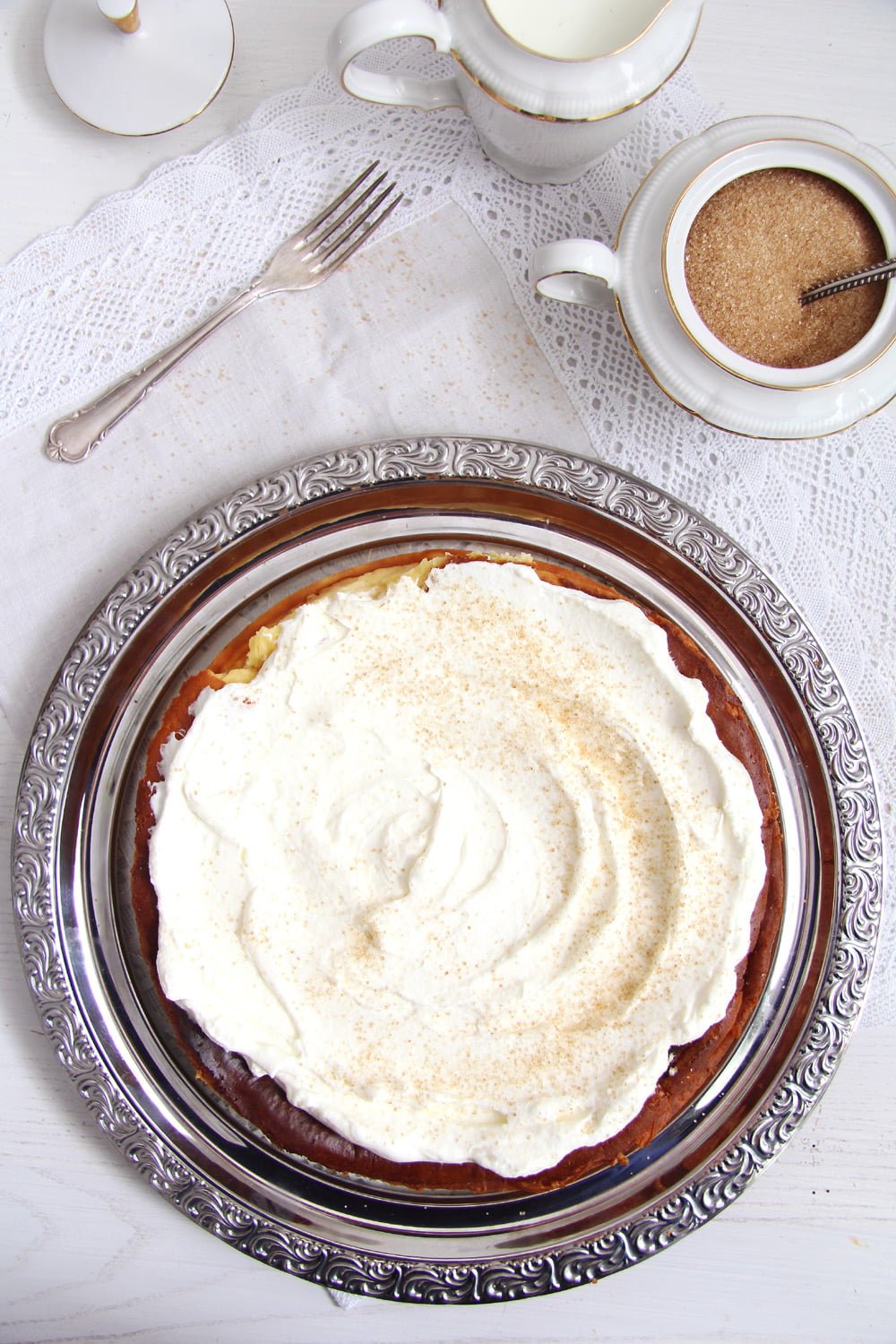 In an attempt of reducing the number of creases on top of the cake, I paid attention to not opening the oven during the baking process and I left the cake in the unopened oven after the baking time was over as well. It did help, I would say, I only had one rather small crease… 🙂 I saw another method of crease free cheesecake baking on TV a few days ago, I will give it a try the next time I will make a cheesecake again and let you know. However, if you decide not to open the oven during the baking time at all, then make sure to cover the crustless cheesecake with a piece of baking paper from the start, otherwise you will run the risk of your cake turning too dark. That really depends on your oven, some tend to do that while others don't, but mine definitely turns everything too dark on top if I don't pay attention, so I was glad I thought about this detail from the beginning.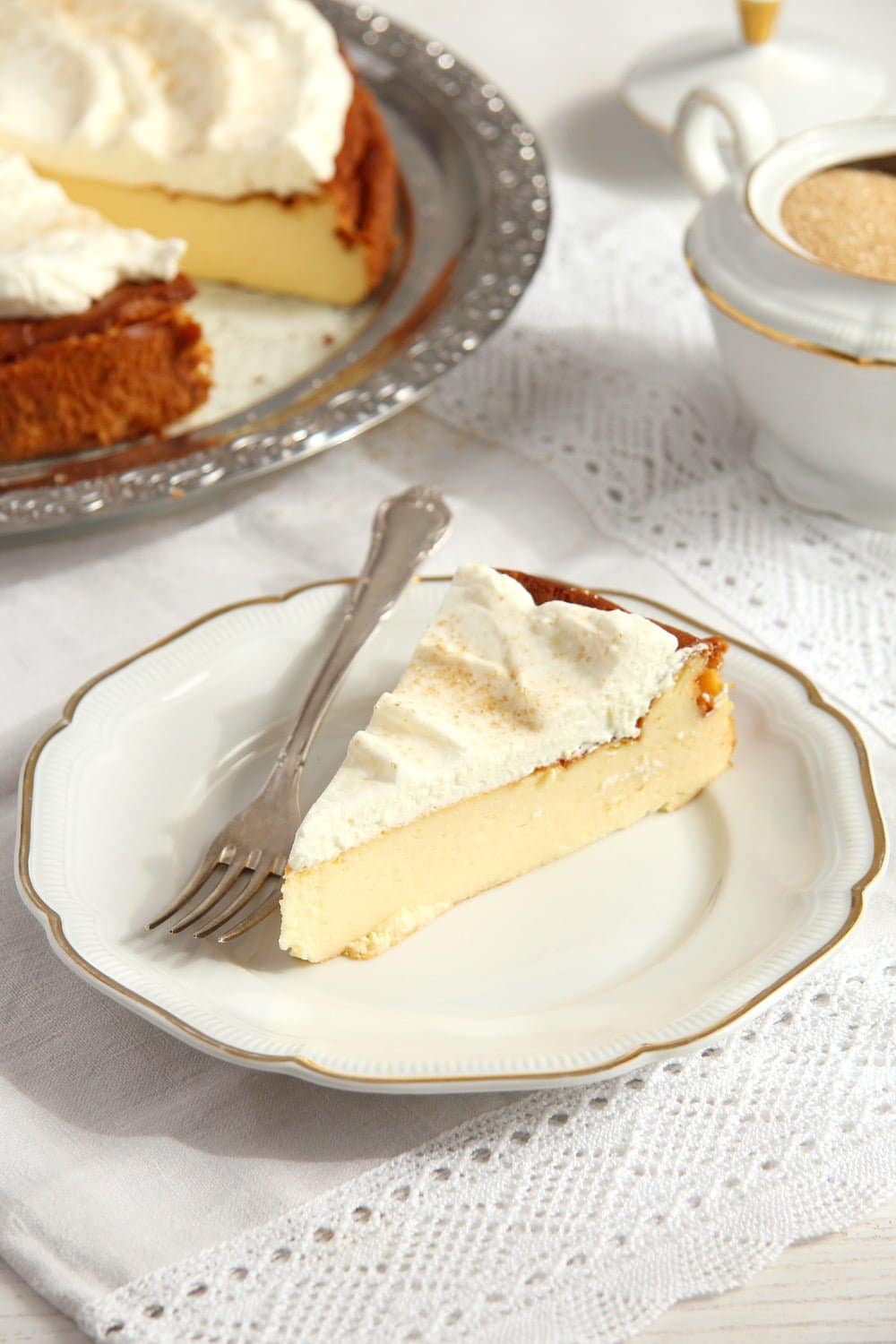 And if you do open the oven and your cheesecake gets a few creases, it is really no drama. You will top the cake with cream of fruit anyway, so you will not see the creases anymore. 🙂
I used a combination of low-fat quark, double cream and Smetana. If you cannot find Smetana, you could replace it with crème fraiche or even sour cream. Make sure to take the butter out of the fridge in time, it has to be really soft when you mix it with the rest of the ingredients, like really really soft, otherwise you will have little butter clumps in you mixture and you don't want that. I chose to top the cake with more cream and sprinkle it with a bit of brown sugar. The result was a very decadent, luscious cheesecake that we all loved. However, the topping can be left out altogether or you can top the cake with any fresh fruits/ berries or compote of your choice.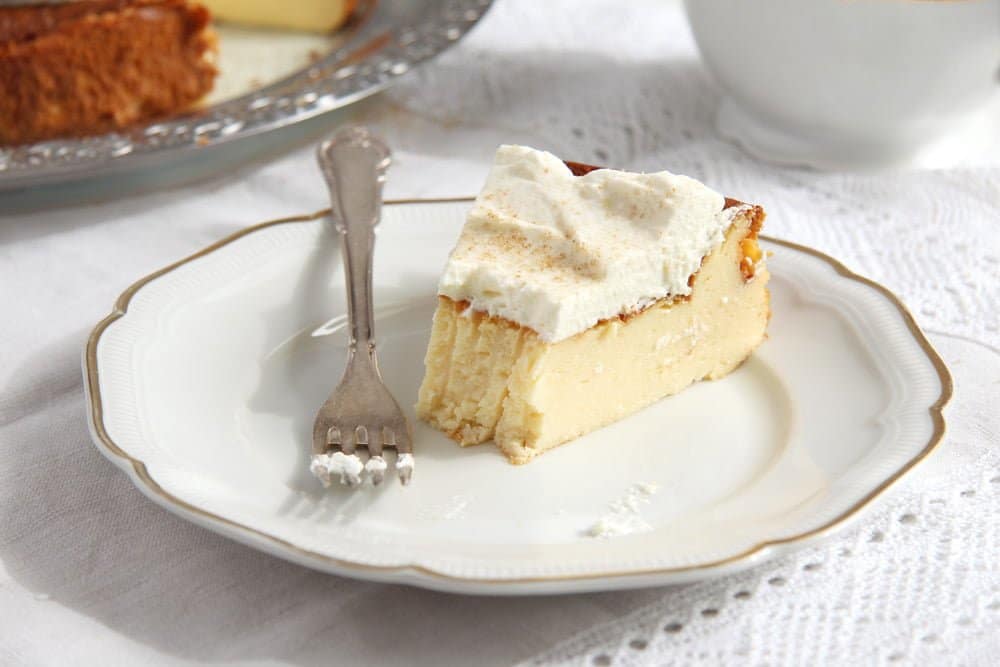 What I loved most about this cake (except it being so easy and quick to make) was its consistency. Somewhat different from the fluffier cheesecakes I normally make, the slices were quite dense, almost custard like and I found that to be a wonderful change from the more regular cheesecake. I really recommend you trying this cheesecake, once you try it, you will end up making it again and again.
Otherwise, I wish you a very Happy Easter, if you celebrate Easter. And if you don't, I wish you a very Happy Weekend. We plan to spend the day at my mother-in-law's house tomorrow, eating a typical German Easter lunch, including these German Beef Roulades and German Red Cabbage.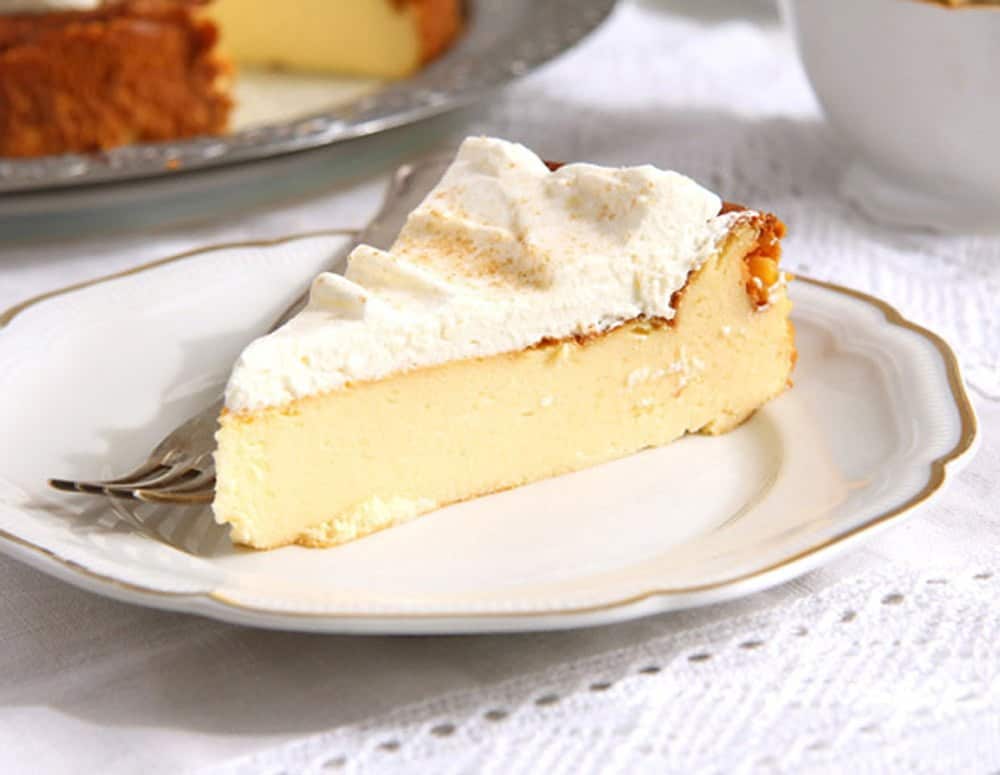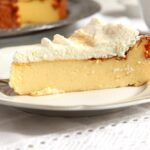 Ingredients
500 g/ 17.6 oz/ 2 ½ cups low-fat quark

250 ml/ 8.4 fl.oz/ 1 cup + 1 tablespoon heavy cream

250 g/ 8.8 oz/ 1 cup + 1 tablespoon Smetana/creme fraiche/sour cream

6 eggs (medium Germany, large US)

100 g/ 3.5 oz/ ¾ cup + 1 tablespoon all-purpose flour

200 g/ 7 oz/ ¾ cup + 1 tablespoon butter, very soft

200 g/ 7 oz/ 1 cup sugar

½ packet/ 7 g/ 1 ¾ teaspoons Dr. Oetker baking powder

2 tablespoons vanilla sugar

2 tablespoons lemon juice

For the topping:

200 ml/ 6.7 fl.oz/ ¾ cup whipping or heavy cream (30-35 % fat), unsweetened

1 packet Dr. Oetker cream stabilizer (Sahnesteif)

1 tablespoon vanilla sugar

some brown sugar for sprinkling
Instructions
Preheat the oven to 170 degrees Celsius/ 340 degrees Fahrenheit. Butter a springform 26 cm/ 10-11 inch and set aside.
Give the quark, heavy cream, Smetana/creme fraiche, eggs, very soft butter, sugar, vanilla sugar, flour, baking powder and lemon juice to a large bowl. Mix well. Pour the mixture into the prepared springform.
Place a piece of baking paper loosely on top of the cheesecake and bake for 1 hour without opening the oven during this time. After one hour turn off the oven, still do not open the oven, and leave the cake in it for another two hours. Remove from the oven and cool completely before taking out of the springform.
Top with the whipping cream just before serving. Beat the whipping cream with the cream stabilizer and vanilla sugar. Read the package's instructions of your cream stabilizer. I use Dr. Oetker: I beat the heavy cream for about half a minute until it starts to stiffen, then slowly add the sugar and the stabilizer. I continue beating the cream until stiff, it will not take long.
Top the cheesecake with the cream and sprinkle with a little brown sugar.
I generally find that cheesecakes taste even better the day after baking, so I actually always make them one day in advance.

This post contains affiliate links. The price you pay as a consumer does not change, but if you make a purchase we will receive a commission which helps support the blog.
Others you might like:
White Chocolate Apricot Cheesecake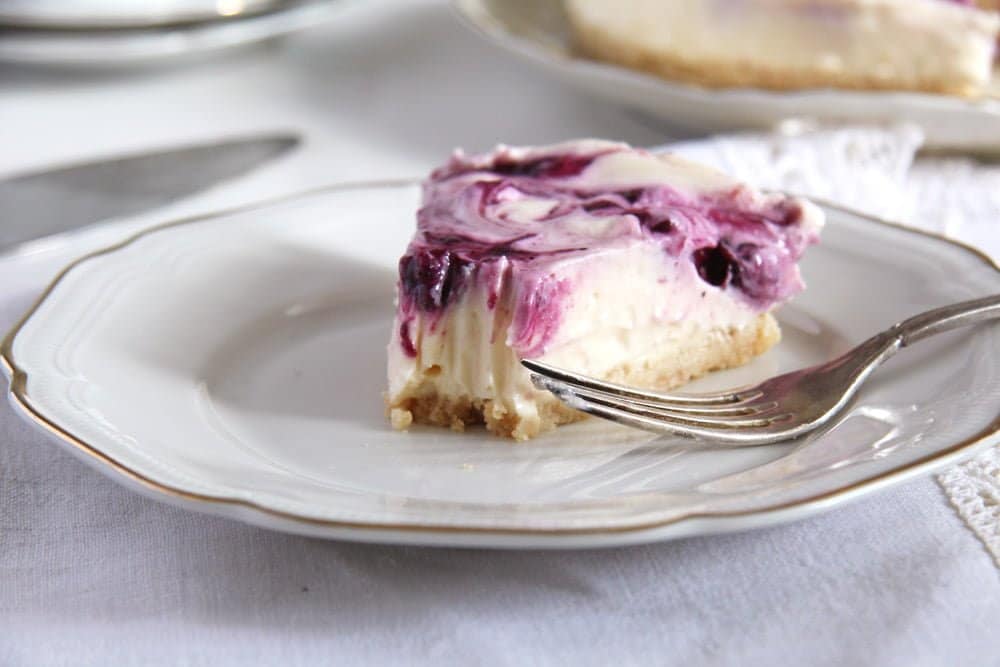 Blueberry Lemon Curd Cheesecake