Do you want to bake a cheesecake for Mother's Day? How about trying one of my favorite cheesecake recipes? They are all incredibly delicious!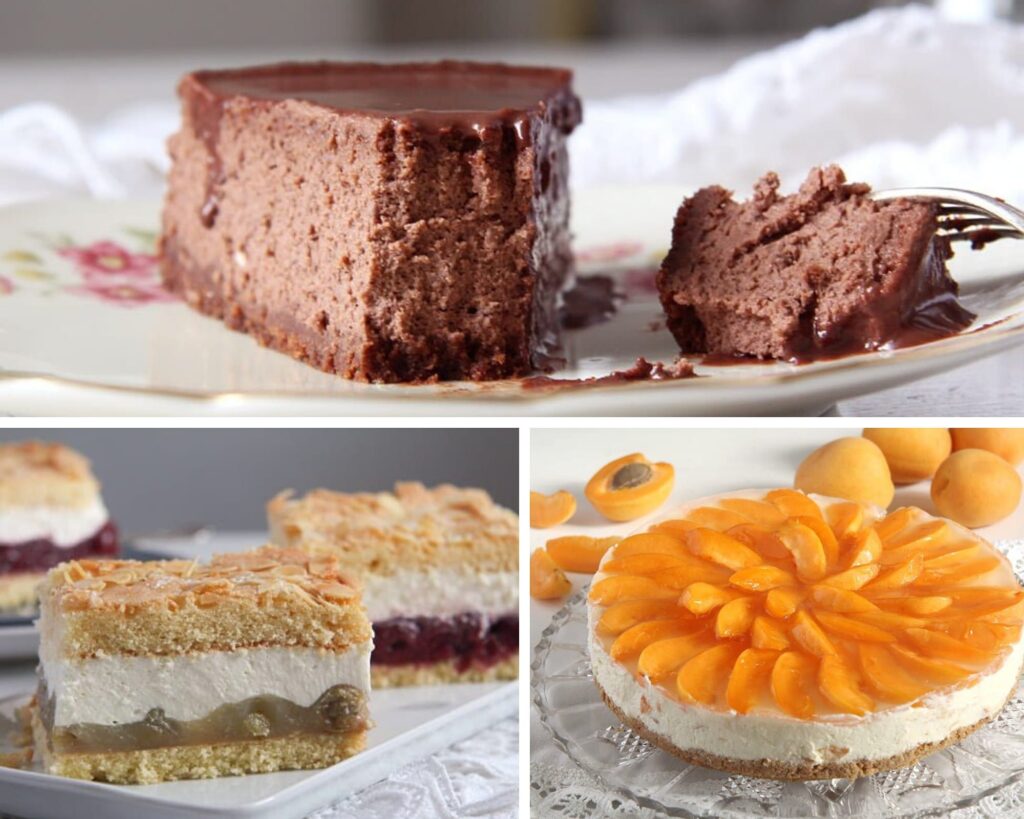 Mother's Day Cheesecake Ideas
With Mother's Day coming up on Sunday, I thought about gathering a few recipe ideas for cheesecakes you could make your mother happy with on Mother's Day.
They are easily made cheesecakes, mostly spring or summer-orientated cakes, full of fruits and berries. Light cakes, always fruity, made with yogurt, cream cheese, or quark, often no-bake cheesecakes, sweet yet refreshing.
Check out these cheesecake recipes; you will find something you like for sure. 🙂
And if you would like to cook some more for your mother, look at these easy Mother's Day recipes.
What to bake for Mother's Day?
I started this post quite a few years ago with just a few recipes. Recipes I love baking for any occasion, actually, but particularly for Mother's Day.
Everybody knows what cheesecake is, but everyone has their favorite kind. Some love a classic one, like New York's Cheesecake, which is baked and so incredibly creamy! One of my favorite recipes; I can't believe I haven't posted a recipe yet.
But try this amazing Chocolate Cheesecake, these Cream Cheese Bars with Cherry Topping, or the German Cheesecake, a traditional cake made with quark. And my absolute favorite is the Crustless Cheesecake, which only needs about 15 minutes of your attention and then baking.
And others prefer a no-bake cheesecake; they are super creamy to make, refreshing, and stunning looking! Not to mention that they are so much easier to make than their baked counterparts. My favorite ones are the Strawberry Yogurt Cheesecake and the No-Bake Lemon Curd one.
Strawberry Yogurt Cheesecake
This is one of the cakes I baked the most in my life, always in spring or early summer when the strawberries are juicy and ripe. It is the perfect Mother's Day cheesecake: incredibly delicious, light, and beautiful!
2. No-Bake Bailey's Cheesecake
You will probably like this boozy dessert so much that you will keep making it! Again and again! I know I do; I love the creaminess, the flavor, and the simplicity of the recipe… Anything about it, actually.
3. Creamy Apricot Cheesecake - No-Bake
You will love the luxurious white chocolate touch, balanced by the freshness of the apricots, the silky-smooth texture, and everything about it!
4. No-Bake Lemon Curd Cheesecake
This no-bake lemon curd cheesecake with blueberries might be the quickest, most straightforward cheesecake I have ever made. The main reason for that is the use of canned ingredients, ingredients I already had in the fridge/pantry, like homemade lemon curd and blueberry pie filling.
5. Crustless Cheesecake
This crustless cheesecake is one of my favorite cakes ever! I love cheesecakes of any kind, I've made tons of cheesecakes over the years, and there was rarely one I didn't like. But this crustless cheesecake stands out: just thinking and writing about it makes me get up and start baking it again.
6. Heart-Shaped Cheesecake
The same crustless cheesecake from above but baked in a heart-shaped tin and decorated with whipped cream and those gorgeous fresh raspberries, your mother will remember this treat forever!
7. Baked Blueberry Cheesecake with Lemon Curd
A creamy and comforting cake filled with lemon curd, cream cheese, and sweetened condensed milk and topped with fresh blueberries; this recipe is fantastic!
8. Easy Chocolate Cheesecake Recipe (Nigella Lawson)
Lots of chocolate and cream cheese, some sour cream and heavy cream, digestives for the crust, and more chocolate for the topping. A rich and delightful list of ingredients makes Nigella Lawson's chocolate cheesecake recipe better than any other I know.
9. Cheesecake Maracuya
Delicious cheesecake with a refreshing and light quark and cream filling, topped with a maracuya or passion fruit glaze, this luscious cake bursts with flavor.
10. Apple Streusel Cheesecake
Incredibly creamy apple streusel cheesecake with soft and aromatic apple cubes and topped with crunchy, sweet crumbs.
11. German Cheesecake
The famous German cheesecake, or Käsekuchen, is a traditional quark cheesecake that can be served with or without the meringue topping. I prefer it with the topping; it makes everything complete.
12. German Gooseberry Cheesecake
We love this gooseberry cheesecake. And I am sure you will love it too. This gorgeous cake is soft, and sweet, yet slightly tart, creamy, and just wonderful.
13. No-Bake Ricotta Cheesecake (with Raspberries)
A crustless cheesecake, more like a pudding than a cake, with a soft, sweet, and delicious ricotta base topped with raspberry whipped cream and fresh raspberries. A dream of a cake, I am telling you!
14. Hokkaido Cheese Tarts
The Hokkaido cheese tarts are mini shortcrust tart shells filled with a delicious, fluffy, sweet, yet slightly savory cheese filling.
15. Raffaello Cake
This Raffaello cake is a dream of a cake! I've always had a weakness for Raffaello. I am not much into chocolate, candy, or any bars, etc., but when it comes to Raffaello, I cannot resist them. So, I had to make a cake...
16. Philadelphia Cream Cheese Brownies
These Philadelphia cream cheese brownies are another recipe that will add a few centimeters to your waistline just by reading the ingredient list. But I have to tell you that these brownies are so good that your brain will take a break from reality and not care about the calories anymore.
17. Cream Cheese Bars with Cherry Topping
Mouth-watering cream cheese bars topped with a luxurious homemade fresh cherry pie filling.
More perfect Mother's Day treats
Surprise your mum with a sweet little present! You could make these Champagne Truffles or these Homemade Raffaello Coconut Balls if your mother loves coconut.
How about some mini tarts? Try some incredibly pretty Mini Fruit Tarts, the Blueberry Tarts with meringue, or these Raspberry Tartlets with white chocolate, which are basically to die for!!! Your mother or mother-in-law (in my case) will definitely be impressed.
You can keep things simple yet super delicious if you decide to make a roll cake or Swiss roll. You could try one of my favorite recipes, either the Strawberry Swiss Roll or the Raspberry Roulade.
And even faster and easier is to bake something with puff pastry. Try this flavorful, pink Berry Puff Pastry Cake, some Croissants with Jam or Chocolate Filling, mini Apple Pies or Apple Rolls, or the simplest Cinnamon Rolls you could possibly make.
Or make a simple dessert to serve after lunch or dinner. How about Strawberries and Cream with Meringue or a Strawberry Mascarpone Dessert? They would both be perfect for the season.
I wish you all a super Happy Mother's Day!