Delightfully sweet and creamy cheesecake made with white chocolate and topped with fresh apricots.
I hope you are not bored with me only posting cheesecakes this week! Well, if you like them as much as I do, you wouldn't, there are so many ways of making a cheesecake, it can never get boring, in my opinion.
This recipe is another one of our favorites. Originally made with strawberries, I decided to give it a twist this time and try it with some nice, ripe apricots. They are in season now and I can't resist buying some every time I see them. I love them fresh, but not only, apricot jam is one of the best jams ever, if you ask me.
But no jam for this recipe, just fresh, ripe apricots, surrounded by a creamy and simple filling made with only two ingredients: good quality white chocolate and whipped cream. I wouldn't want to know how many calories one slice of this cheesecake contains though…. What you don't know, doesn't hurt you, right? 🙂 On the brighter side, the cake is small and nobody makes a cheesecake to eat it alone…
If you want to make this cake while apricots are out of season, you could definitely used canned apricots, fresh are nicer, but canned would do as well. Peaches are also a good alternative, either fresh or canned and like I mentioned before: strawberries. I used a mixture of plain butter biscuits and amaretti biscuits for a bit of flavor, but you could use either only one sort of them or completely other cookies, like oatmeal cookies, digestives or whatever else you use when making a cheesecake. I am not very particular when it comes to making the base, whatever you have or whatever suits your fancy at the moment.
Regarding the white chocolate, I follow the same rule as in the case of regular chocolate. For best results, use the best quality chocolate you can afford, it really makes a difference in the taste. The white chocolate plays a key role in this cheesecake, so if the chocolate is not what you would normally like to eat, then you will not be crazy about the cheesecake either. After melting the chocolate, allow it to cool down for up to 10 minutes before mixing it with the whipped cream. I was not patient enough on one occasion and there were tiny lumps of chocolate forming in my cream. So, do give the chocolate its 10 minutes. That would be the "greatest" difficulty when making this cake, otherwise you will be done in no time. An express cake, just like the blueberry cheesecake from Monday.
About the glaze on top. I use the very common Tortenguss – fruit tart glaze. It is a small sachet of powder, which I mix with 2 tablespoons sugar and 250 ml/ ½ water and bring to a boil while stirring continuously. This mixture will be poured over the fruit and it will jellify. I am not sure how available that is outside Europe, I have searched for some recipes, but didn't really find anything. If that is unavailable in your area, you can glaze the apricots, by heating up a bit of jam (apricots or peach or something light in color in this case) and brush this jam over the apricots. It might not be as stable as the jelly glaze but it will do. And to see the positive in this case: jam tastes better than jelly.
Others you might like: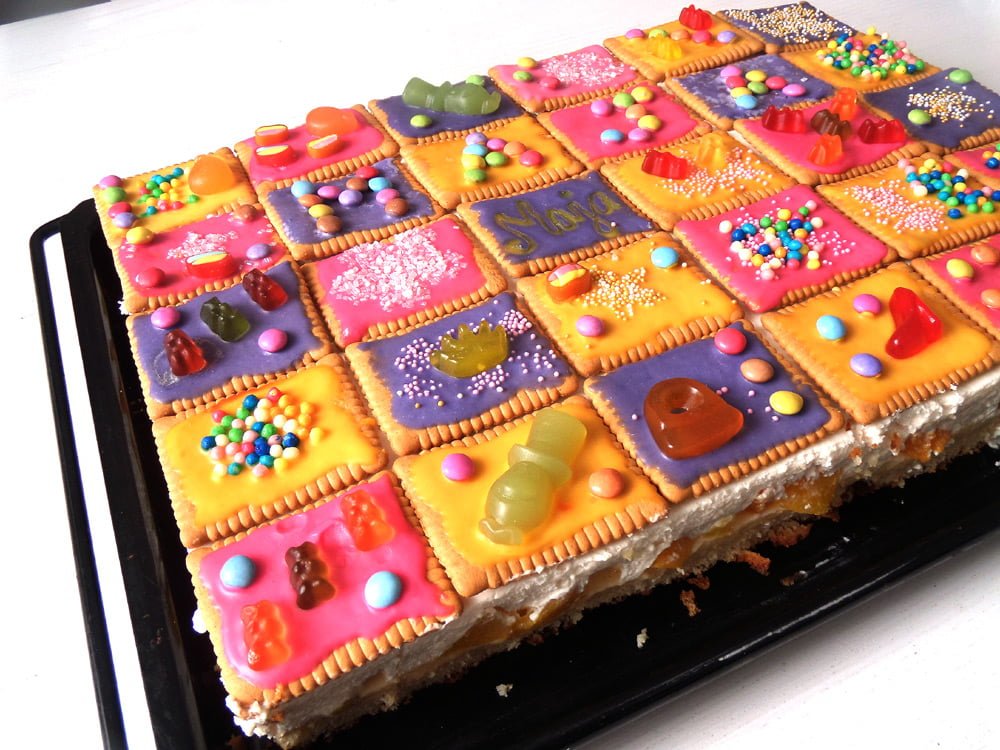 Biscuit Birthday Cake
Peach Yogurt Squares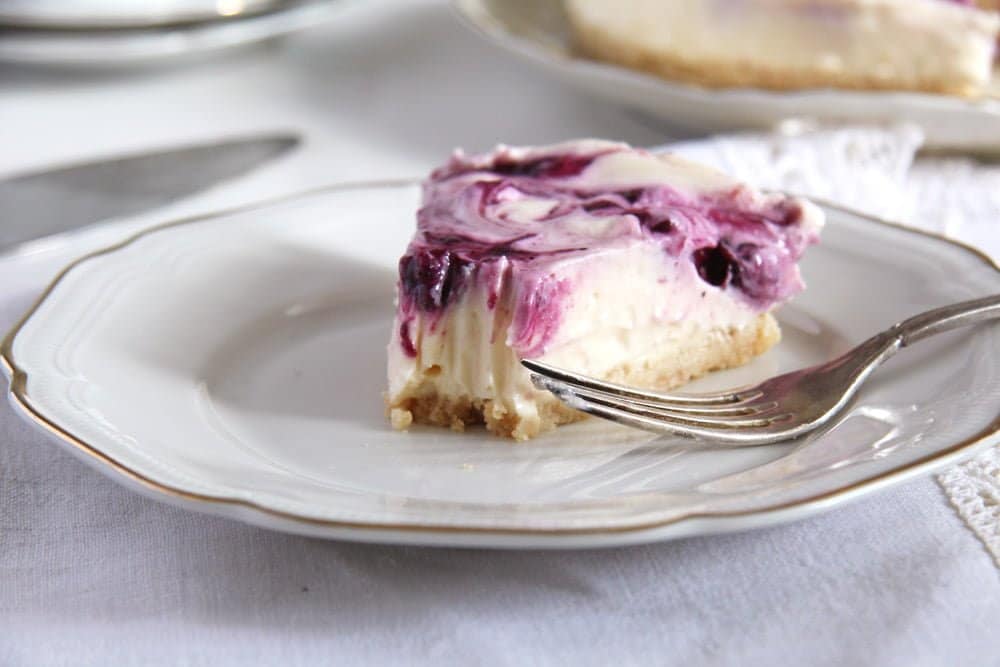 Blueberry Lemon Curd Cheesecake