An easy to make coconut cream cake or cheesecake with a yogurt, pineapple and Raffaello filling.
I've always had a weakness for Raffaello. I am not much into chocolate, candy or any kind of bars etc, but when it comes to Raffaello, I just cannot resist them. I actually hardly ever buy them, because I know that if I have a box in the cupboard I won't be able to pass by without reaching for one Raffaello Ferrero Rafaello 15 Piece Gift Box 5.3oz
until they are all gone…
I have even made them myself at home for Christmas, have a look at these homemade Raffellos, if you would like to try a somewhat different version.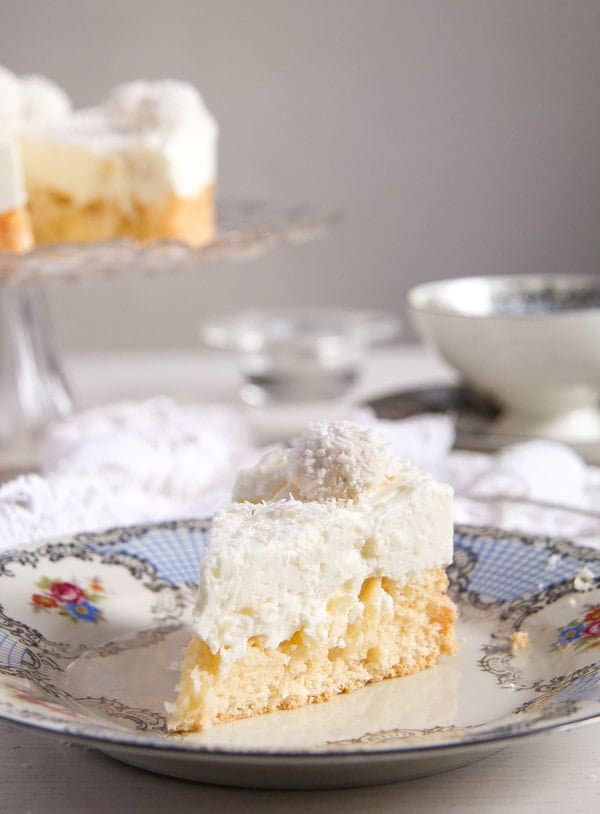 Easy Pineapple Coconut Cream Cake with Raffaello
This coconut cream cake with Raffaello was one of the first cakes I have ever made, at least one of the first that ever succeeded. When I started cooking and baking a loooong time ago, I actually used to say that I don't enjoy baking because there is never a certainty that the recipe will succeed.
I have tried repeatedly with many kind of different cakes and most of the times they were just not OK. Sometimes I would get lucky, but the next cake would turn out to be a catastrophe again, even if it was exactly the same one as before. So, I decided baking was not for me.
Then after my son was born, I bought a kitchen scale Etekcity Digital Kitchen Scale Multifunction Food Scale, 11 lb 5 kg, Silver, Stainless Steel (Batteries Included)
… I didn't really realize how important they were for baking, I just bought one because they were on sale and I thought I might need one someday. I didn't even use it for a couple of months after I bought it, well, just because I wasn't baking, but then the first time I needed to bake a cake for some guests, I thought I'd use the scale instead of the old volume measuring cup I used to take before.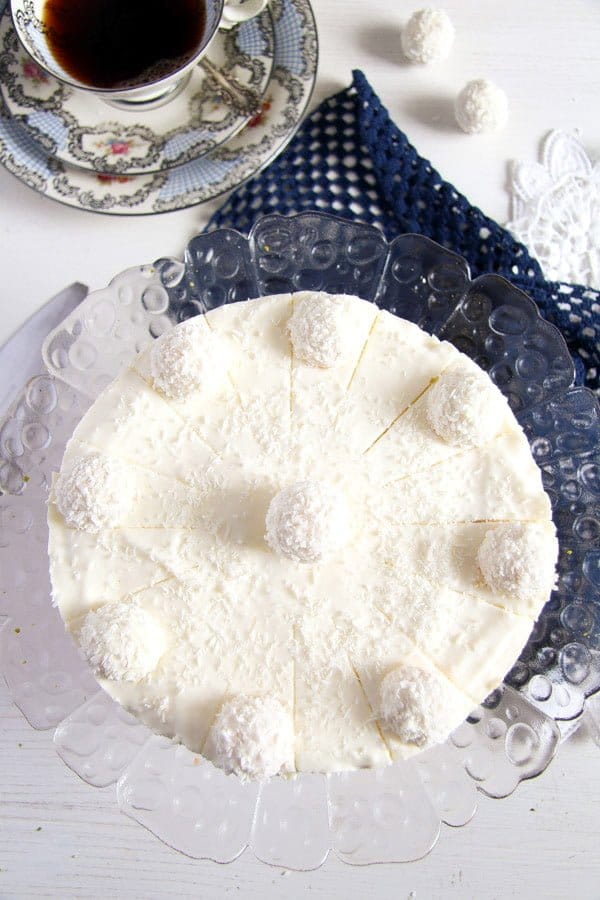 And a miracle happened: the cake turned out perfect!!! Perfect base, soft and fluffy and not overly sweet, a filling that set nicely and which neither curdled or run off the cake in the oven… I still remember it, it was a pear cake with a creamy vanilla pudding topping. I was shocked, I was finally able to bake!
First I thought it was just luck, like I had a couple of times before when baking, but then I tried again and again, one cake after another and they were all a success. So, I knew that the secret to good baking lies in measuring your ingredients properly and I don't think anyone could ever convince me of the opposite. 🙂
Ingredients for the Easy Pineapple Coconut Cream Cake with Raffaello
So, after mastering that delicious pear cake with vanilla pudding topping, I was ready for some other kind of cakes. I had always enjoyed eating this kind of fridge cheesecakes (the Käse-Sahne-Kuchen or Torte in Germany) made by family and neighbors and I thought it is high time to give them a try myself. So, I searched for a recipe and found this one, which was not only a cheesecake, but one made with my beloved Raffaellos.
The source of the recipe was chefkoch.de at that time, but in the meantime I have changed the recipe quite a lot.
Nowadays, I almost always make this cake base when I need a sponge cake base, it is easy to make, it always succeeds and I have made it so many times I don't even have to look for the recipe, I know all the ingredients and quantities by heart. I recommend making this sponge cake base because it is so easy and it tastes so nice and light, but if you have another favorite recipe, feel free to use that.
I always recommend using Dr. Oetker baking powder for best results when baking my recipes, this is the typical baking powder used in Germany and in Europe and it is single-acting baking powder and not double-acting like the American baking powder. One important thing when baking with single-acting baking powder is to preheat the oven before you start mixing the batter, and give the batter to the oven immediately after mixing it. If you leave it for a while, the baking powder will loose its power and the cake will not rise.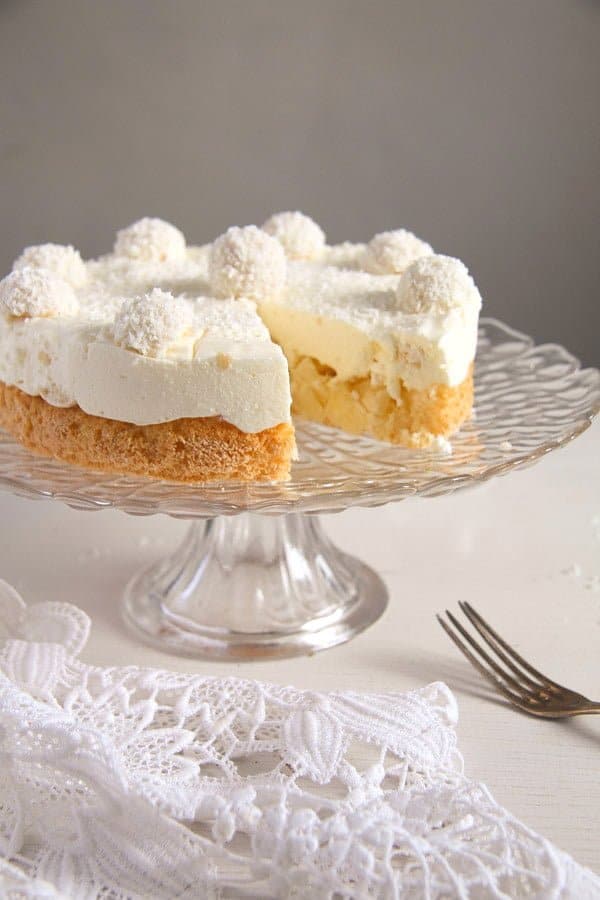 I use dairy coconut yogurt, do not mistake that with yogurt made out of coconut milk. The yogurt I use is just regular yogurt mixed with some desiccated coconut and coconut flavor probably. Have a look in the fruit yogurt section of your supermarket, you should be able to find it. If by any chance, you won't be able to find it, you could use stracciatella yogurt if you like a bit of chocolate in the mixture, pineapple yogurt or even vanilla yogurt.
I use Dr. Oetker gelatin sheets to help set the filling. For more details about working with gelatine see this post No Bake Ricotta Sour Cream Cheesecake with Raspberries.
6 gelatin sheets from Dr. Oetker Dr. Oetker Blatt Gelatine Weiss
 are the equivalent of 1 Dr. Oetker packet of gelatin, which weighs 9 g/0.3 oz and it's enough to bind 500 ml/ 2 cups liquid (that's what the package says, but I always use gelatin according to the recipe instructions). When using ground gelatin instead of gelatin leaves, follow the packet's instructions, mine says that I have to mix the ground gelatin with 4-6 tablespoons cold water and let it bloom for 10 minutes. Dissolve the gelatin and mix with the filling as instructed in the recipe.
I use a can of sweetened pineapple pieces. Drain well and chop them a bit smaller, if they are too large.
Other favorite cheesecakes:
This post might contain affiliate links. The price you pay as a consumer does not change, but if you make a purchase we will receive a commission which helps support the blog.