A luscious strawberry dessert with mascarpone, cream and white chocolate.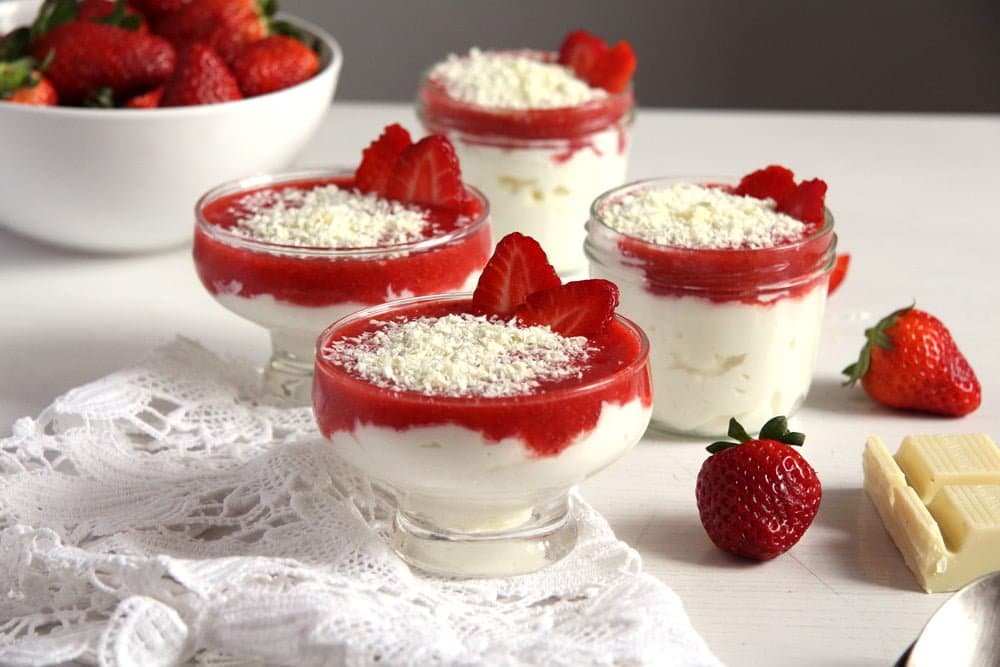 The actual name of this dessert is Spaghetti Ice Dessert. I chose not to use that because, I think, except for those living in Germany and possibly except for those living in our area, nobody would know why on Earth a strawberry dessert with no spaghetti or ice cream in it, is called Spaghetti Ice Dessert. So here it is why:
Germany is famous for its exquisite ice cream. It was brought to Germany by the Italian immigrants sometime in the 60's or the 70's and most of the ice cream parlors around here are still owned by Italian people. And they make the most amazing ice cream you can possibly have. They have these tall, shiny menus, with huge photographs of extremely large and decadent cups of ice cream, loaded with berries or fresh fruit, tons of whipped cream, runny syrups and liquors….. One can only use superlatives to describe these ice cream cups.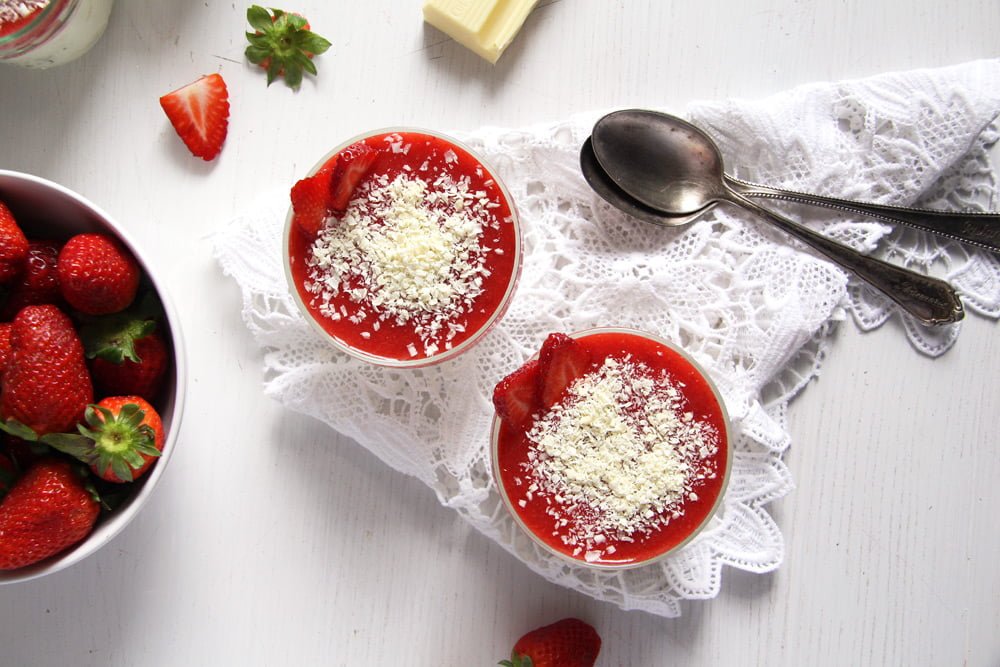 And the shining star of all these ices, the best known of them all, the one most commonly sold and eaten is the Spaghetti Ice Cream, my husband's and my daughter's favorite. I don't think that I have ever experienced my husband eating anything but the "Spaghetti Eis", when we happen to go out for ice cream or on a Sunday when our favorite ice cream person comes around with his ice cream wagon. His name is Bushi and his ice cream is about 100 times better than any ice cream I have ever eaten. He's been coming with his wagon, every Sunday from April to October (or longer, depending on the weather) for as long as I have been living here and he really has better ice cream than anyone I know. He is the reason why we actually almost never go out for ice cream, because no matter how good the ice cream in the town is, we know for a fact, that Bushi's ice cream is even better, so we prefer to wait for the Sunday.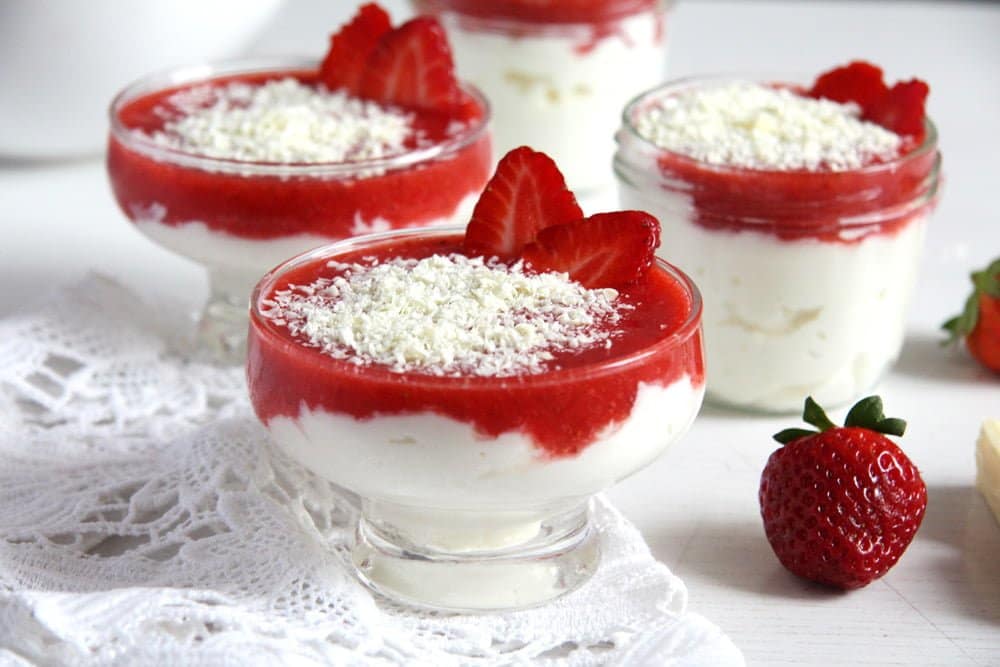 So, because everybody around here loves the "Spaghetti Eis" so much, somebody came up with the idea of a dessert looking and tasting a bit like the ice cream cup. A spaghetti ice cream is made by pressing a few scoops of real vanilla ice cream through a potato ricer making it look like a bunch of spaghetti. Then everything is loaded with whipped cream and strawberry sauce (fake tomato sauce) and sprinkled with white chocolate (fake Parmesan). I really cannot describe to you, how delicious that is!
This dessert combines mascarpone, quark and whipped heavy cream with vanilla seeds and it is topped with pureed strawberries and white chocolate. It is one of those desserts that, like the many grill salads from the German Salads Series, has become so popular over the years in our region, that you can actually eat it at every gathering or party around here. Everybody makes it, everybody eats it, everybody loves it!
Others you might like:
Strawberry Meringue Cups
Strawberry Tiramisu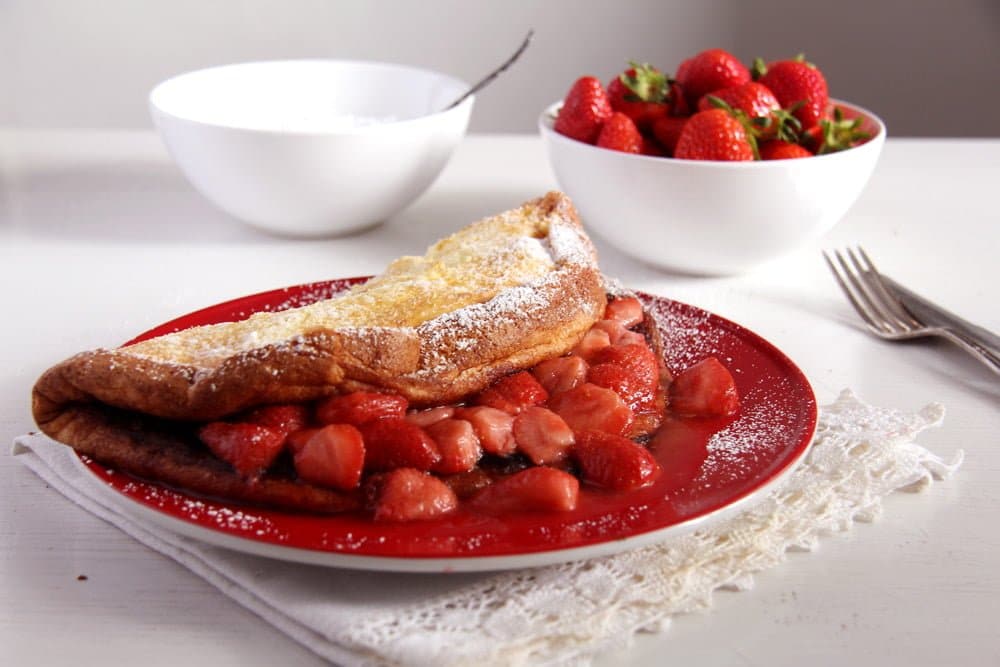 Oven Pancakes with Strawberry Sauce