One of the best desserts ever! Sweet lady fingers layered with strawberries and a velvety mascarpone-quark mixture – so goooood!
Strawberries! Strawberries! We have two weeks ahead of us filled with strawberries (mostly dessert recipes) sugar and red colors… Who doesn't like strawberries, the symbol fruit of late spring and early summer, red, little, aromatic jewels. For some reason, I have always associated strawberries with youth, with perfection. The perfect shape of a strawberry, that deep red color, those tiny seeds that give them that look of somebody taking particular care in adorning them and making them beautiful… strawberries are just irresistible, I really don't know anybody who can honestly say, they can resist a nice, ripe, juicy strawberry (well, probably only people with a strawberry allergy).
I do love strawberries! I am anticipating their coming early in the spring, thinking about new ways of using them while they are there, resisting the urge of buying those early, unripe strawberries coming from God knows where and patiently waiting for the sweet and aromatic German strawberries, which you can buy in those special asparagus/strawberry boots around the town or even better, waiting for the maybe not quite so perfect looking strawberries growing in the garden, not quite so perfect looking but definitely better tasting than any other strawberries you could possible buy.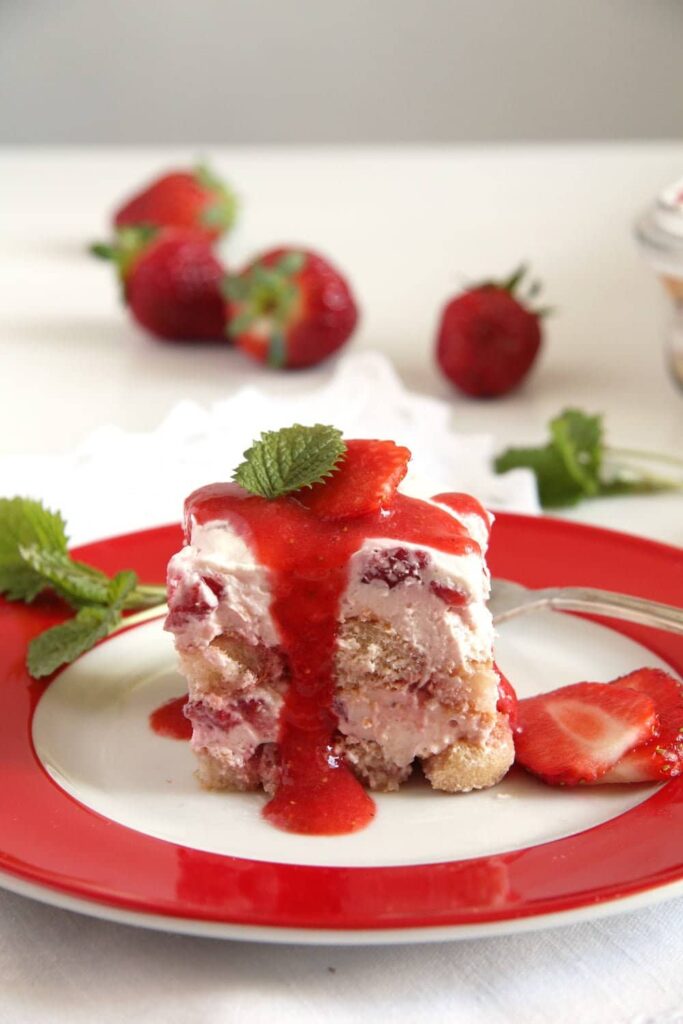 During this time of the year, we have strawberries in the fridge almost all of the time, my children would even choose plain strawberries for dessert instead of chocolate or gummy bears (imagine that!!!!), they love picking them up themselves in grandma's garden or in the strawberry field (we have to do that again this year, they love it…). And they want strawberries in any kind of dessert or cake I make during this time of the year. And then there is the strawberry jam, which is the most beloved jam in our house.
But coming back to this strawberry tiramisu. If you have been following this blog for a while, you might have noticed that I am really into tiramisu. I like the luscious and heavy original, but I love its fruity variations even more. Over the years I have been making it with different kinds of fruit or berries, for example Apple Tiramisu or Orange Tiramisu. Now was the time to try it with strawberries and I am so glad I did, it is a dream! I made this huge dish of strawberry tiramisu for a very big birthday party not long ago and I have to say, that although there were several other dessert options on the table, my dessert was the first to go. And I cannot even remember how many times I had to scribble down the recipe that evening and during the following days.
I used elderflower sirup mixed with some water to sprinkle on the biscuits, they gave a very nice flavor, but if you don't have it, plain orange juice or any other juice would be just fine. The following amounts will serve about 6, but the recipe is easily doubled, you just need a larger casserole dish. I actually used the largest thing I had and tripled the recipe, there was nothing left…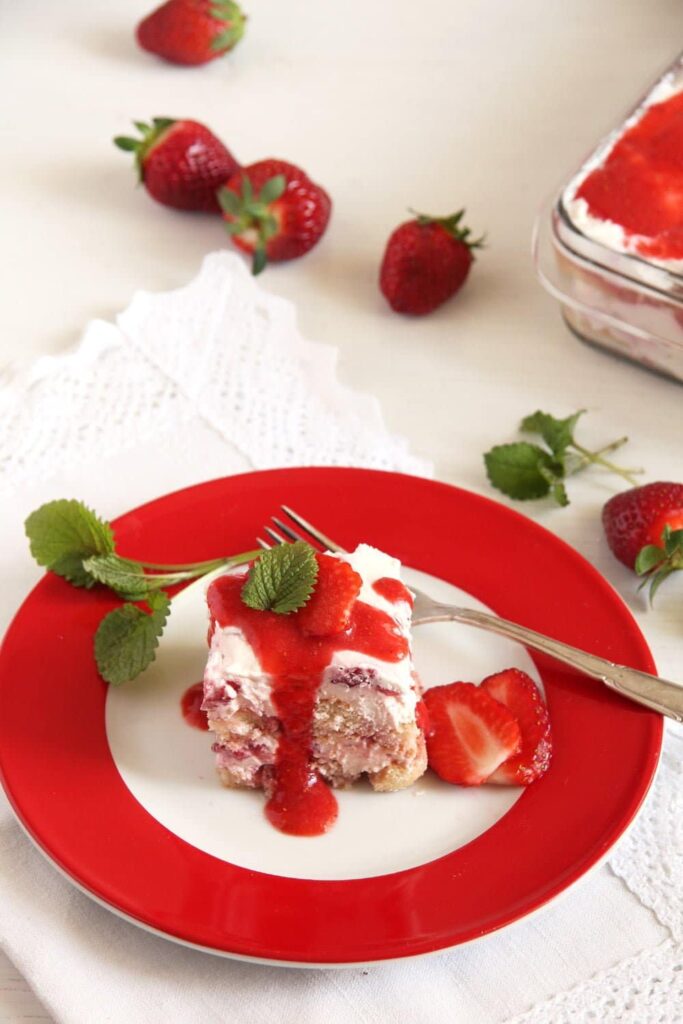 Others you might like:
Orange Tiramisu
Apple Tiramisu
Strawberry Meringue Cups