Learn how to make homemade whipped cottage cheese in the food processor. It's perfect for a quick, protein-packed, easy snack or as a secret ingredient in your favorite recipes. If you're not a fan of the lumpy texture, whipping cottage cheese can make it smooth and fluffy.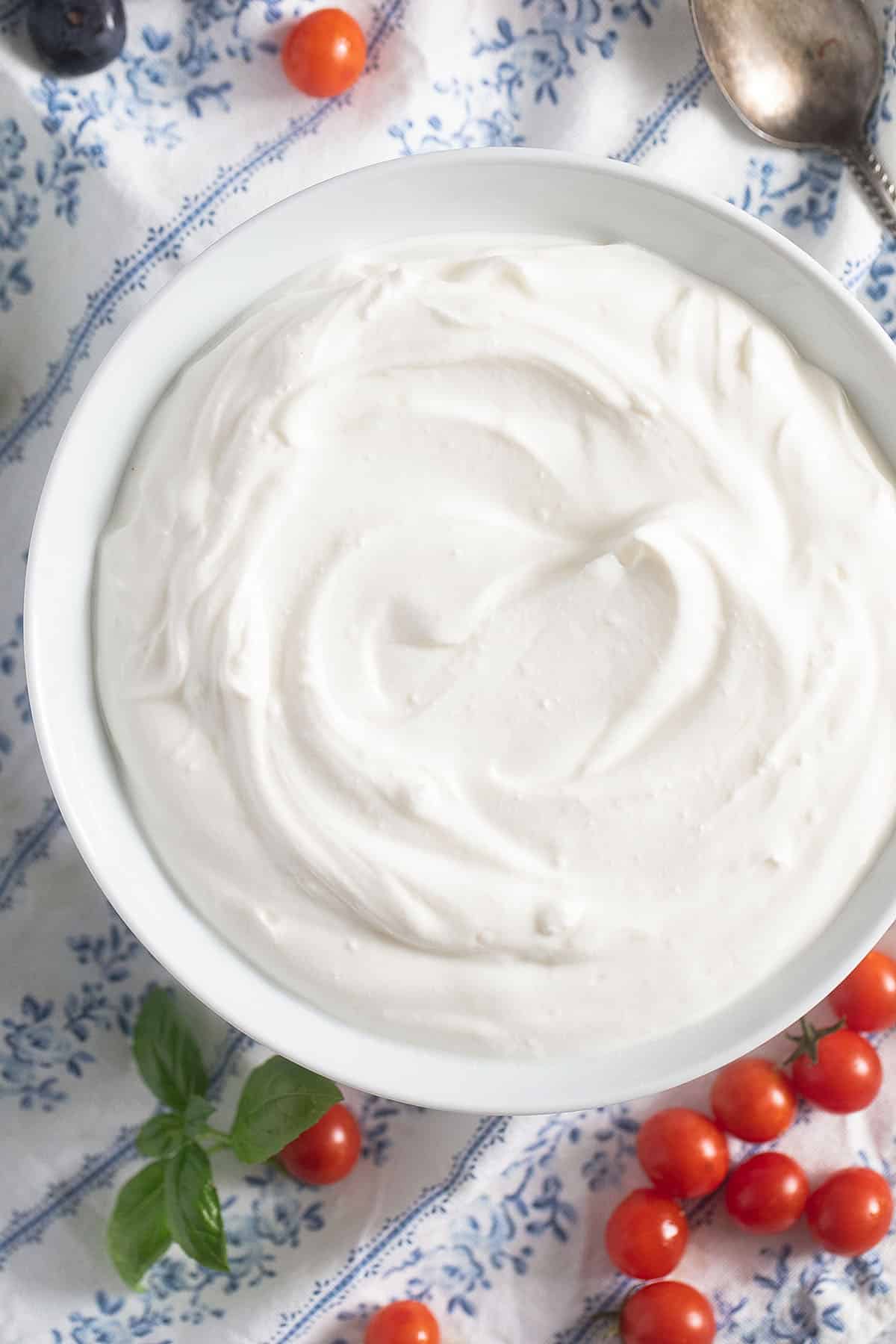 To make this whipped cottage cheese recipe, you only need the cheese and a reliable food processor. Whipping cottage cheese is quick, taking just one or two minutes and transforming plain, curdy cheese into a sumptuous, velvety-smooth spread or dip.
You can use it as a dip for veggies or crackers, make cottage cheese toasts, or enjoy it with fresh fruit and a drizzle of honey; the possibilities are endless.
Try more delicious cheesy dips: Spicy Peri Peri Dip, Hungarian Dip, Cold Spinach Artichoke Dip, and Obatzda Recipe (German Camembert Spread).
Jump to recipe
What is cottage cheese?
It's a fresh cheese made from cow's milk, known for its mild flavor and curd-like texture, often chosen for its high protein content and nutritional value.
One cup (approximately 240 grams) of low-fat cottage cheese typically contains around 206 calories. It provides approximately 28 grams of protein, which makes it a great source of protein, more so than other types of cheese.
However, please note that the exact calorie and protein content may vary slightly depending on the brand and specific type of cottage cheese you use. Hence, it's a good idea to check the nutrition label on the packaging for precise information.
Why blend cottage cheese?
It transforms the texture of plain cottage cheese, offering a creamy consistency similar to cream cheese (but softer), sour cream, or yogurt. This makes it an excellent choice for those who prefer a smooth texture and aren't fans of the original tiny curds.
Ingredients and equipment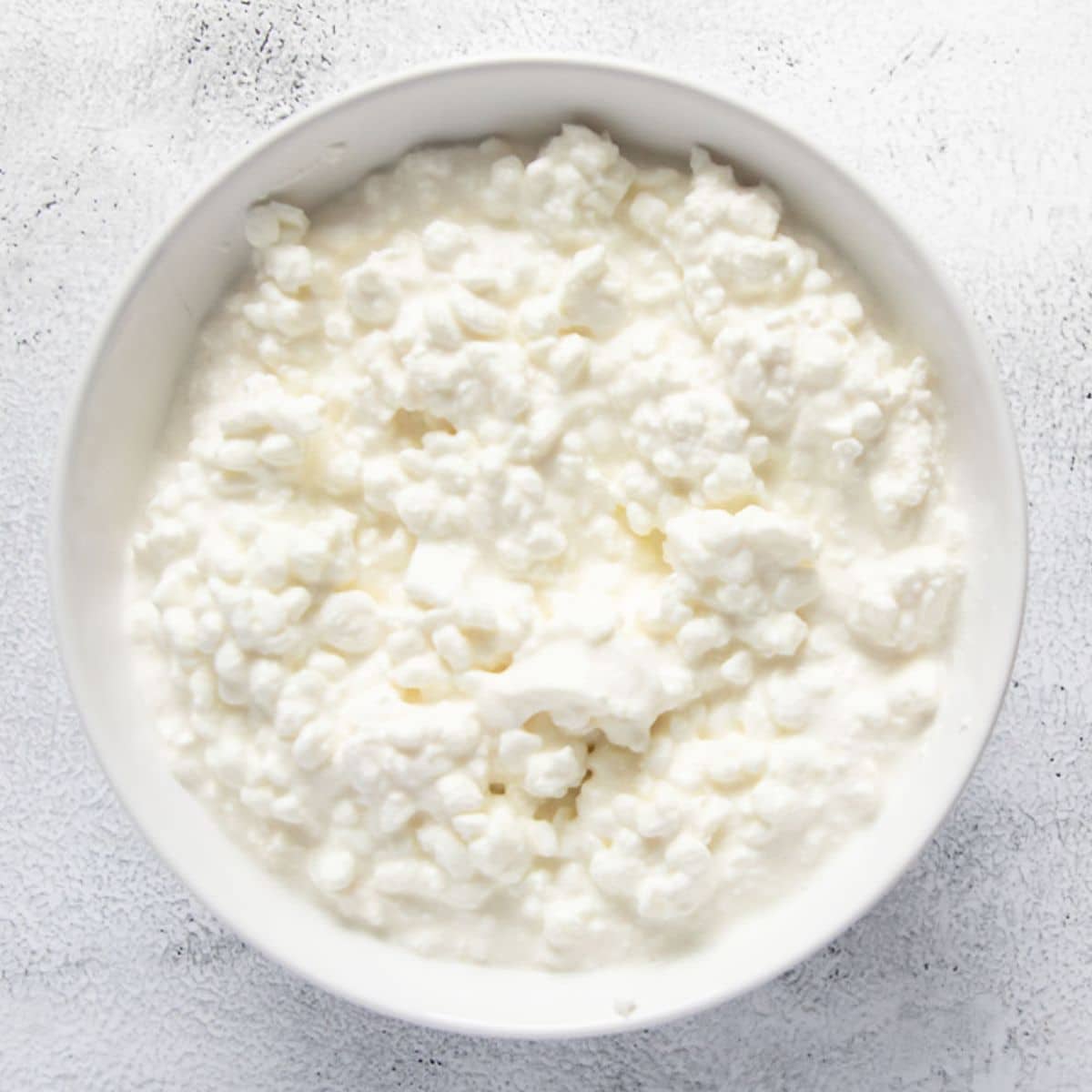 All you need is cottage cheese and a food processor.
You have the option to choose between full-fat or low-fat. While both are suitable, the full-fat variety typically delivers a richer flavor and a slightly creamier texture.
To create a sweet dip or spread, simply add honey or other sweeteners.
For a savory dip, incorporate spices and fresh herbs.
How to whip cottage cheese?
Place it in the bowl of a food processor and blend until it reaches a smooth, airy consistency (1,2).
Pause and scrape down the sides of the bowl as needed.
Typically, this takes about 1 to 2 minutes at high speed.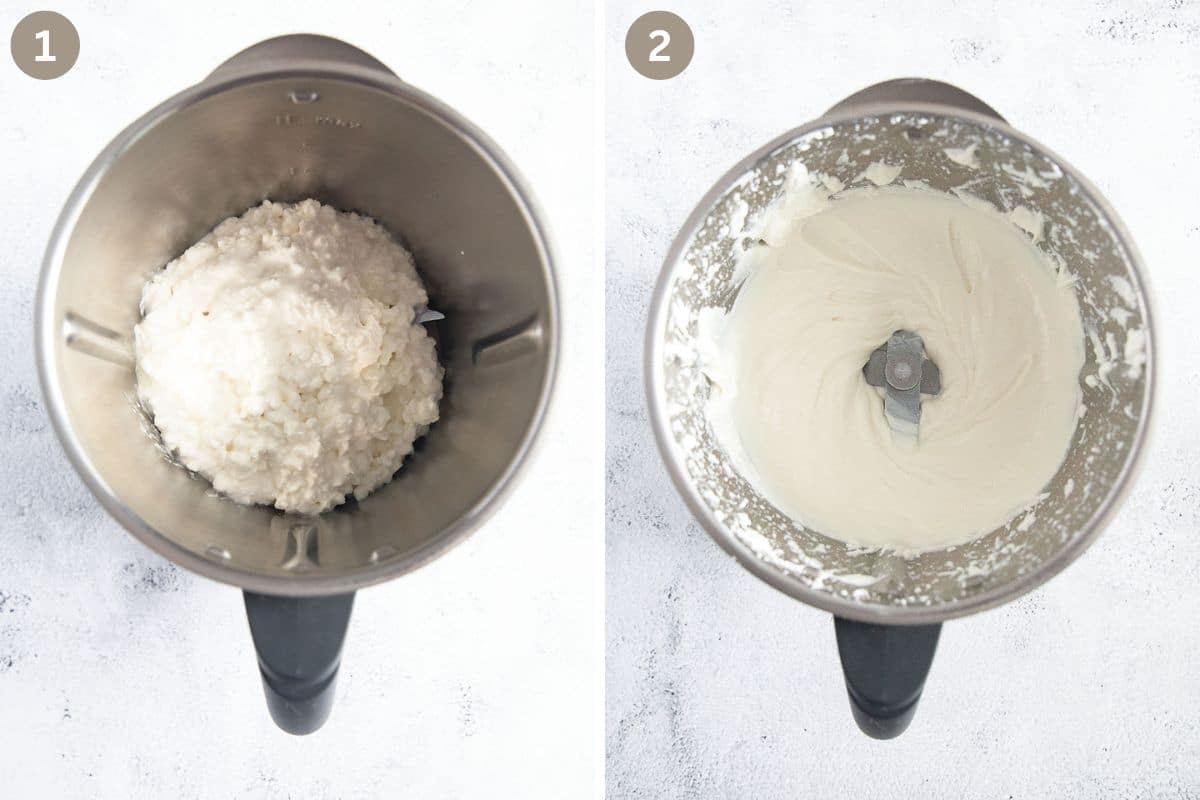 Can I use a blender instead of a food processor?
While a food processor is ideal, a high-speed blender can work too. Adjust the thickness by adding small amounts of milk if needed.
Expert Tips and FAQ
Consider your food processor's capacity when blending cottage cheese. If you have a larger food processor, like the one I use, you'll get the best outcomes when blending between 1 lb/ 450 g and up to 1.5 lbs/750 g of cheese.
Blending smaller amounts, less than 1 lb, can be a bit challenging because the cheese tends to stick to the sides of the bowl, which means you'll need to pause and scrape it down more frequently to ensure an even blend.
How to use whipped cottage cheese?
Spread it on toast, bagels, or rolls, topping with fresh fruit, honey, maple syrup, or jam. Make our favorite cottage cheese toast with mashed avocado, tomatoes, and roasted sunflower or sesame seeds.
It makes a perfect dip for fresh veggies, salty crackers, graham crackers, or pita chips. Make a high-protein dip by adding fresh herbs like parsley, fresh dill, cilantro, chives, or dried herbs like oregano, Italian seasoning, or rosemary.

Add spices like red pepper flakes, garlic powder, onion powder, paprika, turmeric, cumin, coriander, salt, and black pepper. Add a drizzle of olive oil for even more richness and flavor.

Make sweet bowls by adding berries, banana slices, or other fresh fruit, honey, nuts, granola, and spices like cinnamon, cardamom, and vanilla extract for a nutritious dessert or snack.

Or make savory bowls combining fresh vegetables like cucumbers, cherry tomatoes, carrots, spinach, and lettuce, or roasted/steamed vegetables like broccoli, cauliflower, eggplants, zucchini, or mushrooms. Add seeds or nuts for crunch, and season with herbs and spices.

Substitute it for mayo in sandwiches or wraps for a healthier twist.
Salad dressings: Make creamy homemade dressing for salads. Blend it with herbs, garlic, and a splash of lemon juice to make creamy and flavorful salad dressings.
Blend it into smoothies for added protein and creaminess.
Mix it into pasta sauces for a creamy and rich texture without the need for heavy cream. It pairs well with pasta dishes like fettuccine Alfredo.
Casseroles: Incorporate it into casseroles, such as lasagna or other baked pasta dishes, to add creaminess and protein.
Opt for it as a lower-fat alternative to sour cream on chili or baked potatoes.
Make ice cream by blending it with fruit, berries, and sweetener of choice and then freezing it.
Mix a smooth pudding with ripe bananas and unsweetened cocoa powder. You can also blend it with peanut butter or almond butter.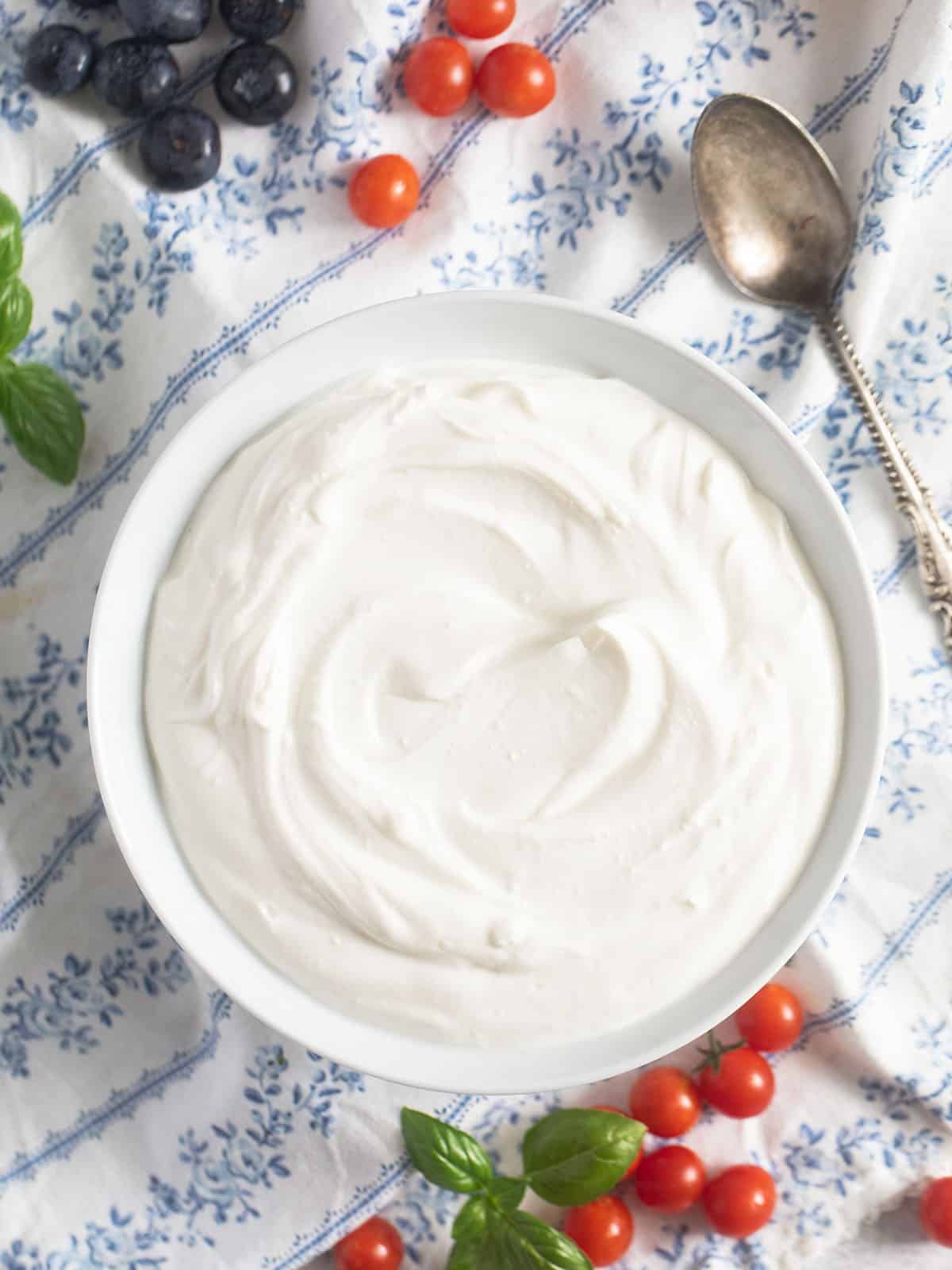 How to store it?
Store it in an airtight container in the refrigerator for 5 to 7 days.
Can you freeze it?
Freezing cottage cheese is possible, but its moisture alters the texture. When you freeze it, the water turns into ice crystals, which makes the cheese grainy when you thaw it.
Thawed cottage cheese doesn't keep its creamy texture, so it's not the best for eating fresh after freezing. However, you can still use it in cooking, especially in recipes where the texture isn't a top priority, like baked dishes such as lasagna or casseroles.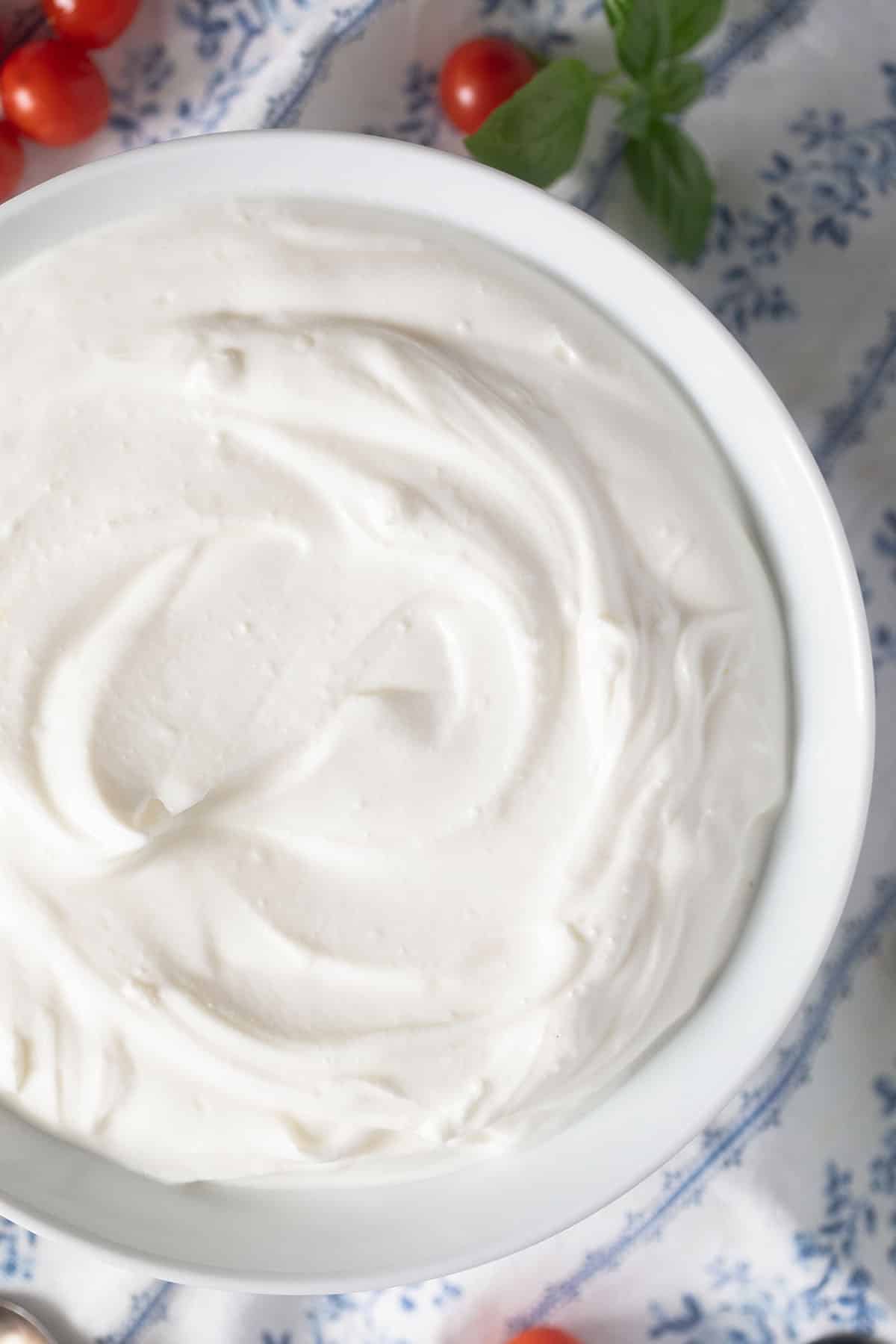 More cottage cheese recipes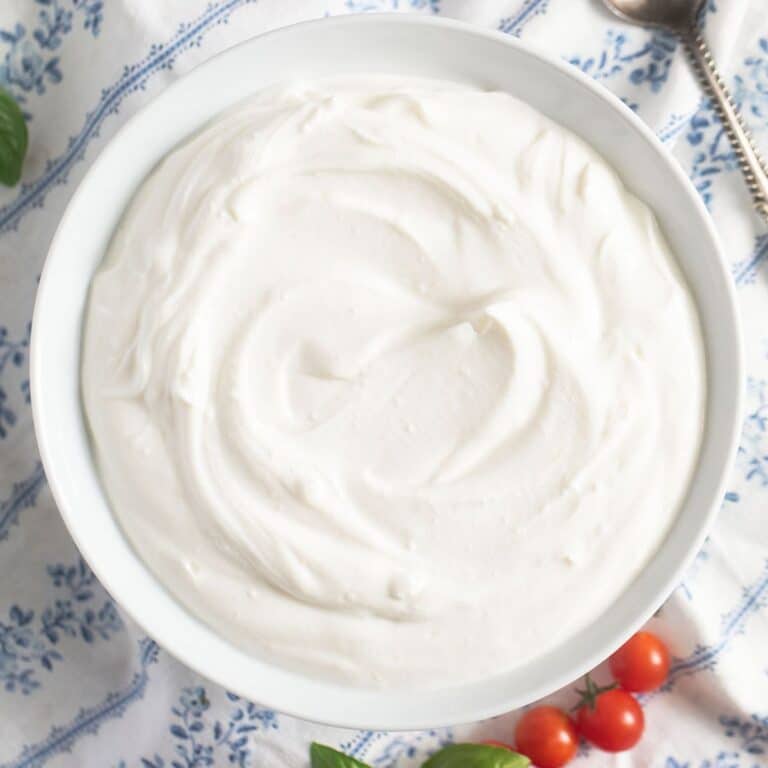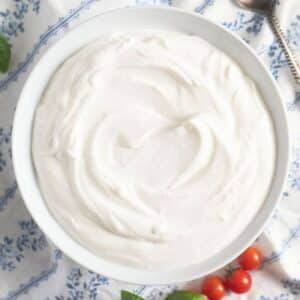 Whipped Cottage Cheese Recipe
Learn how to whip cottage cheese in your food processor. It's excellent for a fast, protein-filled snack or to include in your favorite meals. If you don't like the lumpiness, whipping cottage cheese makes it smooth and airy.
Print
Pin
Share
Grow
Saved!
Rate
Ingredients
1

lb

cottage cheese

450 g, Note 2
Instructions
Whip cottage cheese: Place the cottage cheese in your food processor. Blend until you get a smooth, light, and fluffy texture. Use a spatula to scrape down the sides of the bowl once or twice to ensure everything blends evenly.

Time: My food processor needs 1-2 minutes at high speed, but the exact time can vary depending on your machine, so keep an eye on it.
Notes
Consider your food processor's capacity. In my case, I have a large one, and it works best when I blend at least 1 lb/450 g and up to 1.5 lb/750 g of cottage cheese. Trying to whip smaller amounts can be challenging because the cheese may stick to the sides of the bowl, so you might need to scrape it down more often.
Cottage cheese: Use either full-fat or low-fat cottage cheese. However, full-fat cottage cheese offers a bit more flavor and a creamier result.
Nutrition
Serving:
0.25
cup
|
Calories:
56
kcal
|
Carbohydrates:
2
g
|
Protein:
6
g
|
Fat:
2
g
|
Saturated Fat:
1
g
|
Polyunsaturated Fat:
0.1
g
|
Monounsaturated Fat:
0.4
g
|
Cholesterol:
10
mg
|
Sodium:
179
mg
|
Potassium:
59
mg
|
Sugar:
2
g
|
Vitamin A:
79
IU
|
Calcium:
47
mg
|
Iron:
0.04
mg