Quick, easy, spicy and delicious vegan bread spread or dip with avocado, sunflower seeds and chili.
A perfect spread to put on top of those Easy Overnight Refrigerator Breakfast Rolls or on the Easy Multi-Seed Crispbread with Oats and Spelt Flour.
I love avocado and my husband and I eat it quite often actually. I've just realized though that there are not a lot of recipes featuring avocado on Where Is My Spoon, just these Golden Roasted Potatoes with Avocado Cottage Cheese Dip and this Corn Avocado Salsa with Tomatoes, Garlic and Limes.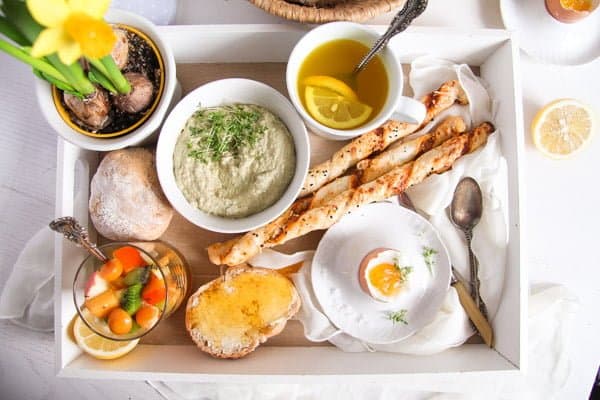 The main reason for that is that our favorite and most common way of enjoying avocado is to have it crushed on a slice of good German bread, sprinkled with lemon juice, salt and pepper. That's it! The quickest way of eating avocado.
Another reason is that I spent all last year posting only Romanian recipes and avocado really has no place in the traditional Romanian kitchen. Obviously!
It doesn't grow in Romania and to tell you the truth, I haven't even heard of avocado before I came to Germany. The first time I've had it was when my husband introduced it to me 14 years ago, exactly in the form described above: crushed on bread with lemon juice, salt and pepper. I was confused after the first bite, I did not even know if I liked it or not, it was so unexpected: the taste, the texture, like nothing I have ever had before.
Actually, I don't think I really liked it the first time. I ate it, but was not keen on buying it again the next day, so to say. It was just too different, too unctuous, too unfamiliar. But, I never give up on food, unless is something like raw ground meat on bread or blood sausages – even I have some limits. 🙂
I kept buying it from time to time and after having it 3 or 4 times, I realized how amazing avocado actually is: the taste, the unctuosity, everything about it is great, and in no matter what form I have had it ever since, I have always loved it.
This Spicy Avocado Bread Spread or Dip with Sunflower Seeds is one of my favorite avocado spreads. I often make guacamole or avocado spread with cream cheese or Greek yogurt, but I love this sunflower seed version as well. The soaked seeds make the dip or the spread really nice and creamy and give it a special flavor you cannot achieve when using dairy.
And the use of sunflower seeds instead of dairy products keep the spread vegan and make it even healthier than otherwise. Give it a try, you will love it! Not to mention that it is so easy and quick to make.
The only word of caution is that the Spicy Avocado Bread Spread or Dip with Sunflower Seeds should be served immediately after being made, its color will turn from a nice green to a not so delightful brown quite quickly. That will not affect the taste, so if you still have leftovers, don't worry, you will still be able to enjoy them the next day. But letting the dip wait will certainly affect its looks, so keep that in mind and only make the dip just before serving it.
Other vegan bread spread you might like:
Ingredients
35 g/ 1.2 oz/ ¼ cup sunflower seeds

3 tablespoons water

1 large ripe avocado

1 tablespoon lemon juice

1 pinch of chili flakes or to taste

1 pinch ground coriander

1 pinch ground cumin

salt and pepper

some cress or some sprouts
Instructions
Give the sunflower seeds and the water to a small mixing bowl. Puree until smooth.
Peel the avocado, chop it and add the pieces to the seeds. Add the lemon juice, chili, coriander, cumin and salt and pepper. Puree until smooth. Adjust the taste to your liking, you could add more lemon juice and more chili.
Give the spread to a small serving bowl and top with cress or some sprouts.
Serve immediately with crispbread, rolls, crackers or raw vegetable sticks. Or even with hot potato/sweet potato wedges.
This post contains affiliate links. The price you pay as a consumer does not change, but if you make a purchase we will receive a commission which helps support the blog.