Healthy, spicy and delicious avocado spread with sunflower seeds and chili.
VEGAN AVOCADO DIP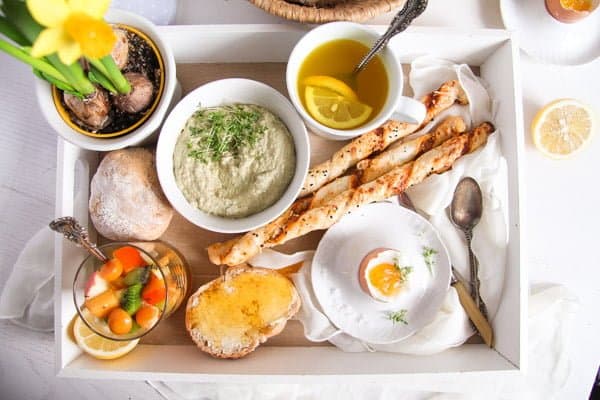 A perfect spread to put on top of some breakfast rolls or on crispbread.
I love avocado, my husband and I eat it quite often actually. Our favorite and most common way of enjoying avocado is to have it crushed on a slice of good bread, sprinkled with lemon juice, salt, and pepper. That's it! The quickest way of eating an avocado.
I often make guacamole or avocado spread with cream cheese or Greek yogurt, but I love this sunflower seed version as well. The soaked seeds make the dip or the spread really nice and creamy and give it a special flavor you cannot achieve when using dairy products.
And the use of sunflower seeds instead of dairy products keep the spread vegan and make it even healthier than otherwise. Give it a try, you will love it! Not to mention that it is so easy and quick to make.
The only word of caution is that the spicy avocado spread or dip should be served immediately after being made, its color will turn from a nice green to a not so delightful brown quite quickly.
That will not affect the taste, so if you still have leftovers, don't worry, you will still be able to enjoy them the next day. But letting the dip wait will certainly affect its looks, so keep that in mind and only make the dip just before serving it.
How to ripen avocados at home?
The main problem with avocados is that they are not properly ripe most of the time. I am rarely able to buy an avocado that we can eat immediately. So I have to plan in advance whenever I want to eat avocado.
As ready-to-eat avocados are not always available, I normally buy hard avocados in advance and leave them to ripen on the counter.
Place them on the counter and let them be, checking every day.
The ripening will take at least 3 days in my experience, but it greatly depends on the state the avocado was in when you bought it.
However, if you want to accelerate the process a little, place the avocados in a brown paper bag together with an apple or a kiwi. The apples and kiwis contain a hormone that accelerates the ripening process.
Once the avocado is ripe, you can place it in the fridge. This will help it keep healthy for 2 more days.
HOW TO MAKE AVOCADO SPREAD?
Puree the sunflower seeds with the water.
Add the avocado and all the spices.
Puree until smooth.
You can add chili, chili flakes or cayenne pepper to taste. I like it spicy. 🙂
Adjust the taste with more salt, pepper or lemon juice.
HOW TO SERVE AVOCADO SPREAD?
You can serve this simple avocado spread as it is on bread, crispbread, rolls, crackers.
You can have it as a dip for vegetable sticks.
Or even with hot potato or sweet potato wedges.
What else can you put on top of the avocado bread slices?
Cress or sprouts
Tomato, cucumber or radish slices
Red onions rings or finely chopped green onions
Grated carrots or kohlrabi
Chopped olives, either black or green
Finely chopped fresh parsley or coriander
Poached or fried eggs
Fried tofu slices or cubes
Crumbled feta cheese
Roasted vegetables, like peppers, broccoli, onions, carrots and so on.
Honestly, I think I have tried all these versions at one point or another, they are not just ideas... As I mentioned above, we do love our avocado spreads.
MORE DELICIOUS VEGAN SPREADS?
PIN IT FOR LATER!
Ingredients
35

g/ 1.2 oz/ ¼ cup sunflower seeds

3

tablespoons

water

1

large ripe avocado

1

tablespoon

lemon juice

1

pinch

of chili flakes or to taste

1

pinch

ground coriander

1

pinch

ground cumin

fine sea salt and pepper

some cress or some sprouts
Instructions
Place the sunflower seeds and the water in a small mixing bowl. Puree until smooth.

Peel the avocado, chop it and add the pieces to the seeds.

Add the lemon juice, chili, coriander, cumin and salt, and pepper.

Puree until smooth.

Adjust the taste to your liking, you could add more lemon juice and more chili.

Top with cress or some sprouts and serve immediately.

Nutrition
Serving:
1
/4 of the spread
|
Calories:
129
kcal
|
Carbohydrates:
6
g
|
Protein:
3
g
|
Fat:
12
g
|
Saturated Fat:
2
g
|
Polyunsaturated Fat:
10
g
|
Sodium:
678
mg
|
Fiber:
4
g
|
Sugar:
1
g