Very easy and quick to make breakfast rolls: knead the dough (in a kitchen machine, if desired), place it in the fridge and bake the rolls the next morning.
This is my go-to Sunday morning breakfast rolls recipe. Soft and fluffy on the inside and with a crusty, floury outside, I love these rolls or Brötchen. I usually make them on a Saturday evening when I notice that there is not enough bread in the house to last until Monday morning when the baker is making his usual round through our village, selling fresh bread, rolls and pastries directly from his van.
German bread, rolls, buns, pastries and cakes are some of the best in the world, if you ask me, I have lived in several countries and traveled some more, but I have never eaten better bread than in Germany. It is one of the few things I miss when we go on holiday, especially during longer holidays.
But although I love German bakery-made bread and I buy most of the bread and buns we eat, I still love to make my own bread and especially rolls from time to time. And what better time to eat rolls for breakfast than on a Sunday morning.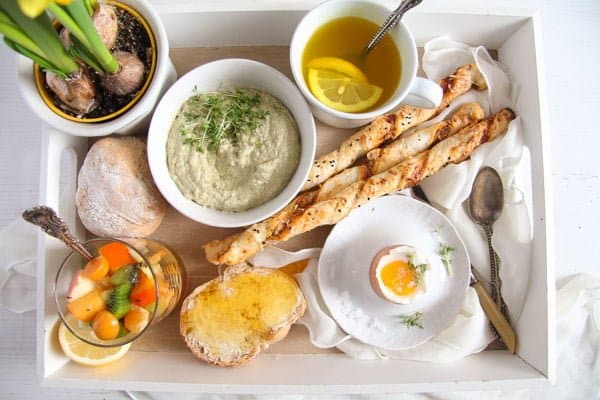 Notes on the Easy Overnight Refrigerator Breakfast Rolls Recipe
The best thing about this Easy Overnight Refrigerator Breakfast Rolls Recipe is that you don't have to wake up early in the morning to start the yeast dough, which needs its time to be ready for baking. You can knead your dough in the evening and be ready to bake the moment you wake up the next day.
I usually start at about 8 o'clock on a Saturday evening, even later if you plan to sleep longer, the dough will need to be in the fridge for about 12 hours. I give all the ingredients into my kitchen machine (Thermomix), let the machine do a bit of kneading, give the dough to a bowl with a lid and place it in the fridge until the next morning.
The next day I only have to break some pieces of dough, I don't even bother to form them, I place them on the baking tray just the way they are. This way they have a rustic, unpretentious look in the end, which I love.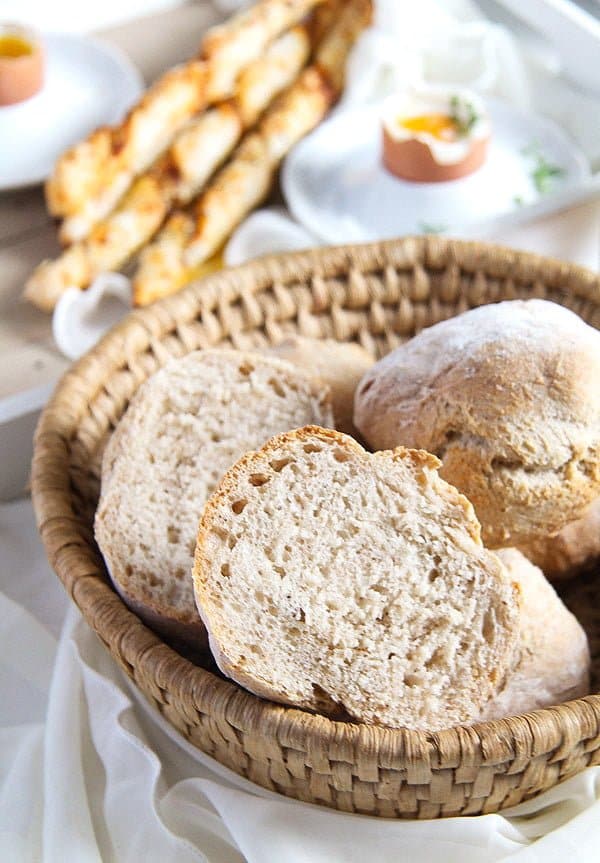 If I have the time, which I normally do, I let the rolls stand on the baking tray in the warm kitchen for about 15 minutes more before putting them into the hot oven. It is not mandatory, but still I recommend it, I find the rolls to be even fluffier and better in the end if they had these extra 15 minutes.
After less than half an hour baking time, you will have some wonderful crusty fresh rolls to enjoy with butter, jam or any savory or sweet topping you can think of.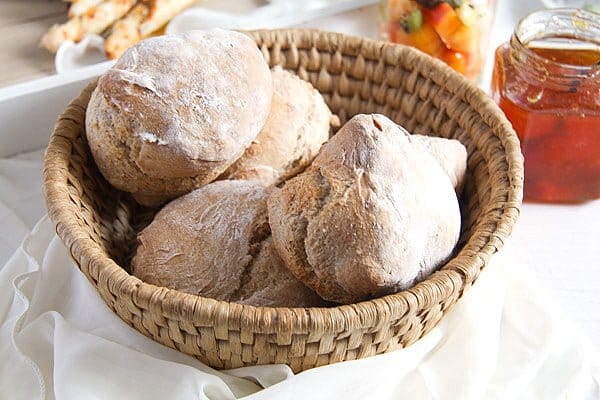 For the Easy Overnight Refrigerator Breakfast Rolls Recipe I normally use plain white flour and a little whole wheat flour. You could only use white flour if you wish, but I have tried both versions and I can definitely recommend using some whole wheat flour as well, the resulting rolls are somewhat more satisfying that way, have a bit more structure.
You could also exchange the wheat flour with spelt four, again a combination of white spelt flour and whole spelt flour, the spelt alternative is just as delicious as the standard wheat version.
I use fresh yeast, which is very cheap and readily available in Germany. However, I remember that when we used to live in England I could not find fresh yeast anywhere, so if that is the case, you can replace that with 2 ½ teaspoons active dry yeast.
And by the way, this is the first recipe from the second Valentine's Day Breakfast Tray series on Where Is My Spoon. This series will bring you not only these Easy Overnight Refrigerator Breakfast Rolls Recipe, but also some delicious puff pastry straws with Parmesan, a lemon mandarin jelly, an avocado bread spread and a refreshing winter fruit salad, perfect choices for a romantic and light breakfast in bed.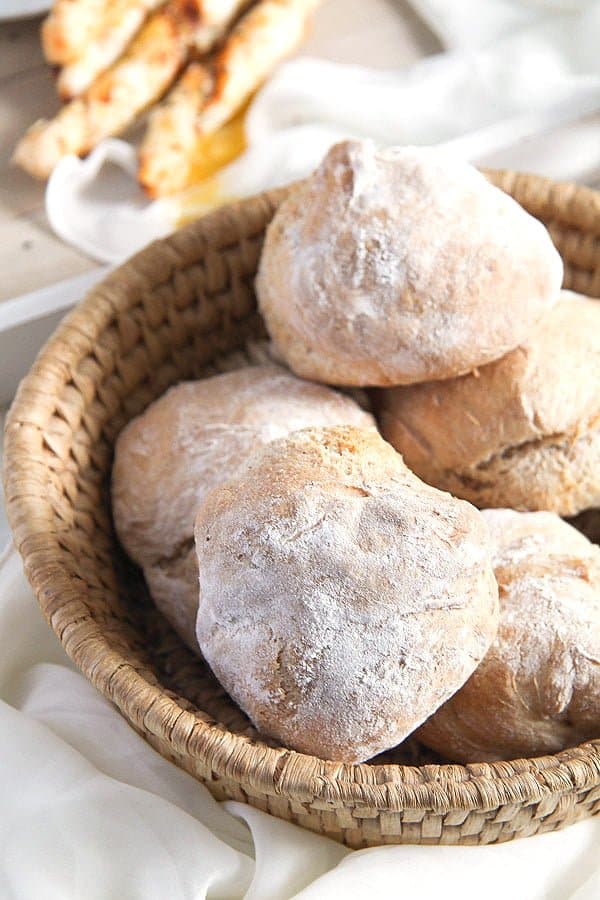 Other yeast recipes you might enjoy: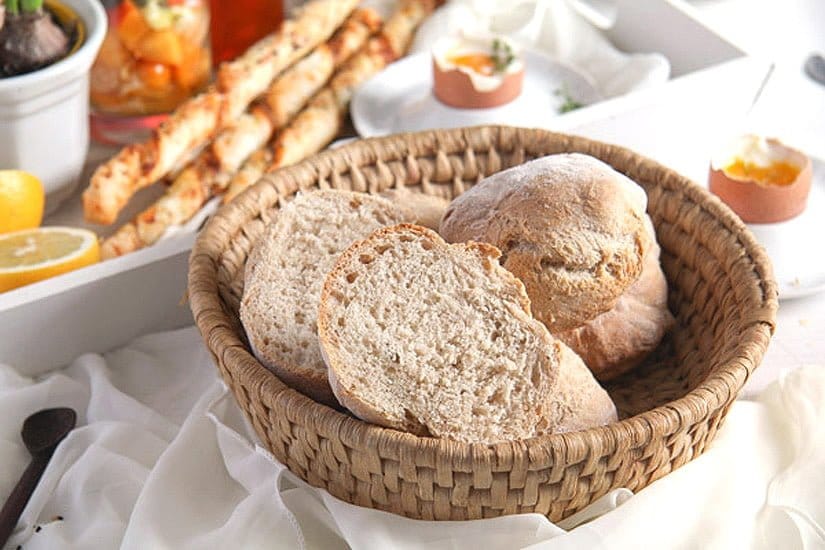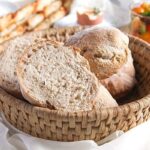 Ingredients
400 g/ 14.1 oz/ 3 1/3 cups all-purpose flour

100 g/ 3.5 oz/ ¾ cup + 1 tablespoon whole wheat flour

350 ml/ 11.8 fl.oz/ 1 ½ cups lukewarm water

25 g/ 0.9 oz fresh yeast or 2 ½ teaspoons active dry yeast

1 teaspoon salt
Instructions
Start in the evening, 12 hours before you want to bake the rolls.
Dissolve the fresh yeast into the lukewarm water. Give all the ingredients to the kitchen machine and knead for about 2-3 minutes.
Give the dough to a bowl and cover well. If the bowl doesn't have a lid, cover it well with cling film.
Place the bowl in the refrigerator and leave it there until the next morning, for about 12 hours.
The next morning:
Preheat the oven to 220 degrees Celsius/ 430 degrees Fahrenheit. Line a baking tray with baking paper.
Generously sprinkle the dough in the bowl with flour. Break large clumps of dough, about 12-14, directly out of the bowl and place them on the prepared baking tray.
Place the tray in a warm spot and let the rolls rest for about 15 minutes.
Bake for 20 to 25 minutes, until golden brown. Enjoy warm or cold.
Notes
Spelt flour can be used instead, a combination of white spelt flour for the all-purpose flour and whole spelt flour for the whole wheat flour.
This post contains affiliate links. The price you pay as a consumer does not change, but if you make a purchase we will receive a commission which helps support the blog.