The fluffiest and best crescent rolls I've ever tasted!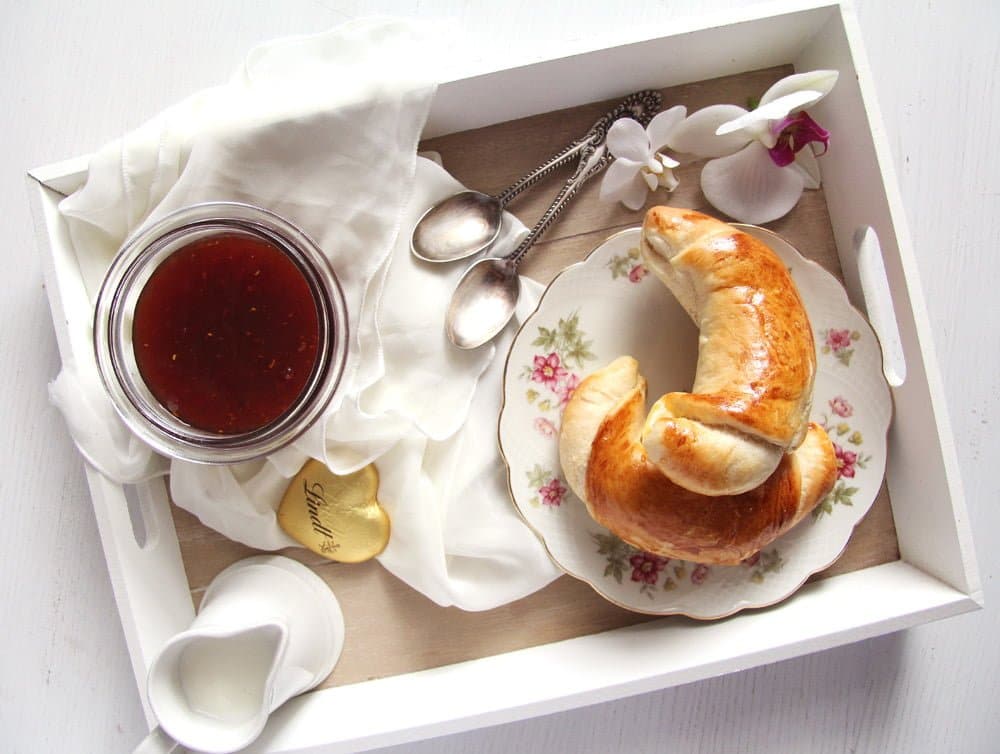 Can you believe that the first month of 2017 is already gone? I have my difficulties with it! Time goes by too fast…
So February is already here, somehow my least favorite month in the year. Thank God, the shortest one as well. I was never a February fan mostly because I think that it has the worst weather in the whole year. I try not to depend too much on the weather, there are people who seem to be happy only when the sun is shining and the weather is warm, actually I used to be one of those people, but one day I realized that if my mood keeps changing with the weather, I will end up having more bad days than good ones in my life. And that is really not worth it! And since I've decided that the weather is not so important, I have actually started finding something nice to say about not so good weather as well. I mean, there is something comforting and cozy about a snow storm when you are inside and sit by the fire. And I love hearing the rain against the windows at night when I lay in bed under a thick blanket.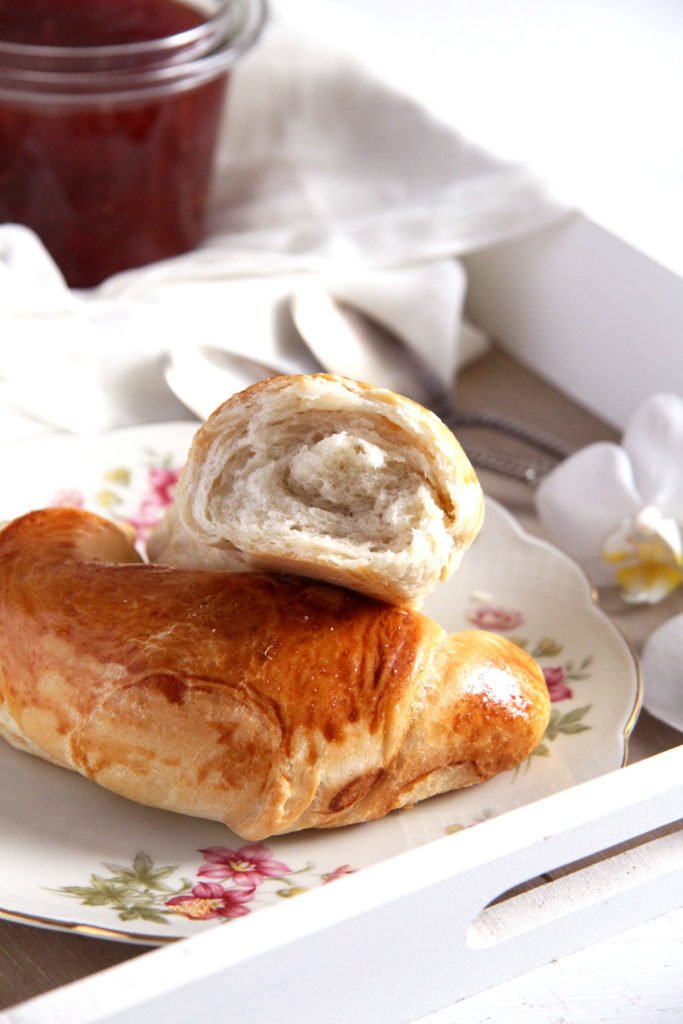 The only kind of weather that still won't give me any pleasure is actually this typical February weather: wet and dark, windy and cold. And the dirt everywhere…
Oh well, enough about the weather. To put me in a better mood in February I have decided to make a short series featuring Valentine suitable recipes. Valentine is not so big in Germany as it is in America for instance, but still I do think the shops sell more flowers around Valentine Day than during the rest of the year. At least that is what my husband says every time he fails to bring me flowers for Valentine, the shops are just out of stock… 🙂
I will start with a recipe, which you might need in case you want to have breakfast in bed with your loved one on Valentine. Romanian Crescent Rolls or cornuri simple are something I grew up with, something you could buy (and still can) in every bakery, something cheap, filling and satisfying. I used to buy myself one on my way to school in the morning sometimes, I can still remember that taste and texture. Sometimes my grandmother would buy some on her way back home from work and I used to eat them with just a little butter, better said margarine (my grandma didn't eat butter or any white milk products, so we only had margarine – I shudder now to think of all the margarine I put into my body during those years…).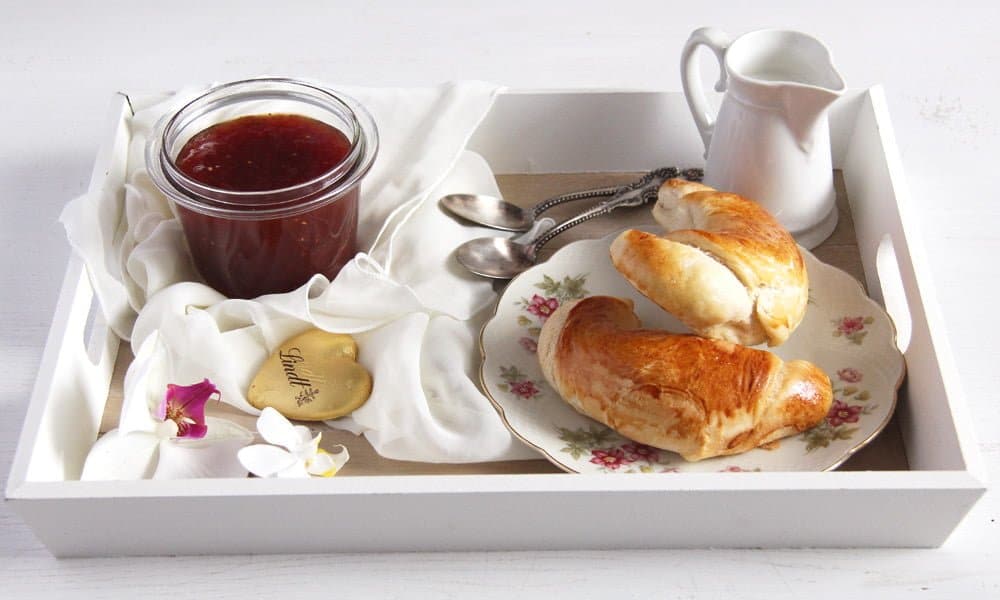 So I've remembered those crescent rolls recently and immediately decided I would like to have them again. I searched for a recipe, found this one and baked the crescent rolls on the same day. I thought I would need more than one try, that I will need to tweak the recipe here or there, but nope! It was the perfect recipe! Not exactly like the crescent rolls I used to buy in Romania, but like a 100 times better. The bought ones tasted good, but I have to say they were quite flat and chewy unless you had them directly out of the oven. The crescent rolls I've made are incredibly puffed up and fluffy and so fine and delicious you will not be able to stop yourself from eating.
I had a batch of 10 and there were only 2 left the next day. My son took one for school and I had the second one for breakfast, so I can say that they were still great the next day. So don't worry if you make them the evening before Valentine's Day, they will still be good in the morning. Fresh out of the oven is always best, but if you are worried about that, you could lightly brush the crescents rolls with some water and pop them in the oven for about 5 minutes at about 150 degrees Celsius/ 300 degrees Fahrenheit.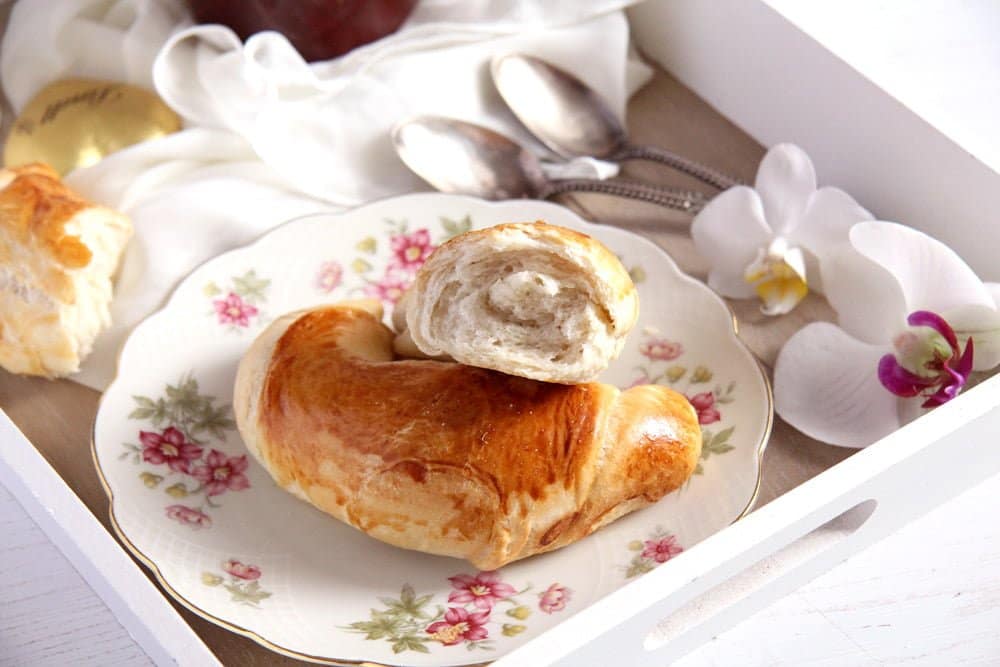 And another thing that I should mention: making these crescent rolls is very easy and quick considering that you have to make a yeast dough. I always use fresh yeast, but you can replace that with a sachet (7 g/ 0.24 oz) dried yeast. You could sprinkle them with coarse salt, sesame seeds or poppy seeds after brushing them with the egg, if you like. I like them plain, so that I can choose if I want to eat them with jam or with cheese afterward.
You can serve the crescent rolls either plain or with butter, cheese or with any sweet or savory spread you like.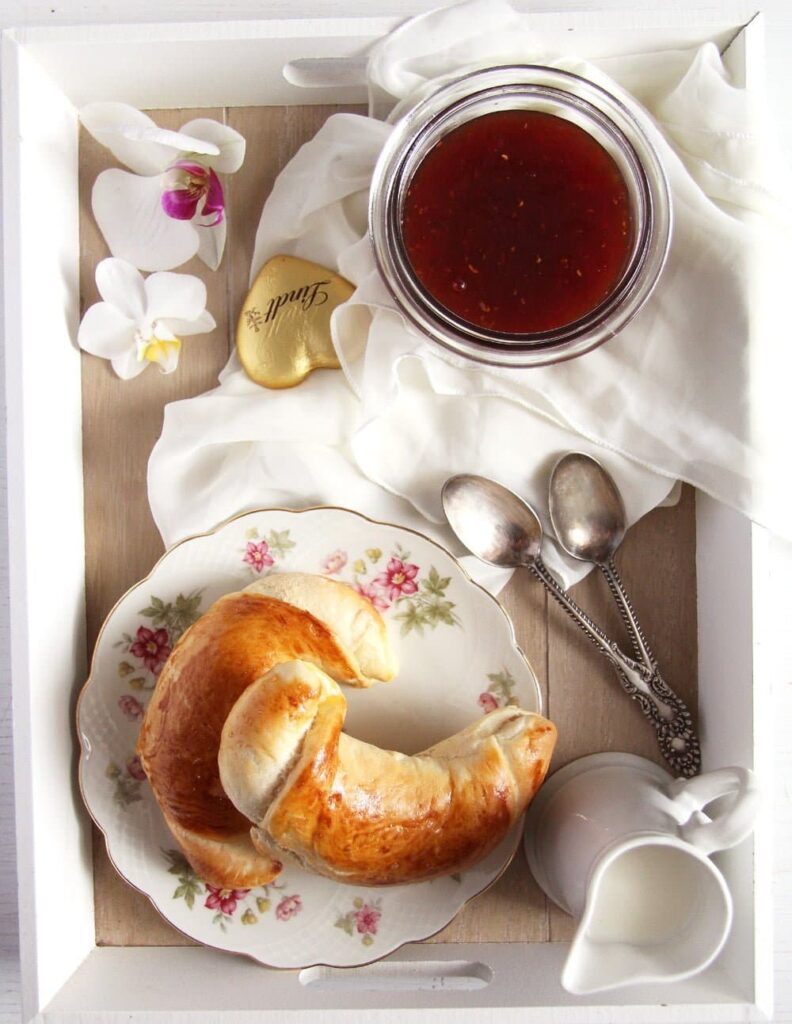 Rating 5.0 from 1 reviews
Prep time:
Cook time:
Total time: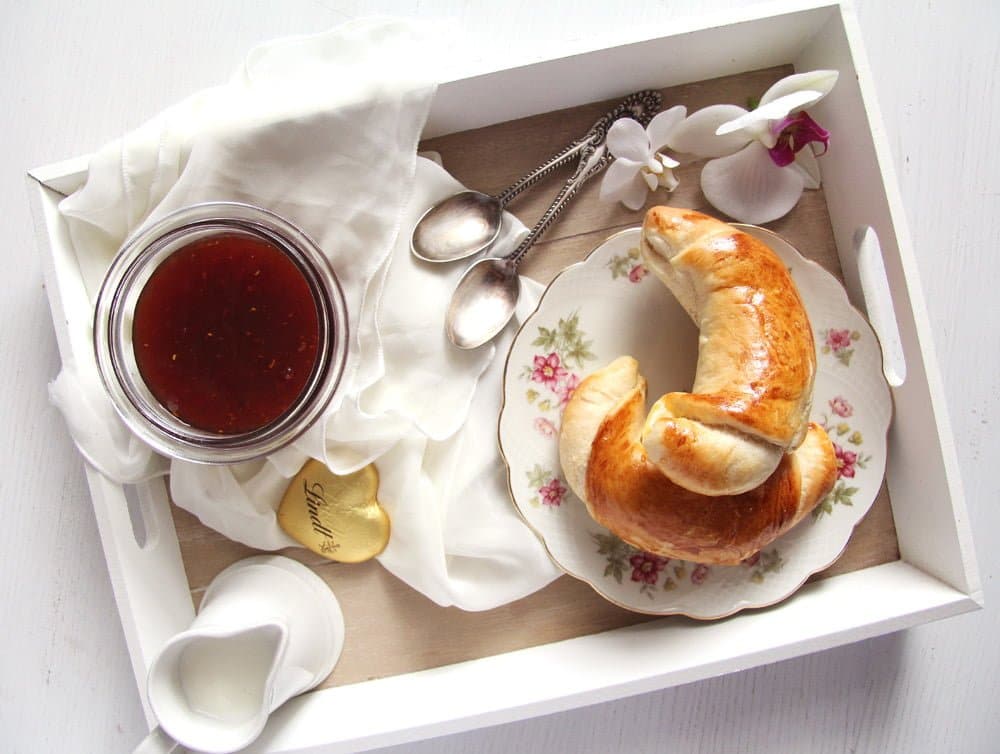 The fluffiest and best crescent rolls I've ever tasted!
Ingredients
25 g/ 0.88 oz fresh yeast or 7 g/ 0.24 oz dried yeast
1 tablespoon granulated sugar (see note)
300 ml/ 10.1 fl.oz/ 1⅓ cup + 1 tablespoon lukewarm water
500 g/ 17.6 oz all-purpose flour
4 tablespoons vegetable oil + 1-2 tablespoons for brushing
1 teaspoon fine salt
1 egg yolk
Instructions
Crumble the yeast in a bowl and mix it with the sugar and about 3 tablespoons of the already measured lukewarm water. Mix well and leave for about 5 minutes.
Add the flour, the rest of the water, 4 tablespoons of the oil and salt. Mix well and knead until the dough is elastic and doesn't stick too much to your hands anymore. The easiest way to do this is in your kitchen machine fitted with the paddle attachment. (I kneaded my dough for two minutes in the Thermomix). You can add 1 to 2 regular tablespoons flour to the dough if it is still too sticky, but not more, the dough should be rather soft.
Brush a bowl with a little oil and give the ball of dough inside. Cover the bowl with a clean kitchen cloth and leave to rise in a warm place for about 30 minutes or until nicely risen. I place the bowl in the oven and turn on the oven light.
Take out the bowl if you keep in the oven and preheat the oven to 180 degrees Celsius/ 360 degrees Fahrenheit. Line a baking tray with baking paper.
Brush the working surface lightly with oil. Divide the dough into 10 pieces and form 10 balls. Flatten one ball with your palm and brush it well with some vegetable oil. Roll the piece of dough into a sausage and knot the sausage. Put aside and continue with the rest of the balls.
Take the first knot you've made and flatten it with the rolling pin, giving it the form of a pita bread, so broader at one end and narrower at the other end. Start rolling the dough into a sausage again, starting at the broader end. Give the sausage the form of a crescent and place it on the baking tray with the seam facing down. Continue with the remaining knots.
Give 1 teaspoon water to the egg yolk and mix them with a fork. Brush the crescent rolls with the egg yolk and set aside for 10 minutes. Place in the preheated oven and bake for about 20-25 minutes or until nicely golden. Leave on the tray for 5 minutes, then transfer them to wire racks to cool. Can be served warm or cold.
To refresh them the following day: brush them lightly with water and place them in the preheated oven at about 150 degrees Celsius/ 300 degrees Fahrenheit for about 5 minutes.
Notes
I use regular teaspoons and tablespoons not the American measuring spoons.
This post contains affiliate links. The price you pay as a consumer does not change, but if you make a purchase we will receive a commission which helps support the blog.
Others you might like:
Romanian Cabbage Pies – Placinte cu varza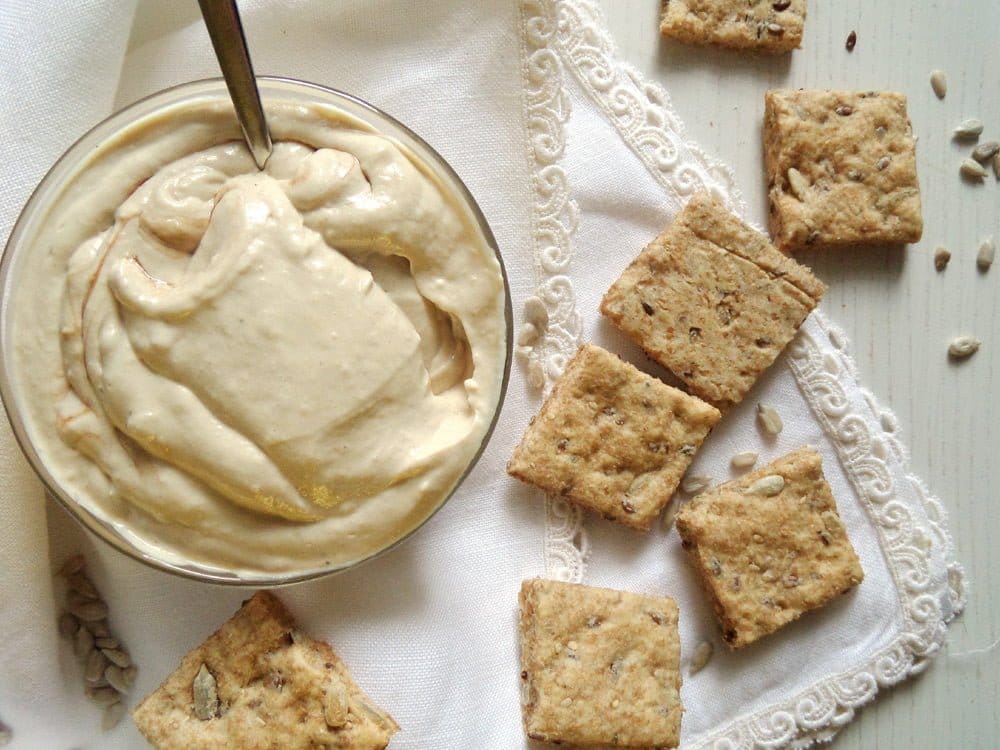 Silken Tofu Spread with Spelt Crackers
Vegan Artichoke Chickpea Spread