This is the recipe for the typical Romanian Eggplant / Aubergine Salad or spread, made with roasted eggplants and mayonnaise or oil. 
Here you have it: an updated post describing in detail each method of grilling eggplants, roasting eggplants on the stove top or baking eggplants in the oven. And using those wonderfully roasted eggplants or aubergines to make the most delicious Romanian Eggplant / Aubergine Salad or spread either dressed with mayonnaise and garlic or with sunflower oil and onions.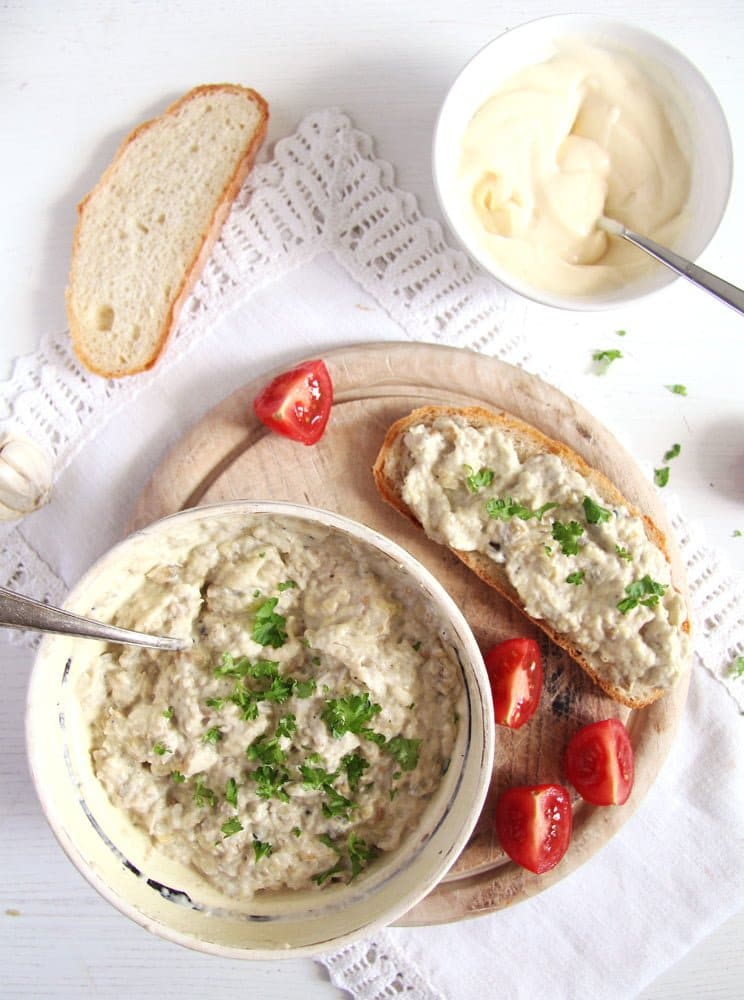 This is another one of the most cooked and eaten Romanian recipes. It is absolutely great and I've been eating all my life, there is just one thing I cannot really understand. Why is this the only thing Romanians ever cook with eggplants? I mean, it is really delicious, it is cheap and easy to make, but still… eggplants are so great and so versatile… since having learned how to cook I've been eating eggplants cooked in about a hundred ways and a lot of these ways tasted at least just as good as this salad.
Or maybe it was just my grandmother who did not know or care to know about another way of cooking eggplants? I think it was…
There is only just one another dish I remember my grandma ever cooking with eggplants, eggplant slices fried in a lot of oil and then smothered in a dangerous garlic sauce (mujdei) made with water and oil and about one whole head of garlic. It tasted great, but I don't think she made this more than 5 times in my whole childhood and teenage years.
It was only eggplant salad – vinete either with oil or with mayonnaise. And either with onions or with garlic in it. I preferred the garlic – mayonnaise version, but the onion – oil version was good as well. In summer we ate this at least once a week. And in winter at least once a month. In September my grandmother would buy a mountain of eggplants, roast them, chop them and freeze them. I think freezing bags with eggplants were the only things that you would sometimes find in our freezer. This was definitely the main reason why my grandma ever bought a freezer, I'm sure.
I don't make eggplant salad or spread quite as often now (in Germany you just don't get the same wonderful eggplants you get in Romania) but I do make this regularly.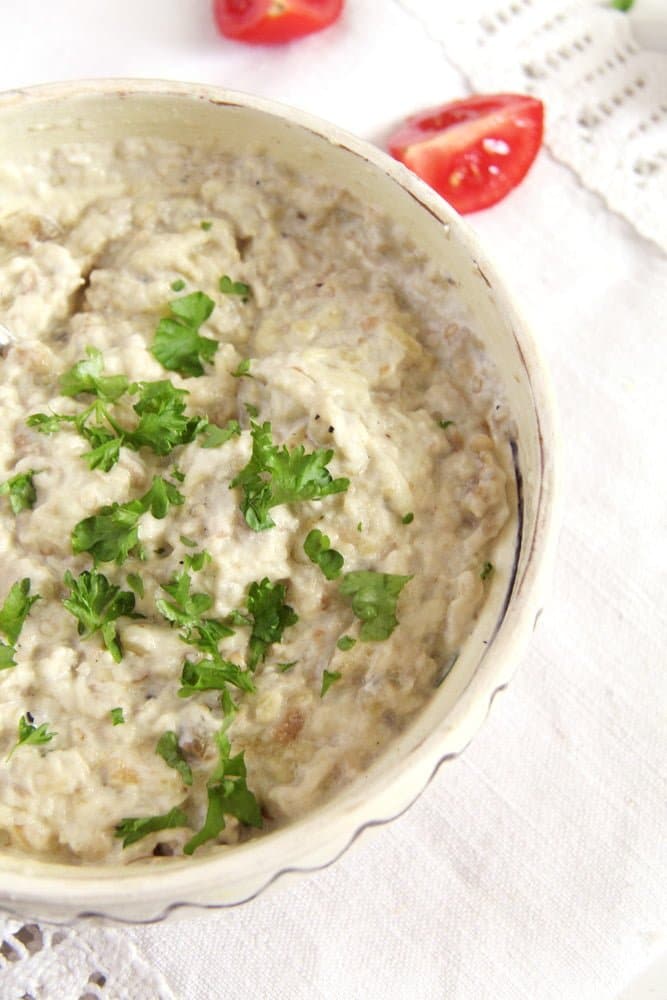 How to Roast, Grill or Bake the eggplants?
There are three methods of cooking your eggplants in order to make the eggplant salad. I have used them all and they all work, whatever you decide to use depends on your possibilities and mood. However, all three methods have an effect on the taste of the eggplant salad.
Grilling the eggplants on the grill/barbecue:
This is the traditional Romanian way of cooking the eggplants for the salad. You make a fire, always wood in Romania, and grill the pierced eggplants turning them regularly until all the skin is burnt. The temperature of the grill should be about medium low to low, don't let it get too hot or the outside of the eggplants will burn before the inside is cooked.
Depending on their size, you should grill the eggplants somewhere between 20 to 40 minus or until the skin is evenly charred and the eggplant collapses, the flesh should be really soft.
The eggplant salad made with grilled aubergines will taste really smoky and so delicious!
Roasting the eggplants on the stove top:
This is the method my grandmother used all the time. We lived in a flat, so we didn't have the possibility of grilling the eggplants on the grill like my aunt did.
Lay some tin foil around the burners of the stove top to make sure that the liquid released by the eggplants won't cause too much of a mess. Prick the eggplants with a fork several times and lay them directly on the flame of the burners.
Turn regularly with a pair of tongs making sure that the skin is burnt on all sides. Cook until the skin is evenly charred and the flesh of the eggplants very soft.
I find this to be the quickest method of roasting eggplants, it only takes about 10-15 minutes for a medium eggplant, so if I use two or three of my burners, I am done in no time.
The taste of the eggplants roasted on the stove top is smoky as well, a bit milder than the grilled one, but still totally delicious.

Baking the eggplants in the oven:
This is the most convenient method of cooking the eggplants for the salad. Place the eggplants on a baking tray lined with baking paper or tin foil and bake them in a preheated oven at 180 degrees Celsius/ 350 degrees Fahrenheit for about 45 minutes or until the flesh of the eggplants is very soft.
This is the ideal method for people who enjoy a milder taste for this salad, baked this way the eggplants will not be smoky, but mild and sweeter.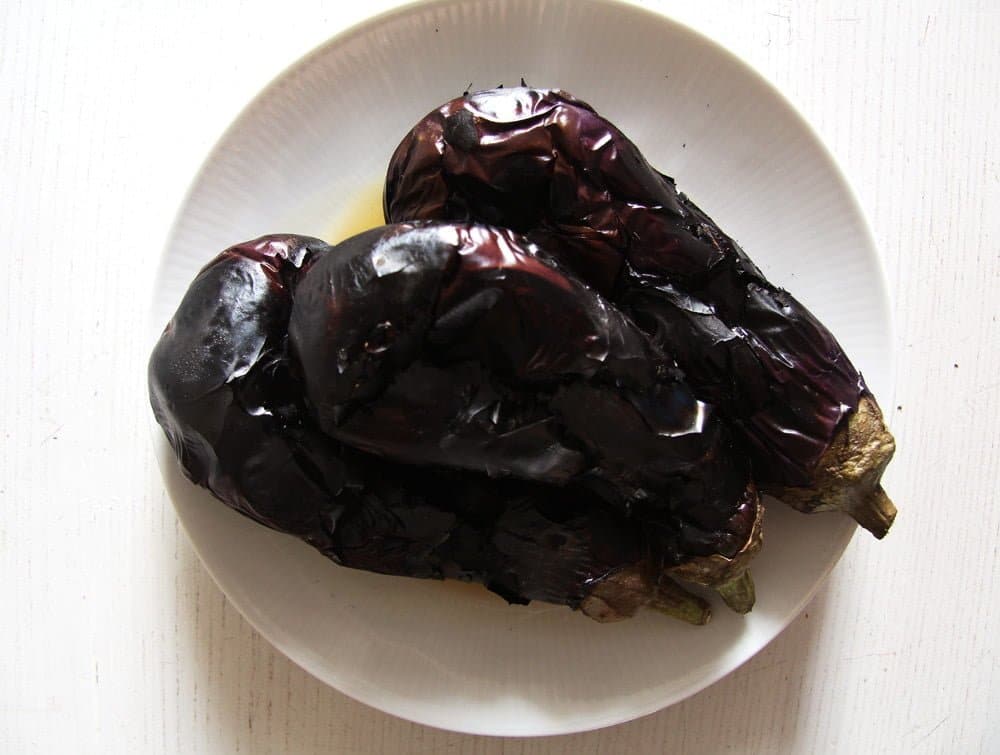 Making the eggplant salad:
After grilling, roasting or baking the eggplants let them cool, then carefully remove all the skin. Place the eggplants in a sieve and let drain for about half an hour to one hour.
Chop with a special wooden knife made especially for this purpose (if you are Romanian and have one, of course) or with a regular knife. You could process the eggplants in the food processor, the salad will then have a mousse-like consistency, which is delicious but not very authentic. I prefer to chop the salad rather roughly, so that I have something to chew here and there, but the degree of chopping is totally up to you.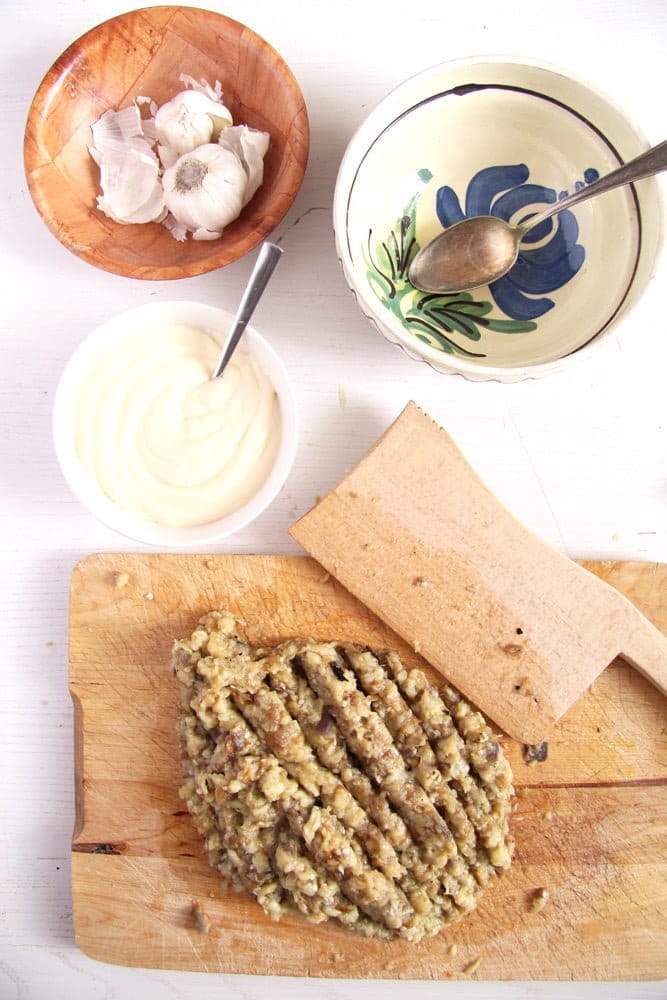 Serving the eggplant salad:
The traditional way of dressing the eggplant salad, the way my grandmother always did it, was with sunflower oil and very finely chopped onions. Don't use olive oil, the salad will not be authentic anymore, traditionally we don't use olive oil in Romania. My grandmother would always use sunflower oil, maybe one brand that is a bit milder in taste.
However, since trying this salad dressed with homemade mayonnaise sometime in my teens, I must say that I do like the mayonnaise version better. And when making the salad with mayonnaise I always add 2 or 3 grated garlic cloves to it and leave out the onions. I always use homemade mayonnaise, it is so easy to make and it tastes so much better than anything you could possibly buy.
Have a look at this method, it is genius and you will have the best mayonnaise ever in less than one minute. However, if you still don't want to make your mayonnaise after seeing that, do use your favorite brand of mayonnaise.
In both cases serve the salad on fresh bread slices with tomato wedges and some feta cheese, if you like.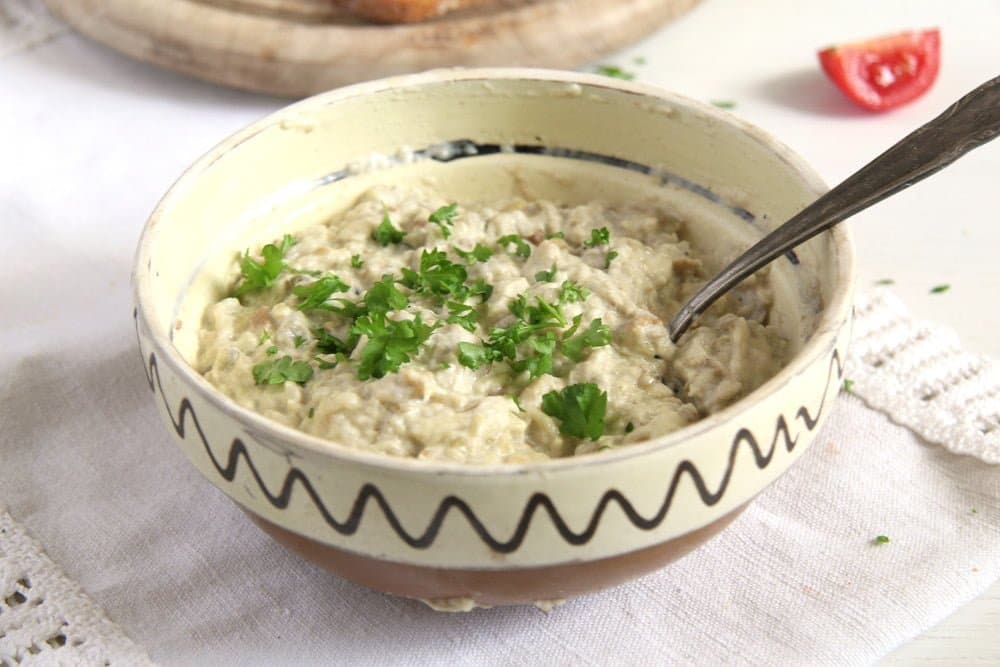 And now that you know all the methods there are of cooking aubergines for making things like this Romanian Eggplant Salad or baba ganoush, have a look at these other amazing bread spreads made with grilled, roasted or baked eggplants:
This post contains affiliate links. The price you pay as a consumer does not change, but if you make a purchase we will receive a commission which helps support the blog.