A comforting pasta dish featuring one of my favorite vegetables in the world: eggplants or aubergines. Some tomato sauce and lots of cheese and you will be able to experience a great moment, which is, seeing your kids actually eating eggplants.
As much as I like eggplants, I cannot eat them quite as often as I would because, unfortunately, I am the only one in the house who really loves them. I grew up eating them, for me they are something normal, I used to eat them almost weekly in Romania, in the summer and autumn months while growing up.
My husband only knew eggplants as an adult and never really learned to appreciate their flavor and especially their amazing texture when properly cooked. He eats them, but mostly under protest. And as to my kids…. 🙁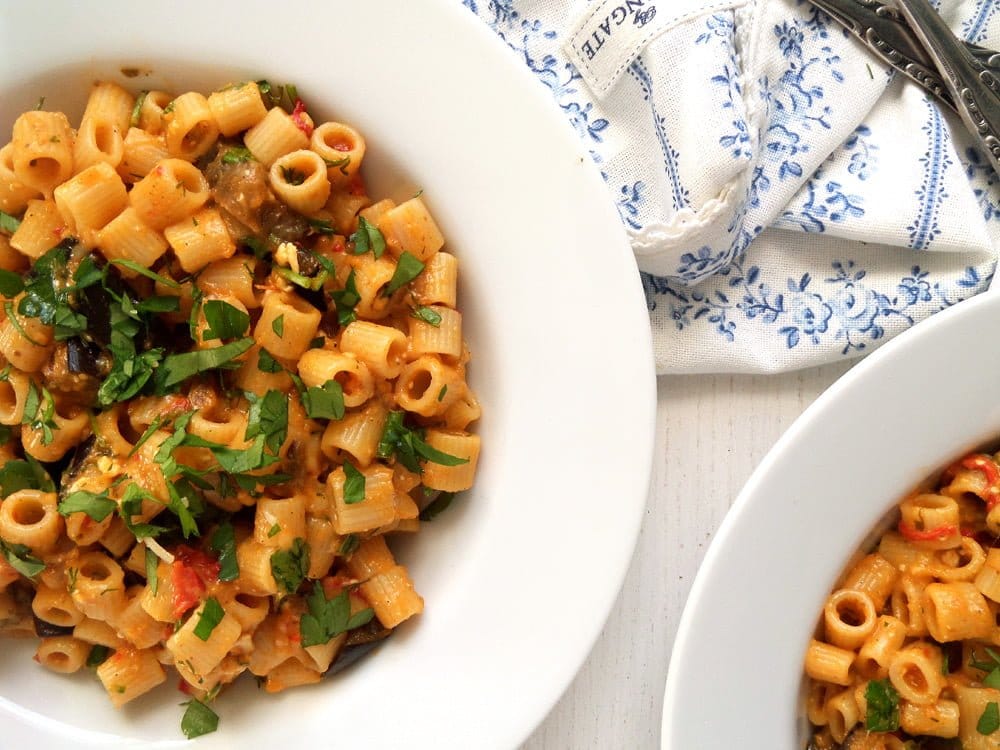 Pasta with Eggplant or Aubergine and Cheese Sauce
But there are three dishes that even these eggplants deniers would eat and gladly. First of all the typical Romanian vegetable spread – Zacusca, then the Spaghetti with Aubergines and most recently this delicious pasta dish with soft eggplant cubes and tomato sauce.
This recipe for Pasta with Eggplant or Aubergine and Cheese Sauce started as a casserole dish that I made once, liked and promptly forgot. It took me about two years to think of it again, once when I had an eggplant in the fridge which was bought with no real purpose in mind. So I thought I'd make that casserole again.
I started cooking a bit too late in the afternoon and by the time the pasta and the sauce were cooked, everybody was already complaining about being hungry and not wanting to wait so long anymore. This annoyed me a bit but after mixing all the ingredients in the pot and adjusting the taste I realized that the unfinished casserole tasted ten times better than the baked product.
So I just added the cheese that was supposed to come on top of everything and there it was: dinner ready and everybody completely satisfied. Let me tell you that I will make this dish again and again, but never as a casserole, the way it was now was just perfect.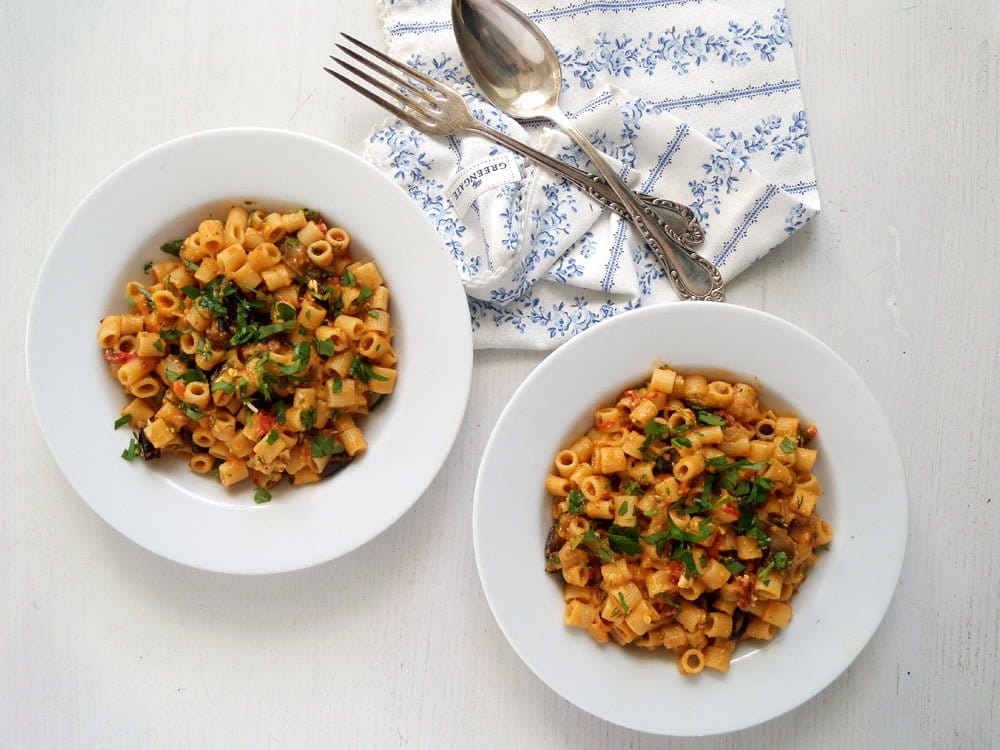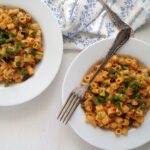 Ingredients
3 tablespoons olive oil, divided
1 medium onion
3 garlic cloves
2 tablespoons tomato concentrate
2-3 larger sage leaves
2 rosemary sprigs
2 bay leaves
1 can chopped tomatoes (400 g/ 14 oz)
a pinch of sugar, optional
1 large eggplant
120 ml/ ½ cup vegetable broth
500 g/ a bit more than 1 pound small shaped pasta
100 g/ 3.5 oz Gouda or cheddar cheese
1 mozzarella (125 g/ 4.4 oz)
salt and pepper
parsley
Instructions
Heat 1 tablespoon of the olive oil in a medium pan. Chop the onions and the garlic cloves and cook for a few minutes, until soft. Add the tomato concentrate and continue cooking for about 1-2 minutes, stirring often.
Add the chopped herbs, the bay leaves and the chopped tomatoes. Bring to a boil, lower the heat and cook for about 20 minutes. Adjust the taste with salt, pepper and a pinch of sugar if necessary. Puree the sauce roughly using an immersion blender.
In the meantime chop the eggplant into smallish cubes. Heat the remaining olive oil in a large pan and fry the cubes until soft and translucent. Add the vegetable broth, cover the pan leaving a crack open and cook until the eggplants are really soft and all the liquid is gone.
Cook the pasta according to the packet's instructions.
Give the aubergines to the tomato sauce and mix well. Grate the Gouda or cheddar cheese and cut the mozzarella into small cubes. Mix all the ingredients together and adjust the taste again. Scatter the parsley on top and serve immediately.