Melt in your mouth vegan eggplant slices stewed in a full-flavored tomato sauce.
Romanians like stews, we pretty much stew anything in the kitchen, I don't think there is any vegetable sort or meat cut that hasn't been stewed at one point or another. I could not really say why, but I suppose it has to do with the convenience of stewing. First of all most of the time you only need one pot and one source of heat and that might be a reason why stewing has become the number one way of preparing food in Romania over the centuries or thousands of years. Secondly, stewing is cheap and quick, you can throw just about anything you have in one pot, stir a little and get a delicious meal made out of very few ingredients, things that are in season or you happen to have in your house or garden, without the need of going out shopping for anything special.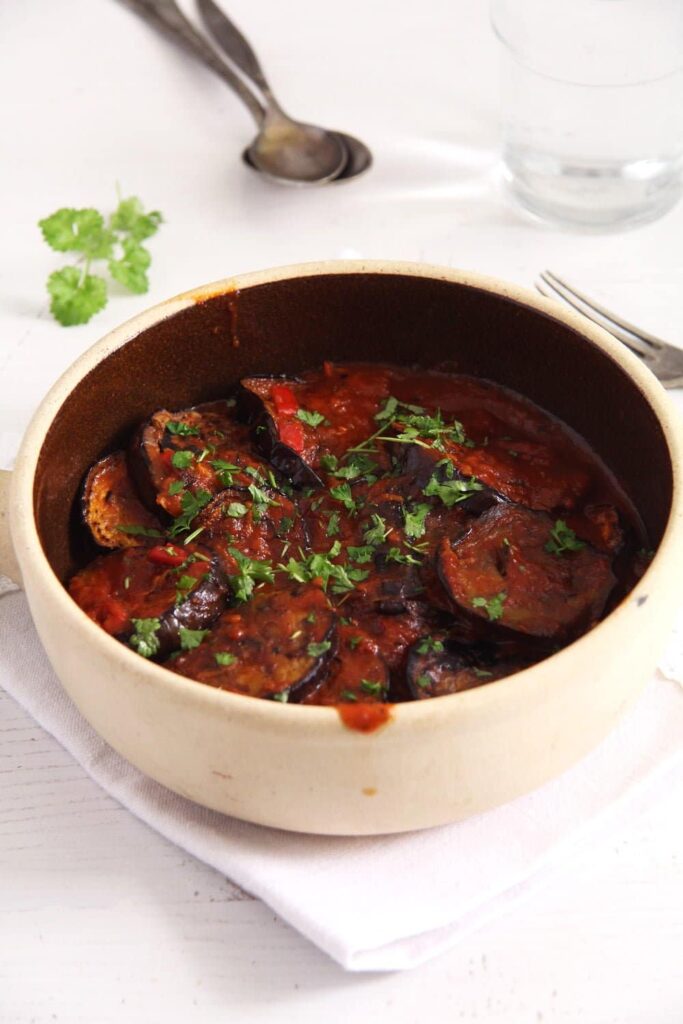 I don't do that much stewing nowadays, at least not as much as my grandmother used to do, but still I make more stews than any other person I know in Germany. The Germans have a quite different way of approaching food. While the Romanians tend to stew, in one pot, anything in their range, the Germans like to have the food separated on their plates, so they typically would cook one piece of meat or fish accompanied by separately cooked vegetables and separately cooked potatoes. I am a food lover, so I like both approaches, just as much as I like the way Italian people cook or Indian, Chinese or whatever.
Today's stew features eggplants or aubergines, which are one of my favorite vegetable sorts. I like them so much, I could honestly eat them at least once a week, cooked in one way or another, unfortunately I am pretty much the only one in the house who likes them. The kids have their veggie problem like most of the children of their age (and eggplants are particularly intimidating) and my husband seems unable to appreciate the delicacy, flavor and melt in your mouth consistency that properly cooked eggplants have. He would eat them (most of the times) but rather grudgingly or because he doesn't want to set a bad example to the kids. One eggplant recipe he enjoys is Romanian Aubergine Salad – Vinete and I am happy to say that he did take seconds from this dish.
These Vegan Eggplants Slices in Homemade Tomato Garlic Sauce are a typical Romanian vegetable stew, eaten a lot not only during the fasting times, but mostly in summer when the eggplants fill the markets. I stewed them in the Basic Tomato Sauce from Thursday, but if you choose not to make your own tomato sauce, you can use your favorite brand of tomato sauce.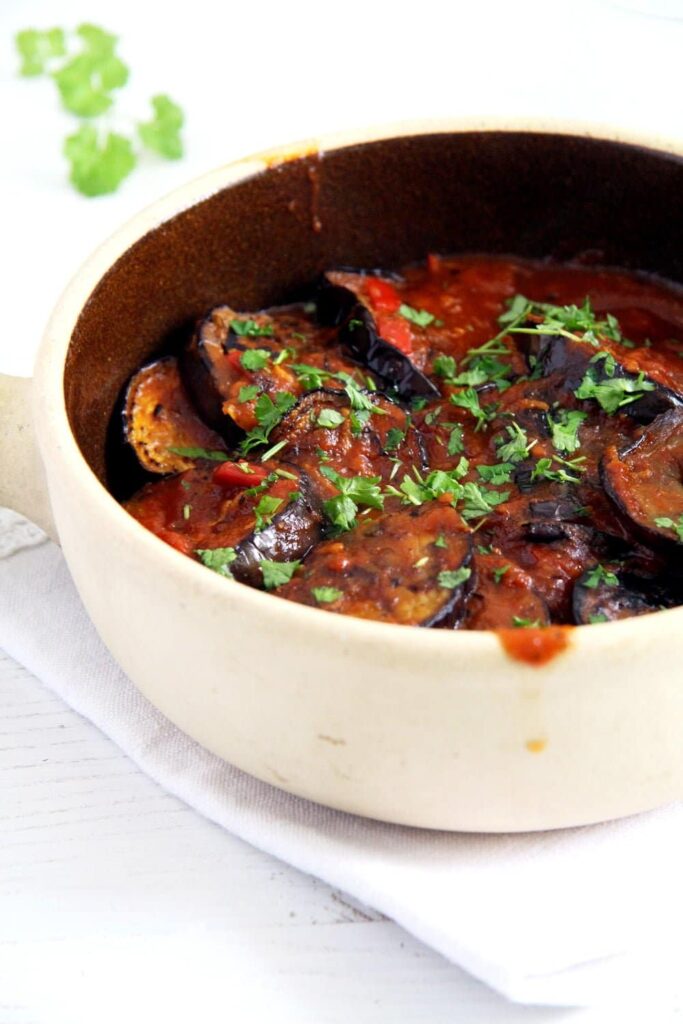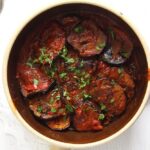 Ingredients
2 eggplants, 200 g/ 7 oz each

6 tablespoons olive oil

2 large garlic cloves

200 ml/ 6.7 fl.oz tomato sauce

150 - 200 ml/ 5-6.7 fl.oz water, depending on the thickness of your tomato sauce

1 tablespoon tomato paste

1 small bunch parsley
Instructions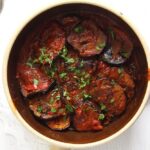 Slice the eggplants into 1.5 cm/ 0.6 inches. Place them in a colander and sprinkle them with salt. Leave to stand for half an hour, rinse shortly and dry thoroughly on kitchen paper.
Heat 3 tablespoons of the oil in a large cast iron skillet or a large non-stick pan. Fry half of the eggplants, in one layer, about 3 minutes on each side or until nicely golden and pretty soft. Remove from the pan. Add the other 3 tablespoons oil to the pan and fry the second batch of eggplant slices. Remove from the pan as well.
Grate the garlic cloves. Give them to the pan, stir once quickly. They will not need more time as the pan is already so hot, you don't want to burn them. Immediately add the tomato sauce, water, tomato paste and some salt and pepper to taste. Stir well to dissolve the tomato paste and arrange the eggplants slices back into the pan.
Spoon some of the sauce over them, very gently, so that they are covered in sauce. Take care not to break them. Turn the heat down to medium low and cover the pan with a lid. Cook gently for about 10 minutes, remove the lid and continue cooking for another 5 minutes to allow the sauce to thicken a little. Stir a couple of times in between, but very gently.
Sprinkle the dish with the chopped parsley and serve with bread or potatoes.
Others you might like: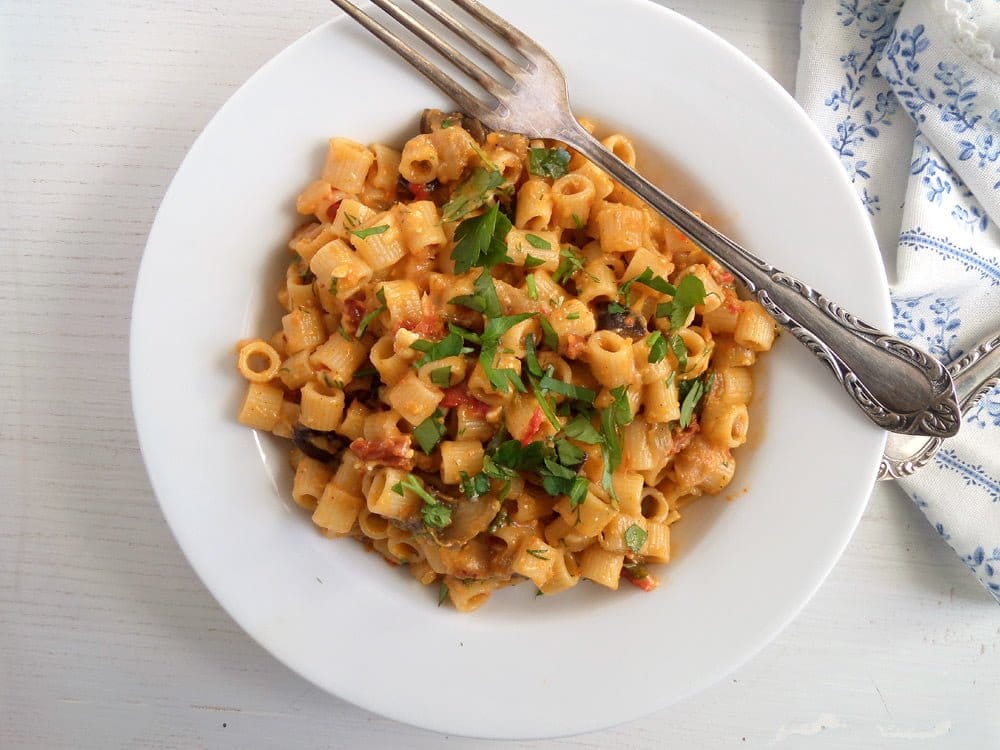 Pasta with Eggplant Tomato Sauce
This post contains affiliate links. The price you pay as a consumer does not change, but if you make a purchase we will receive a commission which helps support the blog.