Delicious potato and sausage stew with vegetables, a hearty meal ready in no time, a comforting dish to warm you up in winter.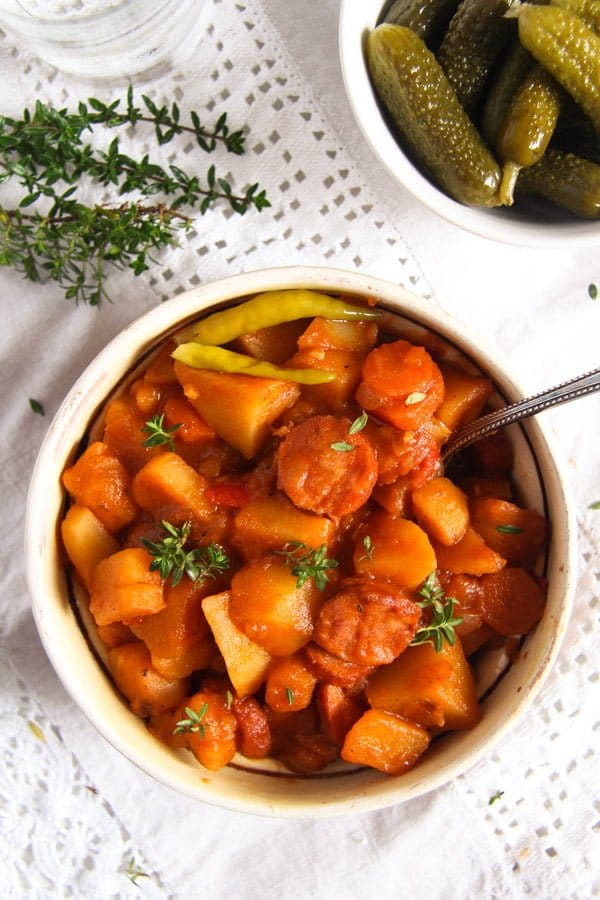 Like the Easiest Skillet Macaroni and Cheese, the Simple Chicken and Vegetable Pilaf and the Easy Pork Meatballs in Tomato Sauce, today's potato stew with sausage is another staple in my grandmother's kitchen and in the Romanian kitchen generally.
Potato stew or Tocana de cartofi is something you will never find on a restaurant menu, but it is something you will get to eat in every single household in Romania, even the name tocana de cartofi has for me such a strong meaning, it is almost like a word in itself, describing something so stable and so natural, so obvious, almost like a word naming a thing like a bed or a table etc. Am I making any sense?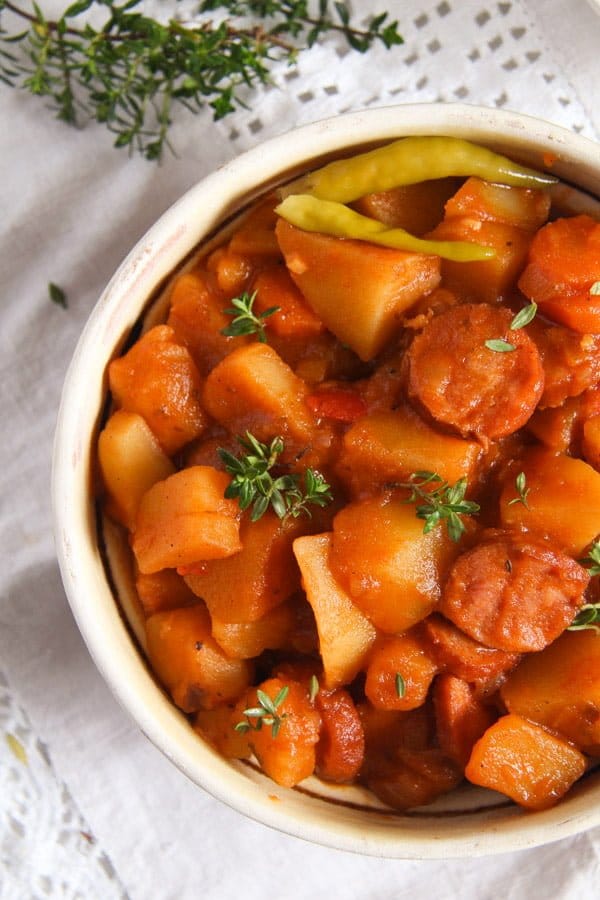 VERSIONS OF POTATO STEW
However, unlike all the previously mentioned recipes, which were my grandmother's originals, the recipe for this sausage and potato stew is not really my grandmother's. I liked her version and I make it from time to time as well, but not too often. Instead, I prefer my own version of the potato stew.
Original version:
One onion, pretty much oil, potatoes and a lot of sauce made with a bit of tomato puree or tomato paste. This is a typical, simple Romanian potato stew.
Richer version:
Today's version or my most cooked version.
More vegetables, less oil, and some sausages.
You can use chicken breast pieces instead of sausages as well. The cooking time will remain the same, chicken breast cooks quickly. Make sure to check that the chicken is cooked through and try not to overcook it.
If you would like to make potato stew with other kinds of meat – beef, pork, lamb – you will have to follow different recipes, all these meats require much longer cooking times.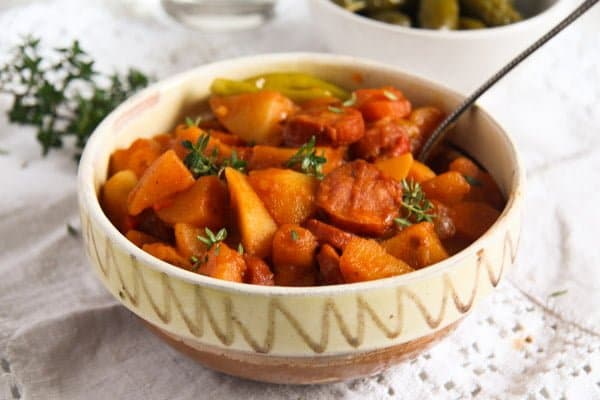 Sausages for potato stew:
I used cabanossi sausages to make the stew, they are very easily available. They are Polish smoked dry pork sausages.
If you cannot find them, use any kind of sausage you like instead. Kielbasa, Spanish chorizo (not hot), or andouille would be fine.
I have already made this potato stew with frankfurters, chorizo, typical German sausages like bratwurst, grilling sausages, or smoked sausages.
Sometimes, when I have leftover already grilled sausages from a garden party or another fest, I cut those in slices, make a potato stew and warm the slices in the stew. Quick and delicious!
And if you have more leftover frozen sausages, learn How to Cook Frozen Sausages.
Vegan version:
For a vegan potato stew, you can replace the sausages with beans.
White beans would be the typical Romanian kind, but you can use pretty much any kind of cooked beans you like.
I've made this potato stew with kidney beans, borlotti, pinto, and even black beans.
For other vegan versions of this potato stew, you can replace the sausages with fried tofu cubes or soy granules or chunks.
If using soy granules, soak and drain them according to the packets's instructions. Add them to the pot together with the leeks and the other veggies, cook everything together for 5 minutes, and add the rest of the ingredients.
See the recipe for New Potatoes in Tomato Sauce for another version of a vegan potato stew.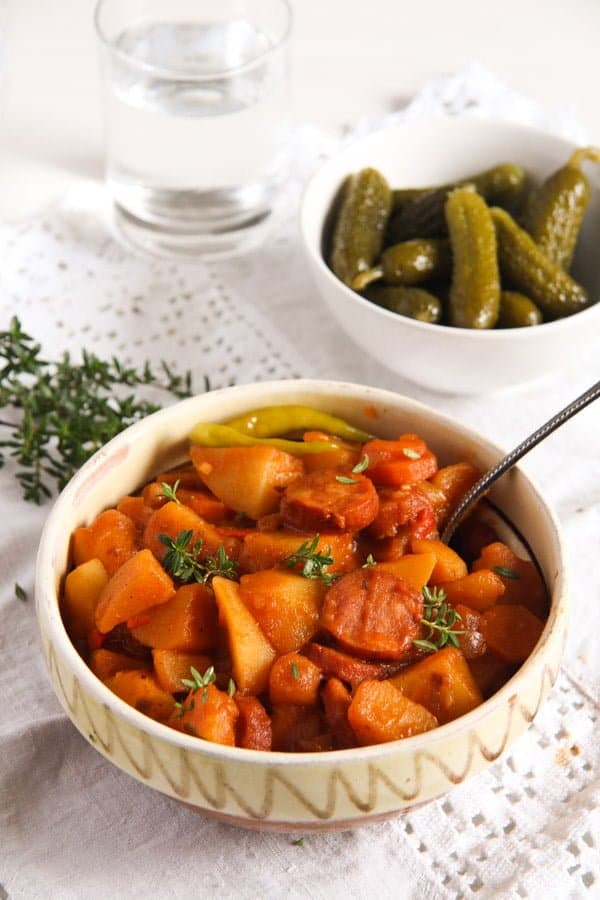 HOW TO SERVE POTATO STEW
The most common side dishes for potato stew are pickled vegetables and white bread.
Yes, white bread, eating potato dishes with white bread was normal for us in Romania, my husband still gets a wondering look in his eyes when he sees me with a tiny piece of bread in my hand each time we have potato stew.
Not that I need it, but it is the habit, the comforting childhood memories, I suppose.
Try these pickled green tomatoes or zucchini pickles on the side, they are great! Or gherkins or hot pickled peppers.
Other delicious stews: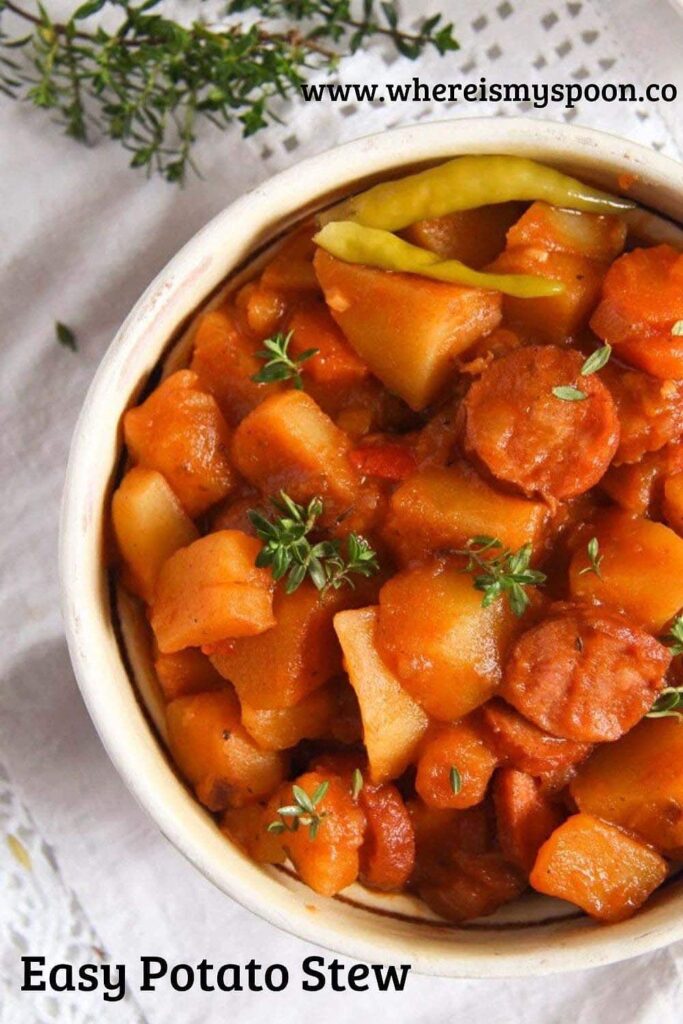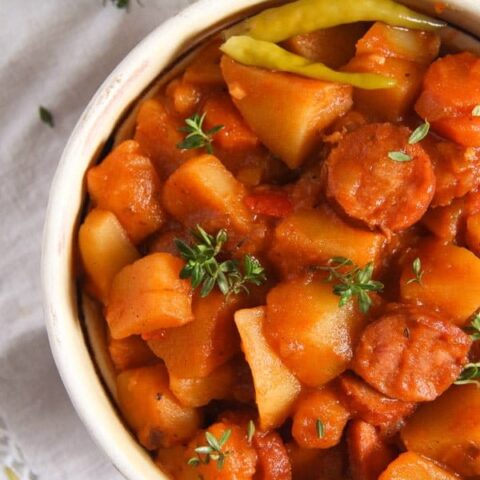 Easy Potato Stew
Delicious sausage and potato stew with vegetables, a hearty meal ready in no-time, a comforting dish to warm you up in winter.
Ingredients
1 onion
2 garlic cloves
2 carrots
½ red bell pepper
1 small leek
800 g/ 1.7 lbs potatoes
1 tablespoon olive oil
1 tablespoon ground sweet paprika
2 tablespoons tomato paste
1 teaspoon dried marjoram
½ -1 teaspoon chili paste, optional
ca 650 ml/ 22 fl.oz/ 2 ¾ cups chicken stock
200 g/ 7 oz cabanossi (See note)
fine sea salt and pepper
some fresh parsley
Instructions
Chop the onion and the garlic cloves finely. Slice the carrots, chop the red bell pepper into small cubes, and the leek into thin rings. Peel and cut the potatoes into regular cubes.
Heat the oil into a stew pot or Dutch oven. Add the onion to the pot and fry until translucent. Add the garlic, carrots, bell pepper, and leek and cook, stirring a few times in between, for about 5 minutes.
Add the ground paprika, tomato paste, potatoes, and marjoram and stir well. Add some chili paste to taste if you want the dish to be spicier, but that is optional.
Add 500 ml/ 2 cups of the chicken stock, stir, cover the pot and let cook on medium-low heat for about 10 minutes or until the potatoes are half cooked.
In the meantime slice the sausages. Add them to the pot and continue cooking for 10 or 15 minutes until the potatoes are soft.
Add the rest of the chicken stock if the liquid cooks down too much, it should not get dry, there should be quite a bit of sauce in the pot. If the sauce is too thin towards the end of the cooking process, remove the lid from the pot and continue cooking the stew for a few more minutes until the sauce thickens slightly.
Adjust the taste with salt and pepper, sprinkle with chopped parsley and serve with pickled vegetables and bread.
Notes
Kielbasa, Spanish chorizo (not hot), or andouille would be fine. I've already made this potato stew with frankfurters, chorizo, typical German sausages like bratwurst, grilling sausages or other smoked sausages.
Nutrition Information:
Yield:

4
Serving Size:

1/4 of the dish
Amount Per Serving:
Calories:

482
Total Fat:

20g
Saturated Fat:

6g
Trans Fat:

0g
Unsaturated Fat:

12g
Cholesterol:

35mg
Sodium:

1063mg
Carbohydrates:

61g
Fiber:

7g
Sugar:

11g
Protein:

17g
Nutrition information isn't always accurate.