A super easy and delicious potato stew with cabanossi sausage and vegetables, a typical Romanian recipe for potato stew.
Like the Easiest Skillet Macaroni and Cheese, the Simple Chicken and Vegetable Pilaf and the Easy Pork Meatballs in Tomato Sauce, today's Easy Potato Stew with Cabanossi Sausages and Vegetables is another staple in my grandmother's kitchen and in the Romanian kitchen generally.
Potato stew or Tocana de cartofi is something you will never find on a restaurant menu, but it is something you will get to eat in every single household in Romania, even the name tocana de cartofi has for me such a strong meaning, it is almost like a word in itself, describing something so stable and so natural, so obvious, almost like a word naming a thing like a bed or a table etc. Am I making any sense?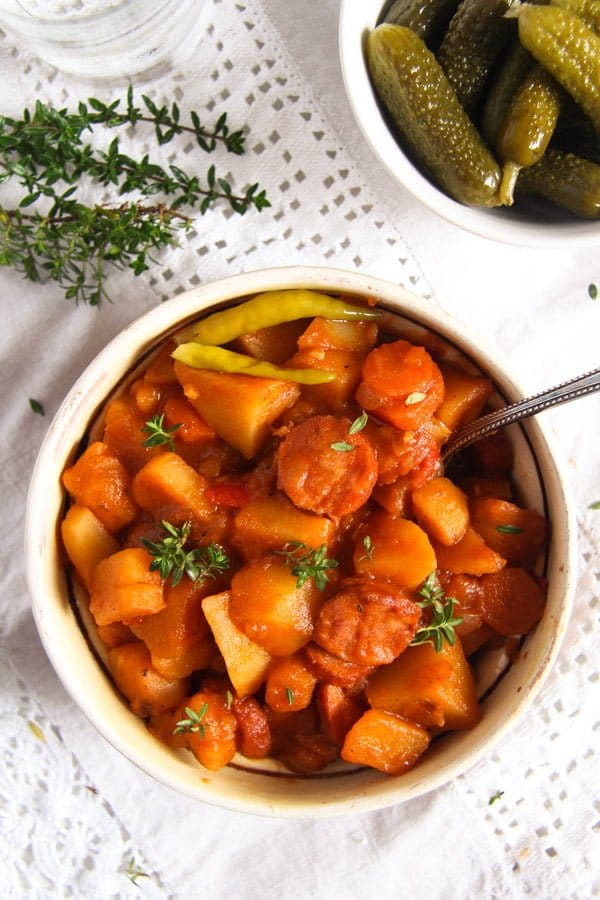 I could not even imagine how many times I have eaten potato stew in my life… thousands of times probably, it was after all, one of the cheapest meals you could imagine, something suitable all through the year, especially in winter when vegetables were scarce and expensive. So, we had lots of potato stews and other simple potato dishes in the winter, mostly accompanied by pickled vegetables and white bread.
Yes, white bread, eating potato dishes with white bread was normal for us, my husband still gets a wondering look in his eyes when he sees me with a tiny piece of bread in my hand each time we have potato stew. Not that I need it, but it is the habit, the comforting childhood memories, I suppose.
However, unlike all the previously mentioned recipes, which were my grandmother's originals, the recipe for this Easy Potato Stew with Cabanossi Sausages and Vegetables is not really my grandmother's. I liked her version and I make it from time to time as well, but not too often. Instead I prefer my own version of the potato stew.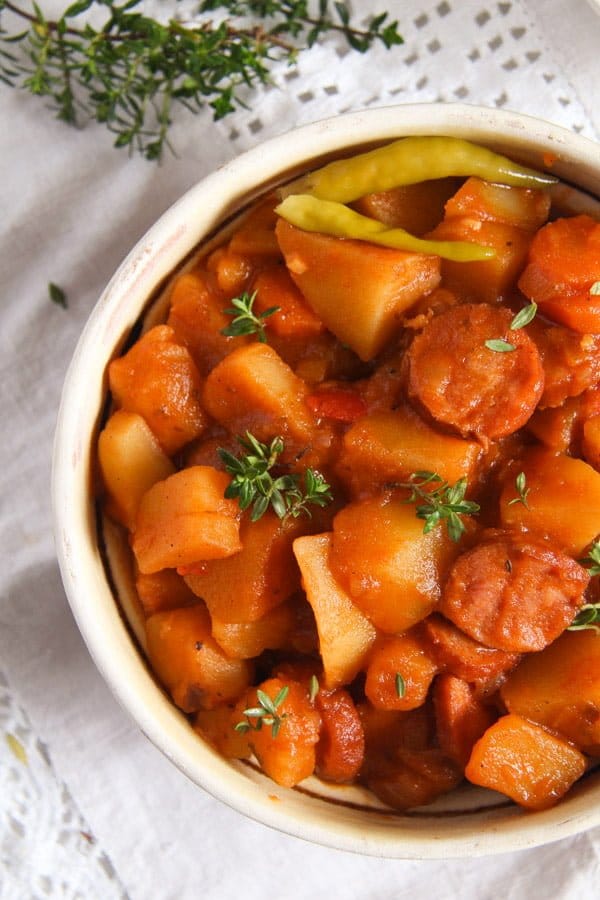 My grandmother's potato stew was very simple: one onion, pretty much oil, potatoes and a lot of sauce made with a bit of tomato puree or tomato paste. My version is a richer one: more vegetables, less oil and from time to time some sausages or some beans when I want a vegetarian/vegan dish. We love it, all of us, but my son especially, it is something I can always make him happy with. Well, with the sausage version at least, he's not really into beans…
I used cabanossi for today's Easy Potato Stew with Cabanossi Sausages and Vegetables, but any sausage kind you have or like would be OK. I have already made this potato stew with frankfurters, chorizo (quite spicy), typical German sausages like bratwurst, grilling sausages or smoked sausages. Sometimes, when I have leftover already grilled sausages from a garden party or another fest, I cut those in slices, make a potato stew and warm the slices in the stew. Quick and delicious!
And if you want to make this dish vegetarian or vegan, just leave out the sausage. You can replace it with more vegetables, you could add some frozen peas or some canned beans and there you have it: a perfectly delicious, cheap and healthy meal!
Otherwise, I hope you are having a wonderful pre-Chritmas time!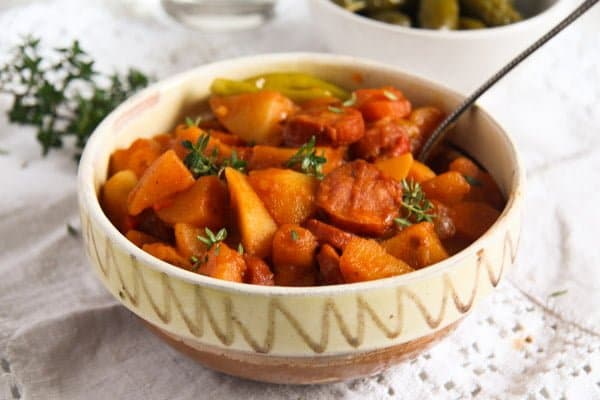 Other delicious stews: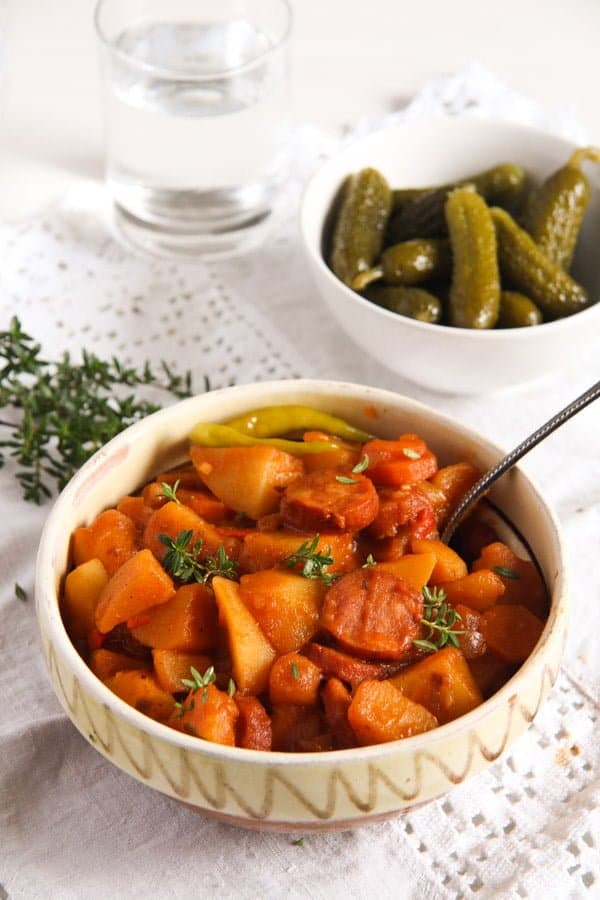 This post contains affiliate links. The price you pay as a consumer does not change, but if you make a purchase we will receive a commission which helps support the blog.